The first day of the tournament saw a major upset.
The opening day of the 67th Senior National Kabaddi Championship saw a big upset as Tamil Nadu beat Indian star Pradeep Narwal's Haryana in a close contest at the Poornima University in Jaipur.
Pradeep wasn't able to give his best as Haryana went down 31-37 against Tamil Nadu. He registered only five points after 14 attempts, while Ram Kumar notched up nine points for the southern side.
Tamil Nadu's defenders were in their element as well. M. Abhishek's six, E Subash's five and Sajin C's four tackle points upstaged Amity Sheoran's efforts, who scored a total of seven points.
Naveen Kumar was the performer of the day as he bagged 16 raid points for Services. He guided his team to a convincing victory against Kerala C. Direction in the Senior National Kabaddi Championship.
Here's a summary of the results from the opening day:
Rajasthan vs West Bengal
Rajasthan scored a massive 57 points, the highest tally of the day, as they dominated West Bengal to limit them to a paltry 11 points to register a 46-point victory. Brijendra Chaudhary was the chief architect of the victory with his Super 10 comprising 10 raid points and two bonus points. He also managed two tackle points to take his match tally to 14. He was ably supported by Kamal Kishor, Sachin and Pradeep Kumar in the raiding department.
Gujarat vs Jharkhand
Gujarat registered a 29-point win over Jharkhand thanks to Pandya Kishankumar's Super 10 effort that allowed his team to score 39 on the day. For Jharkhand, Rohit scored half the team's tally of 10 with five raid points.
Services vs Kerala C. Direction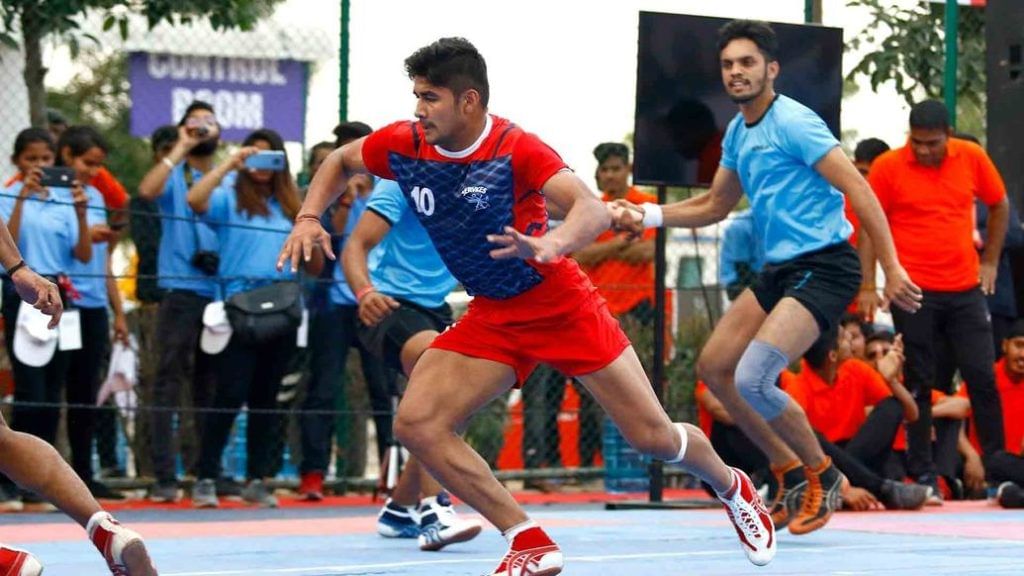 Naveen Kumar lit up for Services with 16 raid points, with the star raider pillared by Nitin Tomar's nine and Rohit Kumar's seven as the team piled 51 points on the board. Kerala C. Direction were left short by 18 points as they ended up with 33. Athul MS helped lead the attack with 13 raid points didn't prove enough on the day.
Maharashtra vs Jammu & Kashmir
Maharashtra beat Jammu & Kashmir 47-24 with Pankaj Mohite leading the charge for the victors with 11 points, along with Tushar Patil's nine. Shubham Shinde claimed a High 5 to give the defence a semblance that J&K couldn't match on the day. Harshdeep Singh managed 11 points for J&K and while their defence was solid, he couldn't find enough support from the raiding department.
Uttar Pradesh vs Vidarbha
Uttar Pradesh dazzled in their tournament opener defeating Vidarbha 55-15. Rahul Chaudhari scored eight points and substitute Azad Singh managed a Super 10 for the victors while Harendra Kumar scored seven tackle points in just eight attempts, as Uttar Pradesh outclassed Vidarbha with an outstanding all-round display.
Karnataka vs Madhya Pradesh
Karnataka beat Madhya Pradesh 42-27 thanks to Prathap S's nine points and Sukesh Hegde's eight. But it was Pavan TR's six tackle points that gave the victors the edge. For Madhya Pradesh, Saif Ali managed seven tackle points but the team lacked in the raiding department to make a difference.
Uttaranchal vs Odisha
Sumit Kumar was the highest scorer in the match with nine points with the remaining scores spread across in both teams as Uttaranchal beat Odisha 45-23. It was the raiding department where Uttaranchal got the edge, scoring twice as many as Odisha.
Himachal Pradesh vs Manipur
Ace defender Vishal Bhardwaj managed seven tackle points and scored another three raid points to star in Himachal Pradesh's win over Manipur. He was supported by Surender Singh, who recorded a High 5 of his own. Between them, they scored 12 of the 15 tackle points of the team with the victor's raiding efforts evenly distributed within the team, which saw Ajay Thakur bag three raid points in five attempts.
67th Senior National Kabaddi Championship: Fixtures, results & more here.