Full Time : India U-17 Football Team 1-2 Uruguay U-17 Football Team
For all latest news,photos, video highlights,reviews , editorial , tactical analysis from Indian Super League 2016 and Indian Football Sign up for Khel Now
1-2
Irrespective of the results all 4 teams will qualify for semifinals and India is likely to play host Atletico Paranaense . Later today CAP will be playing against Orlando City in the second match of the day . We might get live streaming for the semi finals and final match of the tournament ,
3 Defeats in 3 days for India U-17 team in their Brazilian tour but today Blue colts gave their best performance against mighty and strong Uruguay in front of scouts from various European clubs.. Nicolai Adam will be disappointed that his team missed many chances to equalize but he will be happy with his team efforts.
You guys can know future World Cup star of india by playing small trivia here - India U-17 World Cup Players
---
---
Captain Suresh alongside Aniket , Komal , Nawaz and Mawia were impressive for India .
70+2' Referee whistle for full time.
70+1' We are in the injury time and india U-17 players are still searching for equalizer against Uruguay.
68' India had some amazing chances in the last 10 minute to equalize but still scoreline is 1-2 in favour of Uruguay
On Khel Now you guys can create your player , team , coach pages to follow your dream and can also rate other pages with one click.
60' Indian players are trying hard and doing to many things in search equalizer here , Blue colts needs to keep it simple.
57' Do let us your thoughts about 2017 U-17 World Cup and Indian Football current stage in the comment section below .
53' Komal have scored against Brazil U-17 in the BRICS U-17 Championship and now he is again on scoresheet against Uruguay U-17. India No 10 from Sikkim loves south American opponent .Watch his goal against Brazil below.
53' GOOOALLLLLLL!! Brilliant reply from India , Komal scored with thunderous strike .Komal dribbles past a player and takes a shot which beats the goalie. First goal for India in the tourney.
52' GOOOALLL!! Facundo Milán scored for Uruguay.
47' More intent in the India's performance in second half but Uruguay is still better side .
47' More intent in the India's performance in second half but Uruguay is still better side .
41' We have been just informed that scouts from various clubs are watching this game from the stands.
38' CLOSE! Best chance for India in this match . Ninthoinganba dribble past two Uruguayan defenders to cross the ball in the box for Lalengmawia . Mawia shots comes out of the woodwork .
Boris India's right back is looking impressive today.
36' We are underaway in the second half.
Gustavo Viera and Gaston Medina of Uruguay U-17 plays for Liverpool from Uruguay . Gustavo Viera is tracked by Liverpool ,Barcelona and Everton. We hope our Indian players also impressed the global scouts who are present during this tournament.
Uruguay started the half on the front foot and they were awarded with goal in the 12th minute of the match which Indian goalkeeper Nawaz could have saved.India has improved as the match progressed. Aniket is the star performer for India in the first half. Adam will be hoping that his team will score their first goal in the next half.
Uruguay players celebrating their goal.
35+2' Referee whistle for the half time.
35+1' We are in the first minute of the injury time.
35' Aniket has impressed every one here in Brazil with his amazing performance but he needs to score goals for India now.
33' Uruguay is the better team in the first half but not many chances for both sides.
30' All the matches in this tournament are of 70 minutes .
25' Indian players are having majority of the possession in the last 10 minutes but unable to find any penetration in the Uruguay box.
20' Another attack from Uruguay in the search of second goal but Boris clears for India.
17' Once again early goal against Blue colts , Nicolai team will be chasing game one more time .
12' GOOOALLL!! José Neris scored for uruguay.
6' José Neris who plays Argentina's River plate shot from distance is saved by Nawaz. Back to back save from Indian Goalkeeper
3' First attack of the match from Uruguay's , Facundo Milan cross from left easily caught by Nawaz.
1' Kick off in Majestic CAP arena.
10:00 pm Coach adam made couple of changes in his playing XI.
India starting XI: Md. Nawaz (GK), Boris, Jitendra, Sanjeev, Suresh (C), Ninthoi, Amarjit, Komal, Aniket, Rakip, Lalengmawia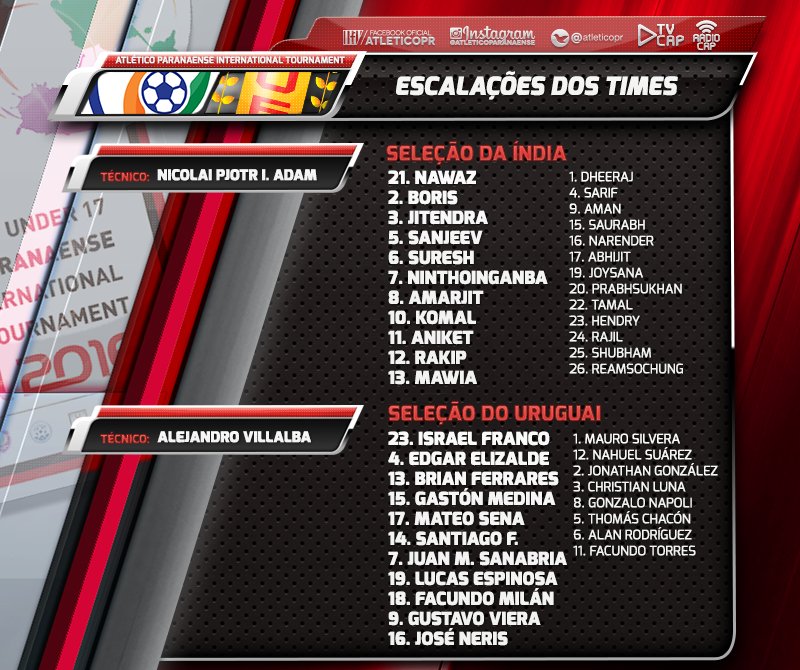 Line Ups
9:59 pm After losing 2 matches India U-17 are playing against Uruguay U-17 in the important fixture .
9:36 pm Hello and welcome everyone to the Atletico Paranaense International Tournament live blog from Brazil.
Published: Thu Dec 15, 2016 12:22 AM IST