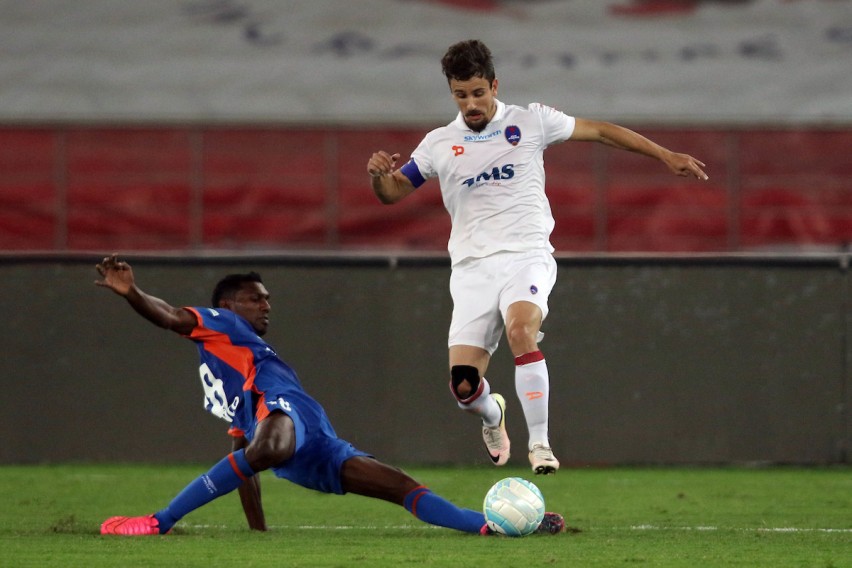 Full Time ISL 2016: Delhi Dynamos 5-1 FC Goa
For all latest news,photos, video highlights,reviews , editorial , tactical analysis from Indian Super League 2016 and Indian Football Sign up for Khel Now
5-1
A 5-Star night for five Star Delhi. Marcelinho's hat-trick and Richard Gadze brace helping the hosts to another comfortable win that pushes them closer to the playoffs. Fulgango's opener seems years ago. Another deserved for the Dynamos. Goodnight from Delhi.
All Goals videos are updated below .
90+5'
Referee whistle for full time to end the wonderful match for Delhi .
90+3'
Delhi just happy to tick the clock at the moment by keeping possession .
---
---
90+1'
This defeat sums up FC Goa season , with new owners and off field problems does not help players to do better.
90'
4 Minutes of added time .
88'
Today's Attendance - 18,243
86'
Kean Lewis picked up the loose ball and his fizzing shot just beats Kattimani but it also flies wide of the post!
84'
Delhi players are easily keeping possession in midfield as there is no urgency from FC Goa.
82'
Hat trick hero Marcelinho comes off for host with Standing ovation from home fans . Pelissari comes on
80'
Goa free-kick and Cesar replicates his previous effort as it flies over.
77'
Substitution Goa Keenan off Balmuchu on.
75'
Substitution Delhi Addy off Niasse on.
73'
Delhi content to keep the ball for now.
70'
Badji tries a volley straight after coming on. Sales over.
UFFFFF !! All the goals video are updated , Just check the timeline below .
69'
Substitution for Delhi Gadze off Badji on.
67'
Substitution for Goa Shirodkar off Trindade on.
65'
David Addy once again goes down in thre box no penalty. He's receiving some treatment now.
Richard Gadze powered a shot past Kattimani from close range to bag a brace in Delhi!
63'
Catch a breathe everyone as this game has just calmed down.
60'
Substitution for FC Goa Richarlyson off Rafael Dumas on. As a Julio Cesar free-kicks heads towards NCR rather than the goal.
58'
GOOOALLLLL!!! Gadze Scored for Delhi.
These goals coming quicker than London buses. This time Gadze.
Marcelinho was at his magical best to further strengthen Delhi Dynamos' lead!
56'
GOOOALLLLL!!! Hat Trick for Marcelinho.
Cuts in from the right and smashes into the bottom left corner. Clinical stuff.
54'
Another ball tries to pick out Marcelinho's run but this time its overhit.
53'
As Delhi switch off Luciano's shot goes just wide.
Gadze kept his composure to tuck it home for his first in Delhi!
52'
GOOOALLLL!!! Delhi Scored one more .
Marcrelinho picks up the loose ball and picks out Gadze run. He slots past the keeper and into the net.
Marcelinho rockets one past Kattimani to send Delhi Dynamos into the lead!.
49'
GOOALLLLL!!! Delhi takes the lead .
Nothing much happening on the edge of the box and Marcelinho drives one that nestles in the bottom left corner past Kattimani.
46'
Back underway in the second half.
Delhi with all the attacking as expected. Goa's goal came a bit against the run of play but Marcelinho leveled it up with a classy finish. You fancy that if the hosts keep this up they'll score again and win.
Malouda played it cleverly to @marcelinholeite, who wasted no time in putting it past Kattimani!
45+2'
Another corner for Delhi but this time Gadze can't get any power on his shot from close range as Kattimani collects. There goes the whistle for the break.
45+1'
Into a minute of added time. This time Kean shoots after a Delhi but has his shot blocked.
45'
Into the final minute of the half as there are appeals for a penalty after what appeared to be a foul on David Addy. The referee waves play on.
Cesar's shot rebounded off Poirei to fall for Cardozo, who broke the deadlock for Goa.
43'
Marcelinho now the leading goalscorer this season with six.
40'
Richarlyson concedes a corner but the referee blows for a foul. Defensive free-kick
38'
Marcelinho once again with a cross look for Malouda this time its well cleared
37'
GOOOALLL!!! Delhi Scored ! What a come back.
All the Goa defence wait for a ball clipped in. Malouda instead rolls it down the line and nobody picks up Marcelinho's run who smashes it in.
36'
Shirodkar with a clumsy challenge on Tebar. Yellow card.
35'
Marcelinho with another darting run into the box but his shot is scuffed by Debabrata's block and Kattimani collects.
34'
Another shot this time by Marcelinho but Kattimani comfortable behind it.
33'
Gadze with a shot and Kattimani with a good save.
31'
GOOALLL!! Goa. On the counter's Rinaldo's shot from close range isn't cleared and Fulganco has a tap in.
30'
Souvik tries another cross messes it up again.
28'
Richarlyson's free-kick is cleared and as Delhi counter with Marcelinho his cross can't reach Gadze.
26'
Foul by Fulganco. Tebar tries something off the training ground and it just comes off Milan's back. Funny.
25'
Marcelinho once again races into the box but his cross is just too high for Gadze.
22'
The corner is cleared but goa force another chance. This time Cesar can't keep the ball in at the far post.
21'
Meanwhile, Tavora produces a shot Soram has to tip wide.
20'
Nothing comes off the free-kick.
19'
Keenan's foul on Malouda. Free-kick in a good position.
18'
Some good possession for Delhi but the game has calmed down.
16'
Malouda with a shot from distance that goes so high it almost kisses an air hostess on the way back.
14'
Delhi have been a commentator's joy this season. They test your descriptive creativity and always give you lots to talk about.
Gadze & @marcelinholeite link up well, but Gaikwad stands in the way to deny the former!

DEL 0-0 GOA#DELvGOA #ISLMoments #LetsFootball pic.twitter.com/bImr8ZWla0

— Indian Super League (@IndSuperLeague) November 27, 2016
Gadze & Marcelinho link up well, but Gaikwad stands in the way to deny the former!
11'
Souvik with a shot from distance that went so well wide that it produced a few chuckles.
9'
Marcelinho gets the ball in midfield skips past 3-4 Goa defenders but his near post finish hits the side-netting.
8'
Marcelinho finds Gadze whose shot from inside the box is blocked by Raju.
6'
Goa corner and as Delhi counter with Gadze Debabrata comes in with a good tackle.
4'
Long ball over the top for Gadze who tries to take take the shot on first time but the ball just skips out of play.
3'
Kean takes on Keenan the latter does well and gets the ball back.
2'
Free-kick early on for Delhi but nothing comes off it.
1'
Kick Off.
6:54 pm
Players are out for National Anthem .
6:50 pm
Teams sheet are out.
Delhi Dynamos FC lineup :
Soram Poirei(GK), Rubén González Rocha, Souvik Chakraborty, Anas Edathodika, David Addy, Marcos Tébar, Milan Singh, Kean Lewis, Marcelo Leite Pereira, Florent Malouda(C), Richard Gadze
FC Goa lineup:
Laxmikanth Kattimani(GK/C), Debabrata Roy, Luciano Sobrosa, Raju Gaikwad, Fulganco Cardozo, Keenan Almeida, Pratesh Shirodkar, Richarlyson Felisbino, Sahil Tavora, Reinaldo Da Cruz Oliveira, Julio Cesar.
6:45 pm
The hosts have it all to play for and a win tonight will go a long way in cement their spot in the playoffs. Goa are out of contention and playing for pride.
6:23 pm
Welcome from the JLN in Delhi . This is Ashish Negi bringing you the Live commentary of the ISL clash between Delhi and Goa.
Pictures Via ISL Media
Published: Sun Nov 27, 2016 09:27 PM IST