Spending a billion to play like this? Why Manchester United are not progressing under Jose Mourinho
They might be second in the league and on the cusp of their best season after the Ferguson years but the defeat to Sevilla provided a microcosm of the Red Devils' current identity crisis.
The job of Manchester United manager is no child's play. It takes a lot out of a person and with each and every element of the club's external environment against you, it just makes it worse. Jose Mourinho is not new to this pressure. Time and again, he has tackled these elements with ease, first at Chelsea, then at Inter Milan and Real Madrid. For all of his accolades in the industry, he has failed to perform at Manchester United.
Rewinding back to December last year after the UEFA Champions League Round of 16 draw, everybody wrote off Sevilla, with an obvious expectation for United to go through, when the two teams were paired but when the matches kicked off, the fifth-placed Spanish side dominated the Red Devils, both at home and away.
Travelling to Sevilla for the first leg, Mourinho's side were without the likes of Marcus Rashford and Anthony Martial and it was evident on the field that United lacked the speed in the final third. Indeed, had it not been for David de Gea, the team from Manchester would have easily conceded four goals in that match itself, let alone playing another leg at Old Trafford.
First Leg - Sevilla 0-0 Manchester United
Sevilla had eight shots on target, monopolizing the major part of the game. United came out with a draw only because of the repeated heroics of their shot-stopper.
On the domestic front, they are currently 2nd and trail their cross-city rivals Manchester City by a whopping 16 points and it is safe to state that the league is done and dusted. The pit in which United is falling is a result of a series of disasters and the rigidity of tactics by Jose Mourinho.
The first nail in the coffin was hammered in United's away league fixture to Liverpool. Mourinho walked in at the Anfield with an 11 match unbeaten streak, only drawing one and stepped in with his legendary game plan – Park The Bus. What cracked everybody up was that Anthony Martial, Marcus Rashford, Romelu Lukaku and Paul Pogba were in thunderous form and yet the gaffer made them track back and came up with just a point.
After that match, they could not cope up with the shifting of tactics, winning the matches but with the mediocre play that Man United fans never liked. Following on with his shrewd mentality and attack ridden plans, they went on to lose to City, Chelsea, Basel, Tottenham, Newcastle and even to a second division club, Bristol City at home and hampering yet another season for United and ending his lucky charm of winning the league in the second season at any club.
---
---
Another major reason is the absence of a leader. Ever since the retirement of Roy Keane, United were never able to find an appropriate leader, someone who would die on the pitch but won't give up. Wayne Rooney was passionate, a like-to-like person to lead the team, he would rather tackle a player and get a suspension than be standing on the pitch sulking in oblivion and planning his post-match social media stints to increase his followers.
Antonio Valencia is by far one of the consisting performers for the side, but he is surely not an example on the pitch. Never can we witness the United captain around the referee, fighting for a decision and defending the players wearing the Red.
Jose Mourinho just bluntly told Wayne to leave the club which he spent his 11 years and 251 goals on, without realizing the essence former number 10 brought to the squad. He would have been the perfect #10 or #8 on the pitch and an inspiration in the dressing room but the Portuguese gaffer chose an overpaid 37-year-old injured striker to replace him and then he complaints on the budget the board allows him with.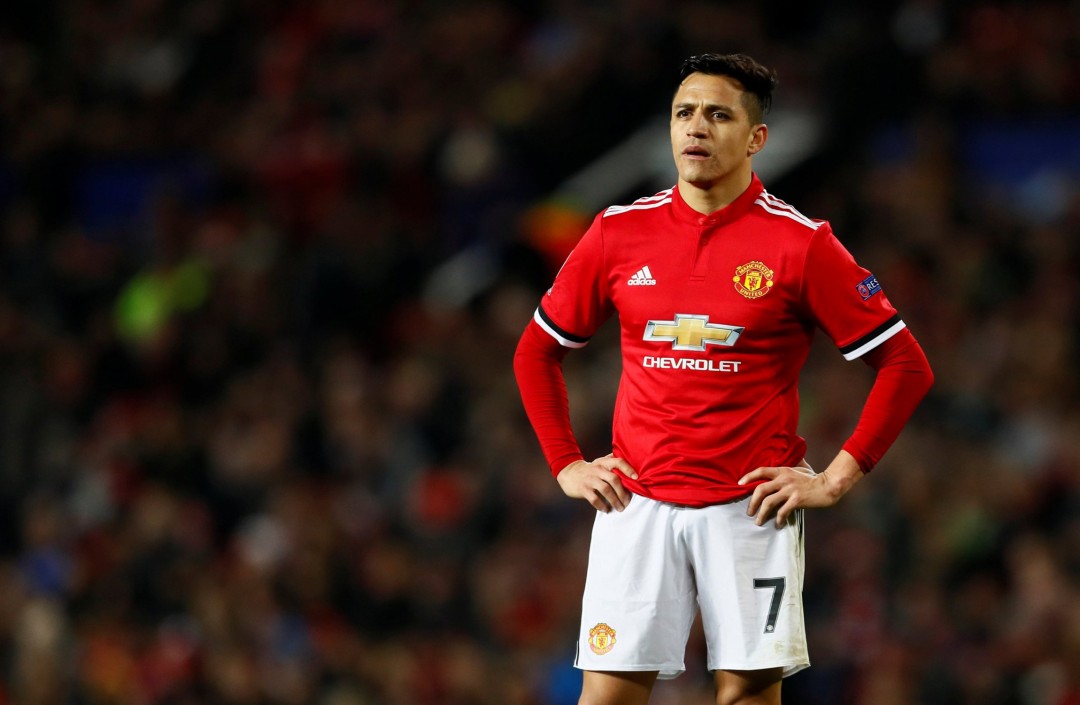 The reason why Alexis was signed still remains a mystery
Above all, his trust in the players that he bought during his stay in here is eternal. Lukaku, Alexis, Pogba etc can have a disaster of a game but Mata, Rashford and Martial will be the one to be substituted. His preference for his handpicked players is so tenacious that he would rather go home with a single or empty handed but won't do the needful. Zlatan in the previous season, now Lukaku and Alexis in the current season. Alexis is a surplus to requirements in the current scenario, it never made sense to buy another left winger when you are in a dire need of someone on the right wing.
What does not go down well with the Red Devil fans is Jose's obsession with the Belgian Marouane Fellaini. He has caused more harm to the club than being a man of extraordinary performances. He always comes in being the target man in the final third and to award silly penalties and make a mockery out of him.
The Portuguese manager is known for his rigid set points on the field. While this may earn the team the crucial 3 points on the table but it surely disturbs the growth of the players. Marcus Rashford as a traditional #9 is spending his time on the wings, scoring rare goals and learning to be a winger when he is a 10-on-10 centre-forward material. Last year, Zlatan's presence hindered his growth and now Lukaku, despite the fact Lukaku is not performing, albeit Rashford and Martial will never start in place of him.
Lukaku had a few chances to score but he failed to do so
Back to Square one, of all the hardships in United's journey, they hosted Sevilla on 13th March 2018 with yet another defensive playing 11 on the field. Starting with Fellaini and Matic together in a 4-2-3-1 formation, Jose's sole way of winning the home leg was to defend with six and attack on the counter with four players.
---
ALSO READ:
Dissecting Manchester United's journey in the post-Sir Alex Ferguson era!
How Jupp Heynckes managed to anchor a drowning ship Munich?
Marking 60 years of the Munich air disaster: Everything you need to know
---
They were extremely dominated by Sevilla despite playing at Old Trafford. They lost 1-2 to the Spanish team, leaving the star stubbed side in vain with their fancy haircuts and outside-of-sanity social media accounts which reflect their lavish lives and none responsibilities.
Mourinho: "I sat in this chair with Porto - Man Utd out. I sat in this chair with Real Madrid - Man Utd out. It's not something new for this club." #mufc pic.twitter.com/Awc0aEsUuP

— United Xtra (@utdxtra) March 13, 2018
To make matter worse, Jose Mourinho did what he does best, his rifts with media and his poor temperamental trait have been in the industry since 2004. On asked what were his thoughts about the result, he shamelessly bragged about his visits at Old Trafford and getting the better of the then Manchester United at the same stage of UCL twice. He said that the Round of 16 exit is nothing new for the club like Manchester United and showed similar signs of his downfalls from Madrid and London, specifically his infamous 'I have nothing to say' phase at Chelsea in 2015-16 the eason.
Is he really the man a club as huge as United must keep their faith in? Is he that insensitive to rub his losing face on some failures of United's past?
Jose Mourinho may have been an appropriate manager for Manchester United but as of now, he does not seem to be.
Published: Sun Mar 18, 2018 03:01 AM IST