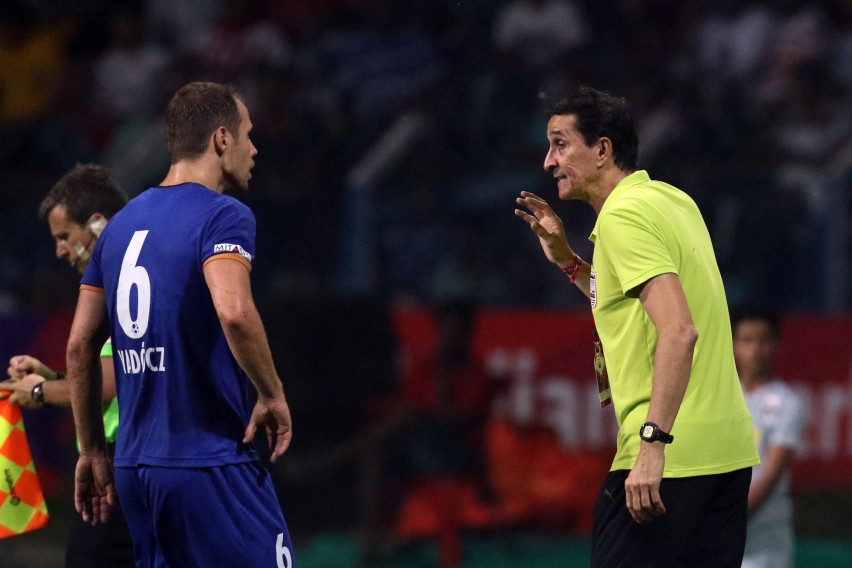 The players are becoming more clear about the philosophy and the style we have to play-Guimaraes
The Mumbai boss said his side's poor record against the Machans will have no bearing on today's match...
City have amassed 11 points in the league so far as they sit second, only behind Atletico de Kolkata. Knowing that a defeat could see them drop to third position, with Delhi Dynamos and NorthEast United breathing under their neck, their Costa Rican manager chose to boost the mental strength of his personnel as he announced that his lads are learning the philosophy their current season is based on.
"Every game is different," said Guimaraes. "I don't know how many chances we can make tomorrow. But what I'm sure of is that our players are becoming more clear about the philosophy and the way we have to play as per what opponent we're facing. Home or away, we're showing our style of play game by game. I'm waiting to see which players are available for tomorrow. Some of them are still recovering. I hope I can have eighty per cent of the team fit and ready for tomorrow."
City have the worst record against Wednesday's opponents, losing four games in four competitive meetings, but their current manager shrugged off the potential influence of the past results as he that his players had been performing well
"First of all, our squad is totally different from the last two seasons," said Guimaraes. "I don't think I have any player that has this memory. It's a different situation. We know that we're going to play against the champions, who have a been working with a philosophy and a set of players for more time than us. I feel that we're doing well and we have to keep doing well to pick points from here."
"Everybody knows that we have a tough schedule. We have three or four regulars injured, so we took our time to help those players recover. We also tried to introduce other ideas and plans for the second phase. So I think that the week break came like a blessing as we had time to be at home, to recover, knowing we don't have to hurry."
---
---
Despite sitting in a comfortable second position, they have struggled to score many goals this season, much like most other ISL outfit this season. However, their manager feels they are playing some good football that is unlike anything that has ever been played before.
"The only game we scored more than one goal (3-3 against Delhi Dynamos), we drew that game. When we score one goal, most of the times, we don't lose. When we don't concede as well, we have won. This is the only mathematics I think of. We are playing in a way that I think I haven't seen any other team play like. We are doing good, creating chances. Our games make for good viewing in the stadiums or to watch on TV. I think this is what the ISL is about," said Guimaraes.
When discussing Diego Forlan, he showered him with praises, stating he has epitomized everything that a marquee player should be.
"When Forlan plays, he usually scores or assists," said Guimaraes. "When he plays, the other teams are more aware and have more focus on dealing with him. When he plays, the TV ratings go up. When he plays, the stadium turnout is better. When he plays, our players feel better. What else can you ask of a marquee player?"
Results have been unpredictable this season, with last season's runners up now languishing in the bottom of the table. He claimed that the unpredictability factor is crucial in football.
"Football is always unpredictable," said Guimaraes. "However much you try to dissect the opponent's plan, it always comes as a surprise. That is what is good for football. If you can predict everything, it becomes very boring. In our case, we try to alert our players about their capacity of play, their fighting spirit and about the atmosphere.
"What I've seen here with the crowd and the stadium is that it's a good atmosphere to play in. We know there are a few players who're not going to play, but like we showed in Kolkata, there are a few guys waiting on the sides for an opportunity and they show that they're there. I hope that happens against Chennaiyin as well."
A Chennaiyin win can take them to the top of the table whilst a City win will see them establish a two-point lead at the top. The loyal Marina Arena fans are in for a superb match.
Photo © ISL Media
Report by Khel Now Correspondent from Chennai Praveen Paramasivan.

Published: Wed Nov 02, 2016 12:59 PM IST