PSG Vs Real Madrid: The two sides of the same Los Blancos coin
Make no mistake the two sides that Zinedine Zidane put out over the two legs were very different teams but both did their jobs to perfection.
What makes this Real Madrid team so special in Europe? This has been a topic of debate that has been doing the rounds for the past couple of seasons or so. For those seeking tangible answers to this question, they were on show at the Parc Des Princes last night.
What would you expect from a typical Real Madrid performance on a big UEFA Champions League night? Well, goals, Cristiano Ronaldo goals, fluid one-touch passing in the final third, those marauding full-backs, some mesmerizing wing-play and of course that customary Sergio Ramos headed goal. But hang on just a minute, this was a not a display consisting of most of those trademarks, at least for the most part. On the contrary, it was a showing built on determination, courage, steel and intelligence, executed by leadership, both on and off the pitch.
Watch: Paris Saint Germain 1-2 Real Madrid highlights
Over the two legs, Madrid had done a lot more than just lay the foundations of victory at home, in the first encounter. So, ahead of Tuesday night the blueprint was set. This was Paris Saint Germain's game to chase and chase they did from the first whistle, albeit not with any great success.
Like in the first leg the starting XI's on both sides were key. To that end, with the return of the seasoned Thiago Silva for youngster Presnel Kimpembe and the introduction of Thiago Motta for the out-of-sorts Giovani de Celso, this was arguably, the hosts' strongest possible starting lineup. There was one other most notable absentee though, Angel di Maria replaced the stricken Neymar, meaning Kylian Mbappe was once again stuck out on the flank.
Like most big games this one too was to be won and lost in midfield and here again it was a tactical masterclass from Zinedine Zidane that gave Real the edge. The 4-4-2 diamond was replaced by a more standard version of the formation, with the two wingers tucking in to make a narrow 4-man midfield against PSG's three. So, out went Luca Modric, Toni Kroos and Isco for Mateo Kovacic, Marco Asensio and Lucas Vazquez. This midfield provided the visitors with the perfect blend of pace on the wings and a compact shape without the ball that denied the hosts' attackers much-needed time and space. Indeed, it was only after Marco Verratti's sending off that Real afforded themselves the freedom to go forward in attack.
---
---
Zidane produced another tactical masterclass
As you might have guessed by now, this was a team setup to deliver the textbook away performance and that they did with some aplomb. So, who were the protagonists of this latest Los Blancos success? You could point to Ronaldo's goal that essentially sealed the tie, or to the impressive shifts of both Vazquez and Asensio, or to the centre-back pairing of Ramos and Raphael Varane who once again stepped up to the plate. But, there is one other name which has not yet received a mention in this discourse, and yet, on this night, it was he who stole everyone's thunder. That name is Casemiro. This Madrid XI almost picks itself in the big games, but there are no two ways about it. The Brazilian anchorman is one of the first names on Zidane's team-sheet almost every day of the week.
Like with most teams setup to play on the counter the holding midfielder is often the most important player. For, it is his job not only to win the ball back but also to be the instigator of attacks. The tenacious midfield strongman was sublime in both aspects and that he ended up with a goal on the night was just reward for a virtuoso performance. Indeed, when you look at the ethos of the Galacticos that is so skewed towards attack, his is perhaps the most thankless job. For, the stars in attack almost always steal his spotlight, while his mistakes will often be highlighted.
We could spend some time talking about how the Parisians could have approached this game differently and to what extend Neymar's absence impacted their performance as well as the result. But, that would be grossly unfair to a Madrid team who, over two legs, and in both individual games were a different class
---
Also Read
Real Madrid Vs PSG: Analysing both teams' market values
Five players who could make a comeback in Russia 2018
Real Madrid Vs PSG: How Zidane's tactical brinkmanship outwitted Emery's gung-ho approach
---
So, we return to the original poser of this work: What makes Real Madrid so good in the Champions League? Is it a poignant question to ask? For instance, consider this. Here we are, praising Real's defensive organization and discipline. But, do not be fooled, this is a team, that before last night had kept one clean sheet in their last seven games in all competitions and are 15 points behind rivals Barcelona atop the La Liga table. So, how do they turn it on in Europe? You might want to think it's some kind of switch that they can turn on and off at will. But, no, there's more to it than that.
As eluded to earlier, one attribute of the squad that gives them an edge on the big nights is the number of leaders in the team. Yes, Ramos may have the armband, but there are leaders all over the pitch. Also, this squad has almost the perfect combination of youth and experience. So, whether it is old-stagers like, Ronaldo, Karim Benzema and Modric, or those at the other end of the scale in Asensio, Vazquez and Casemiro, they are already sitting on two back-to-back Champions League titles, a competition that most top players want to win at least once. Thus, this team has the personnel to play the occasion to go with the know-how and skills to outmatch the opposition.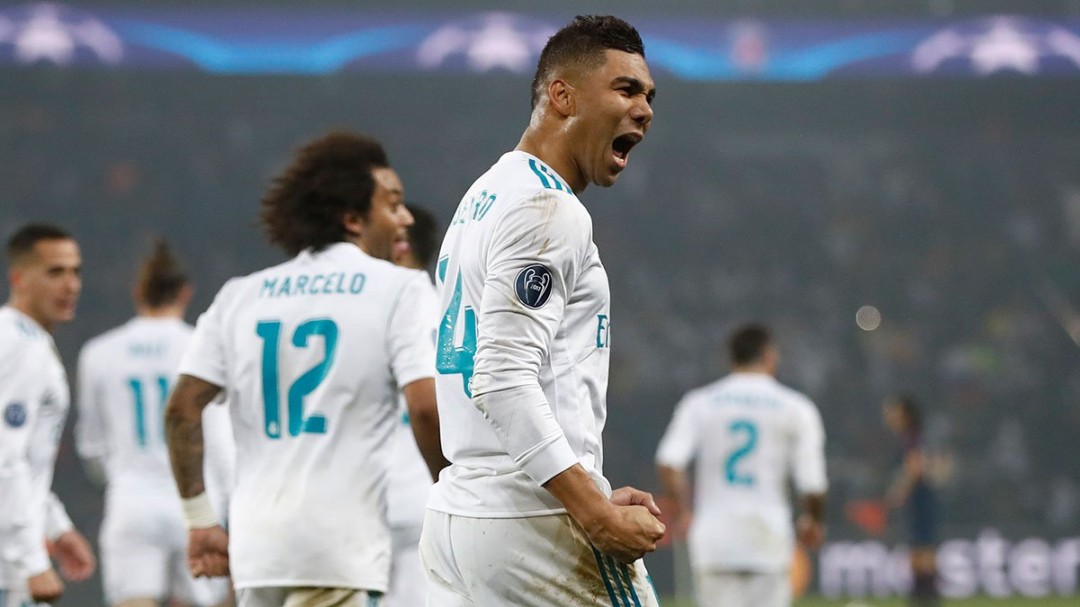 Casemiro scored the winner against PSG last night
Another feature of this team is its strength in depth and to understand this you only have to look at the two teams' benches from Tuesday. While the hosts brought on Javier Pastore and Julian Draxler, good players in their own right, Madrid could respond with the likes of Kroos, Gareth Bale, Modric and Isco.
Also, most teams who win the Champions League are at their peak, but incredibly enough, that cannot be said of this group. This team is scaling heights we thought didn't exist and as they do, they are not only redefining success, but also discovering more strings to their bow along with a renewed desire to achieve. For opposition around Europe that's the scary part.
But, there must be a glue to mould all these factors into a winning combination and for Real that glue is Zidane. One of the burgeoning young managerial talents on the continent, the Frenchman's status as a Galacticos legend is only growing as exponentially as his reputation as a manager.
However, in the era of geniuses such as Jose Mourinho, Antonio Conte and Pep Guardiola, he does not get the praise that his tactical acumen, for someone still so young in management, deserves. But, do not let anyone belittle his contribution to this era of a team's unprecedented European domination. For, as 'Zizou' returned to the city that was the ground of undoubtedly his greatest achievement (the World Cup triumph with France in 1998), he was at the helm of arguably the greatest European team of all-time.
Published: Wed Mar 07, 2018 04:51 PM IST