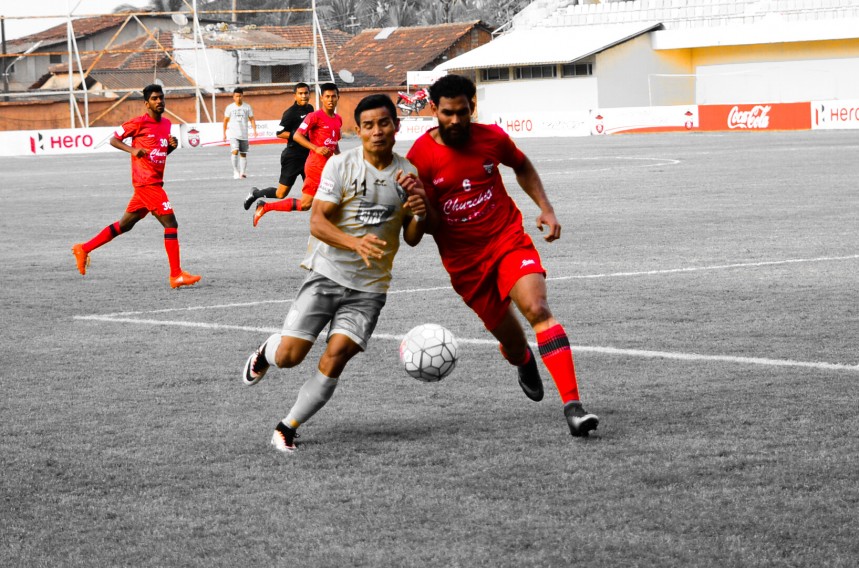 Wearing the national team jersey again will be a proud moment for me-Adil Khan
In an exclusive interview with Khelnow.com, Adil spoke about football, his constant trivia with injuries and the desire to return to the national team...
Adil Khan is in the form of his life. Doing a fantastic job to lead the defence line of Churchill Brothers Sports Club in the I-League, he has already won the man of the match against Mumbai FC for his rock solid defending and is constantly giving his best to keep Churchill out of any danger.
The 28-year-old defensive midfielder, who has settled in as a centre defender for the Red Machines, is working hard to get fitter by the day, after staying away from the football for almost 18 months due to an injury in January 2015. Though Adil looks perfectly fit and is giving his best for his team, he's spending a few hours in the gym and swimming everyday to get better.
"I love to improve myself on daily basis. I want to get better than yesterday and that is what is motivating me to give my best. I have not done any changes in my game as far as I know. It is only that, I just want to come back stronger after an injury for long periods. I was always known as a good ball winner, so I am using my strong points in the defence and it is working well for me so far." Adil said.
Adil is hoping the national team coach takes note of his strong performances.

Adil feels lucky to be a part of the only team from Goa in I-League this year. He also likes to thanks Dempo Sports Club to allow him to play for them in the Goa Professional League where he got a chance to prove his calibre and also helped him to get back his match fitness and sharpness. Adil also feels lucky to get to learn important lessons of football under Dempo head coach Mauricio Afonso and assistant coach Samir Naik.
When asked him about his preference of team in the ISL for next season, the ex-Delhi Dynamos defender was quick to reply that he is looking out for the playing time in the team rather than choosing a good team.
"I love it when I get playing time in the team. I just hate it when I have to sit on the bench. For me, every team is the same, but I will love to make difference with my performance with them." He explained. Adil has already represented Delhi Dynamos in the first edition of the Indian Super League.
---
---
With Indian national team coach Stephen Constantine bringing in 30 new faces in the fold in the last few years, Adil, who has earlier represented the national side three times, is eager to make comeback in the squad. Adil got his first national call from Savio Medeira back in 2012. Adil's first international match was against Azerbaijan.
"Wearing the national jersey is like a proud moment and every player's dream. And luckily I have done that three times but that was a very small period for me. Due to constant injuries, I did not get any further chance but now I want to be a part of national side again and I am working hard for that. Inshallah."
The former Sporting Clube de Goa star believes that Bengaluru FC's CK Vineeth is the best player in the country at present. He thinks that Vineeth has the potential to be amongst top and play in the Europe.
"For me, one name who is really doing well at present is CK Vineeth. He has the potential to go sky high and play in the Europe. Even I can be a India's next big star ha... ha... ha.... jokes apart, but yes Vineeth can be a contender of India's best," the defender said.
Adil started his youth career in SESA Football Academy. After passing out, Adil joined Sporting, where he spent five seasons. In these five years, with his brilliant performances and hard work, Adil was an important part of the team as he was a regular starter for the Goan side. Later, he moved to Kolkata giants Mohun Bagan on a one-season contract. His performances for the Green-and-Maroons got noticed and he got an offer to join ISL team Delhi Dynamos.
After a successful spell with ISL franchise, Adil joined new-entrants Kalyani Bharat FC but did not feature in the team due to injury.
After recovering from his injury, Adil signed a 3-month contract with I-League Second division side Lonestar Kashmir FC. Recently he was a regular starter for Dempo SC in the Goa Pro League.
Adil has been one of the better performers in this ongoing edition of the I-League. The defender has put in powerful performances in the defensive zone, seeing out a powerful attack which included Sunil Chhetri and CK Vineeth to defeat league heavyweights Bengaluru FC. With Stephen in the stands during that game, Adil is certain to have made an impact.
With some brilliant performances, Adil will except himself to be picked up in the probables' list. If Stephen is looking at strong ball players in the back-line in the mould of a Phil Jones, Adil Khan is his answer. With a little more impetus and concentration on his fitness, Adil is surely a winner and he has displayed that on the pitch.
For more interesting insights on Indian football, click here!
Published: Wed Feb 01, 2017 01:05 PM IST