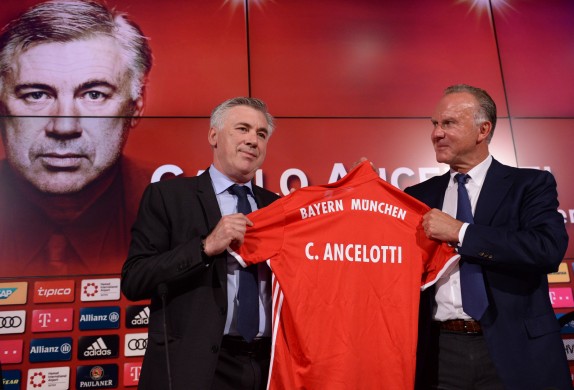 Why Carlo Ancelotti is the right man to bring European glory back to Bayern
The experienced Italian is well-placed to help the Germans get over the finishing line in the Champions League…
With all the hype surrounding the managerial war that has been unleashed in the Premier League, one particular appointment has gone relatively under the radar, much like the man himself. Carlo Ancelotti, the successor to Pep Guardiola at Bayern Munich has started off his tenure in fine fashion winning all his games so far and putting the German Super Cup in the trophy cabinet.
Bayern, while waltzing to the Bundesliga title for three years under Guardiola, fell short on three occasions in the semi-finals of the Champions League, a tournament they were supposed to dominate, given the resources and coaching staff at their disposal. Guardiola's objective was to give Bayern a distinct identity on the pitch and establish an era of dominance for the German powerhouse. While he succeeded in the former, the latter was something that was left wanting for both players and fans alike.
Played off the pitch by Ancelotti's Real Madrid, outclassed by Luis Enrique's Barcelona and outmuscled by Diego Simeone's Atletico Madrid, Bayern have been the victims of 3 of the best teams in Europe for the last 3 seasons. Ancelotti's arrival is aimed at fixing that very fact.
With a reputation of being a terrific man manager and a desire to see his teams play free-flowing football, Ancelotti is a perfect fit for the Bavarians. There is perhaps no better manager in Europe that knows how to win the Champions League than the Italian. With a stellar record on the continent, both as a player and manager with AC Milan, Carlo has handled big egos and troublesome owners to get his teams to perform cohesively towards a common goal. What is more heartening is that the fans and players are always on his side.
If high profile stars such as Cristiano Ronaldo and Zlatan Ibrahimovic shower accolades on a manager, you know that the coach knows how to get his players to perform. Part of this success is Ancelotti's propensity to let his teams express themselves on the pitch. While he perfected the Christmas Tree formation at Milan, Carlo has evolved over the years like any top coach. The 4-3-3 at Chelsea, PSG and Real Madrid brought the fans on their feet and players found themselves as round pegs in round holes.
This simplicity is exactly what Bayern need now. After three years of tactical evolution and revolution under Guardiola, Ancelotti knows that his squad can settle into any system that he desires. While the Spaniard failed to replicate his success with Barcelona at Bayern, Ancelotti has done this in some of the toughest managerial environments in Europe. Unceremoniously fired at both Chelsea and Real Madrid, he will not be afforded such callous treatment at Munich.
Ancelotti guided Real Madrid to La Decima in 2014.
He was unable to break the dominance of Barcelona in La Liga, but did one better than them in Europe. His partner in crime, Zinedine Zidane, fed off Carlo's ideology on his way to guiding Los Blancos to a second Champions League title in quick succession.
Ancelotti's task is very clear. Bayern are expected to win the Bundesliga, but they would also have to challenge for top honours in Europe. Unlike England and Spain, Ancelotti would be mindful of the fact that a lead in Germany, would almost certainly lead to the title, thus freeing him from the struggles of domestic football post the winter break. With Dortmund and Bayern exchanging players in the form of Mats Hummels and Mario Gotze respectively, the squad has been improved keeping European glory in mind. Renato Sanches, one of Portugal's stars in their triumphant Euro 2016 campaign will no doubt provide the legs to a midfield that already has the experienced Xabi Alonso and the powerful Arturo Vidal.
He has the squad and he has one of the best environments to work in anywhere in the world. It is time for King Carlo to deliver what has been evading Bayern for many years, European glory. But, if ever there was a man cutout to return the Bavarians to the very pinnacle of continental football, it is the man they fondly call 'Carletto.'
Editorial by Khel Now-Feature Columnist Srinivasan Mohan , Srinivasan Mohan is an ardent football fan from the Silicon Valley of India, Bangalore. He holds a Bachelors Degree in Engineering and an MBA in Marketing. He has been following football since 2000 and is an ardent Bayern Munich and Chelsea supporter. He has had stints with Goal.com and 90Minutes magazine. Srini as he is commonly know, is someone who loves writing on the Bundesliga and is also fascinated by Serie A. Apart from writing, he spends his time drumming, reading, and working out. You can follow him on Twitter.
Follow @Mohan_Srini
Published: Tue Sep 13, 2016 09:12 AM IST