Keep an eye on these ten special talents who'll take over the centre stage like so many other prodigies.
International youth tournaments often prove the platform talents use to announce themselves to the world, and the upcoming FIFA U-17 World Cup will be no different. With hundreds of premier under-17 footballers set to be a part of the Indian edition of the elite under-17 tournament, we look at 10 candidates who have a good chance of becoming the next Neymar da Silva or Antoine Griezmann.
Amine Gouiri (France)
Amine Gouiri ensured France U-17 took part in FIFA U-17 World Cup when he scored the solitary goal in the 1-0 victory over Hungary in UEFA U-17 European Championship play-off earlier this year. It was fitting to see him grab the winner, as he had topped the goal-scorers' chart with eight goals before the playoffs.
The Olympique Lyonnais striker is the man to watch in a team full of outstanding talents and, should the Golden Boot contender find his goal-scoring boots, the one-time winners of U-17 World Cup (2001) will surely find themselves in Round of 16 at the very least.
Komal Thatal (India)
In the build-up to the tournament, the Indian squad embarked on a programme that saw them gain invaluable experience in Italy, Mexico, Hungary, Brazil and Russia, and no player caught the attention of the observers more than Komal Thatal did.
Scoring eight goals in 30 appearances for India U-17, the Sikkim teenager has not only outscored his teammates but also proved that the big clubs – not essentially from India – should keep tabs on his development throughout the course of the tournament. What's to be noted is the fact that he's managed to be prolific from the midfield. Playing alongside fellow goal-machine Abhijit Sarkar, he'll look to create history.
Djibril Toure (Guinea)
Guinea are finally on the path of resurgence, with the West African nation qualifying for back-to-back FIFA U-17 World Cup and Africa U-17 Cup of Nations tournaments. Head coach Souleymane Camara has at his disposal a team of exceptional talents, but Djibril Toure has managed to make his teammates look mediocre in comparison.
In the recently-folded U-17 AFCON, he netted six goals as his side secured a third-place finish, behind champions Mali and runners-up Ghana. How he performs against players from Germany, Iran and Costa Rica, who have received superior training, will be crucial to Guinea's qualifying for the knock-out stages.
Eric Ayiah (Ghana)
Ghana's road to India saw them hand Cameroon and Gabon heavy defeats and ship a solitary goal in the U-17 AFCON finals, against eventual champions Mali. Equally detrimental as their impeccable backline was skipper Eric Ayiah's goal-scoring prowess. Scoring four goals, he finished second on the goal-scorers' chart.
Ghana faces three tough opponents in the United States, Colombia and India, but coach Paa Kwesi Fabin will look to build on their U-17 AFCON laurels, as he looks to guide his team to the knock-out stages. Other notable names are Emmanuel Toku and Ibrahim Sulley, but the skipper will likely be their go-to for crucial goals.
Song Jin Kang (North Korea)
North Korea's reaching the semi-finals of AFC U-16 Championship last year meant they're clubbed alongside favourites Spain and Brazil and Niger. Given their choice of coach – an experienced Yun Jong Su – it's evident that they're looking to make a mark in the tournament, and Song Jin Kang, who has previous experience of playing in FIFA U-17 World Cup in Chile, will be tasked with the responsibility of helping his teammates rise to the occasion. In Chile, he played only a bit-part role but, in India, he'll hold as much significance in the dressing room as skipper and his midfield partner Kim Pom Hyok.
---
ALSO READ:
Top 5 English players to watch out for this U-17 World Cup
Everything you need to know about Hero Indian Super League 2017-18
The Indian final squad for FIFA U-17 World Cup 2017 is here!
FIFA U-17 World Cup 2017 Full Coverage
---
Jann-Fiete Arp (Germany)
Germany may have won four FIFA World Cups, but their youth teams only look shadows of their senior sides, with Germany hardly ever bringing down big Bundesliga names for the youth tournaments. Jann-Fiete Arp will look to rewrite history, as he looks to guide his country to their first ever FIFA U-17 World Cup.
Coming off a superb UEFA European U-17 Championship campaign that saw him score seven goals – including two hat-tricks against Republic of Ireland and Bosnia and Herzegovina – he will be in high spirits. One may not be surprised if the 17-year-old future Bundesliga star wins Golden Boot this year, in India.
Mohammad Sharifi (Iran)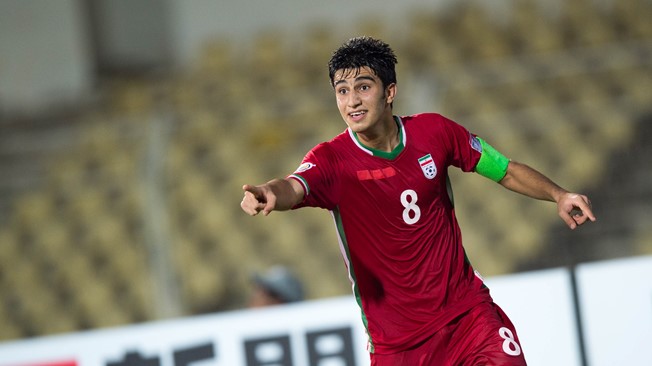 Iran's finishing runners-up in AFC U-16 Championship last year means they return to India for FIFA U-17 World Cup. Clubbed alongside relatively easy opponents Costa Rica and Guinea and Germany, Iran may end up being the most successful Asian team in the tournament. However, head coach Abbas Chamanian may want his skipper Mohammad Sharifi at his absolute best.
Iran's a squad that doesn't rely on a single person for goals, as four players scored three goals in Goa last year, but the Saipa midfielder's experience and track record – seven goals in 13 appearances for Iran U-17 – mean he carries Iran's high expectations for success.
Josh Sargent (USA)
A team that's often been derided for their lack of quality has finally been tagged one of the favourites at an elite tournament, and Josh Sargent is a fitting poster boy to the recent development football has seen in the United States of America. Ayo Akinola has outscored him in fewer appearances in the U-17 division, but the soon-to-be Werder Bremen striker's record – second top-scorer – in FIFA U-20 World Cup means he'll undoubtedly become an outstanding player in the upcoming tournament. One can expect him to even win Golden Boot on the back of his fine performances in CONCACAF U-17 Championship and U-20 World Cup.
Jairo Torres (Mexico)
Jairo Torres is already a squad player for Mexican side Club Atlas, despite being only 16 years old. The youngster became a star for Mexico's U-17 national team as they won the CONCACAF U-17 Championship to qualify for the FIFA U-17 World Cup, scoring 3 and assisting 3 in the process.
What makes him so dangerous is that he isn't just a goalscorer; he's a team player that can create and dictate the play as well as find the back of the net when he wants to. Mexico will pin a lot of their hopes for doing well in the U-17 World Cup on this talented forward.
Abel Ruiz (Spain)
Having scored 19 goals in 23 appearances for Spain U-17, Abel Ruiz tops their all-time goal-scoring chart. His ascension has coincided with Spain's as they won their first UEFA European U-17 Championship earlier in nine editions earlier this year.
Only a handful of players who had shone for Spain's youth teams have gone on to become huge stars, but he seems to keen to buck the trend. With the Barcelona man's going up against Real Madrid's Vinicius Junior and the rest of Brazil U-17 in a Group D game on October 7, football lovers in Kochi will get to witness some top-class attacking football.