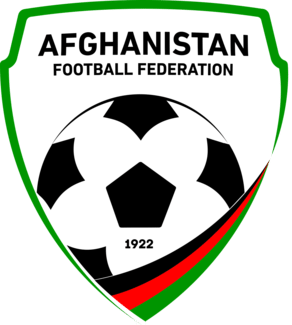 1-1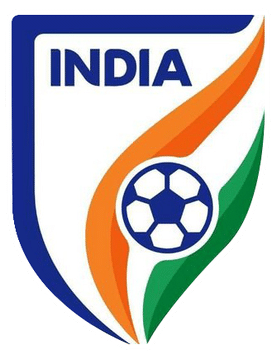 45+1 Narzary     90+3′ Doungel

---
LIVE: Watch Post Match Reaction – Afghanistan 1-1 India
---
Read match report: Afghanistan Vs India: Doungel salvages point for Blue Tigers in Dushanbe
Read player ratings: Afghanistan Vs India Ratings: Brandon the shining beacon for Blue Tigers
Read talking points: Afghanistan vs India Talking Points: Was Sunil Chhetri left isolated?
Read post-match press conference: Igor Stimac: We are becoming a team which is very difficult to beat
---
A game of two halves, but India will be the ones going back disappointed at not getting the job done. After a cagey first-half from which the hosts benefitted with a late goal, India came up with a late equaliser themselves in added time to capture a point. Chhetri hit the post and went close in the seocond half and Igor Stimac's substitutions worked an absolute treat in turning the game inside out. Seminlen Doungel gets his first goal in national team colors, one which could be crucial to keeping India's hopes of finshing ahead of Afghaninstan alive. There are stil some attacking cobwebs to be solved, but a point is better than nothing before the daunting trip to Oman on Tuesday. Khel Now will be back with extensive build-up and coverage of that game. Till then, this is Uttiyo Sarkar signing off. Thank You and Good Night, Ladies and Gentlemen
90+5′ OH! Afghanistan almost got a late winner, as Amin plays in a good ball to Amiri, whose weak shot was saved by Gurpreet. Heart in mouth moment that to end the game.
90+3′ GOALLL! DOUNGEL SCORES! A brilliant corner from Brandon meets the short centre-forward, whose header goes past the hapless goalkeeper. 1-1!
90+1′ Adam Najem goes down after a sliding tackle on Ashique to waste even more time. Meanwhile, five minutes of added time is announced. Can India get something here?!
88′ CLOSE! Brandon again finds some space ahead of him and takes a shot which delfects off abody into goal, but Azizi saves it eventually. Meawnhile, David Najem is taken off with Milad Intezar coming on for the hosts.
 86′ OVER! Another well-linked move takes place from the Blue Tigers as Manvir does well to hold up the ball and play it to Brandon, whose attempt from long goes sailing over the bar.
84′ CLOSE AGAIN! Chhetri does well to move to the left and float in a promising cross, which is met by Manvir but the ball goes wide.
83′ Just nothing is working for the Blue Tigers here. Chhetri-Farukh and Udanta play a pretty well linked move, but the latter's shot at goal deflects off his own player out. Later on, Doungel goes past a few players but loss it outside the box.
80′ The hosts are just trying to run down the clock now. Haydary had the chance to romp forward through the right in a counter-attakc, but passed it behind to keep the ball with his side.
77′ The answer is sadly no. Brandon's cross is cleared away and Afghanistan go forward with men and hit the sidenetting after a promising attack. Meanwhile, Seminlen Doungel comes on for Kotal.
75′ Udanta is brought down on the right with a nasty challenge. India have something to do here. Can they create something?
73′ The Blue Tigers seem to have lost a bit of their steam in the last few minutes. Perhaps those missed chances has frustrated them. Kotal gets the ball just ahead of the mid-line on teh right, but tries an uncharecteristic cross which goes scooping over.
70′ Luck doesn't seem to be in India's side today. Adil clears another Afghanistan cross to try and force a counter-attack, but Udanta can't play a proper one-two with Brandon before the ball is stolen away.
68′ OFF THE BAR! Brandon sends in a looping corner which goes all the way to Chhetri in the back post, but his header strikes the top bar and over. SO CLOSE!
66′ OOF! Afghanistan almost get their second one! The ball is played to substitute Amiri as he goes past Pronoy and takes a shot which clatters off the cross bar and out.
63′ Afghanistan make their second substitution with Shayesteh going off for Noraollah Amiri. The hosts look a bit rocked by India's pressure and are trying to slow down the tempo with antics.
60′ Manvir has been brought on for Sahal and help Chhetri inside the box as well. The FC Goa man is showing impressive link-up play since coming on and will be crucial against the physical hosts.
58′ SO CLOSE! Chhetri gets two glorious chances to score! THe first one was aftr Farukh did well to move past his man on theleft and send in a brilliant cross which the Bengaluru man barely missed. Kotal skipped past a dfender and then floated in a cross which met Chhetri's head, but it was saved well by Aziz.
57′ Great defensive work from Ashique there. Najem had played in a pretty impressive through-ball to send Haydary through, but the Bengaluru man comes into the middle to stop him on his tracks.
54′ Owais Azizi takes up almosta full minute tending some support after going down clutching his knee. The hosts' time-wasting tactics wont help at all.
52′ Bit of a weird scene here. Ashique does wel to run past a few defenders ont he left, but a few ballboys mistakenly coming into the field of play confuses him and he gives away the ball.
50′ Farukh gets straight into the action after Udanta makes a promising diagonal run into the middle, before playing the Jamshedpur man who cuts in and takes a shot which goes over.
48′ Afghanistan have moved even deeper into their defence, forcing Chhetri to go deep into midfield himself to get things going. Him moving that far from goal can only mean bad things for India.
46′ The Second half kicks off! The host resume the game, and they will be attacking from the right to left.
8:32 PM: India have made a change in the half-time break, with Farukh Choudhary coming in for Mandar Rao Dessai. This should mean Ashique will move into leftback.
---
HALF-TIME ANALYSIS: Well, that was not how Igor Stimac would've wanted the half to end. A moment of brilliance from the hosts undid all of India's good defensive work. That was because of their deeper players taking chances to get into the final third and the midfielder Narzary powerfully finishing. Going forward, India look too one-dimensional and haven't been able to create a proper chance. It was a very cagey half for both sides, but Afghanistan capitalized on their chances. Stimac needs some attacking changes to make and tweak the approach as well in order for the Blue Tigers to claw back into the game. We'll be back with second half updates in a while. Stay tuned, folks!
45+2′ CLOSE! India almost with an instant response. It's Brandon who finds the ball in the middle and takes an ambitious swipe from a long way out which goes just wide of the goal. At least a bright end to a disappointing half for India.
45+1′ GOAL! Afghanistan take the lead! India are unable to defend through the left, allowing Shayesteh to wiggle play the ball to Adam Najem, who laid it forward to brother David on the right. His cross was perfect and allowed Zelfagar Nazary to bomb a shot into the net. 1-0!
42′ Hassan Amin scoops in a curler which is saved by Gurpreet, but Shayesteh gets the box and almost wiggles into the area before the Indian #1 collects again.
41′ Shareef Muhammed surprisingly marauds forward into the Indian box and is brought down by Sahal just outside the box. Another promising free-kick for the hosts!
39′ Afghanistan again create a promising move through the right and a dangerous cross couldn't be met by Ahmad Haydary. India can't clear it away and allow Shayesteh take a swipe at goal which is saved by Gurpreet.
36′ India finally get their first corner of the game after Ashique's cross is cleared. Brandon plays in a looping ball but nobody can really get to it before it's cleared away again.
34′ AH! India produce their best link-play play of the game with a sizzling counter-attack. The ball is played right from the back and Brandon plays in Ashique on the left-wing. He goes beyond one body but can't find anyone in the box as the chance is eventually wasted.
31′ It hasn't been the easiest game for India so far. Th conditions are cold with 11 degrees celsius at the stadium. The transition can be difficult but Stimac will need his side to get going to find that goal.
29′ Afghanistan are persistently trying to find the through-ball to split open the Indian defence, but the Blue Tigers have done well to keep themselves compact. Adil has especially been impressive with timely clearances.
27′ CLOSE! Ashique does well to play the ball from his wing and brings it to the centre with Sahal's help, but his hot from outside goes just over.
26′ Mandar concedes another unnecessary set-piece for the Blue Tigers with a foolish fouk. It is sent in really well by Shayesteh, but Adil clears it before it rebounds back to Amiri, whose tricky attempt goes just wide. Lucky not to concede there.
23′ India are looking a bit vulnerable to the press today and losing the ball too easily on occasions. Udanta tries racing forward through the right, but is physically ousted by Haroon Amiri.
20′ Afghanistan attempt their first snipe at goal when Noor Husin gets some space from around 30 yards out, but his weak shot goes sailing way wide.
19′ India had the majority of the early possesion but Afghanistan have fought back in the last few minutes. The Blue Tigers are linking up better but failed to breach the hosts defence as they'd like to.
17′ Mandar is again forced to make an unnecessary foul outside the box, which is taken by Shayesteh but it cleared out before it can reach Gurpreet's goal.
14′ Mandar Rao Dessai has been struggling with his distribution and has given away possession multiple times so far and also conceded some set-pieces. He does it again by tackling Shayesteh and conceding a corner.
12′ Brandon proves his ability with a glorious cross-field long ball which wowed teh fans, but Kotal couldn't get to the end of it. Meanwhile, Popalzay is replaced by Adam Najem from the hosts.
10′ Gurpreet is called into action after an Afghanistan attack. The hosts fling in a corner which is collected by Gurpreet, but India fail to counter-attack allowing Shayeshteh to dance past a few defenders inside the area before Sandhu gets to the ball. Meanwhile, Popalzay tried running his injury but he seems to be done after going down.
7′ Early problems for Afghanistan here. They tried counter-attacking after an Indian attack as Omid Popalzay rode straight into the byline on the right before losing possession. But he seems to have tweaked something and looks to be in discomfort.
5' OOH! India create their first chance of the game through the right wing, as the overlapping Pritam Kotal is found free and puts in a whirling cross which isn't met by Sahal!
3′ The early game is being played in the middle with both tries trying to grind their way forward. The ball has predominantly stayed with Adil, Bheke and Pronoy so far.
1′ AND WE KICKOFF! Sunil Chhetri gets proceedings going with the Blue Tigers attacking from the right to left. India are looking to keep early possession with Afghanistan showcasing a defensive stance right from the get-go.
07:25 PM: The players are making their way into the stadium with huge roars to greet both set of players. Now we'll have the national anthems followed by the pre-match routines before the game begins. Kick-off in a few moments. Stay tuned folks!
07:20 PM: The hosts are also vulnerable defending against set-pieces, which has been India's only route to goals in the World Cup qualifiers. With Adil Khan, Sunil Chhetri and Brandon being promising in such scenarios, the Blue Tigers will definitely look to force more set-pieces to create chances.
07:15 PM: The Indian fans are already making their voices felt at the Central Republic Stadium and quite the crowd has emerged for this crucial game. The Blue Pilgrims are making their support known and will do so throughout as the Blue Tigers aim to weather the storm.
07:10 PM: If India manage to win today's game, they will leapfrog over Afghanistan on 3rd place and can even go two or three points behind Oman if they drop points against Bangladesh. If it's a draw, things will remain the same unless the Bengal Tigers can sneak a win against Oman.
7:05 PM: India do have a pretty solid record against the Lions of Khorasan, having won six out of the eight times these two have met. The last time they faced off was in the 2016 SAFF Championship finals, when the Blue Tigers prevailed 2-1. Sunil Chhetri scored the winner then. Can he repeat his heroics today?
7:00 PM: A big issue to creep up today for India could be the fact they are going to play in an artificial pitch at the Central Republic Stadium. While the hosts are well adapted to it, India have no little idea as there's no artificial pitch in the ISL. It could pave to be tricky as the grass is different, the bounce of ball is hard to judge and it's very susceptible to resulting in injuries.
6:55 PM: While The Blue Tigers will have to keep an eye out for Noor, Shayesteh. There will be quite a few interesting battles in the game featuring both sets of players. We took a look at the battles to watch out for. Here they are!
6:50 PM: Stimac seems to have countered their tactics with his own 4-3-3 combination with Halder, Brandon and Sahal holding the midfield line. Afghanistan are vulnerable to high press and quick-combination play, something which the Croatian loves in his side. Today we'll get to see how well-versed the Blue Tigers are to his tactics as they seek their first win of the qualifiers.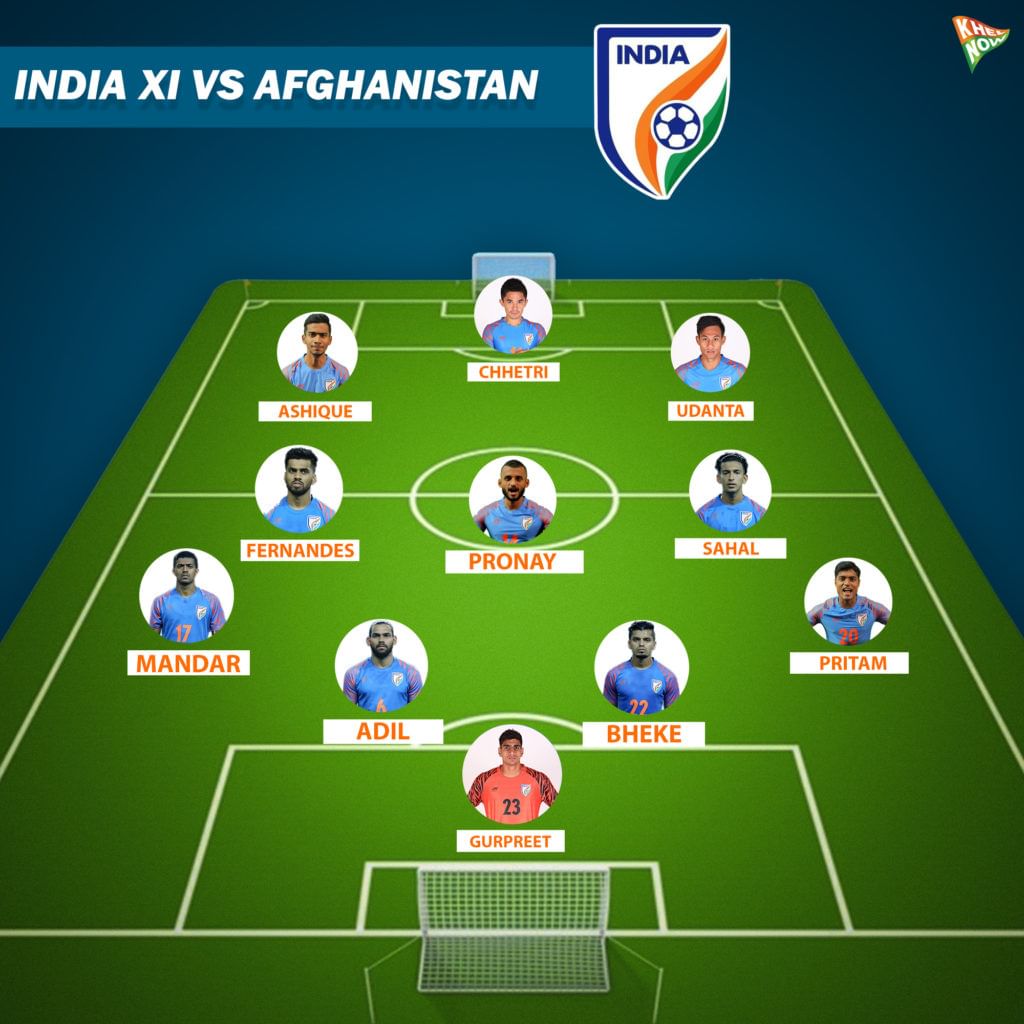 India's starting XI vs Afghanistan 
6:45 PM: The hosts have gone with their patent 4-3-3 formation, looking to take the fight to India. Their number 10 Faysal Shayesteh's a real danger through the right, having enough lethality to pounce in with crosses and taking swipes at goal. Captain Farshaad Noor's their driving force and scored the only goal in their World Cup qualifiers campaign. The Blue Tigers must keep the two contained to neutralize their threat.
6:40 PM: AFGHANISTAN XI: Azizi, Popalzay, Muhammed, Haydary, Amin, Najem, Nazary, Noor(C), Shayesteh, Husin, Amiri. 
Subs: Hamidi, Wahab, Hanif, Ataie, Intefar, Adam Najem, Sadat, Amani, N. Amiri, Rahimi, Sharza, Kharkham.
6:35 PM: An interesting team put out here by Igor Stimac. Anirudh Thapa is benched, with Pronoy Halder getting his first start in many months. Pritam Kotal also makes a return, with Rahul Bheke moving to centre-back. The Bengaluru FC boys make the attacking trio, with Sahal and Brandon's start indicating that the Blue Tigers will start attacking from the get go.
6:32 PM: INDIA XI: Gurpreet, Kotal, Bheke, Adil, Mandar, Pronoy, Sahal, Brandon, Udanta, Ashique, Chhetri(C).
Subs: Amrinder, Dheeraj, Narender, Nishu, Vinit, Thapa, Raynier, Jackichand, Doungel, Manvir.
6:30 PM: It's a relatively cold night here at Dushanbe for the game. India will want to bring the heat and are desperate to avenge the disappointing draw to Bangladesh in their last game. Team news will be here a few moments!
Welcome to the live commentary of FIFA World Cup Qualifiers 2022 Group E match between Afghanistan and India of Khel Now, where we will bring you all the live action from Central Republican Stadium in Dushanbe, Tajikistan.
Afghanistan Vs India Live Kick-Off: 7:30 PM IST
To read the preview of the match, click here.
To read the pre-match press conferences, click here and here.
Igor Stimac feels India and Afghanistan have similar quality
"It's my first time in your country. I love going around, seeing different places and different people in your country. We have a very difficult game in front of us. We both faced Qatar and Bangladesh. I think both India and Afghanistan team are of very similar quality. We see Afghanistan team as a physical side, strong side with a good composure; with some of the players gaining experience in European countries," Stimac quipped.
"Of course, it's not the top leagues, but playing in Europe it gives you extra quality and that's what I see in this Afghanistan team when I watch their games. They have composure, they have stamina and it's not going to be an easy game for us, of course. We know how important the game is. We need as much as we could to rest the players," he added.
Anoush Dastgir revealed he is happy to play in Tajikistan
"We are happy to be playing here in Tajikistan. It is not home, but we have a good record in Tajikistan. We drew against Tajikistan here and defeated Nepal a few years back," he said.