Five youngsters based in the UAE have been given the nod to join the Indian U-17 football squad that is currently preparing for the 2017 Fifa U-17 World Cup to be hosted in India.
Former Indian skipper Abhishek Yadav, who was spearheading a project to pick up talented youngsters in Dubai, was thrilled with the response from the Indian football community. The trials were held at The Indian High School, Oud Metha, Bur Dubai.
At the end of the trials, Yadav picked up a tentative squad of 18 players, who played a couple of friendly matches against local teams before the official made his choice of five players. "We wanted to be doubly sure that we got only the best from this part of the world. These boys are so keen and responsive. They are an educated bunch so that makes their grasping power even sharper. I am pleased with the way things have gone during the past few days," Yadav told
The five chosen for the India squad are Augustus Nixon (striker), Rixon Lobo (striker), Yuveer Kelkar (stopper), Arjun Sunil (midfielder) and Neelkantan Anand (left back).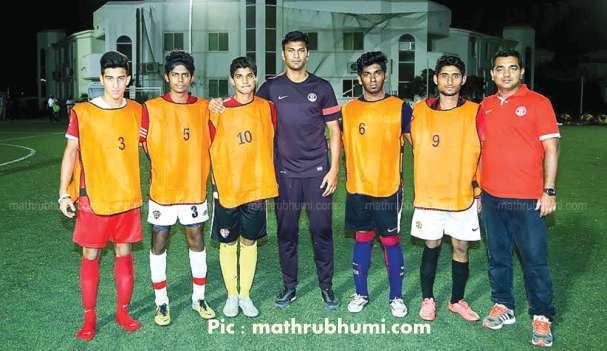 Kids selected by AIFF scouting team from #Dubai for the U17 WC team.( Picture Courtesy -mathrubhumi.com)
"Now is the tough time for everyone concerned, especially for the parents as they will need to make an important decision. We need to see how and when these youngsters can join the Indian squad," he added.
Named the 'SAI-AIFF Global Scouting Programme' and backed by the Sports Authority of India (SAI), Ministry of Youth Affairs and Sport and the Ministry of External Affairs, the selectors are scheduled to visit other countries shortly.
Yadav was impressed with the commitment of the players. "The boys had examinations and it is the fasting month or else we would have had more than 1,000 boys turning up for the trials," he said.
Khel Now is your favorite sports app – Support your favorites by following and rating them – Find other sports fans like yourself on Khel Now – Share photos, videos, reviews and ratings today
Download our Android App –
Report courtesy to Gulf News