The Malabarians aim for a top table finish in their third season in the I-League.
Having finished seventh and tenth in their first two campaigns in the I-League, Gokulam Kerala will have their eyes set on success this time around. The club have also reappointed overseas head coach Fernando Santiago Varela as they look to compete against the bigwigs.
Apart from the change at the helm, Gokulam Kerala also have some change of personnel in the players department. They've been quite busy in the transfer market. That said, the side heads into the campaign with a lot of hopes.
Last Season's Performance: Tenth
Managed by Bino George, Gokulam Kerala could manage only a tenth-placed finish last season. They won just three of their 20 league games, which was three less than what they managed the season before. They had just 17 points to their name when the season came to a close. Thanks to their eight draws, that essentially kept them away from relegation. They also conceded 33 goals, the second-worst record in the league.
Pre-Season
While the Malabarians' previous two seasons were largely disappointing, their performances in the pre-season give the club and its fans reasons to be positive ahead of the brand new campaign.
Gokulam Kerala began their pre-season with a set of friendlies against Indian Super League clubs. They played against the likes of Mumbai City FC, Bengaluru FC, Chennaiyin FC and Jamshedpur FC.  In another match, they also faced Sports Academy Tirur.
The side registered an impressive 3-1 victory over ISL champions Bengaluru FC. However, their games against Mumbai City FC, Chennaiyin FC and Sports Academy Tirur all ended in 1-1 draws. Jamshedpur were the only side to defeat them, beating Varela's men 2-0.
Gokulam Kerala followed these matches up with the Sheikh Kamal Cup in Bangladesh. Placed in the group B of the competition, the Malabarians won two of their three group games, including one against I-League rivals and champions Chennai City FC, while one ended in a tie. However, the club slumped to a defeat to the hosts Chittagong Abahani in the semi-finals.
Coaching Staff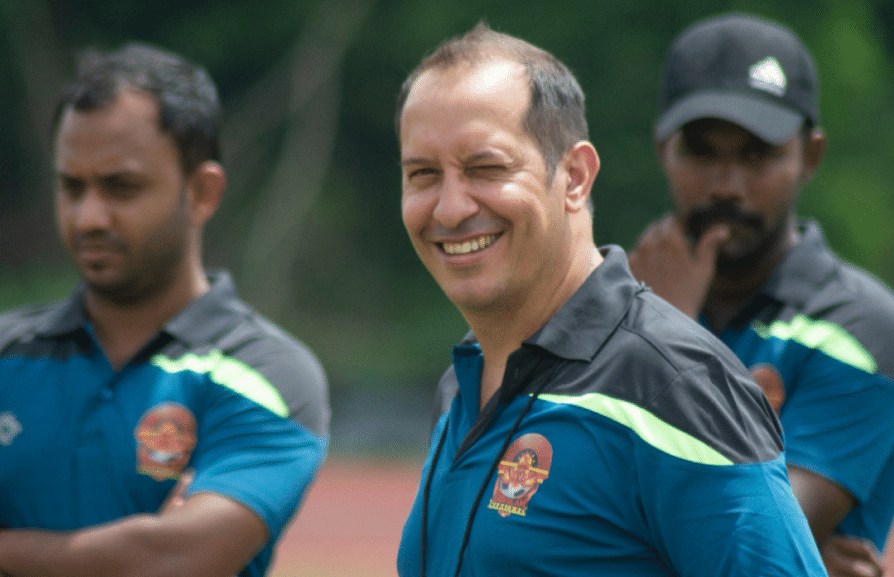 Since his arrival, Varela has led the Malabarians to Durand Cup victory in August
Gokulam have reappointed Varela as their head coach for the season. The Spaniard had taken charge at the helm of the Calicut-based club ahead of last season but had to head back to his home country due to personal reasons, leading Bino George to take over again.
However, Varela appears to have settled in well this time, leading the club to the Durand Cup in August. It will be interesting to see how the side fares in their first I-League season under a foreign boss.
Transfer Dealings
Ins
The Malabarians have signed a host of players ahead of the season. Five of their main signings have come from NEROCA, with Sebastian Thangmuansang, Naocha Singh and Malemngamba Meitei being three of them. Dharmaraj Ravanan, joining from Real Kashmir, is another key addition.
Ugandan striker Henry Kisekka has returned for his second stint with the club, having left them to join Mohun Bagan last term. Afghani international Zohib Islam Amiri, ex-Chennaiyin FC man Bruno Pelissari and Trinidad and Tobago midfielder Nathaniel Garcia are the other foreigners to join the club this season.
Gokulam Kerala also appear to have signed former Kerala Blasters man Jithin MS after the club posted a cryptic message on social media.
Outs
Overseas players Guilherme Batata, Christian Saba, Daniel Addo, Fabien Vorbe and Ejiogu Emmanual have all left the club ahead of the season. 
Local boys Arjun Jayaraj and Shibinraj Kunniyil have gone on to join the other club in town Kerala Blasters. The likes of Gani Ahmed Nigam, Imran Khan and Mehtab Singh have also left the side.
Squad
Goalkeepers
Ubaid CK, Lalit Thapa, Satyajit Bordoloi, Vigneswaran Bhaskaran.
Defenders
Naocha Singh, Ashok Singh, Wungngayam Muirang, Andre Ettienne, Mohammed Irshad, Dharmaraj Ravanan, Mohamed Salah, Sebastian Thangmuansang, Jestin George, Sanju, Alex Saji, Zohib Islam Amiri.
Midfielders
Bruno Pelissari, Muhammed Rashid, Mayakkannan, Nathaniel Garcia, Shibil Muhammed, Myron Mendes, Lalmuanzova.
Forwards
Rahul KP, Marcus Joseph, Malemngamba Meitei, Salman K, Lalromawia, Henry Kisekka, Lalliansanga.
Formation & Tactics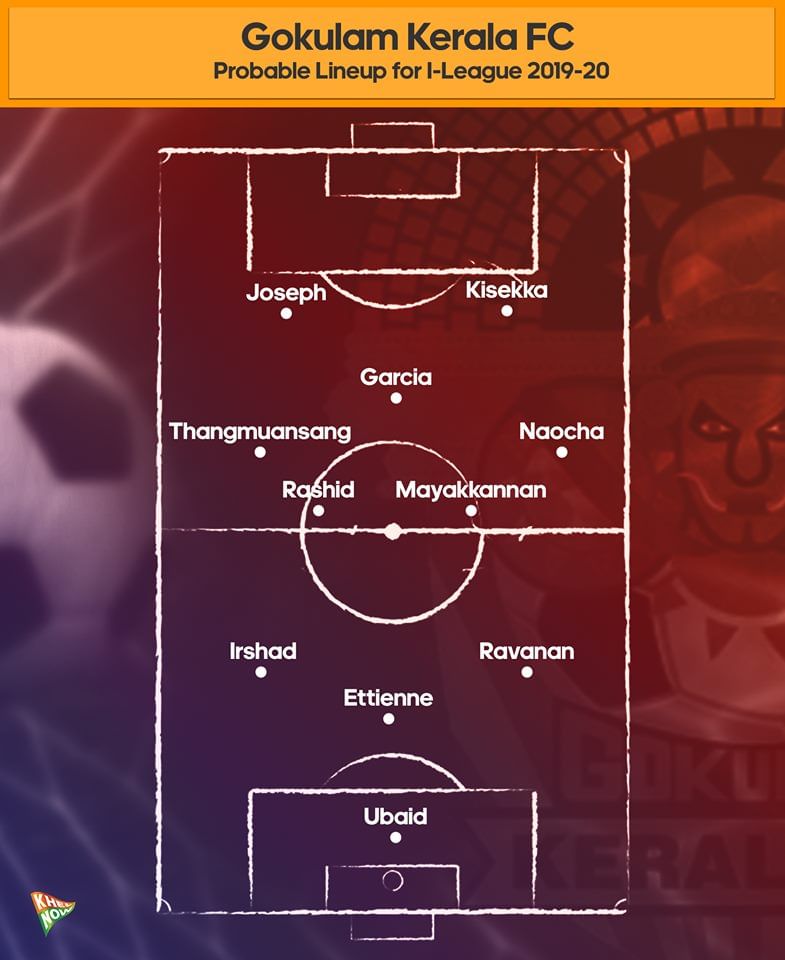 I-League 2019-20: Gokulam Kerala Probable Lineup
Gokulam Kerala have mostly gone with what looks like a 3-4-1-2 formation in the pre-season. Ubaid CK, who starred in the side's semi-final victory over East Bengal in the Durand Cup this year, is expected to start in goal. Going by Varela's trend in pre-season, Dharmaraj Ravanan, Andre Ettienne and Mohammed Irshad will form their back three.
Sebastian Thangmuansang and Naocha Singh will occupy the roles of wing-backs, while Muhammed Rashid and Mayakkannan will play in the centre of the park.
Henry Kisekka and Marcus Joseph will lead the Malabarians' frontline, with Nathaniel Garcia occupying the number ten role.
Addition of Jithin MS and Zohib Islam Amiri provide Varela with further options to tweak his starting eleven.
Strengths
Gokulam Kerala's key strength lies in their attack. Captain Marcus Joseph and Henry Kisekka will lead their frontline, with Nathaniel Garcia supporting them from behind. 
Marcus Joseph has been scoring goals for fun recently and the striker firing five goals past Anguilla while on international duty with Trinidad and Tobago earlier this week is a testimony to that. While Henry Kisekka's return will add spice to Gokulam's offence, another Trinidad and Tobago international Nathaniel Garcia acting as the supplier behind the two will be a huge threat to opponents this season.
Now, adding Jithin MS to the mix, the Malabarians' attack is definitely something to look forward to.
Weaknesses
The Calicut-based club's offensive line is certainly dangerous but they might have some concerns at the back. Varela's men managed just two clean sheets from the nine games they played in the pre-season.
They were leading 2-0 against Chittagong Abahani in the semi-final of the Sheikh Kamal Cup after the eighty-minute mark but went on to give away the lead, ten minutes before losing 3-2 in the extra time.
Fixtures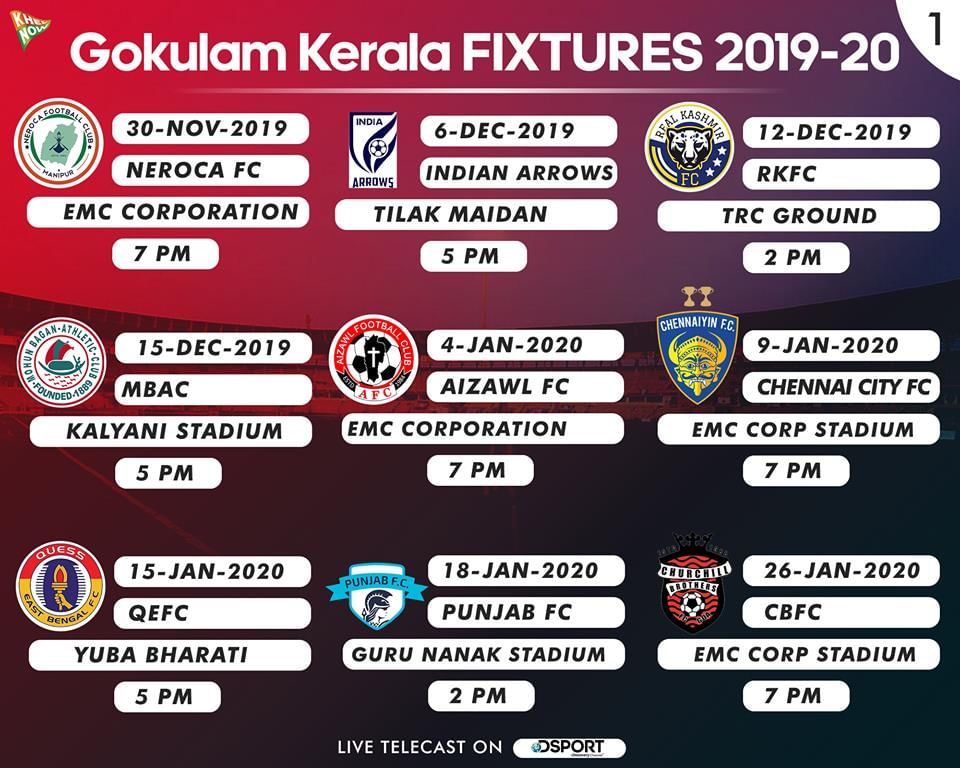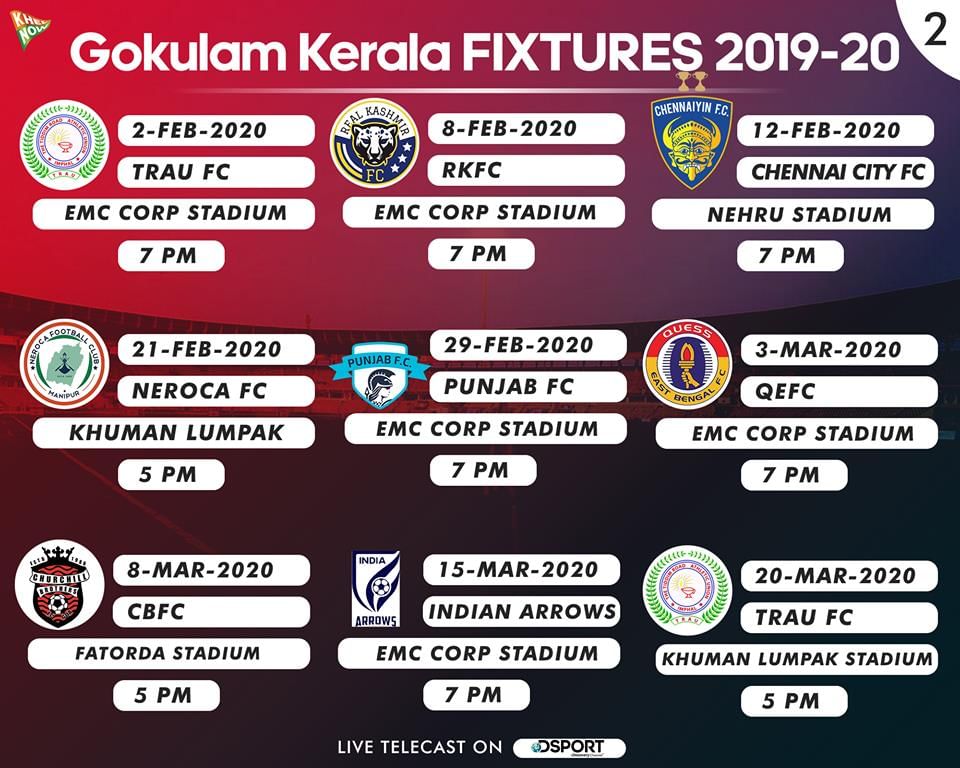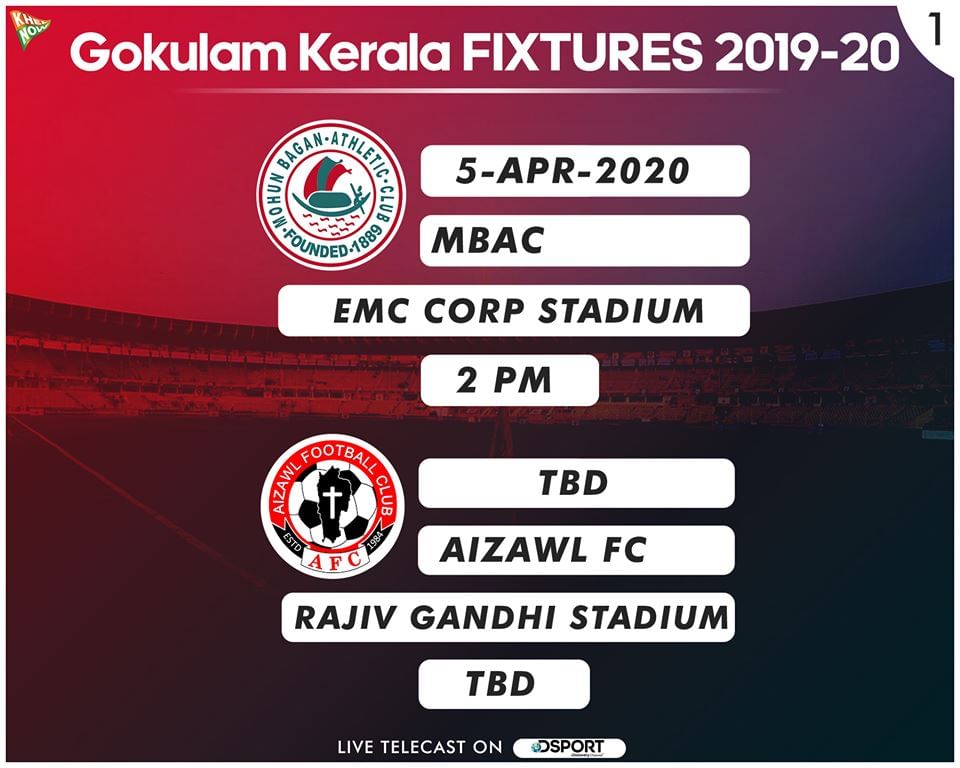 I-League 2019-20 Fixtures: Gokulam Kerala
Players to Watch
Marcus Joseph
The star striker is arguably the most dangerous player in the Gokulam Kerala squad. Marcus Joseph took little to no time to settle in at the club after joining them midway through last season. 
Having scored seven goals from seven league games since arriving at the club in January, the 28-year-old has been handed the armband ahead of the season, which only points to his prominence in the team.
Henry Kisekka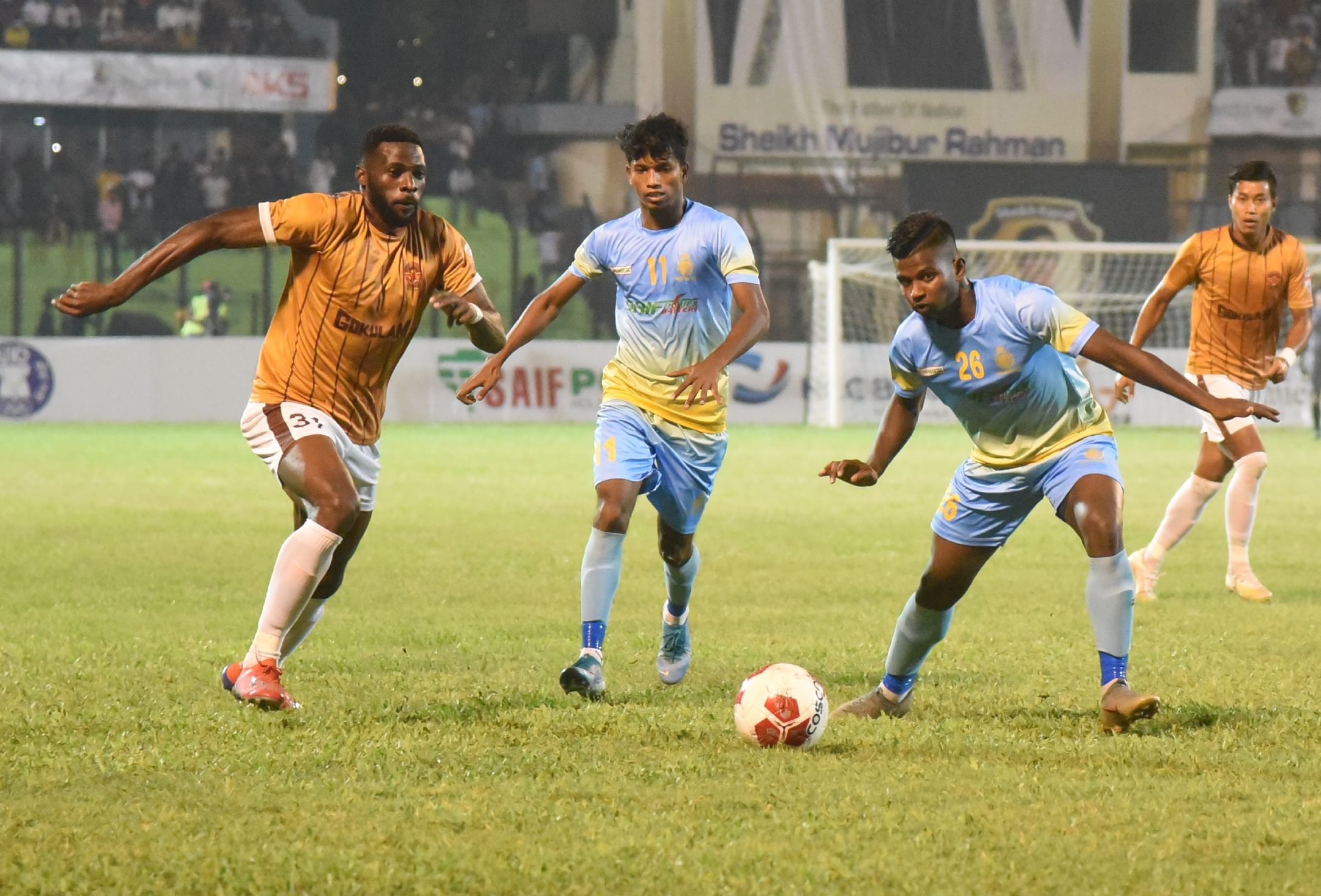 Henry Kisekka (L) is a key addition in the Malabarians' squad for this season
Having mentioned that Gokulam's strengths lie in their attack, it is only fair if we add Henry Kisekka as another Malabarian star opponents need to watch out for.
The Ugandan was the club's top scorer in their first season in the I-League, finding the back of the net four times in the league. He also scored three goals in the Super Cup before joining Mohun Bagan, where he scored 12 goals across competitions last term.
Jithin MS
The 21-year-old local boy is expected to play second fiddle to foreigners Marcus Joseph and Henry Kisekka. However, Jithin MS is coming into the campaign with some points to prove.
The young forward joined ISL side Kerala Blasters in 2017 but did not receive a single first team appearance during his two years at the club and was with the Yellow Army's B team most of the time.
A determined Jithin MS took the decision to leave Kerala Blasters ahead of this season and had set his eyes on proving his worth elsewhere. It has emerged that the'elsewhere' is at Gokulam Kerala FC.
What to Expect
As mentioned over and over again, Gokulam Kerala's attack is something the opponents need to be wary of this season. The offensive line is guaranteed to deliver. However, they have some concerns in defence.
If Varela's three-at-the-back system can improve the side's defence, there is no reason why the Malabarians' cannot be the surprise package of the season.