1-1
FULL TIME: NorthEast United 1-1 India. Match Report
The game was played in a typical friendly manner. The first half was comparatively lively but it slowed down in the second half as almost all the big names were substituted off in the second half. The only highlight of the match is Sandesh's injury early on in the game as we await further updates about the seriousness of the Indian centre back's injury. 
Sandesh Jhingan picks up ACL tear, ruled out for the next 6 months. 
Sign up here for further coverage of this match.
All Indian Football Team related news here
All Indian Super League related news here
87' Chance! Triadis' shot from the left hand side is blocked by a  Indian defender. The shot was a result of a NEUFC counter
82' Another injury in the match as Chaves goes down injured and looks to be in pain. He is immediately substituted
80' Chance! Triadis is almost through on goal but the GK reaches the ball first
75' ATTACK ATTACK ATTACK chants the fans as both teams are just passing it around
68' NorthEast make a heap of substitutions. Leudo and Gyan both substituted off
67' Its Still 1-1 between India and NorthEast United at the Sarusajai.
58' It's getting slower as both teams are just passing it among themselves no one able to penetrate the opposition defense
51' Lots of substitutes for India during halftime as Igor Stimac fielded different playing XI for the second half. Chettri and Udanta the most prominent names among them. We are still trying to get full line ups in the meantime. 
47' It's pouring here in Guwahati. Let's see what effect it has on the rest of the match
46' India kickoff the second half
Half time: NorthEast United 1- 1 India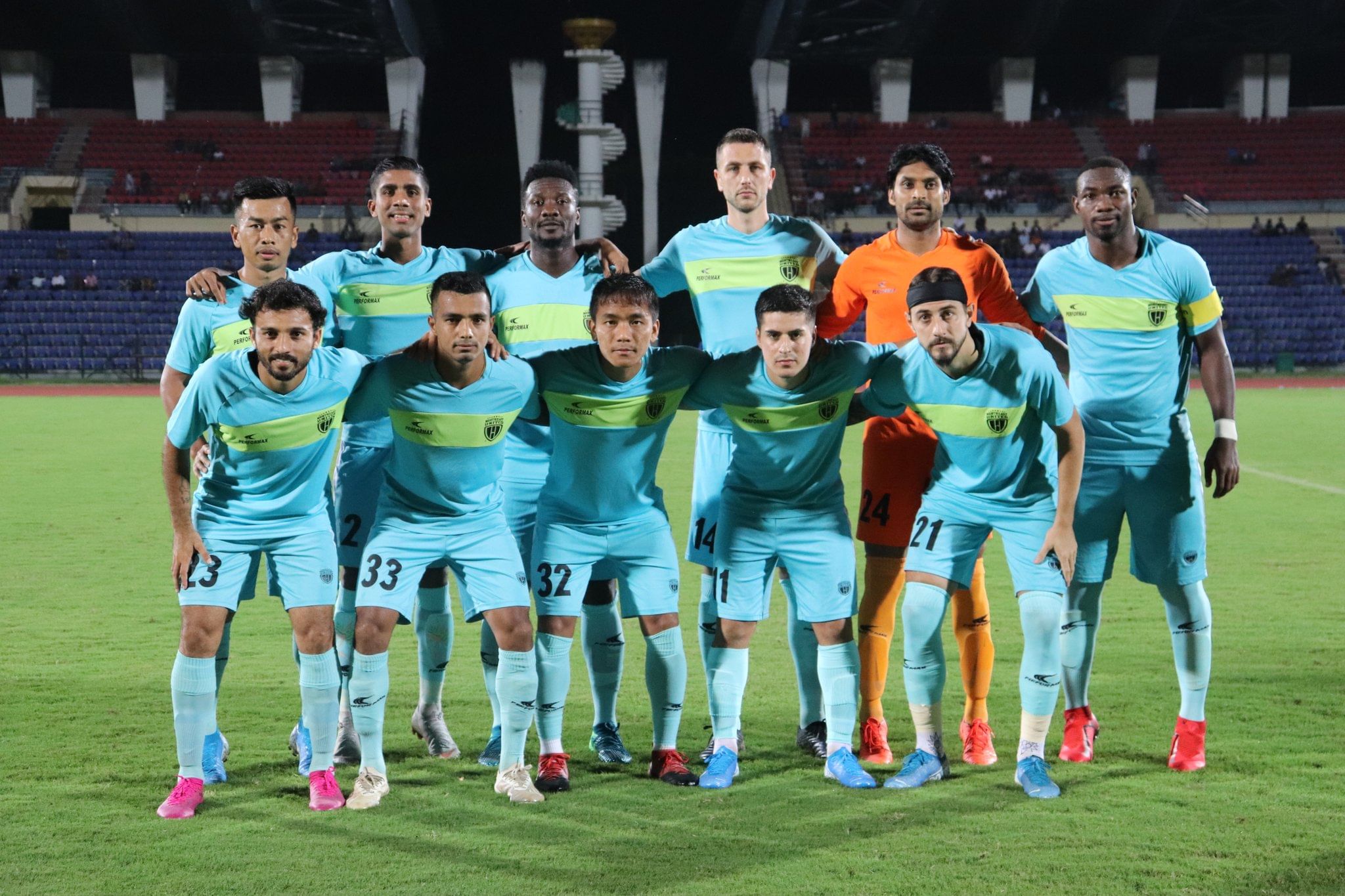 45′ Goal!! NorthEast equalize. Gyan with the goal. Gurpreet's poor punching clearance falls to Leudo who passed it with one touch to Gyan and Gyan slides it in
38′ Goal. India scores. Typical friendly match goal as India commit too many players in the corner and nobody tracks back during India's counter and Sunil Chhetri scored for India 
33′ The game has slowed down and the game is being played in the mid-field
27′ The Best chance of the game is created by India as the Indian number 12 goes through on goal. The angle proves too tight though as the GK saves the shot
24′ Udanta goes clear on the right-hand side but his cutback is blocked by Heerings
21′ NorthEast United Playing XI against India: Subhashish Roy Chowdhury, Heerings, Leudo, Kadam, Gyan, Pradhan, Chaves, Triadis, Khawlring, Vaz and Reagan
India Playing XI- Gurpreet, Adil,  Jhingan, Anas, Sahal, Vinit, Raynier, Chhetri, Udanta, Ashique and Manvir
19′ United wins two corners in a row but none of them create any clear chances
15′ Free kick shot right at the wall. India clears
14′ Free kick just outside the box for NorthEast. Chaves the player fouled
11′ Jhingan has been subbed off and has been replaced by number 12
9′ Sandesh Jhingan is injured and he is coming out.
7′ Chaves turning Jhingan inside out. Jhingan has gone down and it looks serious.
6′ NorthEast United dominant till now, controlling possession. Gyan looking lively.
1′ Kickoff: NorthEast United starts the game and score almost immediately but is judged offside by the linesman. Gyan the man denied
7:23 PM  We are 7 minutes away from kick-off.
7:07 PM Earlier today, India kicked-off their SAFF U-15 Women's Championship 2019 campaign with a 4-1 victory over Nepal at the Chalimithang Stadium in Thimphu, Bhutan. Read the match report here
7:04 PM This match is open for all fans and as per initial reports from Guwahati we are going to have a good crowd tonight.
India Football Team coach Igor Stimac revealed that the team "are very happy" to have got a chance to play a friendly match against NorthEast United FC (October 9, 2019). India Vs NorthEast United, he feels, will help the Blue Tigers bode well before the FIFA World Cup Qatar 2022 qualifier against Bangladesh which is slated at the VYBK Stadium in Kolkata on Wednesday (October 15, 2019).
The Blue Tigers are currently in a preparatory camp for in Guwahati for the forthcoming match against Bangladesh.
NorthEast United FC coach Robert Jarni was a former teammate of Igor Stimac who was part of the Croatian team who went on to finish third in FIFA World Cup France 1998. The duo will now be up against each other in India Vs NorthEast United.
"It'll be a great pleasure for both us. He was a fantastic player and a great coach as well. I wish him all the best for a successful career with Northeast United FC," Stimac commented.
Talking about the team's preparation, Stimac replied, "The team started preparing from yesterday. We have eleven training sessions and the game against NorthEast United, before we leave for Kolkata to face Bangladesh." Read more here
"It's going to be a perfect stage for us to get our first win in the campaign and we're eager to achieve that. I played in Kolkata for a short stint and was mesmerised seeing the passion amongst them about the game. I just can't wait to go out at the VYBK Stadium on 15th and win it together," Manvir said on the sidelines of the ongoing preparatory camp in Guwahati, which kicked off on October 3, 2019.
India Vs NorthEast United Live Kick-Off: 7 PM IST