Khel Now brings you the live coverage of the ongoing Indian Super League 2017 Draft.
15:56 It has been an incredibly exciting day with lots of money sloshing around and many players laughing all the way to the bank. Here are the Top 10 Highest Paid players in ISL 2017-18
---
14:56 Sundar Raman gives the closing address.
THE DRAFTS OVER! VERY Interesting and exciting picks. We'll give you the complete report soon. Watch this space for more!
14:54 Final pick of the day! Kerala Blasters pick Ajith Sivan for just 6 lacs. Midfielder from Reliance youth foundation.
14:53 Jamshedpur FC pick their final choice and it is Siddhart Singh. Forward worth 6 lacs.
14:52 Bipin Singh from Shillong Lajong goes to ATK. 12.5 lacs is his salary, as decided.!
14:51 Delhi Dynamos' final pick is midfielder Simranjeet Singh for just 8 lacs. Good Punjabi flair in the Delhi side. Style!
14:50 Bengaluru FC go next. Pick up goalkeeper Calvin Abhishek for 4 lacs.
14:49 Mumbai City FC go for Lalchhawnkima (KIM KIMA). Former DD and Mumbai FC player.
14:49 Sushil Meitei goes to NorthEast United.
14:47 GK Bruno Colaco go to FC Goa.
14:45 FC Pune City pick Pawan Kumar, a defender worth 12 lacs. Is taken!
14:45 Chennaiyin begin the round with picking Shahin Lal Meloli. 8 lacs for the goalkeeper.
ROUND 15 BEGINS!
ROUND 14 ENDS!
14:43 No. 72 Kunal Sawant is being taken by Mumbai City FC! No one's stopping him!
14:42 The Highlanders stand up again! Goalkeeper Gurpreet Singh is picked for 7 lacs.
14:41 FC Goa choose Mohd. Yasir. Midfielder at 5 lacs. Filling up numbers, are you?
14:40 FC Pune City pick defender Gurtej Singh worth 12 lacs salary. Smart, eh?
14:40 Chennaiyin FC pick former National team winger Francisco Fernandes. Will solve their Jayesh conundrum!
14:39 Kerala Blasters go for former Mumbai FC man Karan Sawhney. Had an impressive I-league season! 8 lacs only.
14:38 Jamshedpur FC pick experienced striker Ashim Biswas! Wow. Hit or miss kinda signing!
14:37 ATK go for Bhutia junior! Kunzang Bhutia is a goalkeeper worth 10 lacs. NorthEast were his former employers!
14:36 DDFC have their turns next! They choose Arnab Das Sharma. The goalkeeper from Minerva Punjab! 12 lacs!
14:35 Bengaluru FC start the round with Joyner Lourenco. Defender at 7 lacs. Bengaluru is his new home!
ROUND 14 Begins!
ROUND 13 ENDS !
ROUND 13 PICKS!
14:34 Bengaluru FC name Colin Abranches as their choice. 13 lacs, Goan, powerful defender.
14:33 DDFC go for Timothy Lugun. 10 lacs for a defender. Safe and young!
14:33 ATK choose Ronald Singh. Midfielder worth 10 lacs.
14:32 No. 14 Yumnam Raju goes to Jamshedpur FC. Defender at 12 lacs.
14:31 Kerala go for Loken Meitei. Midfielder.
14:30 Chennaiyin FC go for former Mohun Bagan defender Sanjay Balmuchu. Worth just 8 lacs?
14:29 Midfielder Ajay Singh going to FC Pune City for a meager 8 lacs. Bulking up the centre of the park!
14:28 FC Goa go for composed winger Anthony D'Souza. India International.
14:27 Lalrempuia Fanai goes to NorthEast United FC for 8 lacs. Former FC Pune City player.
14:26 Mumbai City FC begin this with Mehrajuddin Wadoo. Mumbai FC and former Chennaiyin right back. Can slot in at centre-back as well.
ROUND 13 TO BEGIN!
ROUND 12 ENDS!
Round 13 Picks!
14:25 FC Goa choose Amey Ganesh Ranawade. Local talent. 6 lacs for a 19-year-old!
14:24 Abdul Hakku Nediyodath going to the Highlanders for 12 lacs! Able defender!
14:23 Pranjal Bhumij of DSK Shivajians heading to Mumbai City.
14:22 Bengaluru FC go for Boithang Haokip. Another impressive North Eastern! Chhetri scouted them? We never know!
14:21 Rowilson Rodrigues is being courted by Delhi Dynamos. FC Goa will miss him. 30 year old, experienced defender.
14:20 Augustine Fernandes for 50 lacs goes to ATK. Fair buy.
14:19 Sumeet Passi is being taken by Jamshedpur for 24 lacs.
14:19 Kerala Blasters go for Samuel Shadap for 10 lacs.
14:18 Chennaiyin FC go for Dhanpal Ganesh.
14:18 FC Pune City start the round. The name they pick is Rohit Kumar. Midfielder for 8 lacs. SIGNED!
ROUND 12 Begins!
ROUND 11 ENDS!
Round 11 PICKS!
14:15 FC Pune City announce their love for Baljit Sahni. ATK, Chennaiyin and Mumbai FC in the player's CV already!
14:14 Chennaiyin FC go for first ISL final hero Mohammed Rafi, former KBFC striker! Firing trade!
14:13 Pritam Kumar Soraisam goes to Kerala Blasters. Singto strikers again! Shillong player.
14:12 Jamshedpur loves Farukh again, and Coppell's the link. Farukh Chaudhary goes to Jamshedpur.
14:11 Ashutosh Mehta, finally, is taken by ATK. Aizawl FC fans love him! Former Mumbai City FC defender.
14:10 DDFC choose Mohd. Sajid Dhot for just 10 lacs. The defender's taken. Strikers will be foreigners, majorly.
14:08 Bengaluru FC pick Abhra Mondal. Goalkeeper. East Bengal fans, wanna say something?
14:08 Biswajit Saha taken by Mumbai City FC. No debates for some time now.
14:07 The Highlanders buy Malemnganba Metei. Smart midfielder. Could be fairly useful.
14:07 FC Goa start the round with picking Jovel Martins. Burly and powerful defender.
14:06 120 players still to go! ATK still need one U-21 player. BFC, DD and Chennaiyin have it. Goa need 2, Pune needs 1.
ROUND 11 BEGINS! Every team is now showing a trend in terms of the signings!
14:00 Hey Guys! Bengaluru FC have tried to retain the majority of their players, with Haokip a smart signing who would easily replace Daniel. Smartly played, Mandar and Roca. Kerala Blasters and ATK also looking good as well get back to Round 11 of the Draft.
13:37:42: Delhi Dynamos management are here for the press conference.
---
13:22:16: Chennayin FC management are here for the press conference.
---
13:11:06: Bengaluru FC management are here for the press conference.
---
ROUND 10 is OVER! BREAK in the DRAFT.
13:05 Chennaiyin not budging! ATK well tried, Chennaiyin get Keenan Almeida.
13:03 Chennaiyin FC pick Keenan Almeida. Former FC Goa and Churchill Brothers player. 20 lacs. ATK are interested. Negotiations begin. The defender is in demand!
13:02 FC Pune City choose young goalkeeper Kamaljeet Singh. Salary of 8 lacs. Smart? Looks like. Pradyum plays again.
13:01 FC Goa go for Mohammad Ali. Strong, robust defender. Local buy. 25-year-old. All boxes ticked!
13:00 NEUFC pick defender Gursimrat Gill. Salary of 6 lacs. Smart or vague, just for the bench?
13:00 Mumbai City FC go for midfielder Zakeer Mundampara. Has played for Chennaiyin FC earlier.
12:59 BFC go for Thongkhosiem Haokip! Superb forward. Youngster retained.
12:58 No. 127 Sukhdev Patil goes to Delhi Dynamos. Smart signing by Miguel Portugal.
12:57 ATK choose Rupert Nongrum. Delhi and Lajong right winger. Usually, wears the No. 4 jersey.
12:57 No. 42 Sanjiban Ghosh goes to Jamshedpur. Goalkeeper. Young and fine signing!
12:56 Started by Kerala Players, the Manjappada club pick Lalthakima. Centre back. Played for Delhi Dynamos. Known as Kim Kima in footballing circles.
ROUND 10 BEGINS!
ROUND 9 ENDS!
12:53 Kerala Blasters take Chennaiyin's Siam Hanghal. Midfield bomb! Rene and Singto are on fire. NorthEast players in demand!
12:52 Jamshedpur pick SairutKima. DSK's centre-back. Is a young player! Smart, Coppell.
12:52 ATK pick striker Robin Singh! Anyone debates? No one! Former FC Goa player goes to Kolkata. EB fans love him!
12:52 Delhi Dynamos go for David Nghaite. Midfielder who can destroy and create. NEUFC lose their man!
12:51 Bengaluru FC pick Zotea Ralte. Aizawl FC's I-league winning captain! Brilliant leader at the back.
12:50 Mumbai City FC take Sanju Pradhan. Right winger. Powerful. Former EB captain.
12:49 Ravi Kumar is being taken by NorthEast United FC. 24 year old goalkeeper.
12:47 Number 157 Naveen Kumar. Churchill Goalkeeper. Solid buy. Goes to FC Goa.
12:45 FC Pune City go for Wayne Vaz. Experienced defender. Good be useful during injuries.
12:44 Pawan Kumar goes to Chennaiyin FC. No questioning the GK's abilities.
ROUND 9 BEGINS.
ROUND 8 OVER!
Round 8 PICKS
12:42 Aiborlang Khongjee goes back to MCFC. Series of three homecomings!
12:41 NEUFC choose Raegan Singh. Bombarding right back. Goes back home.
12:40 FC Goa pick former player Pratesh Shirodkar. He's back to the Gaurs!
12:39 Harpreet Singh being taken by FC Pune City. Reddy, you steal!
12:39 Chennaiyin FC pick Fulganco Cardozo. Strong centre back. Goes to Chennai from Goa.
12:38 National team winger Jackichand being taken by Kerala Blasters. What a steal it could be! Done and dusted. Former Mumbai City FC player.
12:37 Jamshedpur goes for Shouvik Ghosh. Powerful defender goes to the Steel City.
12:36 Hitesh Sharma to ATK? Young forward. Can be very energetic.
12:35 Delhi Dynamos to take No. 27 Romeo Fernandes. East Bengal and FC Goa. New home in Delhi. To Delhi!
12:34 Bengaluru FC start it with picking Lenny Rodrigues. The team is not willing to change much.
ROUND 8 BEGINS
ROUND 7 ENDS.
ROUND 7 PICKS
12:33 Bengaluru FC choose Alwyn George. Trying to sign the players they had, smart. The Indian Rosicky is still at Bengaluru.
12:32 DD go for U-23 player Vinit Rai. The player will add to the midfield dynamism.
12:31 ATK go for No. 67 Anwar Ali. Centre back. Was once an India regular. Can still at a lot of experience. Anwar goes to ATK.
12:29 Jerry Mawihmingthanga goes to Jamshedpur. Former DSK midfielder.
12:28 Kerala Blasters choose Subhashish Roy Chowdhary. Smart goalkeeper. Former ATK and Goa player.
12:27 Pune City's business proves Pradyum Reddy is playing his cards well. Germanpreet is currently with the U-23 side in Qatar.
12:25 Burly presence Germanpreet Singh for Chennaiyin. Wanted by Delhi Dynamos as well. Instant Trading on.
12:24 Isaac to go to Pune? Shillong will miss you, lad. Taken by Pune City.
12:23 Player No. 159 Serinton Fernandes wanted by FC Goa. Played for Churchill Brothers. Left sided wing-back. Cool buy.
12:22 The Highlanders go for Bengaluru FC's Seminlen Doungel. Disturbed Roca's plans? Did it? The player goes back home.
12:21 Mumbai City FC start of with Sahil Tavora. Former FC Goa player goes to Mumbai.
ROUND 7 BEGINS
ROUND 6 OVER!
Round 6 PICKS
12:20 Brandon Fernandes is being taken by FC Goa. Done and DUSTED! Brilliant buy!
12:19 The Highlanders go for Robert. East Bengal left back. Solid player. Goes to NEUFC.
12:18 Mumbai City FC take Abhinas Ruidas. Kolkata players high on demand! Former ATK winger.
12:17 Subhashish Bose to go to Bengaluru FC? Lose of Sena Ralte nullied. Bengaluru get the MB left back.
12:16 Delhi bolster the right defence with Pratik Chaudhary.
12:15 ATK disturb Bengaluru FC with choosing Shankar Sampingraj. Good business imo.
12:14 Jamshedpur go for Bikash Jairu. East Bengal set to lose their winger. No debates! Jairu goes to Steve Coppell.
12:13 Kerala Blasters choose Arata Izumi. The former ATK player is known for his creativity and speed. Good pick? What say guys?
12:13 Dhana still loved by the Marina Machans! Will he go back? Yes, he's still a blue! #ChennaiyinFC!
12:12 FCPC get to call and they choose Nim Dorjee Tamang. Captain of Shillong Lajong last season.15 lacs! Such a steal.
Round 6 Begins.
ROUND 5 ENDS!
Round 5 Picks
12:10 FCPC go for Jewel Raja. Played for ATK formerly. Good presence in the centre of the pitch. They get the man. Has also played for FC Goa.
12:09 Chennaiyin FC go for MB and FC Goa midfielder Bikramjit Singh. They get their man.
12:08 Milan Singh, former Delhi and DSK player. Could be a superb buy! KBFC get a supreme midfielder!
12:06 Robin Gurung to Jamshedpur? Cheap and good buy. NEUFC Interested and negotiating! Could be a cheap steal. No deal agreed. Jamshedpur will have Robin Gurung play for them next season.
12:05 ATK go for No. 64 Keegan Pereira. Former FC Goa player. Goes to Kolkata.
12:04 Delhi Dynamos go for Irom Seityasen Singh. No trading for Seityesen Singh. Goes to the capital club.
12:02 Harmanjot is being challenged by Chennaiyin, who's been called upon by last employers Bengaluru FC. Bengaluru keep their man!
12:01 Raju Gaekwad courted by Mumbai City FC and taken by them! Mohun Bagan, bye bye!
12:00 NorthEast United FC go for former East Bengal captain Lalrindika Ralte. They get their man.
11:59 FC Goa pick Chinglesana Singh Konsham! Khel Now loves him. Brilliant at 20. Let's see who goes for him. Sanna Konsham goes to Goa unquestioned! What a buy!
ROUND 5 BEGINS
11:57 Champions of last season and the first season, ATK, have been good in the draft so far. Jayesh Rane and Lyngdoh are strong performers!
11:34 AM: Jamshedpur FC team management are in the press conference room. Watch Live below.
For the development of Indian foot, all you need a longer league season and a stronger structure-Coppell
---
11:23:57 AM : "Eugenson was the first choice. He should be very valuable to us." – ATK head coach Teddy Sheringham in the press conference
---
ROUND 4 Concludes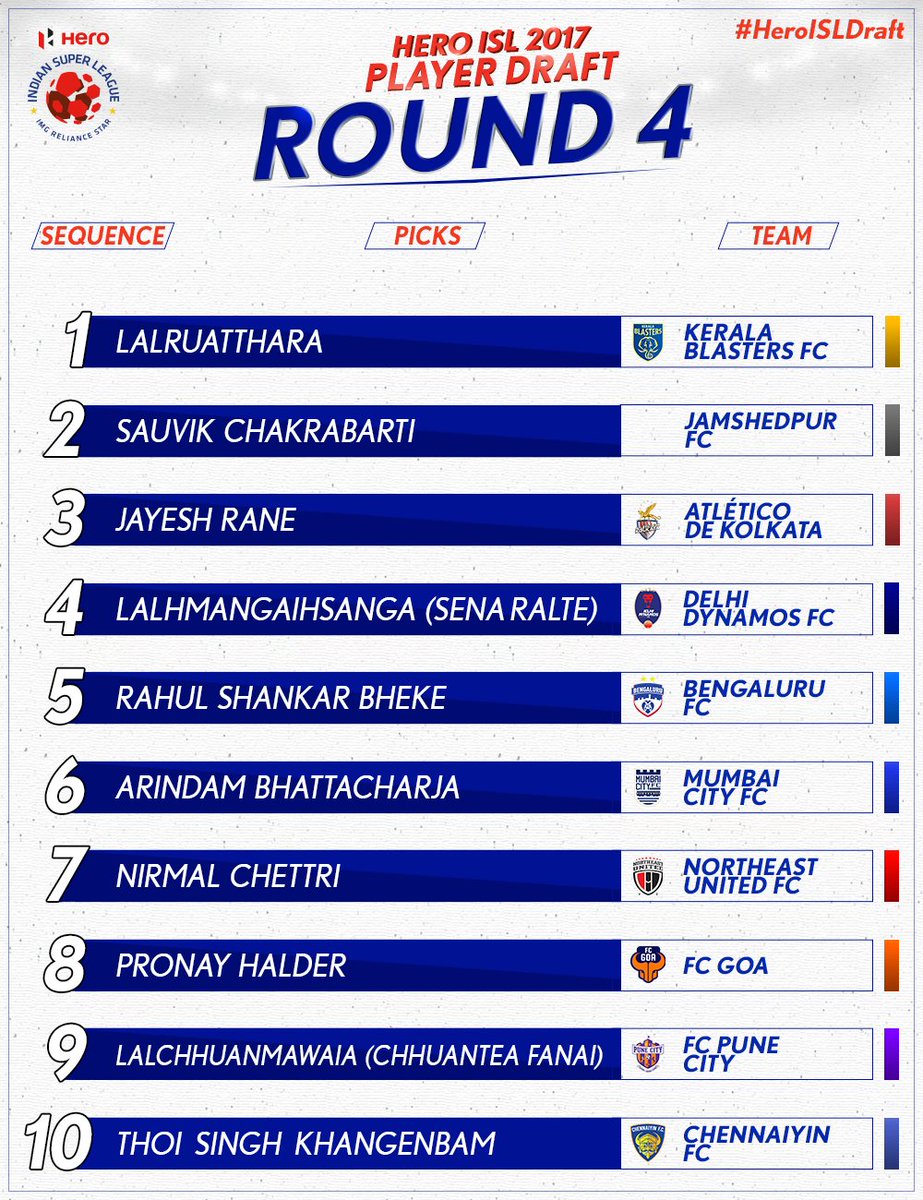 11:11 Chennaiyin FC pick Thoi Singh, the former Mumbai FC right winger. Dynamic midfielder. Goes back to Chennaiyin!
11:11 FC Pune City go for Lalchhuanmawia (Chhuantea Fanai). Goes to Pune!
11:10 Pronay Halder to FC Goa? DONE and Dusted! They get their man.
11:08 NorthEast go for right back Nirmal Chhetri. DSK Shivajians' player for last season in I-league. Powerful, energetic player. Goes to NEUFC.
11:07 Bheke goes to Roca, and Arindam is being called by Mumbai City FC. Interesting as he has played for FC Pune City.
11:05 Rahul Bheke, EB and former Mumbai man, called by Bengaluru FC. Goa want him as well. Trading begins.
11:03 BFC and former Mumbai City FC's Sena Ralte registered with Delhi Dynamos. When will the clubs open up to offers? Delhi gets their man.
11:02 Delhi going for Sena Ralte, the left back. NEUFC register their interest.
11:01 Chennaiyin's loss is ATK's gain. Jayesh goes to ATK.
11:00 Jayesh Rane to ATK? Chennaiyin already ready to negotiate! Aizawl FC's former star.
10:59 Shouvik Chakraborty to Jamshedpur? That's the call. Versatile midfielder. Was key to Delhi Dynamos last season.
10:57 NO TRADE. KERALA BLASTERS get Lalruatthara. Thangboi in action. 😉
10:55 Kerala Blasters start off with Lalruatthara. U-23 centre back. Won the I-league last season with Aizawl. Is currently in Qatar, with the U-23 side. FC Pune City look interested. Negotiation starts.
ROUND 4 BEGINS
Round 3 Picks
10:53 The Kerala Blasters go for Rino Anto. Local favourite. Predictable. Anto has played for ATK and BFC. Good right back! No Instant Trading.
10:52 Jamshedpur FC go for Mehtab Hossain. East Bengal fan favourite! Goes to Jamshedpur! The Coppell-Hossain romance continues.
10:51 NO DEAL! Lyngdoh set to play in front of the Kolkata crowd!
10:49 ATK goes for Eugeneson Lyngdoh! Kerala wants him as well. Negotiations start.
10:47 Lallianzuala Chhangte. Indian prodigy! Picked by Delhi Dynamos!
10:46 Bengaluru FC going for a known player in Mawia Ralte, the goalkeeper! FC Pune City offering something on the IT table. 😉 Will they take it? We don't think so! There's no negotiation! BFC have their man! Lalthaumawia Ralte stays under Sunil Chhetri.
10:45 Balwant Singh close to going to Mumbai City FC! No Trading? Weird! Mumbai gets their man!
10:42 Holicharan Narzary goes to NorthEast! Hometown calling! No Instant Trading!
Round 2 Picks
10:41 FC Goa picks up Narayan Das, and there's no instant trading! He'll be taken by FC Goa.
10:40 A discussion on Kean Lewis going on between ATK and FCPC. He stays with FCPC.
10:38 Adil Khan is taken by FC Pune City Pritam Kotal has been lapped up by the Delhi Dynamos.
10:37 Subrata Paul goes to Jamshedpur FC
10:36 Delhi Dynamos pick Albino Gomes and Pritam Kotal
Round 1 PICKS
---
10:35 Ladies and gentlemen the first pick for Jamshedpur FC is ANAS EDATHODIKA.
---
10:30 Just to reiterate the points of entry. Rounds 1 and 2 belong to Delhi and Jamshedpur as these teams have retained no players. All other teams will enter in Round 3 except for Chennaiyin who will enter in Round 4 as they have retained the most number of players (4).
---
---
10:20 Andy Knee the Head of FSDL is now explaining the rules of the draft to those gathered. You can find them here.
---
10:15 Balaji and Kshitij, Indian youngsters, are close to signing for PSV Eindhoven! Kudos to Reliance Youth Foundation. Hope we see many more stories on similar lines! The speech's over. REAL ACTION Begins!
10:15 All ight! Some of the stars whohave been retained by their respective teams are lining up on stage. Chhetri, Jeje, Rowlin, Mandar, Debjit, Amrinder, Jhingan they are all here.
---
10:10 Rightly said. The Tata group has a legacy in terms of footballing support and JSW have their own cult following in Bengaluru, going by the name of West Block Blues!
10:05 Nita Ambani, the founder of FSDL, with her welcome address. Welcomes everyone to Hero ISL Season IV. A special welcome to Jamshedpur and Bengaluru FC. Understandably. 🙂
10:00 ANNNND THE BALL IS ROLLING! We're good to go! ANANT Tyagi and Lisa helps us with the hosting services.
09:55 The draft is ready to begin! The retained players are also at the Regis, Mumbai and are clicking selfies. We'll get you that in a while! Either Hotstar, or KhelNow. That's where you get to see the draft!
09:50 Let's not forget this is their first experience of the draft for the two new entrants to the big time Bengaluru FC and the Tata Group owned Jamshedpur FC. They may be new to the ISL but they are well schooled in Indian football.
---
09:45 Just so you know Mr. Andy Knee is your 'conductor of the orchestra' for the day and he's currently briefing the delegations of the teams on how the day will roll.
---
09:40 Wondering how Instant Trading work? After a player is picked up by a team, there will be a 15 seconds window for other club(s) to press the buzzer and enter negotiation(s) with the club which has already picked up the player. With only 3 minutes in hand, the deal must be (1) Negotiated, (2) Recorded on paper and (3) Signed. If and when an Instant Trade is agreed upon, the club who sought the trade will forego their draft pick from their next round and yield it to the club who lost that particular player. Also, this feature can only be called upon by a club twice during the whole draft.
---
09:30 So, just for everyone waking up late on a Sunday morning we are here at the ISL Indian players' Draft 2017. There will be 15 rounds in total in today's draft. There is also the Instant Trading option which will be operational after the 3rd round.
---
09:20 Here is the sequence of the draft as we are less than 10 minutes away from Round 1 of draft picks
---
09:10 Right then! This man is the most prolific striker in ISL history. He's not up for grabs today but he's in attendance.
---
09:00 We are minutes away from the auction. Now, all the teams have a fixed purse to play with so why not take a look at 10 most and least expensive players In ISL 2017 Draft
---
08:45 So, this is what the schedule for the day looks like:
09:00 am – 09:15 am : League Opening Press Conference
09:15 am – 09:20 am : Photo Op with ISL Clubs key retained players
09:30 am : Player Draft to start (Round 1 to 4).
11:00 am – 12:00 pm : Press Conferences with Clubs & Players
12:00 pm – 12:45 pm : Round 5 to 8
12:45 pm – 02:00 pm : Press Conferences + Lunch
02:00 pm – 02:40 pm : Round 9 to 12
02:40 pm – 03:25 pm : Press Conferences + Tea Break
03:25 pm – 04:00 pm : Round 13 to 15
04:00 pm – 05:00 pm: Press Conferences
---
08:40 Right! So let's tell you what's going to down today at the St. Regis in Mumbai. There are some 200 players and 10 teams in the fray and we will have 15 rounds of draft picks. Wondering who the various teams will go for throughout the day? Read ISL Draft strategy of every club: Revealed!
08:30 Hello every and welcome to Khel Now's LIVE coverage of the 2017 Indian Super League Draft. This is your host Mrunal Nakashe.
---
The Indian Super League (ISL) is set to return later in the year for its fourth season. The cash-rich league which sought to revolutionise Indian football with corporate participation and privately-owned franchise clubs is gearing up for its biggest season yet with 10 teams, more players and a longer campaign as the domestic game's transformation continues at pace.
The ISL is a much different ball game than the existing model of the football league in India. Since its inception in 2014, the league had been a 2-month long competition with clubs from eight cities, fighting it out to be crowned champions of Indian football's newest avatar. However, being a corporate league, the recruitment process for players was different from the transfer market widely used across the world.
READ MORE: All you need to know about Indian Super League Season 4 Draft