After a disastrous last season, the Blasters aim to bounce back harder in the league under new head coach Eelco Schattorie.
Lessons learnt and changes made, Kerala Blasters are back in the fray to make some noise in the upcoming season of the Indian Super League. The club that ended second from bottom last season have made some big changes that could have a lasting effect on the outfit.
The club have signed former NorthEast United boss Eelco Schattorie, who comes on the back of a strong season with the Highlanders and with a lot of expectations in front of him.
The Dutchman knows Indian football inside out, having coached United SC and East Bengal in the past, before his most recent stint. With Schattorie, No. 9 Bartholomew Ogbeche has also changed his team bus and has been appointed club captain by the new boss.
Last Season's Performance

: 9th

Disappointing. We saw one disappointing move after another and some injuries that made life difficult for manager David James and later, for the incoming Nelo Vingada. Kerala Blasters managed to win just two games, but drew nine times to garner some points. Fans urged for desperate measures and in came Eelco Schattorie, the manager who had guided NorthEast United to their first ever knockout stages.
The only big takeaway from last season were the performances of Sahal Abdul Samad, who has turned into an overnight star with his deft football and rare vision. The team have also got a goalscorer this time in Ogbeche, something both Slavisa Stojanovic and Matej Poplantik could not provide in abundance.
Pre-Season
Kerala Blasters were scheduled to be on a pre-season tour to the UAE and play four times, but had to leave the trip after playing just one game due to logistical issues. According to the club statement, the promoters breached the contract and thus, the team had to return midway through the trip.
The only game they played in the Middle-East country ended in a goalless draw, with a young Kerala team on the pitch. Since returning, they've narrowly lost 1-0 to Real Kashmir FC and have defeated the Kerala Santosh Trophy team 3-2 and SUFC Bengaluru 3-1 in friendlies.
Coaching Staff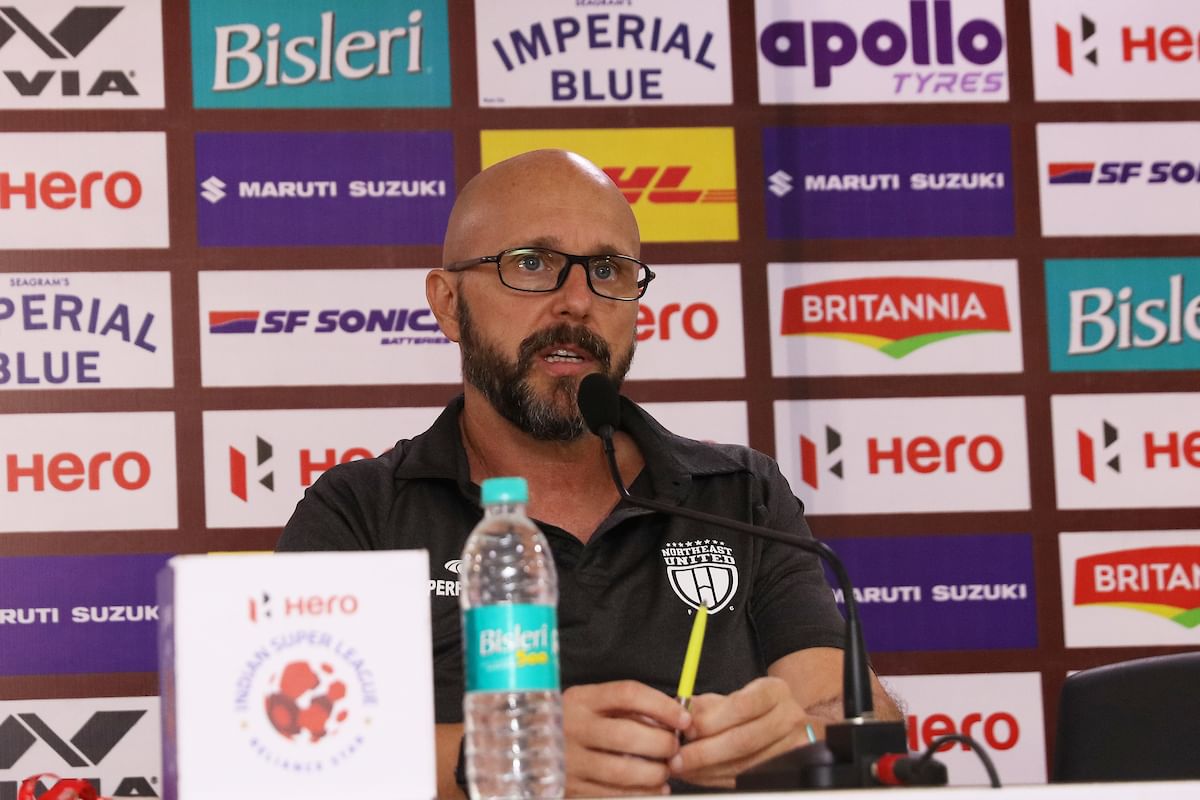 The Dutchman has swapped the tranquility of the hills for the hustle and bustle of Kochi
Eelco Schattorie is no pushover and has time and again proved his footballing mettle by his choices on the pitch. His decision to play Rowlin Borges higher up the pitch paid rich dividends for the Highlanders and it would be interesting to observe how astutely he uses the abilities of Sahal and Rahul KP, who's another versatile, young attacker.
Supporting him is Ishfaq Ahmed, who apart from a solitary season at Jamshedpur FC, has spent all of his coaching career at the Blasters. Ahmed was a versatile player himself and is known to act as a local bridge between the head coach and the players. Australian Shaun Ontong, too, would be an immense addition alongside the Dutch manager, with experience at NorthEast United and Dempo SC.
Transfer Dealings
Its been another busy window for Kerala Blasters, but arguably their most decisive change could be the acquisition of Dutch tactician Eelco Schattorie.
Ins
A major chunk of the squad is new, with the entire goalkeepers' list revamped. Bilal Khan, TP Rehenesh and Shibin Raj are all newcomers, and Bilal and Rehenesh are expected to fight it out for the starting position. Sujith Sasikumar could be an outside bet, in case the need arises.
Gianni Zuiverloon, Jairo Rodrigues, Jessel Carneiro and Abneet Bharti are the new faces in defence, with Moustapha, Sergio Cidoncha, Mario Arques and Darren Caldeira being the new additions in central midfield. Seityasen Singh and Arjun Jayaraj are the wide options that will don the bright yellow jersey.
Up top, captain Bartholomew Ogbeche is joined by Basit Ahmed Bhat, Rahul KP, Raphael Messi Bouli, Samuel Lalmuanpuia and Mohammed Rafi as new signings. Kerala had signed most of their players early on in the summer and it will now depend on the manager to rally his troops and ideas better on the pitch.
Outs
Dheeraj Singh Moirangthem and Anas Edathodika have moved on to ATK together and Cyril Kali has also been let go. Poplantik, too, isn't part of the plans anymore and neither is Keziron Kizito. Serbian Nemanja Lakic-Pesic has also left the club and so has goalkeeper Naveen Kumar.
Squad
Goalkeepers: Bilal Husain Khan, Shibinraj Kunniyil, TP Rehenesh
Defenders: Abdul Hakku, Gianni Zuiverloon, Jairo Rodrigues, Jessel Carneiro, Lalruatthara, Mohamad Rakip, Sandesh Jhingan, Pritam Singh
Midfielders: Darren Claldeira, Halicharan Narzary, Jeakson Singh Thaunaojam, Mario Arques, Mouhamadou Gning, Prasanth Karuthadathkuni, Rahul Kannoly Praveen, Sahal Abdul Samad, Samuel Lalmuanpuia, Seityasen Singh, Sergio Cidoncha
Forwards: Bartholomew Ogbeche (C), Mohammed Rafi, Raphael Messi Bouli
Formation & Tactics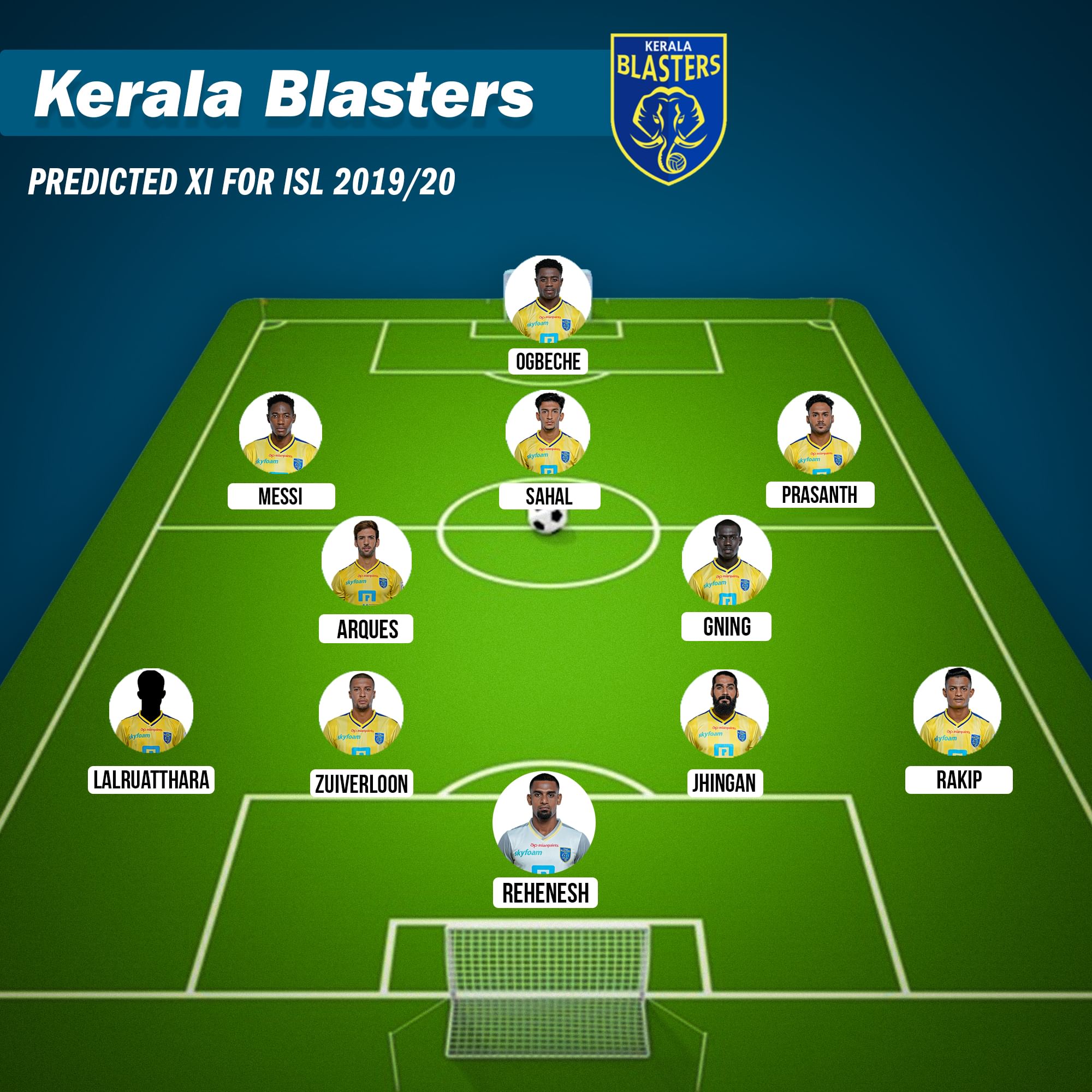 Schattorie is likely to persist with his tried and tested 4-2-3-1 formation
Eelco Schattorie is as Dutch as it gets. In his formation, there will be a hard-tackling defensive midfielder and another one with a little more freedom to progress forward and fill the space given up by an advancing No. 10, the role expected to fall to Sahal. Under the bar, TP Rehenesh should be the No. 1, given his transfer from NEUFC, but Bilal Khan too is a strong contender and can be expected to don the role for the long term.
In defence, former captain and national team regular Sandesh Jhingan can be expected to start with Gianni Zuiverloon, who hails from the Netherlands like his manager. Mohd. Rakip and Lalruatthara can be expected to start at left and right-back respectively.
Moustapha has played most of his football at defensive midfield and Mario Arques can be expected to partner him. Jeakson Singh and Darren Caldeira, too, will have a look in to add balance of numbers.
Raphael Messi can be expected to start and cut in from the left and Prashanth will be tasked with the right wing role. Up top, there's just one sure-starter, the captain himself.
Talking about tactics, Kerala will play a dynamic 4-2-3-1 system that will see the wing-backs explode a lot, or at least until the final third. Ogbeche, a proper target man, will feed off from a lot of chances that will be thrown upon him. The likes of Sahal and Messi, too, will be accorded freedom to shoot.
In the midfield two, Mario Arques could be a wildcard. The former Jamshedpur man will come into play against more attacking opposition and newly-married Holicharan Narzary will be expected to replace Messi down the left flank. Arques is known for his tall frame and knows how to screen the defence adeptly.
Sahal will have a key role to play and it will be down to him to break the defences that sit back and absorb a lot of pressure. Ogbeche, too, will drop deep to link-up with Cidoncha and other midfielders. These moments should give enough space to Prashanth and Messi to make runs into the box. The midfielders need to find these runs.
Strengths
The bench strength Kerala Blasters possess at the moment is humongous and has a lot of options to cover for any situational drawback. Four top centre-backs, enough left-backs, the versatility of Lalruatthara to cover on the right and four midfielders with different set of abilities to provide balance and options to the thinking mind of the 47-year-old manager.
The finishing abilities of 35-year-old Ogbeche will add another layer to the attacking capabilities of the side. This season could be a break-through one for Prashanth Karuthadathkuni, who has been knocking on the doors of a regular and exciting season for some time now. Messi and Cidoncha are also exciting options, that are more than able on the ball to create things out of nothing.
Weaknesses
The squad hasn't played enough football together and once the opposition reads the weaknesses of the first XI, it would be Schattorie's responsibility to find variants that are effective and result-oriented. The variants haven't been tested against quality opposition yet and may or may not click well together. Jhingan, if he needs to play at right-back, might not be the best option, as he lacks the obvious speed needed for the Dutch system.
Players to Watch
Sahal Abdul Samad
The blue-eyed boy of Indian football, he has already been touted as a 'rough diamond' by his new manager. Sahal needs to be wrapped in cotton-wool and needs to be given freedom to express his abilities on the ball. Close control and a synergy with Messi could take the Blasters to the next level.
Moustapha Gning
The defensive midfield role has been Kerala's Achilles Heel for the longest time and they've signed Moustapha just for that. The Senegalese has played over 200 professional games and at 30, is at his peak. He will have a major role to play.
Bartholomew Ogbeche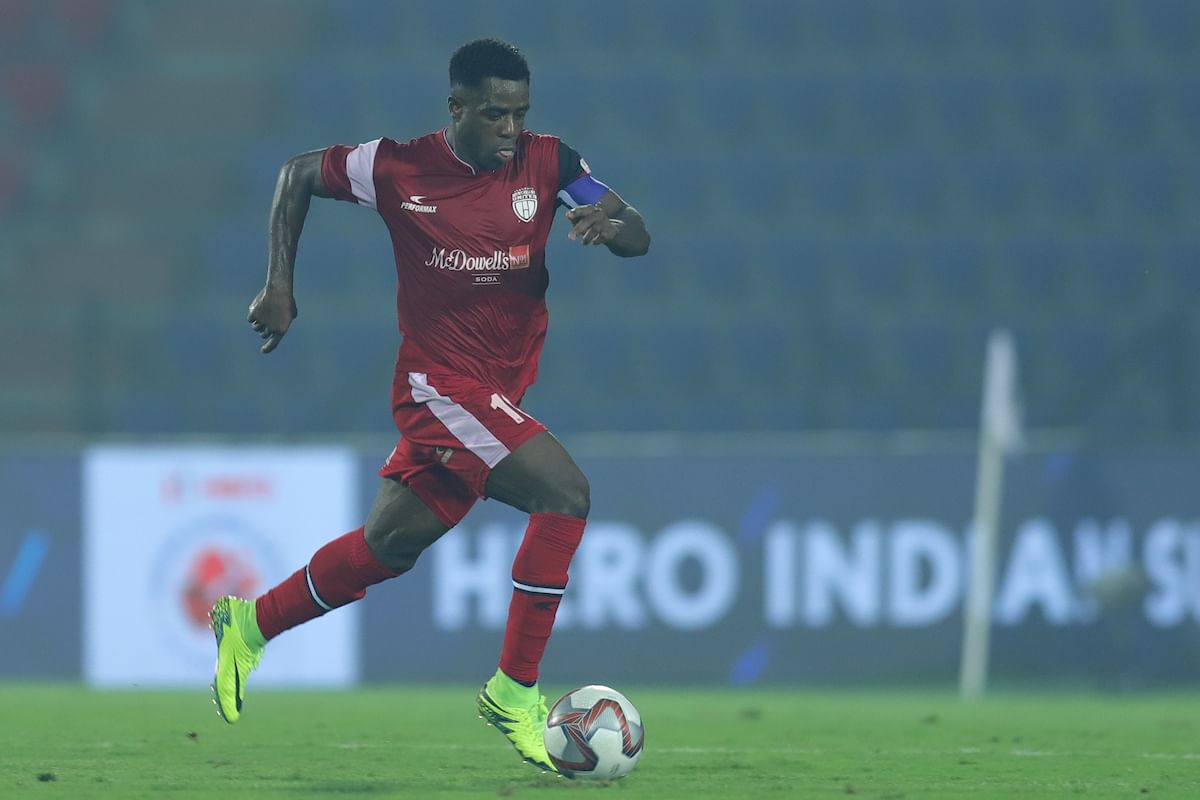 The striker will look to continue his fine form from his time with NorthEast United
The former NorthEast United hitman scored 12 times in 18 games last season and has arrived amidst over-the-top expectations. He has played for Middlesbrough and Valladolid in the past and knows how to put the ball in the back of the net. The fast yet compact style of football that Schattorie likes to play will help his approach and he will have an immense effect on how the Tuskers fare this season.
Fixtures & Tickets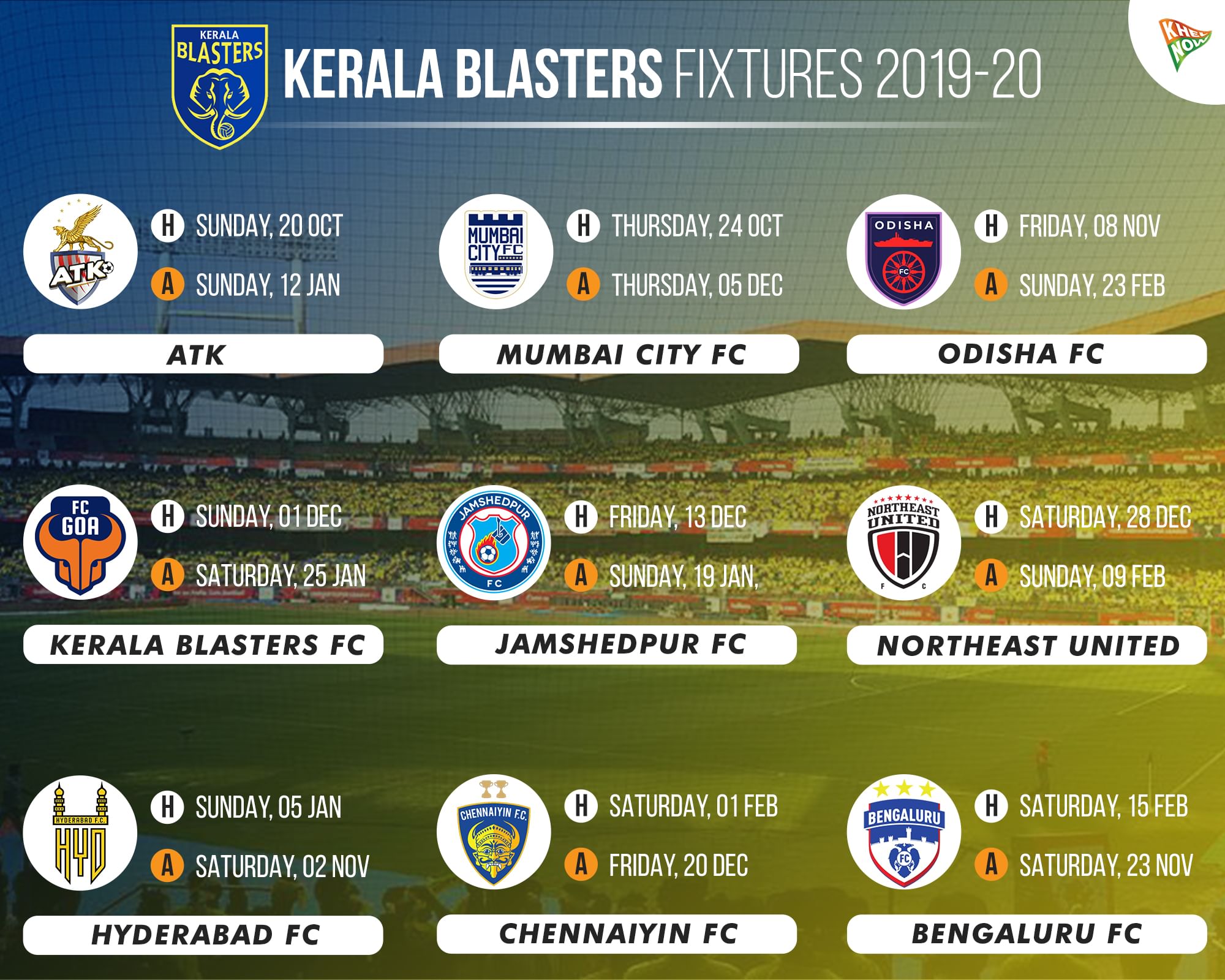 ISL 2019-20: Kerala Blasters' Fixtures
The tickets for Kerala Blasters' home games can be booked on Insider.in and the club's official website.
What to Expect
Considering the busy summer Kerala have undergone, anything less than a playoffs spot would be a disappointment for the fans. The Kochi-based outfit have strengthened themselves in every area and signed some absolute stars to back a youthful pool of talent.
With a shrewd tactician in Schattorie at the helm, a top-four spot for the finalists from Season 1 looks very likely. If the side gels well and the players play to the best of their abilities, write them off at your own peril.