After a year of battle that has seen 36 of the top clubs from the continent go head-to-head, the Blues and Air Force Club are the last teams standing in what is a first appearance in the final of an Asian competition for both sides.
0-1
Match Report –Hamadi strike sees of brave Bengaluru as Air Force Club lift maiden AFC Cup title
Congratulations to Air Force Club who become the first Iraqi team to win the AFC Cup. Amjed was a threat all game and it was no surprise that he was involved in the one moment of quality.
Despite the result Bengaluru can be proud of this journey and we can be proud of them. It all starts again in January with the I-League. Most of the players will thankfully have little time to dwell on the defeat as they join their respective ISL clubs at the business end of the season.
With the belief that the Blues can recreate this journey and go one better next season, its a very good night from Doha.
90+7′ Another ball in the box the knoxkdown comes for Johnson who fires wide. There goes the final whisdtle.
90+6′ Len ball in and the keeper catches from under the bar.
90+5′ The Iraqi keeper gets booked for time wasting. That's the first yellow of the game.
90+4′ The ball nearly falls for Johnson in the box but it just won't drop for him. He tumbles over. No penalty.
90+2′ There have been more stoppages in stoppage time. Expect seven minutes. As Chhetri concedes a foul with the barge in the back.
90+1′ We are into five minutes of added time.
88′ Natiq's foul and a ball clicped in towards Vineeth who takes a complete air shot with his attempted volley.
85′ Whatever the result tonight this is still an amazing feat for Bengaluru.
83′ Substition for Bengaluru as Ranjan Singh comes om for Rubio who has put in a commendable shift.
80′ Talim just gets treated for a knock as we get into the last 10 minutes.
78′ Hamadi denied by Rate as Bengaluru face a barrage of attacks.
77′ Hanadi sets up Amjed who can't curl his shot inside the far post.
75′ Amjed and Hamadi combine well Khadim has his shot blocked.
73′ Amjed again tees up Mohsin who is a yard offside even though he taps it in.
72′ Bengaluru have to chase the game now. Massive test of character.
70′ Goall! Air Force FC Scored. Amjed has threatened all game and he squares it for Hamadi who has a simple tap in.
69′ Another Bengaluru corner little drama this time. Down the other end Mohsin with a nice bit of skill in the final third.
68′ Off the corner Chhetri around the back tries a spectacular gets blocked.
67′ Corner for Bengaluru. This could be interesting.
65′ Tactical change from Bengaluru FC as they switched to 3-5-2 now .
64′ Attacking and interesting Substitution from BFC : 2 Pacy Players udanta and Len Doungle are coming on .
63′ Down the other end Chhetri uses his pace but then can's pick out Vineeth
62′ Off the second set-piece Natiq heads it straight at Ralte.
61′ Khadim earns a corner for Air Force. Low ball swept in out for another corner.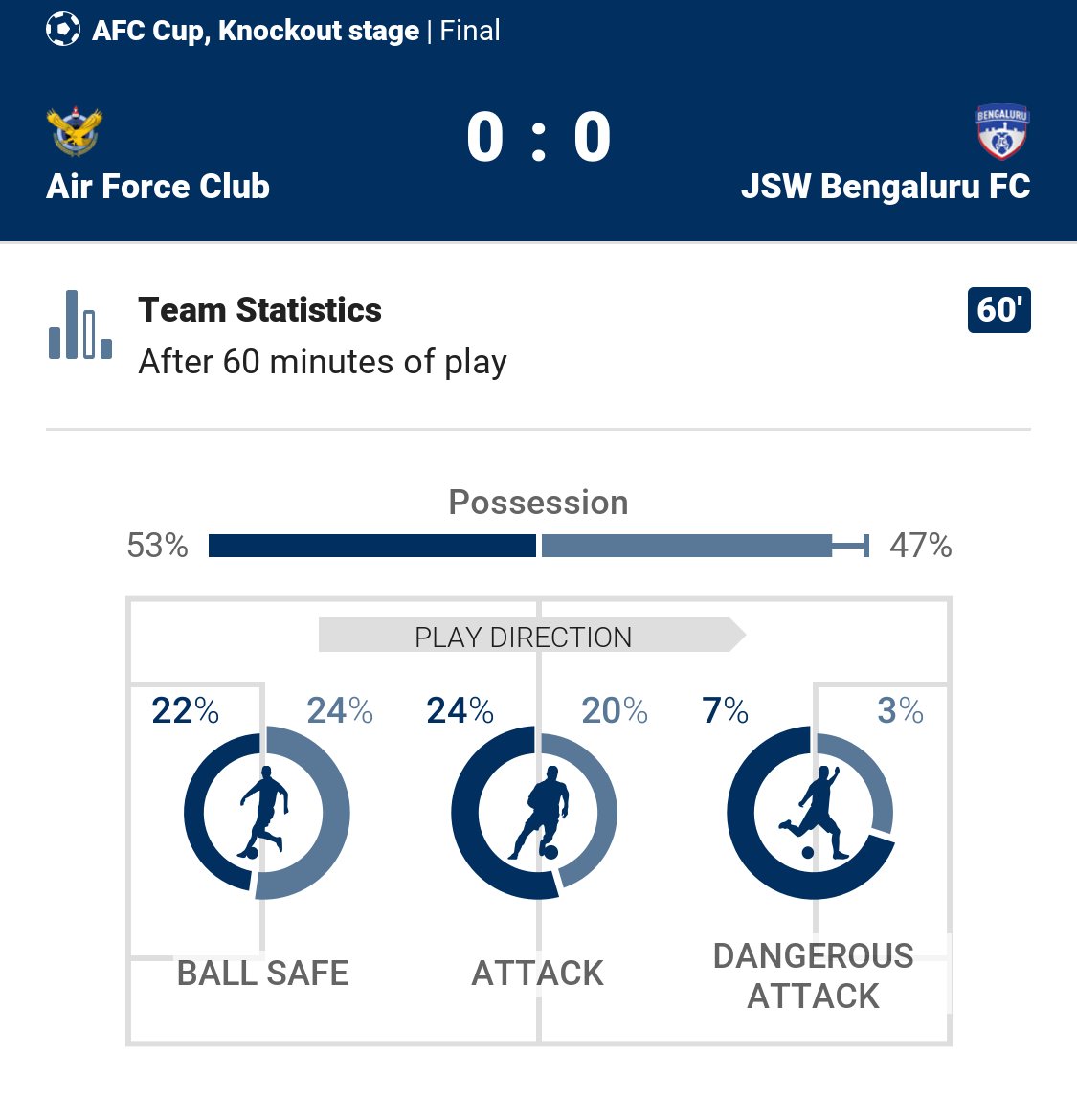 Team Statistics
Air Force Club 0:0 JSW Bengaluru FC © AFC
59′ Saeed with a woeful cross that he won't want to repeat any time soon.
58′ Alwyn flagged for offside as Bengaluru are just starting to get overrun in this game. They have to get back into it.
54′ Foul on Anto. Free-kick clipped in is partially cleared . Lyngdoh rushed onto the loose ball and shoots but his shot is blocked. At the other end Amjed nearly scores on the counter.
53′ Chhetri once again loses the ball in the final third. Amjed cuts it back it back to Hamadi who blazes over.
51′ Ball in the box. Amjed with a nice first touch but can't keep the shot down. What a chance.
48′ Ali with a theatrical dive in midfield trying to buy a free-kick. The referee's not falling for that.
Fact – No Iraqi and Indian Club ever won AFC Cup in history and today surely new history will be written .
47′ Amjed with the foul on the halway line.
46′ We are underway in the second half.
Not much to say about this half. Bengaluru haven't been overawed. Ralte has done his job when called on. Not many chances. Some of you might want to catch up on dinner. Stay tuned for second half.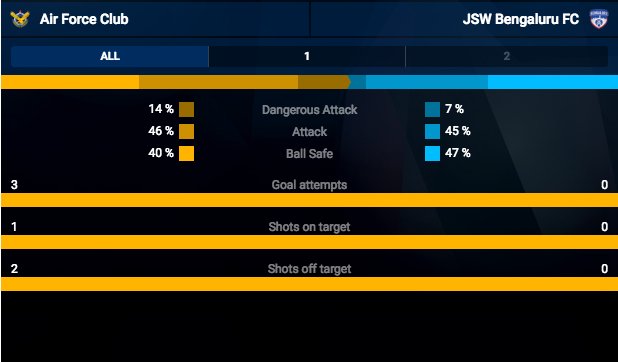 HT Stats | #AirForceClub with the possession and opportunities in the first 45. Can they capitalise in the 2nd period? or BFC will hold on to win this ?#AFCCup2016 #AIRvBFC © AFC
45+4′ There goes the whistle for the break.
45+3′ Saeed with the ball in Johnson with the clearance.
45+1′ nto three minutes of added time. A bit surprised there was expecting more.
44′ Saeed has gone down off the ball. There's another stoppage. It doesn't look good. He's stretchered off to receive treatment on the sidelines.
42′ Sustained pressure on Bengaluru with two successive corners. But they now have posession of their own.
41′ Chhetri gives the ball away in his own third and Amjed shoots a grounded shot which Ralte parries, its cleared for corner .
40′ Bengaluru just a bit slack in possession in the past few minutes.
37′ Behjat's ball forward. Knockdown falls to Amjed who shoots straight at Ralte.
34′ Free-kick Air Force clipped in towards Al Medani who can't head on target.
32′ Rubio prevents a corner with some clever footwork in a seated position. That was interesting.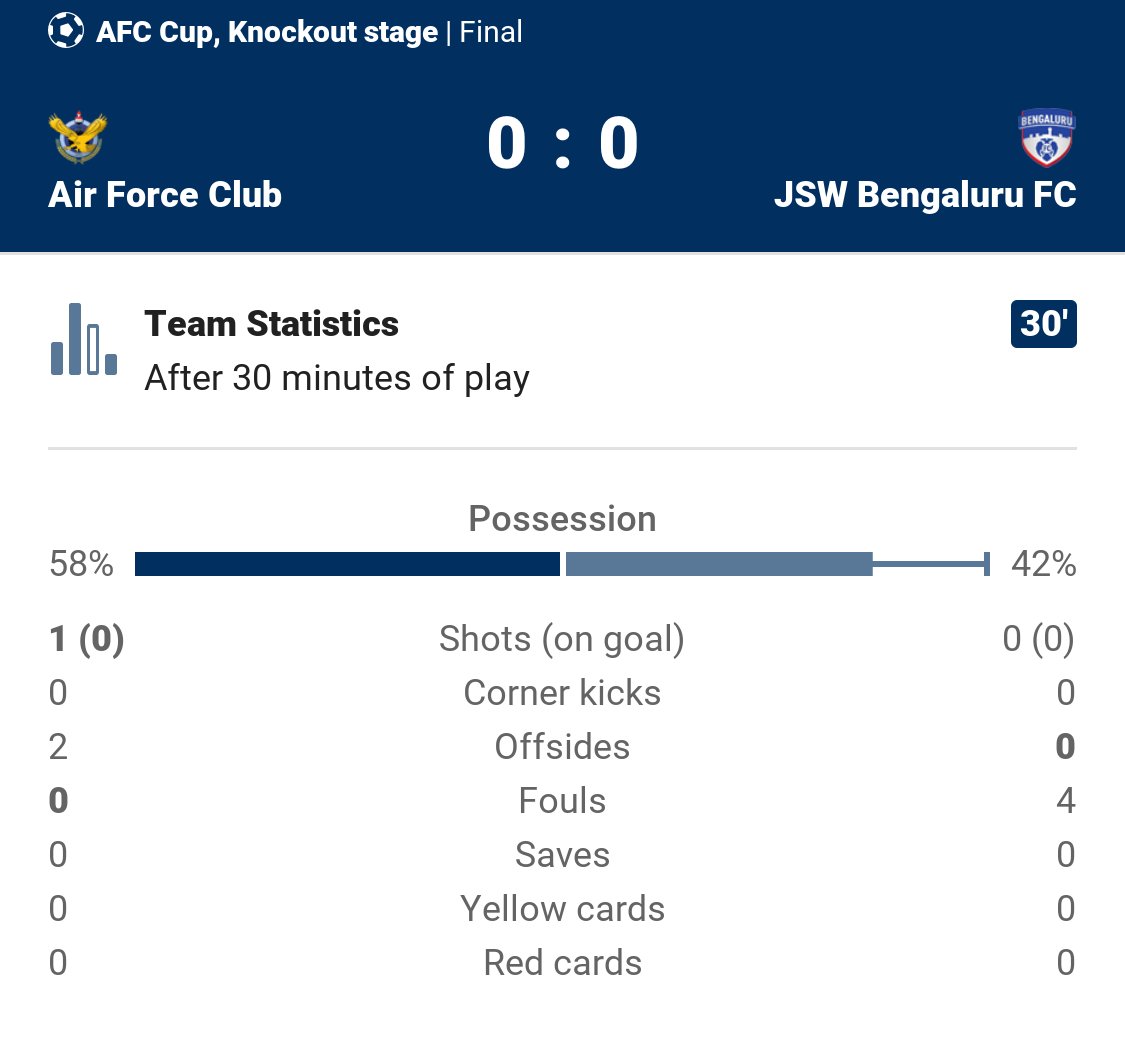 Team Statistics
Air Force Club 0:0 JSW Bengaluru FC © AFC
30′ Lovely cross aimed towards Lyngdoh but the defender gets across in time
29′ Bengaluru with some good closing down not allowing the Iraqis to settle down.
28′ We are back underway now.
27′ No.15 Ali comes on. Meanwhile, keeper Talim has been treated for an ankle knock.
26′ Tariq is down and getting some treatment. Infact he has come off
25′ Chhetri tries the ball over the top for Vineeth. Keeper rushes out and clears.
23′ Tariq with a shot from range Anto with the interception.
21′ Air Force FC have not played matches in front of big crowds this season. Today BFC fans can make a difference.
20′ Chhetri with some space in midfield and runs with the ball. His ball to Vineeth is overhit.
Ball Possession: BFC 54%-52% AIR
18′ Watson with a vital challenge on Ahmed as he was rushing to goal with the ball at his feat.
16′ This game is simmering and needs a goal.
15′ Ralte not tested yet but he will be. Rest assured about that.
Bengaluru FC fans with a fantastic banner here in Doha! They have travelled in some numbers!
13′ Bengaluru on the break. Anto with the cross. Noone on the end of it.
12′ Bengaluru happy to defend the width of the box.
10′ George with the handball. Amjad with a low skimmer that goes wide.
9′ Star-man Chhetri has hardly touched the ball.
8′ Anto with the foul by the corner flag. Free-kick. Floating ball in. Easily cleared.
7′ The Iraqis just starting to dominate possession. Quite start though.
5′ Amjed tries to pick out Mohsin. Ralte comes out and collects.
4′ Saeed with a flat cross into the box Rubio sweeps clear.
3′ Stands allocated to Bengaluru FC are full and Indian fans are loud
2′ Tackles flying in in the early going as both teams try to assert themselves.
1′ Kick off in Doha .
9:29 pm Players are coming out for big kick off .
9:27 pm Bengaluru will look to fall back on some inspired performances through their campaign that saw the Blues oust defending champion Johor Darul Ta'zim in the semifinal (4-2) as they come up against a side that has lost just one game in the tournament. The club from Iraq will turn to their talismanic striker Hammadi Ahmad who, with 15 goals from 11 games, is the tournament's leading goal scorer.
9:25 pm Sunil Chettri has said this is the biggest game of his life. When a man who has done what he has says something like that you know its big!
9:14 pm Suspensions have also hit Air Force who will be without influential midfielder Bashar Rasan Bonyan and defender Samal Saeed. Bonyan picked up a straight red after scoring a brace in Air Force's 3-2 win over Al-Ahed in the second leg of the semifinal.
9:08 pm Much of the pre-game focus has been on Lalthuammawia Ralte, the Bengaluru 'keeper who will be playing his first competitive game since turning out for the Blues in a 5-3 home win against Ayeyawady United in the group stages in April this year. Ralte comes in for first-choice Amrinder Singh who misses the big game owing to a suspension. But Roca sounded confident of the shot-stopper from Mizoram who was brilliant in the Blues' Federation Cup-winning season. "Mawia is a good goalkeeper who has been pushing Amrinder to do well consistently and though he has not featured much this season, he has been a thorough professional at training, which is why we are not the least bit worried about this situation," he said.
8:57 pm Bengaluru FC travelling Fans are getting ready for big Kick off .
Well Done West Block Blues .© Waseem Ahmed
8:49 pm Teams sheet are out .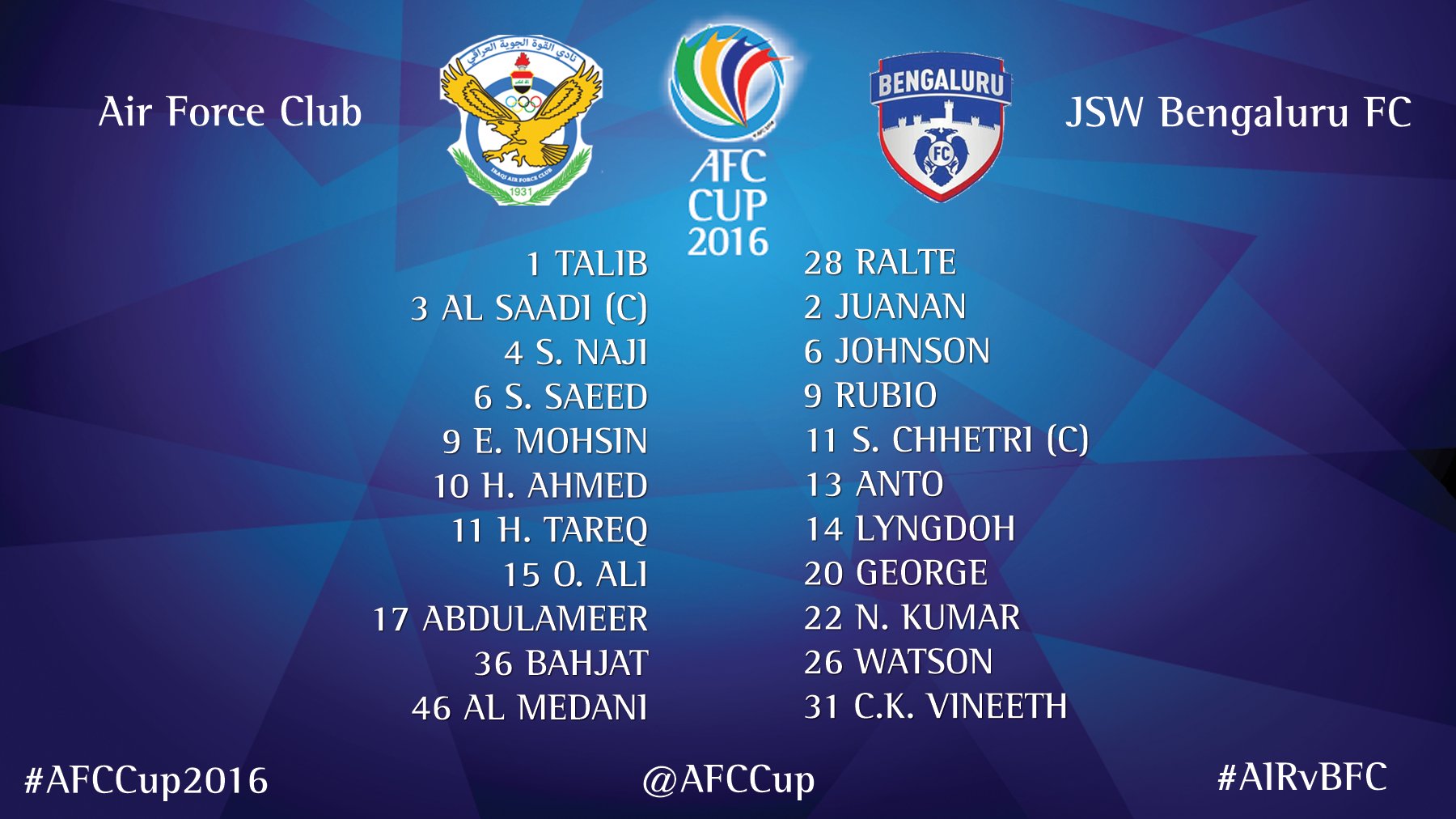 START LIST | #AirForceClub vs Bengaluru FX #AFCCup2016 #AIRvBFC.
8:27 pm "We're up against a strong team but it would mean a lot for Indian football if we won the title. That's a prospect that excites us and will drive us tomorrow. They have scored many goals, have a striker that's regularly scoring and are physically strong but I've told our boys to be ready for battle and we will hope our work ethic gives us a good result," said BFC coach Albert Roca while addressing the press on the eve of the game.
8:17 pm This is one of the biggest game in Indian Football history and it is attracting interesting world wide . Barcelona Midfielder Arda Turan also keeping tab on it .
8:07 pm After a year of battle that has seen 36 of the top clubs from the continent go head-to-head, the Blues and Air Force Club are the last teams standing in what is a first appearance in the final of an Asian competition for both sides.
Here's Thierry Henry, Robert Pires and Marc Bartra rooting for the Blues as they go
8:03 pm It's been billed as the game that could be the start a revolution for one country and the resurrection of another as JSW Bengaluru FC take on Iraq's Air Force Club in the final of the AFC Cup to be played at Doha's Suhaim Bin Hamad Stadium, on Saturday evening.
7:43 pm It is not about Bengaluru FC , It's about the entire India : Sunil Chhetri
Fan of Bengaluru FC ? Rate BFC 5 Star here –Bengaluru FC
7:33 pm Hello and Welcome to the live commentary of the biggest football game of Indian Club history . Bengaluru FC Playing Air Force FC in AFC Cup 2016 final in Doha