All England Open/The Times of India
These shuttlers have conquered the grandest stage in badminton multiple times.
The All England Open Badminton Championship is the oldest badminton tournament and is held every year in England. In 2007 it was given the status of a Super Series and then was upgraded to Super Series Premier in 2011.
The tournament began back in 1898 at the Guildford Badminton Club in Guildford, England. Only two Indian shuttlers have managed to win the championship. Prakash Padukone won the men's singles event in 1980 and Pullela Gopichand in 2001.
There is little doubt about how prestigious this tournament has become given its rich history and the number of points up for grabs. Here is a look at the top five badminton players with the most wins at the All England Open Badminton Championship:
5. Finn Kobbero (15)
Danish shuttler Finn Kobbero won a total of 15 titles at the All England Open from 1955 to 1966. All of his wins came in the doubles category, with seven in the men's and eight in the mixed.
He won six of his seven men's titles partnered with fellow Dane Jorgen Hammergaard Hansen. Kobbero was later inducted into the Badminton Hall of Fame in 1997 for his exploits.
4. Meriel Lucas (17)
England's Emily Muriel Lucas won a remarkable 17 All England Open titles between 1899 and 1910. She won six women's singles titles, 10 women's doubles and one mixed doubles title.
Lucas won seven gold medals in a row between 1904 and 1910, before announcing her retirement in 1911 after getting married. She has the most number of doubles titles with 10.
3. Judy Hashman (17)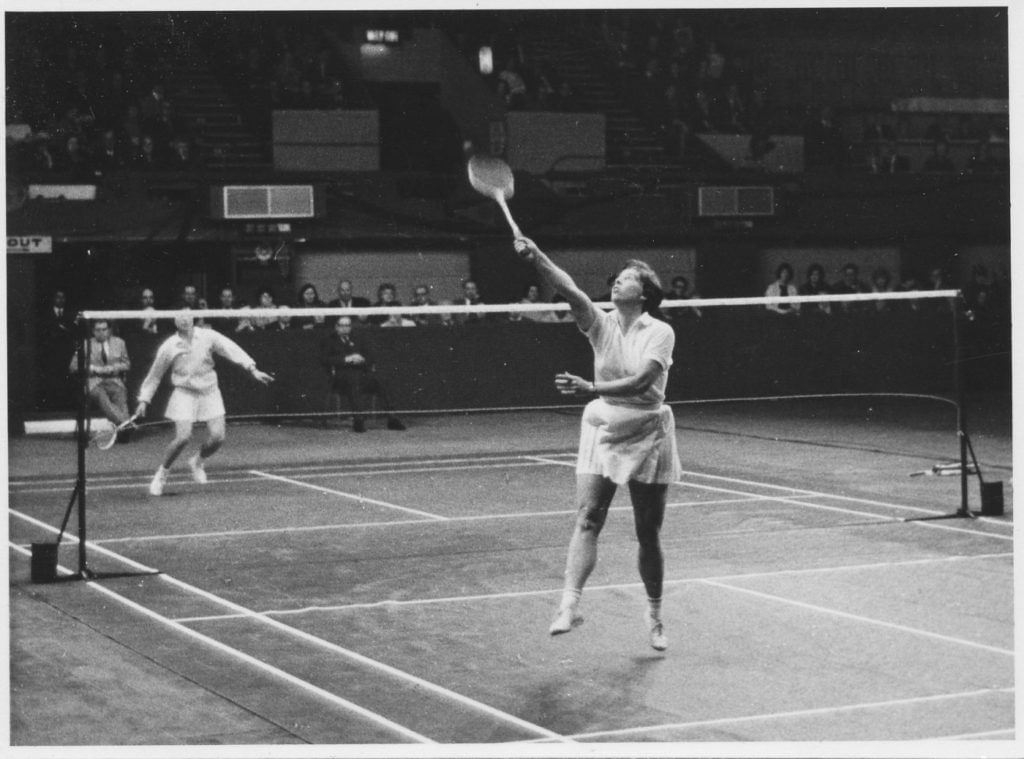 Tied with Muriel Lucas for third with 17 All England Open titles is the daughter of famous Irish shuttler Frank Devlin. The USA's Judy Hashman won her medals between 1954 and 1967. She won a total of 10 women's singles medals and seven women's doubles titles. She holds the most number of singles titles with 10.
Hashman was known for her power and accuracy. Three of her seven doubles wins came while partnering with her elder sister Susan Devlin. Remarkably, she made it to 11 consecutive All England Open finals from 1954 to 1964. Of those, she managed to win eight.
2. Frank Devlin (18)
Hailing from Ireland, Frank Devlin racked up 18 championships at the All England Open between 1922 to 1931. He won six men's singles titles, seven men's doubles and five mixed doubles.
Those titles make him the second-most successful shuttler to grace the courts at the tournament He also sensationally won three triple All England championships, winning three different championships in the same year in 1926, 1927 and 1929.
1. Sir George Thomas (21)
Sir George Alan Thomas was an English badminton, tennis and chess player. He won a total of 21 championships at the All England Open between 1903 and 1928. He won four men's singles, nine men's doubles and eight mixed doubles.
The All England Championship took a hiatus between 1915 and 1919 owing to the first World War. Sir George won his titles both before and after that break. In fact, he won all four of his men's singles titles consecutively from 1920 to 1923.
Fascinatingly, he won the British Chess Champion in 1923 and 1934. He also made it to the semi-finals of the tennis men's doubles at the Wimbledon Championships in 1907 and 1912 and the quarter-finals in men's singles in 1911.
For more updates, follow Khel Now on Twitter, Instagram and Facebook.