Indian wrestlers won three medals on Thursday.
7:02 pm That concludes all the action from Day 4 of the Asian Wrestling Championship 2021. Thank you for joining us. See you again tomorrow.
6:58 pm Star wrestler Vinesh Phogat picked up her first Senior Asian Wrestling Championship Gold Medal, with Anshu and Divya Kakran also grabbing Gold. However, Sakshi Malik had to settle for Silver.
6:55 pm It was quite a fruitful day for Indian wrestlers in Almaty, which saw India grab three gold and one silver.
6:50 pm Kakran with a quickfire win!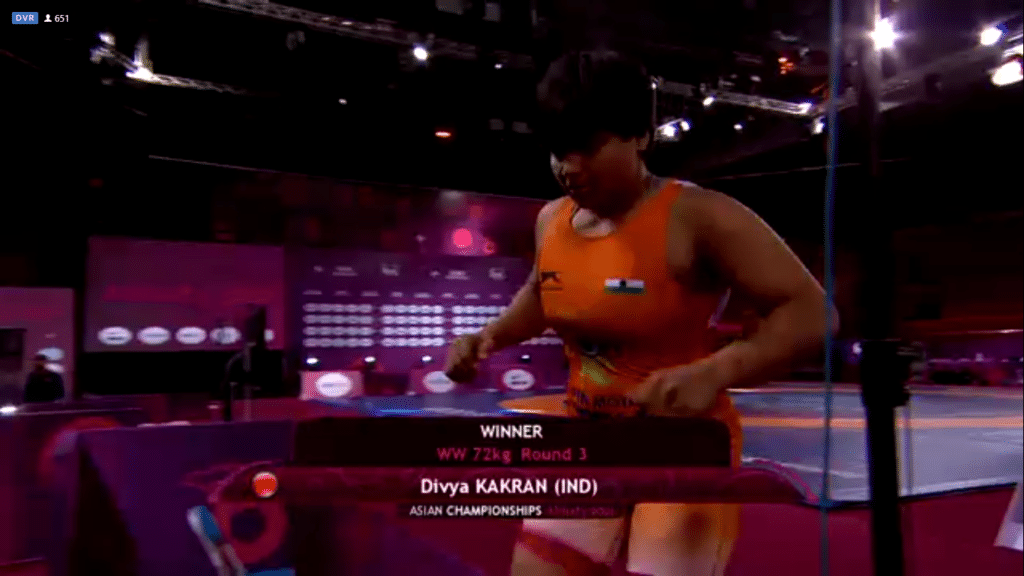 6:47 pm Divya Kakran has already secured a gold medal in the 72 kg weight category. Kakran won both of her round-robin matches in the early session to assure she would come away with the gold regardless of the outcome of her final match.
6:46 pm India's Divya Kakran will next be in action versus South Korea's Sujin Park.
6:44 pm A shock loss for Sakshi Malik as she is defeated via fall.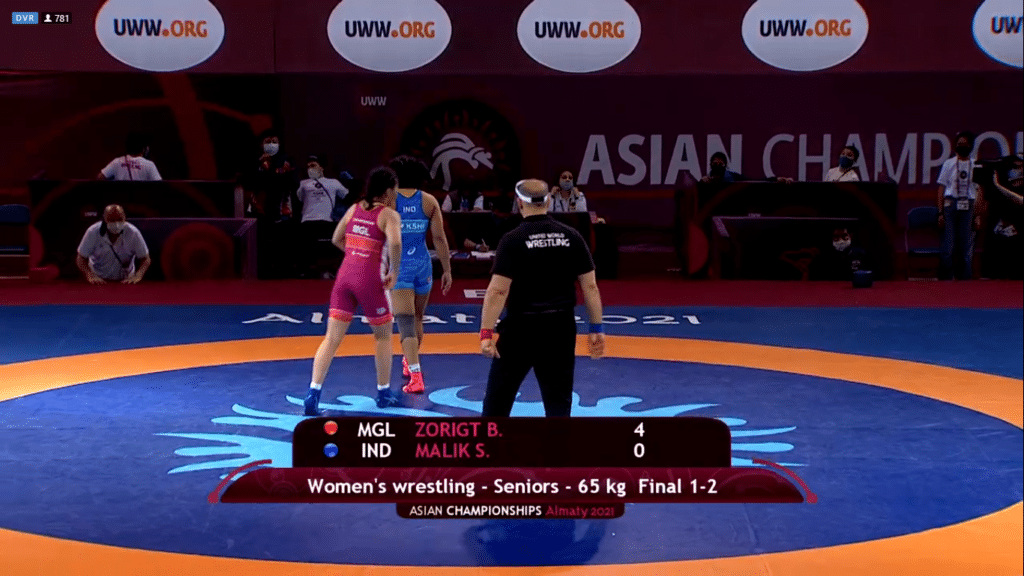 6:40 pm Sakshi Malik in action now in the 65kg Gold medal match against Mongolia's Bolortungalag Zorigt.
6:16 pm Vinesh Phogat is the Asian Wrestling Championship gold medallist for the first time in her career.
2013 (51kg): Bronze
2014 (48kg): No medal
2015 (48kg): Silver
2016 (53kg): Bronze
2017 (53kg): Silver
2018 (50kg): Silver
2019 (53kg): Bronze
2020 (53kg): Bronze
2021 (53kg): Gold
5:59 pm Anshu holds on for an easy 3-0 win to secure yet another Gold for India.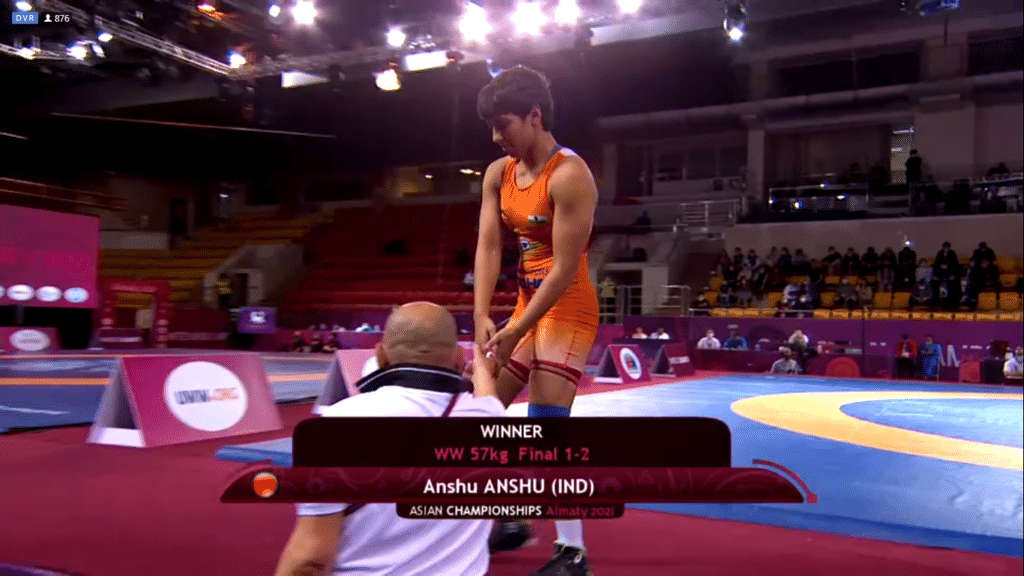 5:52 pm Anshu takes a 2-0 lead.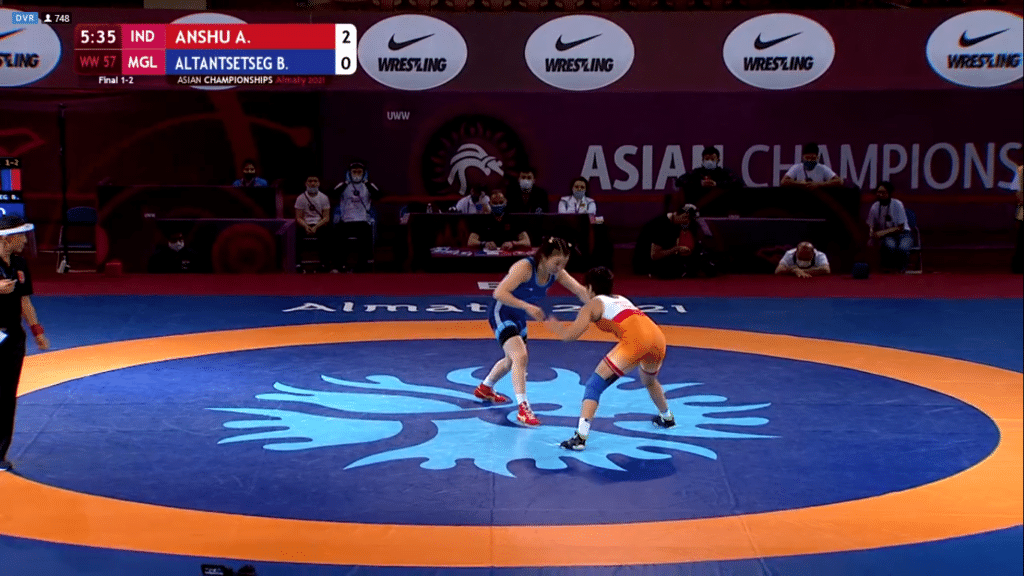 5:51 pm The 57kg Gold medal match between India's Anshu and Mongolia's Baltsetsag Altantsetseg has started.
5:41 pm That victory confirms India's first Gold medal of the day.
5:40 pm Vinesh Phogat secures a comfortable victory via fall over Taipei's Meng Hsuan Hsieh.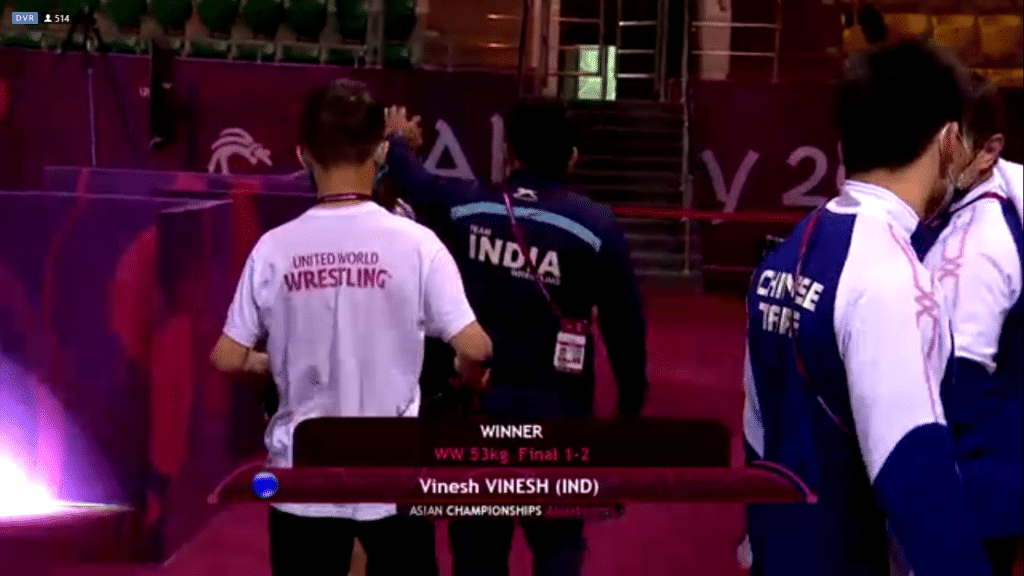 5:38 pm The gold medal match of the 53 kg weight category is underway.
5:15 pm The Asian Wrestling Championship 2021 has been a success for the Indian women wrestlers so far as they have won three medals for their country including one Gold. A total of six wrestlers have qualified for the Tokyo Olympics so far. Read here
On Day 3, Sarita Mor staged a remarkable comeback to win the Gold medal for India. She defeated Mongolia's Shoovdor Baatarjav 10-7 in the final to clinch the medal. Seema won the Bronze medal in the 50kg weight category. She defeated her opponent 10-0 in the Bronze medal match. The last medal of the day came in the 76 kg weight category. India's Pooja beat South Korea's Seoyeon Jeong to clinch the medal for her country.
5:00 pm Hello and welcome to Khel Now's live updates of all the action from DAY 4 of the Asian Wrestling Championship 2021. The tournament is taking place in Almaty, Kazakhstan.
The tournament is taking place in Almaty, Kazakhstan. Top-class wrestlers from around the world have gathered in the city to pit their wits against each other. It is a great opportunity for the Indian wrestlers as well to check their potential against some of the very best in the business prior to the Tokyo Olympics.
Day 4 will see some of the best competitors in action with a series of finals lined up in different categories.
Vinesh Phogat – 53 kg Final
Anshu – 57 kg Final
Sakshi Malik – 65 kg Final
Divya Kakran – 72 kg
For more updates, follow Khel Now on Twitter, Instagram and join our community on Telegram.