The 59-year-old has been shown the door after a two-day executive council meeting.
Uwe Hohn, the German great hired in 2017 to coach javelin star Neeraj Chopra, has been sacked by the Athletics Federation of India (AFI). Hohn was Chopra's coach when he won gold medals at the Asian Games and Commonwealth Games in 2018. He remained in-charge as the national javelin coach for the Tokyo Olympics.
The decision has raised several eyebrows in the Indian sporting circuit. This is due to the fact that Uwe Hohn has played a crucial role in the development of Indian athletics' poster-boy.
We take a look at the saga between the AFI and Uwe Hohn and why it is such a controversial decision:
What exactly happened?
Four years ago, the Athletics Federation of India (AFI) acquired the services of legendary German javelin thrower Uwe Hohn. The AFI knew that the likes of Neeraj Chopra and Annu Rani have immense potential. Therefore, they wanted to get someone with rich experience into the system.
Upon his appointment, Uwe Hohn requested business class tickets for all his official trips. This is due to the fact that he weighed around 120 kg and his 6'6" frame used to get cramped in economy class seats. Hohn's request was forwarded to SAI, the body that pays and decides on the emoluments of foreign coaches. Such was the desire of the authorities to get Uwe Hohn on board that an exception was made in order to sign him.
Fast forward four years and AFI President Adille Sumariwalla revealed the unexpected decision. He said that Hohn was being "sent home." This is after a performance review of athletes and coaches was conducted at a two-day executive council meeting.
A system not good enough?
Despite the success of Neeraj Chopra at the Tokyo Olympics, the majority of the other athletes delivered below-par performances. Uwe Hohn has been outspoken about the issue. He raised his voice, claiming that the Olympic preparations were not ideal by any means.
"When I came here, I thought I could change something, but it's probably too difficult with these people at SAI or AFI. I don't know if it's lack of knowledge or ignorance. Beside camps or competitions, even when we ask via our nutritionist for supplements for our athletes, we don't get the right stuff. Not even for TOPS (Target Olympic Podium Scheme) athletes – medal contenders handpicked by the Sports Ministry. If we get something (any medal), we are very happy," he had said to Indian express.
The problems are evident. Recently appalling photos and videos of the Jawaharlal Nehru Stadium, the country's premier track and field venue, emerged on social media. The Delhi State Athletics Meet was taking place without any safety net for discus throw and pole vault apparatus. As usual, there was a blame-game after the incident received attention.
Therefore, Uwe Hohn seems to have paid the price for his scathing attack on Indian sports bodies.
What did AFI say?
Meanwhile, the Athletics Federation of India (AFI) Adile Sumariwalla said, "We are changing Uwe Hohn. His performance is not good. We will bring two (new) coaches. We are doing what we have to do. Those who think that analysis is not happening and action is not being taken… everything is being done,"
Speaking about Shivpal and Annu's poor performances in Tokyo, Sumariwalla stated, "It is very simple. Shivpal and Annu were with Uwe Hohn. Uwe Hohn is being sent home. We are also looking for a foreign coach for Toor (shot putter Tajinderpal Singh Toor)."
The AFI planning commission chief Lalit Bhanot went further by claiming that Neeraj Chopra, Shivpal Singh and Annu Rani didn't want to train with Hohn. However, Klaus Bartonietz, the bio-mechanical expert who coached Chopra when he won the Olympic gold, is set to continue.
Do we really need foreign coaches?
The AFI has already said that they are on the hunt for two foreign coaches. Indian coaches don't always have the insight and calibre that their foreign counterparts have. It is necessary to be in tune with what is going on around the world in a particular sport.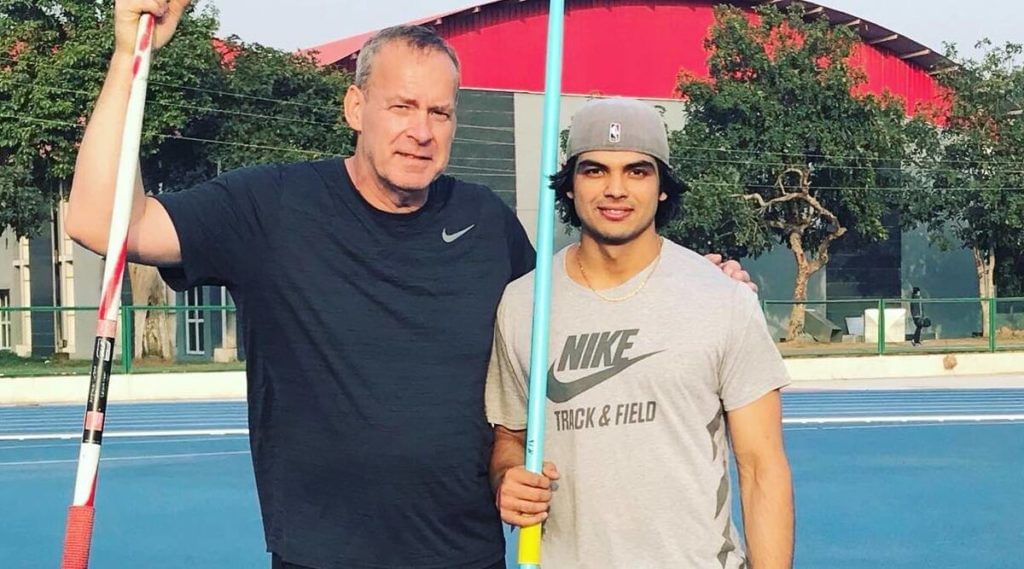 Neeraj Chopra himself credited Uwe Hohn for his Tokyo Olympics exploits. "The time I spent with coach Hohn, I believe, was good and I respect him. In that year (2018), I won gold at the Commonwealth Games and Asian Games. I thought that his training style and technique were a bit different. Later, when I trained with Klaus, I felt his training plan suited me," the 23-year-old had told Indian Express.
There is no doubt that Uwe Hohn prepared Neeraj Chopra for bigger challenges that lay ahead of him. It was he who gave Chopra the belief that he can go on and reach greater heights. The only thing that could be said in defence of the AFI is that maybe Hohn asked too much from a country like India. Nevertheless, the fact that the German has been a pivotal figure behind the success can't be ignored.
Sad departure of a legendary figure
Uwe Hohn is the only athlete in history to throw the javelin over 100m. In 1984, the German recorded a massive throw of 104.8m in Berlin. A new javelin design was subsequently adopted in 1986. The centre of gravity was brought forward on the javelin to shorten throws that were threatening to go beyond available space in stadiums, ensuring that the javelin lands into the ground instead of falling flat to avoid ambiguous landings. Uwe Hohn's incredible throw has hence become an 'eternal' world record since.
Thus, for such a massive figure in the sport to come to India and agree to train it's javelin throwers was instrumental. However, being outspoken cost him his job. He blamed authorities for allegedly going back on their word on his contract.
"I'm not happy with the new contract I signed in the beginning of April. We (he and Klaus Bartonietz) got blackmailed into signing it, otherwise, we wouldn't have got paid anymore. They said they would review our coaching in April and then increase our salaries. Like all promises before, these were only empty words," concluded Uwe Hohn.
For more updates, follow Khel Now on Twitter, Instagram and join our community on Telegram.