The former Paralympian posted a sharp response to a post made by the official Paralympics Facebook Page.
What would most women do after their leg is amputated due to Crohn's disease while giving birth at the age of 24? The floor is open for guesses.
However, Liz Willis didn't do what most women would. A teacher by profession until then, Liz not just beat the agony and despondency of not having a regular life of a new mother, but also beat addiction. She admitted that she had become addicted to pain medication after that amputation. Liz started to run as replacement behavior – something she had done all her schooling life. She was a distance runner in school, and re-pursued her passion for the track.
"They put me on morphine, codeine and percocet all at once and they give them to you by the bottle. So trying to wean myself off all that was very difficult and codeine was the most challenging," she had said to runnersworld.com in December 2015. A runner in high school to a teacher by profession to losing a limb in 2010 – life had taken some drastic turns already, but the most far-reaching turn was the one she took to the field, again.
Her sporting philosophy, something every runner must take inspiration from is very germane. 'Running has saved my life' she often says. Four years since the amputation, Liz gave up the medication, helped by the running. She met a Paralympic recruiter and took up Para-athletics. In 2016, she was the only female athlete representing the United States of America at the Rio Paralympics in 400m, 200m and 100m! A little less than six years is all it took to change her life around!
The post and the reply
The 2020 Tokyo Paralympic Games is just around the corner. The official Facebook page of the event shared a referential do's and don'ts to enlighten/inform the world about the correct terminologies to be used at the quadrennial event (or just how the organizers use it). Liz, however, called out the organizers on the post with a heartfelt message. She implied that it is far more important to use generic terms and ensure greater acceptability for differently-abled people in the society than educating people about what to say and what not.
'I understand that I am disabled. I use a handicapped placard and a lot of friends refer to me as differently-abled. So handicapped keeps my parking space available along with handicapped accessible buildings. Differently-abled is just saying that I can do the same thing as anyone else, but just in a different way. So as a Paralympian I have to use terms on both sides in everyday life, it's a really confusing post- at least the top line,' Liz Willis commented.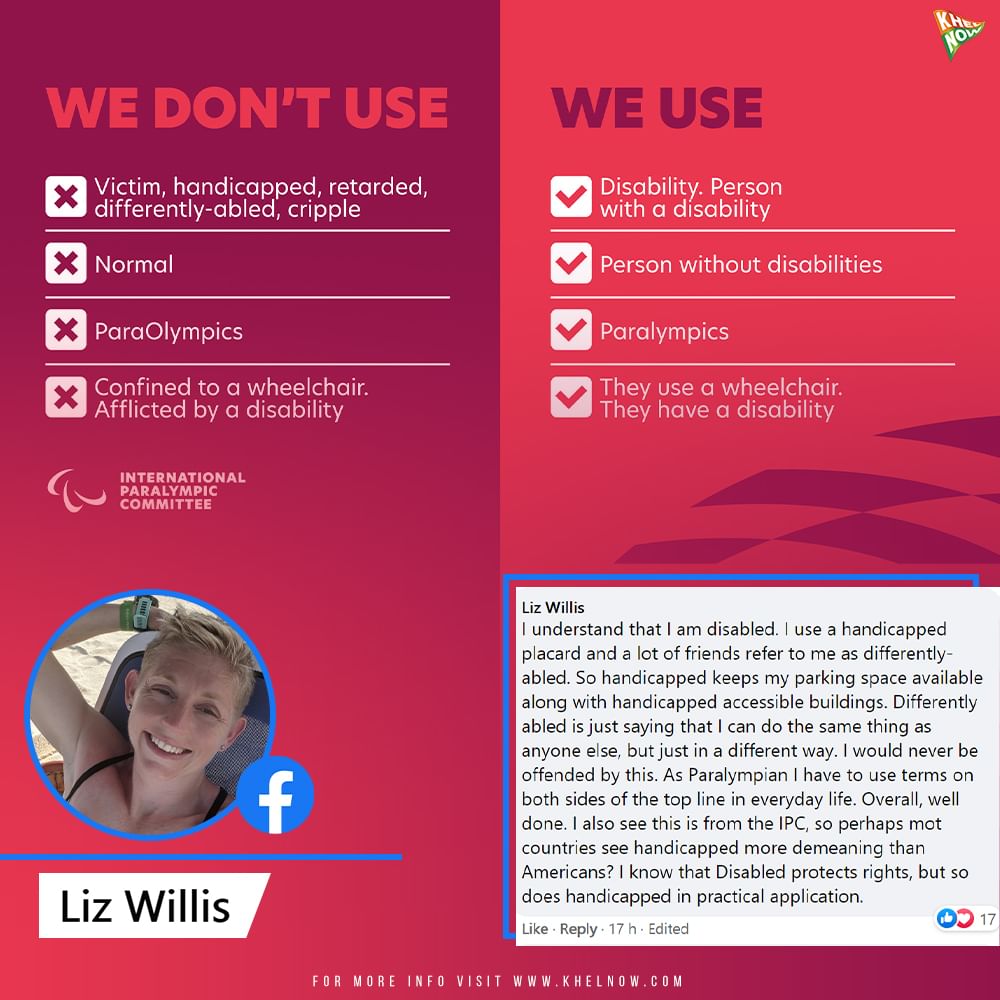 In their list of do's and don'ts, the organizers listed out that calling someone 'differently abled' wasn't accepted. However, Liz Willis had a different viewpoint on the same. She rightfully put – 'Differently-abled is just saying that I can do the same thing as anyone else, but just in a different way.'
Also, when most of the world uses 'handicapped' for accessibility signs across sectors, channels and borders, what sense does it make to become 'politically correct' just for an event? Liz backs her points with her day-to-day experience – 'handicapped keeps my parking space available along with handicapped accessible buildings.'
It is a powerful message to not just the Paralympics organizers, but to the entire world. Naming them better won't help; situations across the globe need to change. Crip Camp, a documentary released on Netflix in 2020, brilliantly traced the emergence of the disability rights movement in the 1970s. The movement shook the United States and changed the scenario all over. While things have certainly moved for the better since then, most of the world still needs to do so much more to make it far more accessible for the disabled community.
Until then, more power to Liz and her mind. Here's her philosophy… take a leaf out of her book if you can. "Running has saved my life. Maybe not literally, but it has made it so much better to deal with things that would have been very hard to deal with otherwise…"
For more updates, follow Khel Now on Twitter, Instagram and join our community on Telegram.