These sportspersons are part of Indian sporting folklore thanks to their decorated careers on the global stage.
Except for four games, Indian athletes have competed at every Commonwealth Games (1930, 1950, 1962, and 1986). Since the second edition in 1934, India has won a total of 503 Commonwealth Games medals, including 181 gold, 171 silver and 143 bronze. Saying that. India at Commonwealth Games 2022 Birmingham, secured the fourth position in the Games' overall medal count, with Australia topping the medal charts.
These quadrennial games have repeatedly proven to be the global stage on which India shines. Many Indian athletes have advanced to the Olympics and World Championships by excelling in these games. In this article, we look at some of India's most accomplished Commonwealth Games and Asian Games competitors. So, here are the top five Indian athletes with the most medals in the Commonwealth Games, Asian Games and Olympics.
5. Abhinav Bindra – 11
At the 2008 Beijing Olympics, this 10m air rifle shooter won India's first-ever individual gold medal in shooting. This was India's first individual gold medal in shooting in a country where cricket reigns supreme. Abhinav Bindra is the man responsible for India's rise to shooting dominance. From 2022 to 2014, he won six Commonwealth medals, including gold medals in four editions. Abhinav Bindra in total has won four Commonwealth gold medals, along with two silver and a bronze.
He took part in the 1998 Commonwealth Games when he was fifteen years old. He is an inspiration to young shooters and a shining example of the dedication and hard work required for this sport. In 2014, he established the 'Abhinav Bindra Shooting Development Program,' where he trains and mentors young shooters. Abhinav Bindra has also won a silver and two bronze medals at the Asian Games, taking his total medal count in Commonwealth Games, Asian Games and Olympics to 11.
In 2000 and 2002, he received the Arjuna and Rajiv Gandhi Khel Ratna Awards for his outstanding contributions to shooting sports.
4. Sharath Kamal Achanta – 15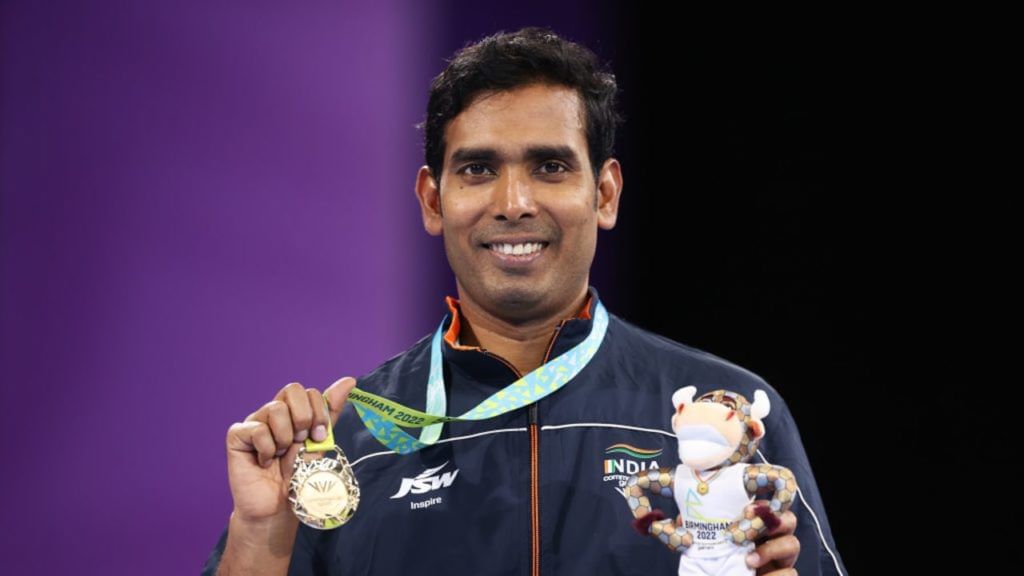 Sharath Kamath Achanta, the list's only non-shooter, has become a legend in the Indian table tennis community. He has a total of 15 Commonwealth Games and Asian Games medals, including seven gold, three silver and five bronze. He recently won the gold medal for the men's team at the 2022 Commonwealth Games in Birmingham.
Not only has the 10-time national champion helped to popularize Indian table tennis, but he has also consistently led the country at multiple international levels. He has competed in the Olympics four times between 2004 and 2022, making him the most active Indian paddler of the last two decades. Sharath Kamal is the only active Indian athlete with the most Commonwealth Games medals and India would love for him to keep winning in Paris.
Indian Sports Live Coverage on Khel Now
3. Samaresh Jung – 15
India has long dominated the Commonwealth Games in the sport of shooting. Samaresh Jung was one of the shooters who contributed to these preconceived notions about India during the quadrennial games. Jung, who came just before Jaspal Rana, won fourteen medals in various shooting events at the Commonwealth Games in 2002, 2006 and 2010. He also won a bronze at the 2014 Asian Games. He has a total of seven gold, five silver, and three bronze.
At the 2006 Melbourne Commonwealth Games, he won five gold medals. In the same year, he broke the Commonwealth Games 10m pistol shooting record with 685.4 points, earning him the moniker "Gold Finger of India."
In 2002, he was awarded the Arjuna award. Jung was also on the coaching staff for the Indian Olympic shooters who competed in Tokyo in 2020.
2. Gagan Narang – 16
Another shooter on the list, Gagan Narang, won 10 medals at the Commonwealth Games in 2006, 2010 and 2014. Narang has eight gold, three silver and four bronze medals in his cabinet when talking about Commonwealth Games and Asian Games and a bronze medal at the London Olympics. The 50-meter air rifle specialist won four gold medals in various shooting events at the Commonwealth Games in 2006 and 2010.
Gagan Narang founded Guns for Glory, a Khelo India-accredited training facility that serves shooters throughout India. The funds he received for his performances at the Commonwealth Games and other events were used to build this academy. Through this academy, Gagan and his team launched Project Leap. Furthermore, trainees in this project have won 42 national and 49 junior international medals. He also believes that this academy helped him win a bronze medal at the 2012 Olympics in London.
1. Jaspal Rana – 23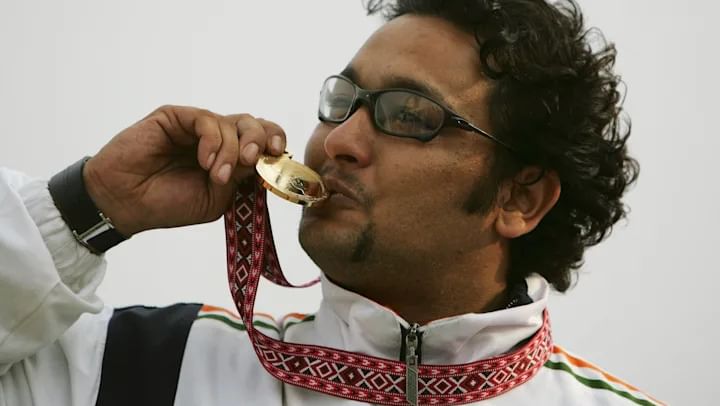 Jaspal Rana is India's most successful Commonwealth Games athlete. The pistol shooter won a total of 15 medals at the Commonwealth Games in 1994, 1998, 2002, and 2006, including nine gold, four silver, and two bronze medals. Rana won four gold medals and set a Commonwealth Games record in 25m standard pistol shooting with 574 points at the 2002 Commonwealth Games in Manchester. He received the Arjuna Award when he was 18 years old. Surely, there is no doubt why he is the most decorated Indian athlete in the Commonwealth Games and Asian Games for India over the years. The Indian shooter has four gold medals, two silver and bronze medals each at the Asian Games (1994, 1998, 2006) Jaspal Rana despite being a brilliant shooter failed to secure any medal at the Olympic games.
Furthermore, He decided to mentor India's upcoming shooters after winning medals, titles, and the Asian Games. He is a coach at his own academy, Jaspal Rana Institute of Education & Technology, in Uttarakhand. He also belongs to the Indian National Congress.
For more updates, follow Khel Now on Facebook, Twitter, and Instagram and join our community on Telegram.