Badminton
Carolina Marin reacts to PV Sindhu's post after heated semi-final clash, Sindhu responds
By

Ajay Gandhar
Both players were shown yellow cards after a series of verbal exchanges.
In a display of sportsmanship and mutual respect, Carolina Marin, the former Olympic champion from Spain, responded to PV Sindhu's post following their intense semi-final clash in the Denmark Open 2023. Sindhu took to social media to express her sentiments after a closely contested match in Odense, with Marin offering her perspective through a comment.
The social media exchange ensued after a fiercely contested match marked by intense emotions, featuring two world-class badminton players where Marin secured victory with a score of 21-18, 19-21, and 21-7.
In her post, PV Sindhu gracefully acknowledged her semi-final defeat, stating, "Denmark's journey ends for me at the Semi-Finals! It's a tough loss, but I'm taking it in stride. Achieving back-to-back semi-finals makes me happy with how my game is progressing. My body feels good, and my movement feels even better."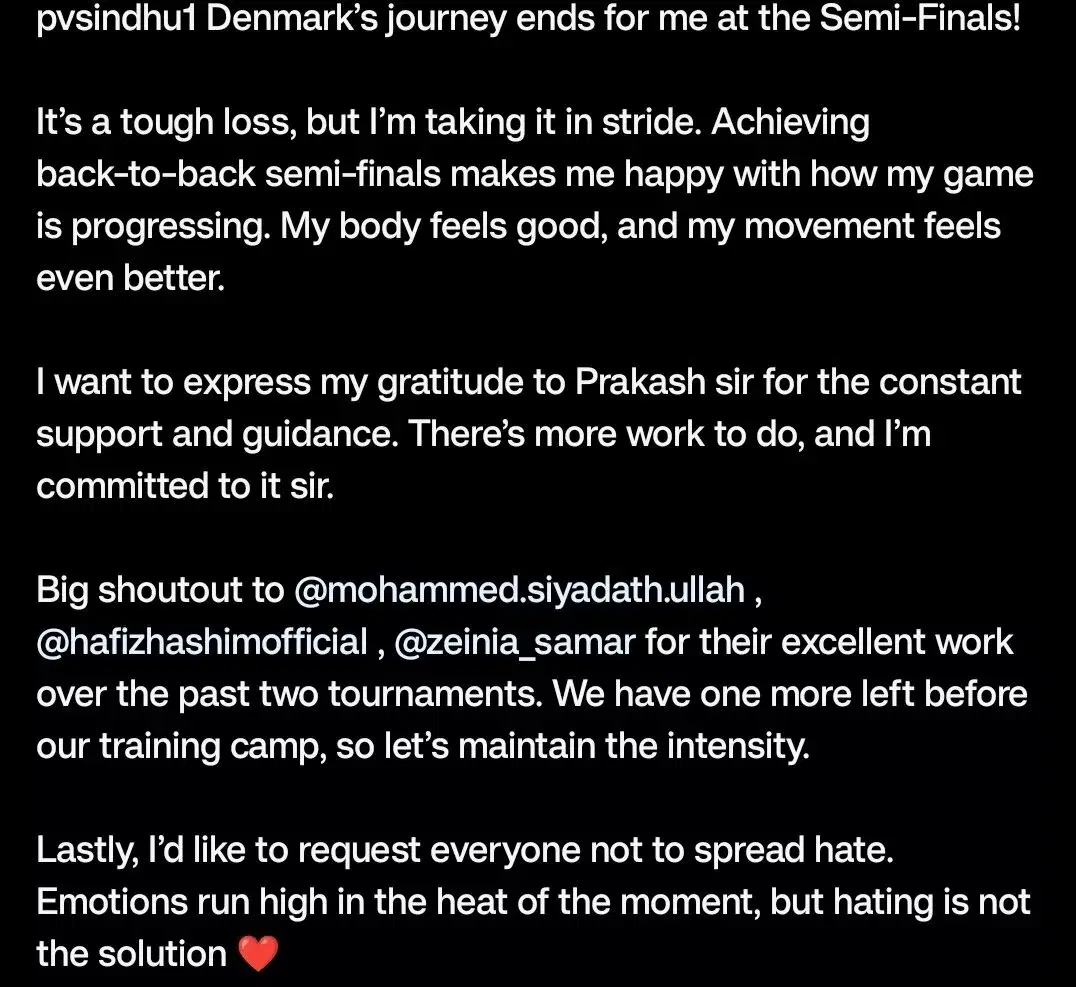 She also expressed her gratitude towards her coach, Prakash Padukone, for his unwavering support and guidance, emphasizing her commitment to further improvement. Sindhu went on to commend the efforts of her support team as they prepare for one more tournament before a training camp.
Furthermore, Sindhu appealed to her followers not to spread hate, recognizing that emotions can run high during competitive moments. She conveyed the message that "hating is not the solution" and ended her post with the hashtag #carolinamarin.
In response to Sindhu's post, Carolina Marin displayed her own sportsmanship by sharing her perspective on their intense contest. Marin stated, "Thanks for a good battle. Both of us were fighting to win that game, but on my side, I never wanted to fight against you personally. In front of everyone SORRY to show this kind of behavior. See you soon mate!!"
The interaction between Sindhu and Marin exemplifies the mutual respect and camaraderie that often exist among athletes who compete at the highest level after the fiery showdown.
While Sindhu gears up for her upcoming challenge, Carolina Marin is set to face off against Chen Yufei in the Final, what promises to be another exciting clash at the Denmark Open 2023.
For more updates, follow Khel Now on Facebook, Twitter, and Instagram; download the Khel Now Android App or IOS App and join our community on Telegram.
posted in :