ICC Cricket World Cup 2023
ICC Cricket World Cup 2023: NZ vs PAK – Weather Forecast, 4th November, Bengaluru
By

Saurabh Anand
NZ vs PAK match in the ICC Cricket World Cup 2023 will take place in Bengaluru on Saturday.
The ICC Cricket World Cup 2023 will witness its first and final virtual quarter-final game between Pakistan and New Zealand at M. Chinnaswamy Stadium in Bengaluru on Saturday. Both teams badly want a win to make their case for the semi-finals of the ICC Cricket World Cup 2023 stronger than others. New Zealand need just one win to qualify for the semi-finals, while Pakistan need to win their remaining games and New Zealand to lose all their remaining matches in the league round.
New Zealand will have another chance against Sri Lanka on November 9 in Bengaluru, but a win against Pakistan will release the pressure from Kiwis' camp. On the other hand, Pakistan also cannot afford to lose any game, even if they win against New Zealand, they will have to hope Kiwis lose their final league game against Sri Lanka and win their final game against England in Kolkata.
NZ vs PAK: Weather forecast in Bengaluru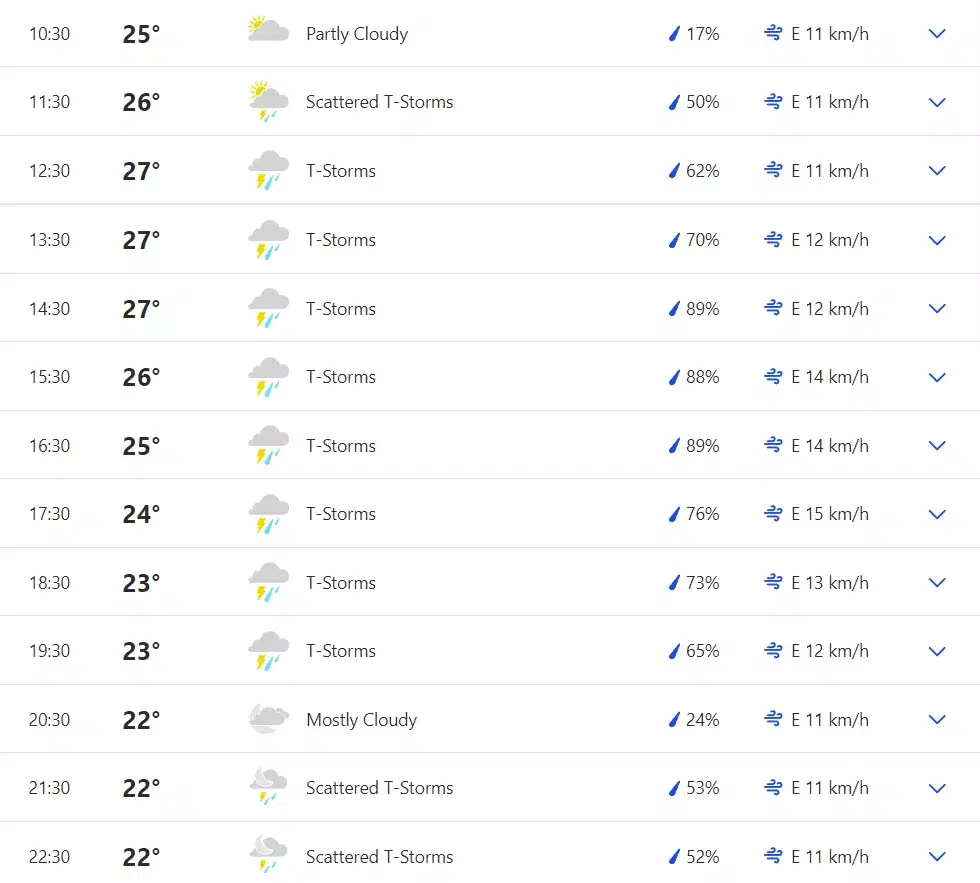 Apart from the cricketing action, both teams will be looking to please the rain gods as well. Bengaluru's weather remains the most unpredictable, but rain has been predicted for the next 3–4 days in Karnataka capital. The weather has been pleasant so far in the city, but there will be more than 80% precipitation in the next three days. The precipitation index shows a 93% chance of rain on Saturday. The humidity will remain over 90% on match day.
The temperature in the town will remain pleasant, as the highest temperature is predicted to be around 28 and the minimum temperature is predicted to be around 20° C. It will be a morning start in Bengaluru, the game is scheduled to begin at 10:30 AM. So far, the rain has stayed away from the World Cup except for only one game played at HPCA Stadium in Dharamshala between South Africa and Netherlands in a day-night encounter.
Two contrasting games have been played at the M. Chinnaswamy Stadium in Bengaluru. In one game between Pakistan and Australia, 672 runs were scored in more than 95 overs. In the other game between England and Sri Lanka, England were bowled out on just 156 runs and Sri Lanka chased down in just 25 overs. Talking about the record, New Zealand have yet to win a game here, while Pakistan have won only one of their three games.
For more updates, follow Khel Now Cricket on Facebook, Twitter, Instagram, Youtube and join our community on Whatsapp & Telegram.