The Spaniard featured in all 4 games of World Cup 2022
The RB Leipzig star has made his name in the Bundesliga. Olmo joined RB Leipzig in 2020 and with Bundesliga finally back after the FIFA World Cup 2022 break. Dani Olmo recently sat down with the Bundesliga media discussing a variety of topics.
Here is the full interview:
How was it going into the training camp after the World Cup?
I had time to rest and to disconnect as well from the World Cup. In the end, it was a big experience that I have to take with me, and I am ready. I am happy to be back with the team."
How disappointing was the World Cup for you as a Spaniard?
"It was a big disappointment. Our goal was to play the seven games. In the end, we didn't reach that goal. We have to learn from this. We are a young team. Now with some changes – with the coach and [Sergio] Busquets that is not continuing with us. We learned a lot with them, but we have to move forward. As I said, we are a young team and if everything goes well, we will have a lot more competitions ahead."
How was it for you personally as an experience because it was your 1st World Cup, and you scored the 100th World Cup goal for the Spanish team in the 7-0 game against Costa Rica?
"It was a big moment. I remember this first game. To play – to make my debut in the World Cup and that I scored the first goal for us and the 100th was really special. The World cup, all four games we played, I really enjoyed it a lot with the teammates, with the staff, with everything that was there. It was like a dream. Playing at a World cup is, I think, the maximum a player can play. It is a big experience."
How did you follow Gvardiol's performances? What makes him so special as a player?
"I know what he can do. Croatia is also a very good national team, and he showed it to the world what he has been doing here in the Bundesliga. It was good for him."
What kind of person is he?
"He is quiet. Sometimes kind of funny. He likes to joke but he is calm. He likes to work. He's clever as well. He knows what he has to do to achieve
– to keep working, to keep moving. He is still young. There is still a lot to improve and to keep going because he has no limit right now."
Your relationship must be special because you can also speak Croatian?
"Yes I know it. I knew it from before already, from the time I was at Dinamo [Zagreb]. We didn't play a lot together because he was too young. I also use him to improve my skills in Croatian. He is my friend."
Could you already see at Dinamo that he has great potential?
"Yes, you could already see what kind of player he was, but he was still seventeen or eighteen years old. He was training with us, playing a few games but still not in the full squad. After I left, his time arrived and he started to play all season and after that, we bought him."
How satisfied were you with your first half despite your knee injury? 10 games / 1 goal / 2 assists.
"It was not lucky for me, let's say – I had to live with one of the worst things a football player can live with: an injury. I learned a lot from this. I worked hard to come back and to achieve my goals, like playing in the World Cup. The team made a lot of progress during this first part of the season and we are in a good spot now and we have to keep going on like this. "
Trending World Football Articles:
When you say you learned a lot, what is it exactly that you learnt?
"To know what my body needs in every situation. To know how to control the loads a little bit more. Listen to my body and my muscles. To realize – to recognize every situation how it is. Of course, it is still hard but from everything you learn and when you are injured you also learn a lot."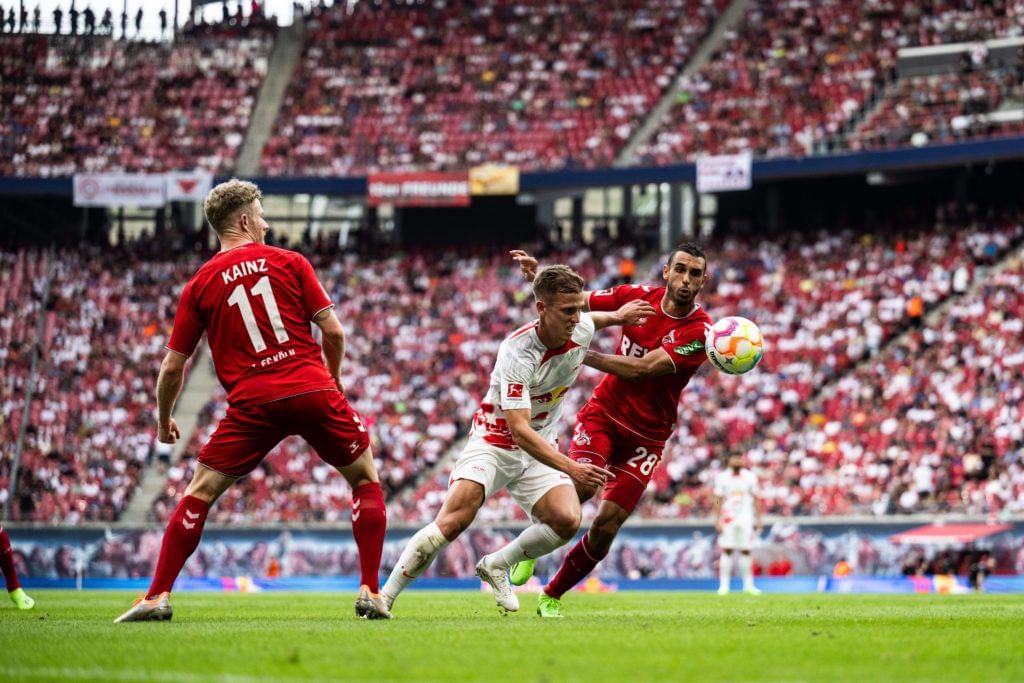 You had a change of coach in the 1st half of the season. How do you like the football ideas of Marco Rose?
"It's a really clear idea. He likes the offensive players to create. To be creative. To surprise. Move – mobility. Of course, with some basics like every coach has but he gives us a lot of freedom. He is really good. He is really communicative with us – with the players. I think you can see on the pitch that things are working."
Where do you see yourself in the team and how does the coach plan with you?
"I have always felt important in the team, and I just try to help with what I can do. Off and on the pitch."
We have seen what is possible at the end of the first half of the season. Is that the true strength of RB or is there more?
"Yes, for sure we have very good players. We have a very good team. Altogether we have been doing good things. We have finished well and also in the Champions League spot. Didn't start like that. We have to keep going now. Six more months. The most important part of the season with the Bundesliga, the Cup and the Champions League. We have to be ready for all of this."
What are your objectives – you are still in the race for titles in three competitions: Bundesliga, the Champions League and the DFB Pokal?
"We want to compete in all the competitions. We know the Champions League is going to be hard because we will face one of the favourites. It's Manchester City but we have to keep going and believe because we can do it. We have already shown how we can play against big teams like Real Madrid. We have won at home. Also, in the League and the Cup, anything is possible, and we have to compete for everything."
How big is the respect for a team like Man City considering that they have a coach whose style of play you know very well from Barcelona, but also knowing that you have already beaten Real Madrid?
"We know Manchester City and how they play. I think they show the world their philosophy every week, in every game they play. Of course, like this, it is hard to play against them, but we will play with our weapons. We also have our threats they have to worry about so we will focus on ourselves."
For more updates, follow Khel Now on Facebook, Twitter, and Instagram and join our community on Telegram.