The club are popular for selling players and receiving huge transfer fees in return.
Shakhtar Donetsk is a professional football team from Ukraine, and over the course of its existence, Shakhtar has won the Ukrainian Cup 11 times, the Ukrainian Super Cup 5 times, and the Ukrainian Premier League a record 14 times. The team has achieved success in European competitions as well, taking home both the UEFA Super Cup and UEFA Cup in 2008 and 2009. Talented athletes have a long history of being produced and developed by Shakhtar, and many of them have gone on to play for elite clubs all over the world.
They have sold a number of players for sizable transfer fees. Examples that stand out include:
10. Dodô (€14.50m)
Dodô, a Brazilian professional footballer, was transferred to Fiorentina from Shakhtar Donetsk in 2021. The transfer was a loan arrangement. He joined Fiorentina on loan with an option to purchase at the end of the loan period. Dodô is a defender who has played for Brazil's youth national teams on multiple occasions. The Ukrainian club sold him to Fiorentina for a fee of €14.50 million.
9. David Neres (€15.30m)
David Neres has not played a single minute for Shakhtar Donetsk. In 2021, he was transferred from Ajax to Shaktar and the following year to Benfica because of Russian Invasion of Ukraine. Prior to that, he played for So Paulo. David Neres is a forward for Benfica and the Brazilian national team. He spent four years with Ajax, where he won the Eredivisie and Dutch Cup. His transfer to Benfica cost €15.30 million.
8. Dmytro Chygrynskyi (€25.00m)
Dmytro Chygrynskyi, a Ukrainian professional footballer, was transferred to Barcelona from Shakhtar Donetsk in 2009. The transfer fee was estimated to be around €25 million. Dmytro Chygrynskyi is a centre back who has played for Ukraine's national team.
He only stayed at Barcelona for one season before returning to Shakhtar Donetsk for a €15 million transfer fee. He struggled to adjust to the game style and struggled to get playing time with Barcelona.
7. Henrikh Mkhitaryan (€27.50m)
Henrikh Mkhitaryan is a professional football player from Armenia. In 2013, he moved from Shakhtar Donetsk to Borussia Dortmund. It was said that the buyout clause for the transfer was around €27.5 million. Henrikh Mkhitaryan is an attacking midfielder who has played for the national team of Armenia.
He played for Borussia Dortmund for three years and was known as one of the best midfielders in Europe during that time. The Star helped Dortmund win two Bundesliga titles and make it to the final of the 2013 UEFA Champions League. However, He moved to Manchester United after that.
6. Douglas Costa (€30.00m)
Brazilian footballer Douglas Costa began his career with Shakhtar Donetsk before joining Bayern Munich. He initially joined Bayern Munich on a loan in 2015, and the loan was later converted to a permanent one for €30.00 million. His time with Shakhtar Donetsk, where he won numerous domestic championships and had an outstanding UEFA Champions League season, was fruitful and led to his transfer to Bayern Munich, one of the biggest clubs in the world.
Trending World Football Articles:
5. Willian (€35.00m)
Brazilian professional footballer Willian Borges da Silva, also known as Willian, previously played for Shakhtar Donetsk before switching to Anzhi Makhachkala. He transferred to Anzhi in January 2013 for almost €35 million in transfer fees. Before transferring to Chelsea in 2013, he spent a season playing for the Russian team.
4. Fernandinho (€40.00m)
Brazilian footballer Fernandinho formerly played for Shakhtar Donetsk before joining Manchester City. He transferred to Manchester City in June 2013 for almost £40 million. Fernandinho played as a defensive midfielder for Manchester City during his time there and was a key contributor as the squad won numerous domestic championships. However, He is renowned for his ball-winning skills, passing range, and game reading talents.
3. Alex Teixeira (€50.00m)
Brazilian footballer Alex Teixeira previously played for Shakhtar Donetsk before switching to Jiangsu Suning of the Chinese Super League in 2016. He transferred to Jiangsu Suning in February 2016 for an estimated €50 million, which set a record for a Chinese team at the time. Before returning to Europe to play for Lazio, he spent four years playing for Jiangsu Suning. However, He enjoyed success at Shakhtar Donetsk, where he won numerous domestic championships and had a standout UEFA Champions League season that prompted his departure to China.
2. Fred (€59.00m)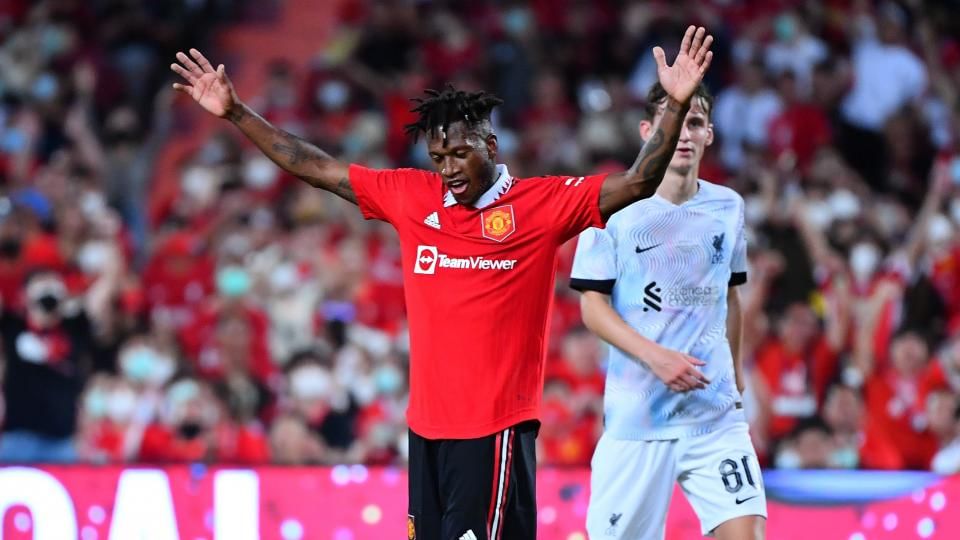 Fred Rodrigues, generally known as Fred, is a Brazilian professional footballer who played for Shakhtar Donetsk before going to Manchester United. He joined Manchester United in June 2018 for a cost of about €59 million. Since his arrival, he has been a reliable performer for Manchester United, playing as a centre midfielder and assisting the club in winning multiple domestic titles. He was a significant player for Shakhtar Donetsk, where he won many domestic titles, which led to his move to Manchester United, one of the world's most powerful clubs.
1. Mykhaylo Mudryk(£88.5m)
Chelsea have had their first glimpse at Mykhaylo Mudryk in action since his £88.5 million signing from Shakhtar Donetsk to Stamford Bridge. Mudryk finalised his mega-money move to the Blues from over weekend and has already participated in his first training session with his new club. However, Potter is hopeful that new addition Mudryk can offer the much-needed lift for his club. Since the attacker will be in contention to face the Reds after taking part in his first training session at the club's Cobham facility on Wednesday.
For more updates, follow Khel Now on Facebook, Twitter, and Instagram and join our community on Telegram.