English top flight has been the hunting ground for some great goalscorers
The Premier League has witnessed some of the greats who have ever graced the game. With Harry Kane joining the elite club of 200 goals in the Premier League alongside Alan Shearer and Wayne Rooney, many people have been questioning the leading goal scorers for each club in the ongoing campaign of the 2022-23 Premier League. Let's have a look at the numbers which have stuck with us for decades as we focus on the leading goal scorers for each club of Premier League and when they achieved their respective feats:
Arsenal
Thierry Henry (228 Goals, 2012)
Although Henry played up front as a striker during his youth, he could also drift down the wing or play as a second striker. When Henry joined Arsenal in 1999, Wenger immediately changed his position, switching his role often as a proper number 9 or as a second striker, often pairing him with Dutch veteran Dennis Bergkamp. Scoring 228 goals in total for Arsenal, Henry has scored a Premier League goal every 121.8 minutes during his career.
Manchester City
Sergio Aguero (260 Goals, 2021)
The Argentinian is regarded as one of the most decorated strikers of the last decade. His incredible spell at The Etihad saw him score a mammoth 260 goals for the Blues. Aguero was one of the world's best strikers largely because he got into a position to score so frequently –be that through clever off-the-ball movement or working a shooting opportunity of his own.
Manchester United
Wayne Rooney (253 goals, 2017)
Rooney preferred to play a high line and control possession in the opposition's half, leaving large spaces in behind –a tough ask for defenders to sort things out when out of possession. He spent much of his playing career as a forward while also being used in various midfield roles. He scored 253 times for the Red Devils and is the second highest Premier League goal scorer of all time behind Alan Shearer with 208 goals.
Newcastle United
Alan Shearer (206 goals, 2006)
Shearer played a more forward role than expected and was a kind of forward who was not afraid to play dirty. Having an ingenuity towards indigenous finishing, he was able to hold the ball up well, often functioning as a target man, providing balls for other players. The highest Premier League goal scorer of all time with 260 goals, he also holds joint-custody of the record for most Premier League goals in a single season, with 34, alongside former Manchester United legend Andy Cole.
Tottenham Hotspur
Harry Kane (267 Goals, 2023)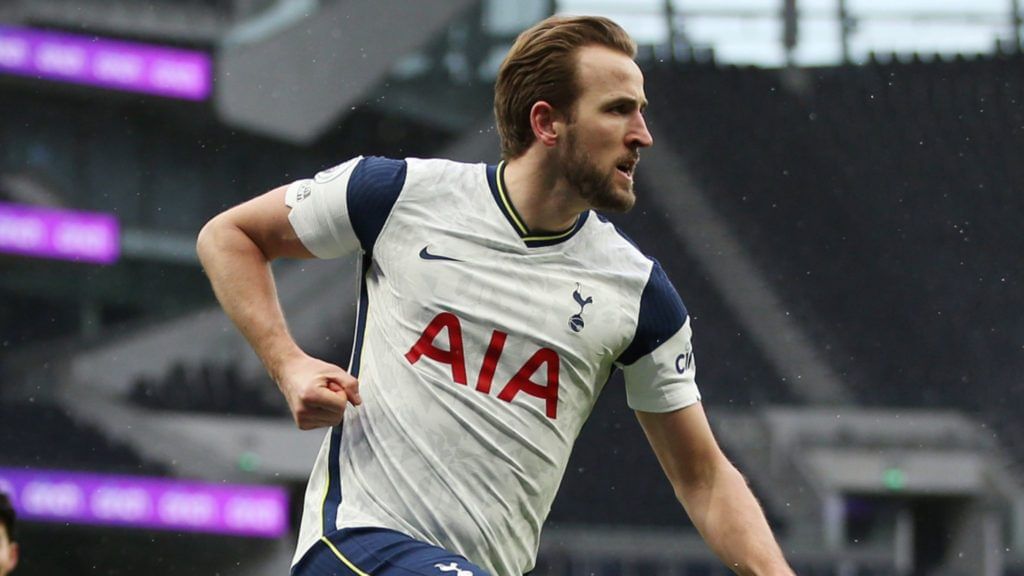 Physically immaculate and a nightmare for defenders to handle, his aerial prowess amplifies his worth, as he's terrific at not only scoring from crosses from open play and corners, but he also offers his team a quality outlet when they need to go long, where he can then help his team regain second balls. Also able to play from deep down the midfield, he has developed into a genuine playmaker over the years despite being an orthodox central-striker. Scoring 267 goals across all competitions for Spurs, his winner against Manchester City in the latest fixture of Premier League took him to an elite club of 200 goals scored in the Premier League alongside Wayne Rooney and Alan Shearer.
Brighton and Hove Albion
Tommy Cook (114 Goals, 1929)
Tommy Cook lived a remarkable life and left behind a momentous legacy. The Sussex-born footballer was also into professional cricket and still remains to this day as the highest goal scorer for the Seagulls. His life took a truly unique path, unlikely to have been trodden by anyone else previously or since: a journey which took him through two world wars and right to the very top of two different sports. Cook is Brighton's record goal scorer with 114 goals, pipping Glenn Murray in second place.
Brentford
Jim Towers (153 goals, 1961)
Jim Towers was a prolific goal scoring forward in the lower reaches of the English football division and his legacy has not been surpassed by anyone at the Brentford Community Stadium till date. His main role was in the centre forward/inside forward slot but he sometimes operated on the left wing. He also played for QPR and Aldershot during his playing days, but his partnership with the legendary George Francis up ahead in the red and white front line is still remembered to this day.
Fulham
Gordon Davies (178 goals, 1991)
The former Welsh footballer was also known for playing attractive, expansive football during his time at Craven Cottage. Often plauded for his never say die personality back in the days, he had two spells at Fulham during which he conjured up 178 goals across all competitions for The Cottagers. A record not even in the sight of any Fulham players, it is assured that his legacy will continue to live on over a fair few years.
Chelsea
Frank Lampard (211 goals, 2014)
Regarded by many as one of the greatest midfielders of his generation, Lampard was an all-round and versatile box-to-box player, who was capable of playing anywhere in midfield; throughout his career he was deployed as a central midfielder or as an attacking midfielder depending upon the style of play his managers wanted him to take up. It was very rare in world football that a midfielder had gone on to take the plaudits and be a record goal scorer until he arrived to the scene. A record goal scorer for Chelsea with 211 goals, he led the golden generation at Stamford Bridge by example during his time there.
Liverpool
Ian Rush (346 goals, 1996)
An industrious forward by all means, he had that sense of calmness in his game. Although his pressing and agility were a nightmare for defenders and goalkeepers, he was clinical and calm in terms of finishing which sees him top the charts at the Kop end. They say the best finishers are selfish and there's no doubt that Rush had a ruthless streak and could turn it on when the situation demanded, but what characterized him most was his all-round work and his selfless dedication to the team.
Aston Villa
Billy Walker (214 goals, 1933)
He is considered by many to be one of the greatest footballers to ever play for Aston Villa and England. Though there has been a serious debate by many over the records at Villa Park between Harry Hampton and Billy Walker. It is widely considered that Billy Walker scored the most number of goals for them. Billy Walker led Aston Villa to an FA Cup victory in 1915. Sadly his only trophy for the club in such a long and distinguished career.
Crystal Palace
Peter Simpson (165 goals, 1935)
Peter Simpson was a Scottish striker who played for Crystal Palace in the 1920s and 1930s. Although the club suffered during their initial days and struggled to keep their place in the top divisions of English football, he became Palace's record goal scorer from his five seasons spent at Selhurst Park; he scored an impressive 165 goals in 195 games, a club record that is still yet to be broken.
Nottingham Forest
Grenville Morris (217 goals, 1913)
 He was one of the greatest players of his generation and was known as The Prince of The Inside Lefts due to his versatility down the left flank. Morris moved on to Nottingham Forest in 1898 for a sum of £200. He still holds Forest's all-time goal scoring record with 217 in all competitions.
Leicester City
Arthur Chandler (259 goals, 1935)
Paddington-born striker, he was one of Leicester's first four-figure signings. When he was purchased for a Club-record fee of £3,000 in June 1923. Even the likes of Jamie Vardy and Gary Lineker who are themselves legends of the game could not surpass his record which he achieved back in 1935.  The legend found the net on 259 different occasions across all competitions for Leicester.
Wolverhampton Wanderers
Steve Bull (250 goals, 1999)
 It's hard to accurately describe Bull's style of play. He had all the technical finesse of a Tyrannosaurus rex chasing a steak and onion pasty. He was a raw talent who relished in the physicality of the lower leagues. Best remembered for his 13 year spell at Molineux, his goalscoring figures were positively heroic. There were two fifty-goal seasons in the late 80s as Wolves sealed successive promotions and were thrown back right into the mix of English top division football.
Trending World Football Articles:
West Ham
Vic Watson (326 goals, 1935)
Watson, a centre-forward, played 505 times for West Ham between 1920 and 1936. The club paid just £50 for Vic from Wellingborough, bringing him in to provide cover for Syd Puddefoot. Club's record goal scorer with 326 goals: 298 in the League and 28 in the FA Cup. 203 of his league goals were from 295 top flight appearances.
Leeds United
Peter Lorimer (238 goals, 1985)
An attacking midfielder by trait and the club's youngest-ever player to grace the game, he was renowned for his powerful strikes from distance. Lorimer is the record goal scorer with 238 goals in all competitions for Leeds United. He was also given the position of club captain at Elland Road in 1984 which he gladly accepted and continued his duty as a captain till 1985, having made a total of 707 appearances across his two spells for the club.
Everton
Dixie Dean (386 goals, 1937)
He is regarded as one of the greatest centre-forwards of all time and was inducted into the English Football Hall of Fame in 2002. Widely praised for his aerial abilities and his ball holding capability further up the pitch. He still remains a legend at Goodison park till date due to the 386 goals. Dean scored during his time there. He was quick, sharp and intelligent in his centre-forward play and could link up well with his team mates which earned him a place among the greats.
Bournemouth
Ron Eyre (229 goals, 1933)
Ron Eyre was a Bournemouth legend back in the 1930's when the club were shifting gears and starting to look forward to top-division English football. Known mostly for his playmaking abilities and calm and composed nature on and off the field, his record of 229 goals for Bournemouth has stuck around since 1933 and it looks like it is going to take many a more years for someone to break this record for The Cherries.
Southampton
Mick Channon (228 goals, 1982)
Mick Channon is the leading all-time scorer in Southampton history, scoring 228 goals in 607 career appearances with the club during two different spans. Also recognised for his performances at Norwich City and Manchester City. Also. his performances for the Saints is the most notable one. His football was not as fashionable as others. But he had an eye for goal which led him to glory during his playing days at St. Mary's stadium.
For more updates, follow Khel Now on Facebook, Twitter, and Instagram and join our community on Telegram.