Hero Tri-Nation Cup
Kyrgyz Republic: Three players to watch out for
By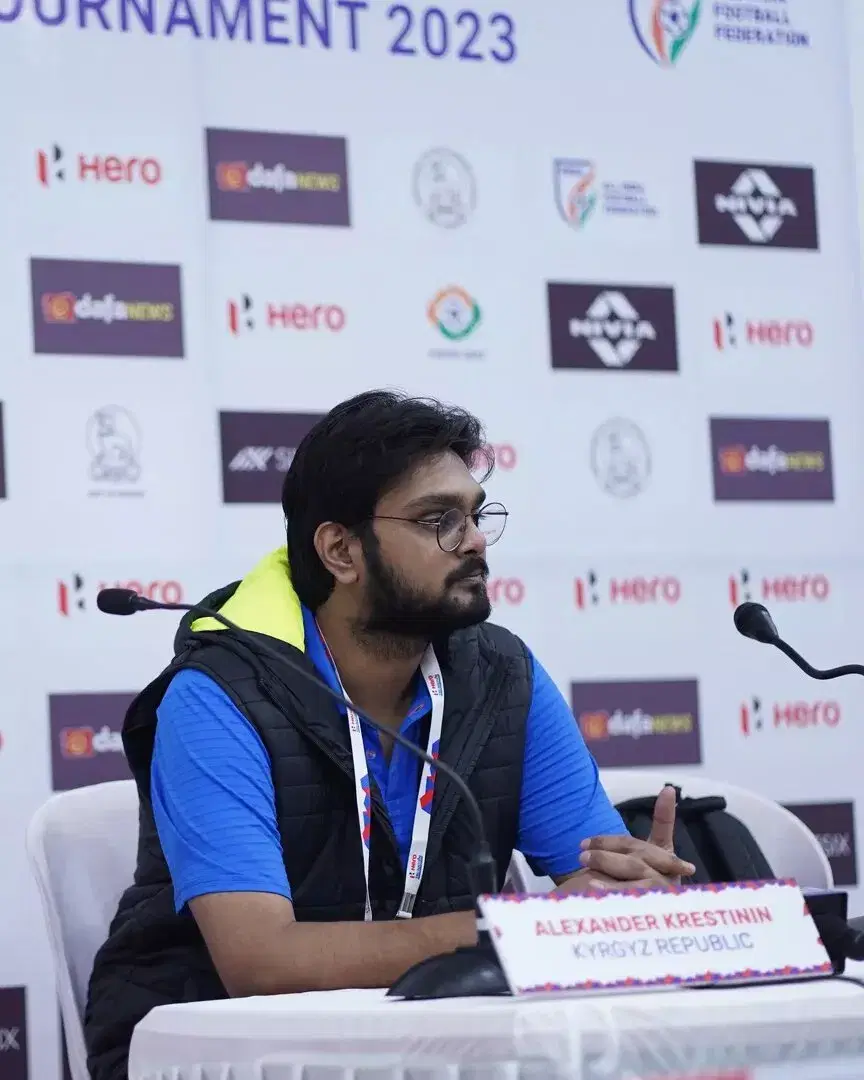 Sattyik Sarkar
The Indian think-tank shouldn't take these players lightly!
The Khuman Lampak Stadium saw an attendance of 9,563, even when the home side India weren't taking part in a game. It was the second game of the Tri-Nation Friendly Tournament, where Myanmar locked horns with heavyweights Kyrgyz Republic. Well, such grace is what is expected from a football-frenzy state like Manipur. However, apart from the number mentioned above, a few more people also had their eyes on the game.
Yes, it was Igor Stimac and his arsenal, who will be taking on this Kyrgyz Republic side on 28th March. Numerous tactical briefings will need to be done by the India mentor if his side want to lift the coveted trophy. However, three players from this Kyrgyz Republic side are ones that Igor Stimac has to take care of.
3. Zhyrgalbek Uulu Kairat (#18)
A hefty figure in the defensive third, Zhyrgalbek is a tough candidate to get past. Against Myanmar, he put on a fascinating show. Initially starting as a right-back, the think-tank shifted him to a right-wing role in the second half to increase the intensity in attack.
Moreover, the 29-year-old also equalized for his side late in the game, just when everyone in the gallery thought Myanmar have finally earned their long-waited victory over the Kyrgyz Republic. Whoever plays as the left winger for India on the 28th, will need to be cautious against Zhyrgalbek!
2. Tokotaev Erzhan (#1)
It was Tokotaev Erzhan's 10th international cap when he walked into the pitch against Myanmar. Keeping in mind the other goalkeeper in the squad is yet to embrace his debut, it will be Tokotaev who'll don the national colours once again against India.
A strong presence at the back with cat-like reflexes, Erzhan will be enough to keep India's attacking front or rather Sunil Chhetri under pressure. As it is Chhetri missed quite a few golden chances against Myanmar, now up against the like of Tokotaev, the job will get tougher for the India skipper!
1. Shukurov Alimardon (#22)
Oh captain, my captain! Shukurov is the Kyrgyz Republic skipper and is a master in bossing the midfield. In a three-man midfield set-up, it's usually Shukurov who plays the creative role. Against India, the 23-year-old will be the fulcrum that Igor Stimac needs to look after.
It's not that Shukurov is an attacking menace, but his free-kicks are dangerous enough to haunt the opposition keeper. If taken lightly, he can create havoc and possesses the simplicity to knock the ball around throughout the park. He is a must-watch! Be it for Stimac and co, the football lovers in Manipur or the broadcast viewers.
For more updates, follow Khel Now on Facebook, Twitter, Instagram, Youtube and join our community on Telegram.