World Football
Greatest ever Manchester United XI picked by AI ChatGPT
By

Rajarshi Shukla
A lot of Red Devil's global icons including David Beckham were not picked by the AI
The great players from Manchester United's lengthy history were chosen by the OpenAI ChatGPT system owned by Microsoft (worth $29 billion). The Busby Babes, the Class of 92, the 1999 Treble winners, and the 2008 Champions League winning team were all represented. Yet none could fit within the present Old Trafford roster. Naturally, Peter Schmeichel receives top marks from the AI programme as one of the finest goalkeepers in the entire world, not just for Manchester United.
The Great Dane completed eight extraordinary years by leading the team on that illustrious night in Barcelona and winning the Triple Crown. Gary Neville, who has made all 602 of his club games for the Red Devils, moves to right back. The academy standout won 17 major titles with United with eight Premier Leagues. Rio Ferdinand and Nemanja Vidic make up a well-known centre-back tandem.
They were two enormous defenders who had such much success working together and were the backbone of the team that won the Champions League in 2008. Denis Irwin completes the back four players. The Irish left-back played at Old Trafford for 12 seasons, winning several trophies, and his time there fell during probably the finest period in the team's history. Roy Keane took his spot in the park's central area.
Yet, the star-studded XI doesn't have a place for a fair number of Red Devils heroes.
Goalkeeper: Peter Schmeichel
Considered as being one of the best goalkeepers of all time, he was chosen the IFFHS World's Best Goalkeeper in 1992 and 1993, the International Federation of Football History & Statistics also put Schmeichel among some of the best ten goalies of the 20th century. During eight seasons with English club Manchester United, he guided the team to success in the 1999 UEFA Champions League Final to clinch the Triple.
Right-back: Gary Neville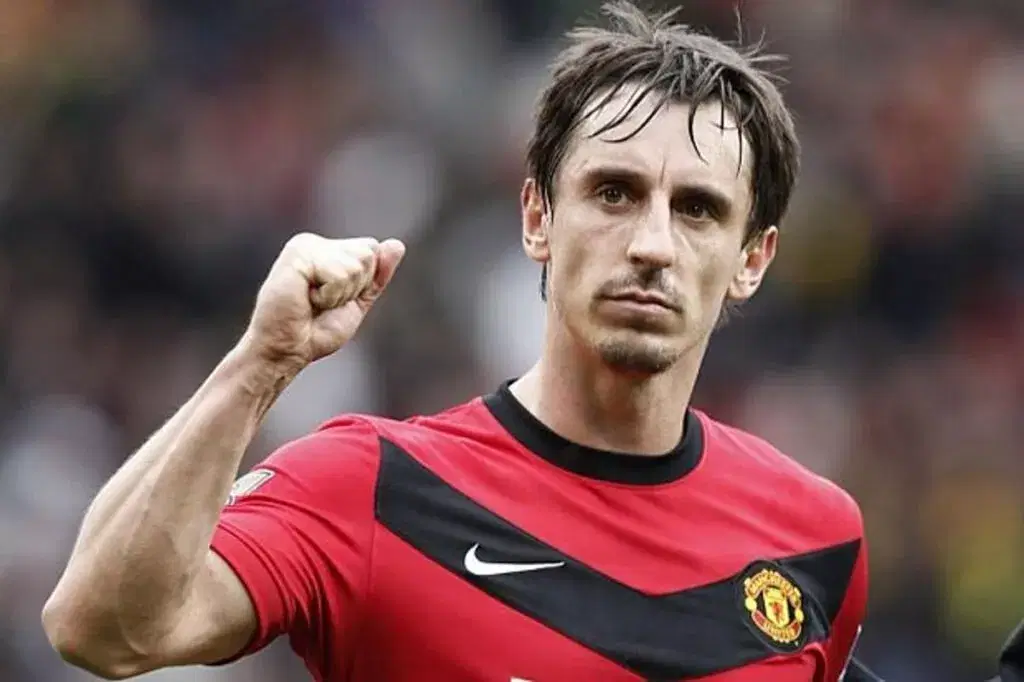 As a player, Neville competed as a right-back and devoted his whole playing days at Manchester United, declaring him the one guy. He had been the club captain for five years and was the second-longest serving player at the time of his departure in 2011 after longtime colleague Ryan Giggs. With a total of 20 trophies under his belt, spanning eight Premier League championships and two Champions League medals, he is one of the most accomplished footballers in both England and Europe.
Centre-back: Vidic
Vidi joined Manchester United in January 2006 for £7 million. The next season, he formed a strong defensive combination with Rio Ferdinand, and at the start of the 2010–11 campaign, Vidi was given the name team skipper of Manchester United. His leadership extended over the span of 4 years, until his exit in July 2014. Following a time of eight years in Manchester, he departed the club.
Centre-back: Rio Ferdinand
He moved to Manchester United in July 2002, paying a record-breaking transfer price of almost £30 million.
In a fantastic first season with the club, he won the Premier League at Manchester United, his first significant club honour. He failed a drug test in September 2003 and was thus suspended from football for eight months, from January to September 2004, missing the FA Cup victory for Manchester United as well as the international participation at the 2004 Summer Olympics.
Once he got back, he made a name for himself in the Manchester United first team and won praise for his work, making the PFA Team of the Year four times in five years. After another Premier League victory in the 2006–07 campaign, the team experienced more success, and a Premier League and UEFA Champions League double subsequent year. Over his time at United, where he amassed 14 trophies and six Premier League titles,
Trending World Football Articles:
Left-back: Denis Irwin
As a footballer, he performed as a full-back between 1983 until 2004. Irwin is most remembered for his lengthy & long career at Manchester United, where he cemented himself as among the most significant players in the United club that won a plethora of domestic and European titles in his tenure there between 1990 and 2002. He is considered by Alex Ferguson to be his best signing ever, dollar for dollar.
Centre Midfielder: Roy Keane
His fighting spirit enabled him to flourish as the leader of Manchester United until 1997 and his retirement in 2005. Keane led United to achieve continuous success over his 12 years with the team. He subsequently joined Celtic. In his 18-year playing days, he achieved every imaginable prize in football.
Centre midfielder: Paul Scholes
Scholes emerged through the Manchester United junior programme as among Fergie's Fledglings, a class of youngsters selected by Manchester United during the direction of Sir Alex Ferguson. Scholes earned his professional appearance for Manchester United in the 1994–95 campaign. He continued to play for the team, appearing 718 times in total, which is the third-highest total of any player. In May 2011, Scholes announced his departure from professional football and was hired by Manchester United as a coach. He started playing again in January 2012 and spent one more season with the team until announcing his retirement once more in May 2013.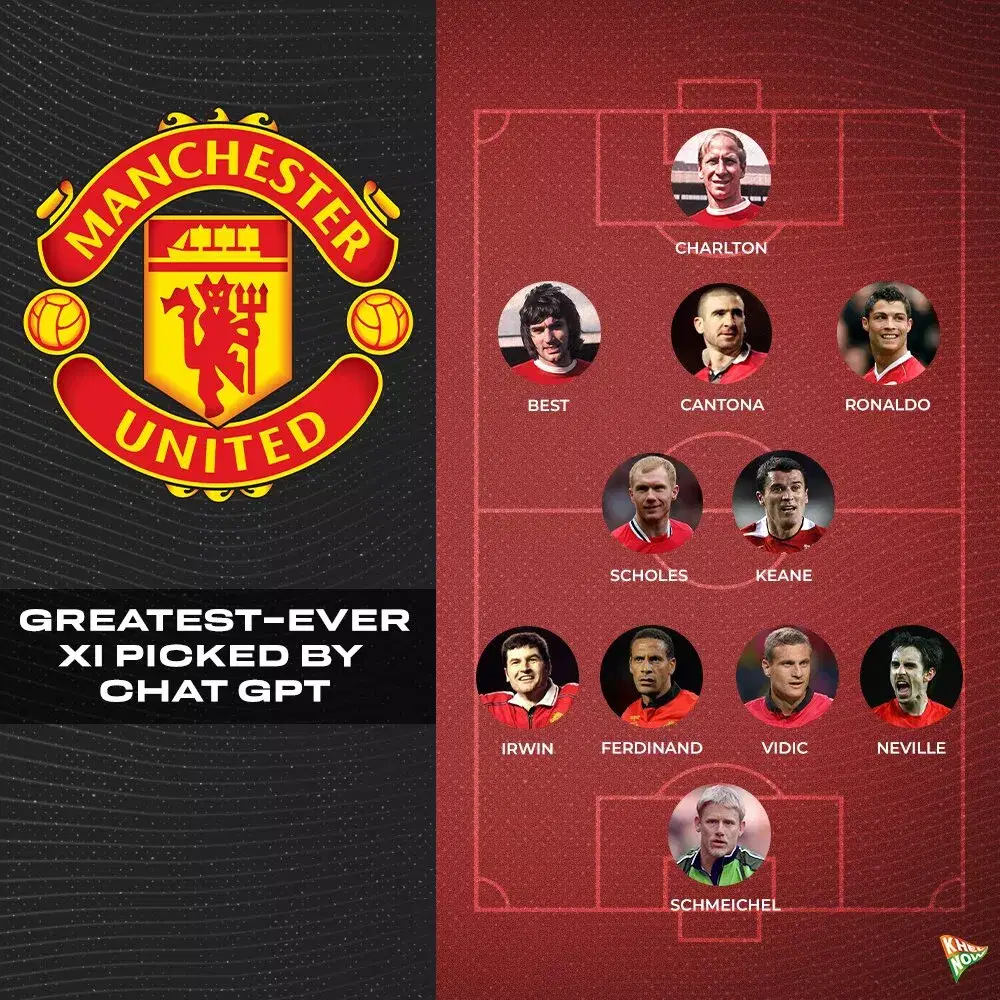 Right-wing: Cristiano Ronaldo
Before joining Man Utd in 2003 and winning the FA Cup in his debut season, Ronaldo started his senior career with Sporting CP. At the age of 23, he won his first Ballon d'Or. He would then go on to win the Champions League, the FIFA Club World Cup, and three straight Premier League championships. Ronaldo made a name for himself before joining the Spanish team, but his transfer to Real Madrid was the then-most costly in association football.
However, made a return to the team in the 2021-22 campaign where he competed for a season before departing the club the next season.
Left-wing: George Best
Best was born in Belfast and started playing for Manchester United when he was 15 years old. The scout who first noticed his talent sent manager Matt Busby a telegram that said, "I think I've found you a genius." After making his first start at age 17, he went on to amass 179 goals in 470 games over the course of 11 years, leading the team in league goals for five straight seasons.
He won two League championships and the European Cup with the club. He was one of the six finalists for the BBC's Sports Personality of the Century award in 1999 because of the way he played on the pitch, which attracted the attention of the general audience. He was also the first person to be inducted into the Hall of Fame for English Football.
Second Striker: Erick Cantona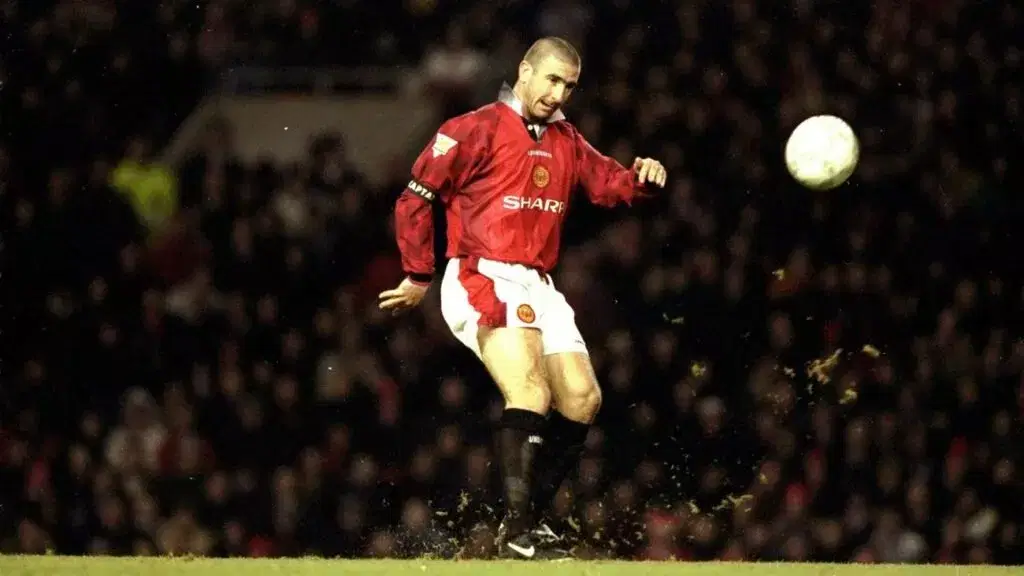 A huge, physically powerful, hard-working, and determined player, Cantona blended artistic talent and imagination with strength and goalscoring ability. He was primarily used as a deep-lying forward, but he could also occasionally play as a centre forward, an outright striker, an attacking midfielder, or a holding midfielder.
He won two League and FA Cup Doubles, in total won four Premier League championships during his five years at United. He donned the famed No. 7 shirt at Manchester United and was noted for pulling up his collar – a characteristic appearance. In addition, he goes by the loving moniker "King Eric" among Manchester United faithful. In seven of his last eight complete professional seasons.
Striker: Bobby Charlton
Charlton, who was raised by teammate Harry Gregg after the Munich air disaster in February 1958, made his first appearance for Manchester United's first team in 1956 when he was 18 years old. He quickly established himself as a regular member of the squad and won the Football League First Division that year. Charlton is the only remaining member of the club to have survived the crash.
He successfully led the team who won the European Cup in 1968 and managed to score two goals in the final to help United become the first English club to win the tournament after aiding them to clinch the FA Cup in 1963 and the Football League in 1965 and 1967.
For more updates, follow Khel Now on Facebook, Twitter, and Instagram and join our community on Telegram.