Premier League
Top 10 Premier League players with most goal contributions at single stadium
By

Manav Chowdhury
All of these footballers are considered English top flight's greats
Most attacking players either create goals or score goals. The 21st century has produced a plethora of prolific goal-scorers who have scored goals galore in the biggest of competitions for club and country and have won multiple trophies. Even when they do not find the back of the net, these players present a credible threat to opponents in the attacking third because of their ability to conjure goal-scoring opportunities for teammates.
Here we see Legends like Alan Shearer at Ewood Park scored 83 goals and provided 18 assists, Liverpool legend Robbie Fowler at Anfield scored 85 goals and provided 15 assists and the Egyptian and Liverpool player Mohammed Salah at Anfield scored 71 goals and 29 assists. The numbers of these players indicate their quality, consistency and longevity at some of the biggest clubs in English football.
Here are the top ten Premier League players with the most goal involvement in a signal stadium:
10. Kevin De Bruyne – Etihad Stadium – 40 Goals and 61 Assists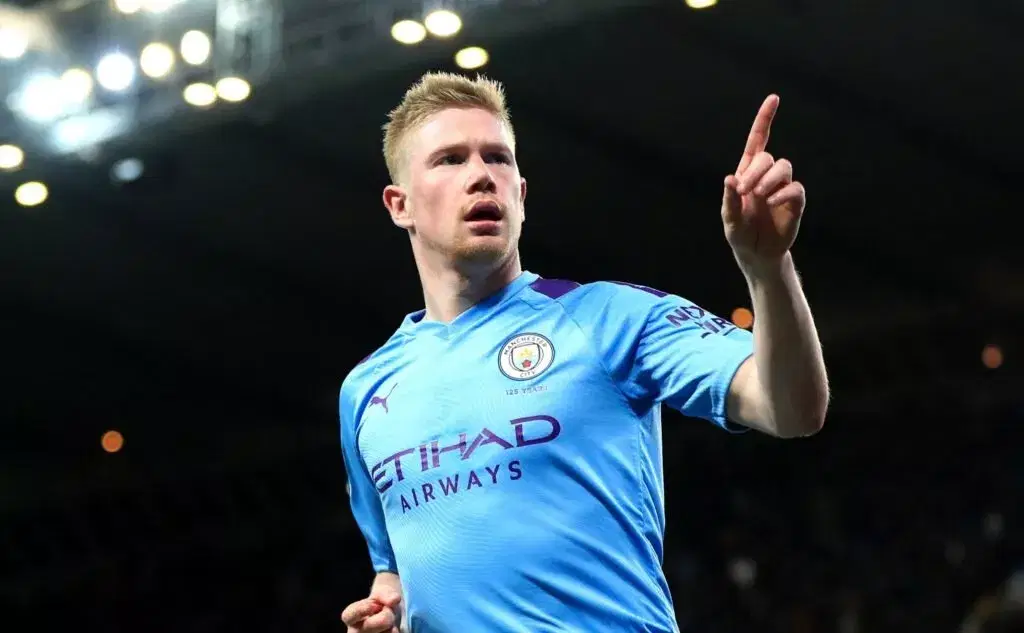 Today, perhaps no player is capable of threading the needle and delivering an inch-perfect through the ball like Kevin De Bruyne. De Bruyne plays best as either a Number 10, number 8 or behind-the-striker role. In addition to the quality of his passes, his inch-perfect crosses hark similarities to David Beckham in his pomp.
Kevin De Bruyne has solidified his status as one of Europe's finest players. He alongside legend Sergio Aguero has dominated the Etihad Stadium like no other player from Man City and has a record of 40 goals and 61 assists in the home stadium.
9. Didier Drogba – Stamford Bridge – 69 Goals and 33 Assists
Drogba has been a great servant for the Blues. The big Ivorian's record in the biggest matches has been simply astonishing. Second to none. The ultimate big-game player. He was the driving force behind Chelsea's incredible run of success between 2004 and 2012. He is the all-time top scorer and former captain of the Ivory Coast national team.
Drogba was named Chelsea's greatest-ever player in a poll of 20,000 fans conducted by Chelsea FC Magazine in 2012, and he was also named in the Chelsea team of the 2010–2020 decade by Chelsea's fans in 2020. Former Ivory Coast International has an incredible record of 69 goals and 33 assists in Stamford Bridge.
He is regarded as one of the greatest African players of all time and was noted for his physical strength, speed, ability in the air, powerful and accurate strikes, and ball retention. Drogba was named African Footballer of the Year twice, winning the award in 2006 and 2009.
8. Dennis Bergkamp – Highbury – 46 Goals and 66 Assists
He is widely regarded as one of the greatest players of his generation and one of Ajax's and Arsenal's greatest-ever players. He has 46 Goals and 66 Assists in the Highbury and is considered to be an Arsenal Legend, helping the club to win three Premier League titles, four FA Cup trophies, and reach the 2006 UEFA Champions League Final, which marked his last appearance as a player. Bergkamp was inducted into the Premier League Hall of Fame in 2021
7. Alan Shearer – St.James Park – 97 Goals and 20 Assists
Widely regarded as one of the best strikers of his generation and one of the greatest players in Premier League history, he is the Premier League's record goalscorer with 260 goals. He is the player to have the highest goal involvement in St.James Park and also in Ewood park. he was named by Pelé in the FIFA 100 list of the world's greatest living players. Shearer was one of the first two players inducted into the Premier League Hall of Fame in 2021.
6. Steven Gerrard – Anfield – 69 goals and 51 Assists
Described by pundits and fellow professionals as one of his generation's greatest players, Gerrard spent the majority of his playing career as a central midfielder for Liverpool and the England national team, captaining both.
He was Man of the Match in the 2005 UEFA Champions League final, in which Liverpool overturned a 3–0 deficit to defeat AC Milan on penalties, and the 2006 FA Cup Final, which has been termed The Gerrard Final in homage to his performance. At Anfield, he scored 69 goals and had 51 assists to his name. Formerly he managed the youth teams of Liverpool, Rangers football club at the Scottish Premiership and Aston Villa in the Premier League.
Trending World Football Articles:
5. Frank Lampard – Stamford Bridge – 79 Goals and 52 Assists
He is widely regarded as one of Chelsea's greatest-ever players, and one of the greatest midfielders of his generation. He has the record for the most goals by a midfielder in the Premier League and for scoring the highest number of goals from outside the box (41), A creative and technically gifted box-to-box midfielder, Lampard is one of 10 players, and the only midfielder, to have scored 150 or more goals in the Premier League.
He is fourth in the Premier League's all-time assists ranking, with 102 assists. He scored 79 goals and had 52 assists at the bridge. He was appointed as Chelsea's head coach a year later, guiding them to fourth place and the FA Cup Final in his first season. However, after a poor run of results, Lampard was dismissed in 2021.
4. Sergio Aguero – Etihad Stadium – 106 Goals and 26 Assists
He is considered one of the best strikers of his generation and one of the greatest players in the history of the Premier League, during his decade-long association with Manchester City. Scored 106 goals and 26 assists in the Etihad, he is very well known for his last-minute goal against Sunderland which lead Man City to win the Premier League that season. Agüero is Argentina's third-highest all-time top goalscorer and has earned over 100 caps. Unfortunately, he has to retire at the age of 33 due to health issues.
3. Ryan Giggs – Old Trafford – 50 Goals and 84 Assists
Former Wales International and Manchester United legend Giggs are third on the list with 50 goals and 84 Assists. Giggs is one of the most decorated footballers of all time. During his time at United, he won 13 Premier League winner's medals – more than any other player in history, four FA Cup winner's medals, three League Cup winner's medals, two UEFA Champions League winner's medals, a FIFA Club World Cup winners medal, an Intercontinental Cup winner's medal, a UEFA Super Cup winner's medal and nine FA Community Shield winner's medals. Giggs holds the record for the most assists in Premier League history, with 162.
2. Thierry Henry – Highbury – 114 Goals and 37 Assists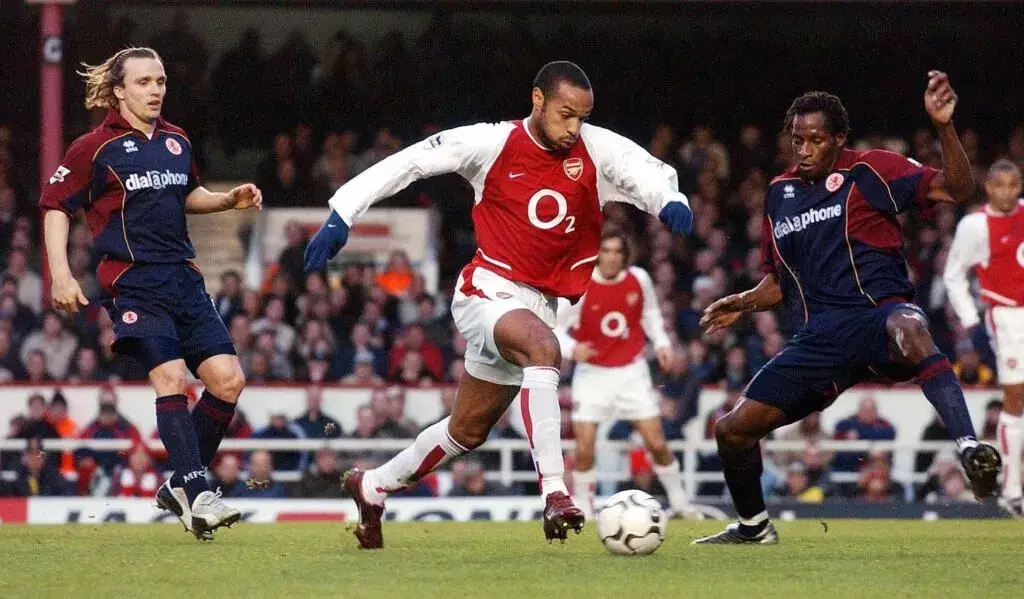 Thierry Henry is second on the list. The Frenchman was a key player in Arsene Wenger's successful Arsenal squad, which also included the Invincibles. He scored 114 goals and provided 37 assists at Highbury, Arsenal's home ground before moving to the Emirates.
Henry became a prolific striker and Arsenal's all-time leading scorer with 228 goals in all competitions. He won the Premier League Golden Boot a record four times, won two FA Cups and two Premier League titles with the club, including one during an unbeaten Invincible season.
1. Wayne Rooney – Old Trafford – 101 Goals and 50 Assists
Manchester United legend Wayne Rooney is the player who has scored the most goals in a single stadium in Premier League history. The Englishman has scored 101 goals and provided 50 assists at Old Trafford during his time at Manchester United. He also became the club's all-time leading scorer.
Rooney made his senior international debut for England in February 2003, aged 17, and is England's youngest-ever goalscorer. Rooney won the PFA Players' Player of the Year and the FWA Footballer of the Year awards for the 2009–10 season, and he has won the Premier League Player of the Month award five times throughout his career.
For more updates, follow Khel Now on Facebook, Twitter, and Instagram and join our community on Telegram.
posted in :