Quick Reads
Top 10 most valuable footballers in the world currently according to CIES football in June 2023
By

Manav Chowdhury
The market value of these stars continues to grow every day
One of the areas often looked at when judging the importance of a player is his market value. Today some of the most valuable football players in the world can be found in the top European leagues like the English Premier League, LaLiga, Série A and the German Bundesliga.
A player's market value is determined by various factors like age, potential, skills/talent, experience, achievements, contract duration, position, brand, league, and even nationality. In some cases, Super football agents also play indirect roles in influencing the market value of their clients, the market value of players in world football has continued to grow even as clubs who are battle-ready for the trophy war in their respective leagues continue to spend big on players in the market.
Here we look at the most valuable footballers currently in the world according to transfer market values (CIES football):
10. Kylian Mbappe – $174M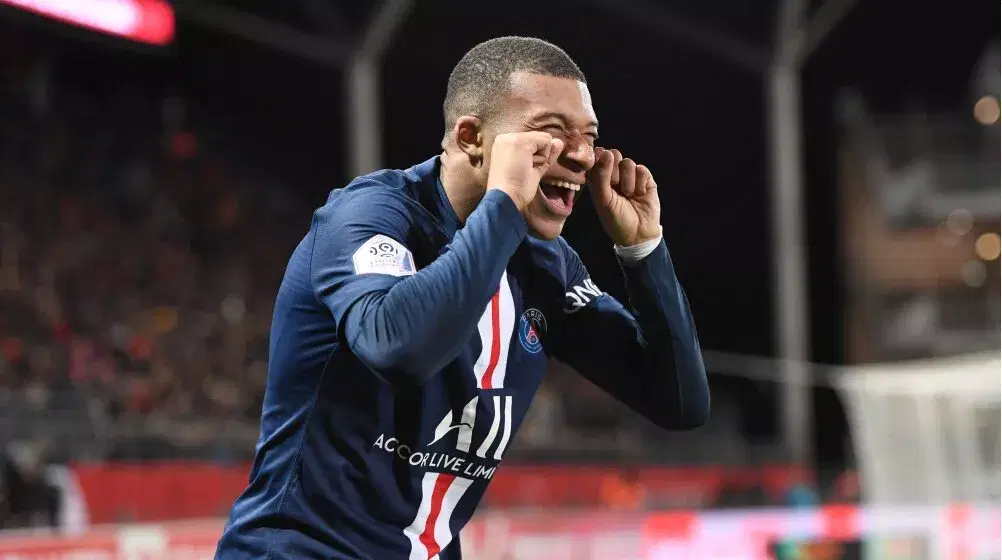 Mbappe, who scored eight goals at the 2022 FIFA World Cup to win the Golden Boot, has been in stellar form for the Parisians this season. He once again helped PSG to win the Ligue 1 title and has announced that he will continue in the next season as well and will respect his contract. The battle of transfer will surely continue once again between PSG and Real Madrid where the market value will matter a lot.
9. Phil Foden – $178M
Foden is Manchester City's future jewel. Due to his age and potential, he is among the top 10 most valuable players in the world. Foden is currently the most valuable midfielder in the English Premier League. Even though his season was full of ups and done as he struggled with injury and was not able to perform according to his standards, surely in the next season he will bounce back. Not only for Man City but he is also a very important player for the England National Team.
8. Jamal Musiala – $182M
The nimble-footed youngster has scored 13 times and provided 10 assists in 33 games for Bayern in all competitions. His goal helped the German giants to win the Bundesliga in the last match of the season. His presence in the midfield makes the job easy for the strikers as his through balls and his passing in the final third is exceptional. He is one of the most promising talents in the world of football and is already a fan favourite. Bayern will love to have him for more years.
Trending World Football Articles:
7. Gavi – $186M
18-year-old Barcelona midfielder Gavi is the youngest player on this list today. The Spain international, whose Barca contract does not expire until June 2026, has all it takes to climb up the list in the coming years. The La Masia graduate has shown maturity beyond his years in the 2022-23 season. He has rarely lost his cool, combined well with his teammates, and has not shied away from putting in the work. Already a favourite at the club, the teenager has scored twice and provided five assists in 36 games for Barcelona in all competitions this season.
6. Pedri – $190M
Pedri is currently Barcelona's most valuable player. The 20-year-old, who has been a regular at the club since 2021, sees his Barcelona contract expire in June 2026. Despite his young age, Pedri has emerged as a natural leader in Barcelona's midfield. He passes the ball around effortlessly, communicates clearly with teammates to make sure everyone is on the same page and has developed a knack for scoring important goals. He is seen as the next Andres Iniesta of the Barcelona and the Spanish National team.
5. Rodrygo – $197M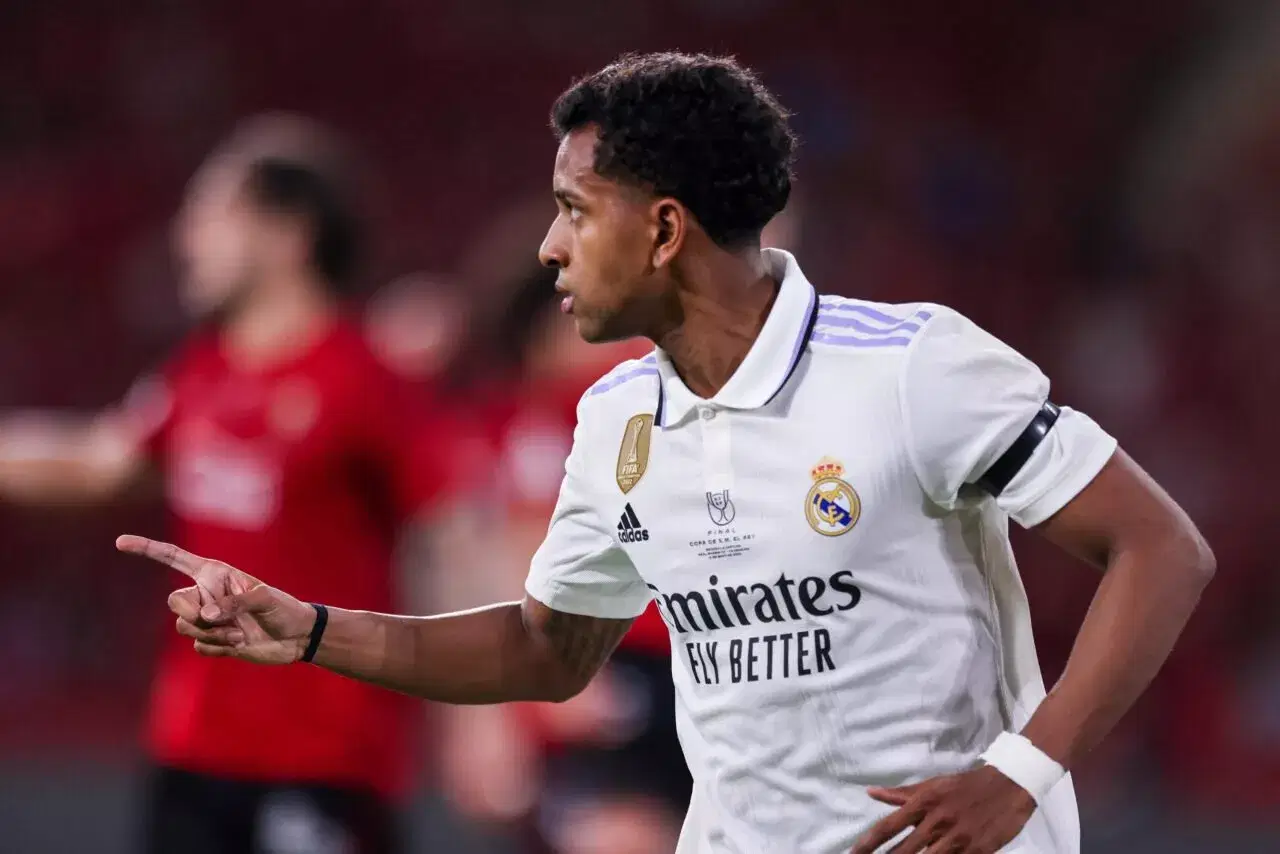 The 22- year old Brazillian is the future of Real Madrid and the Brazilian national team. After the departure of star players like Asensio and Karim Benzema fans expect Rodrygo to step-up next season. He played a very crucial role in Real Madrid's Champions League winning season in 2021-22 as he scored some important goals in the knockout stages. He still has a scope for improvement but with his intelligence and finishing style he can achieve a lot in his carrier.
4. Jude Bellingham – $203M
Bellingham is currently in talks with Real Madrid, and according to many journalists he will be going to join Real Madrid from next season onwards, but Madrid has to pay a huge amount of transfer money. Bellingham is a versatile central midfielder who can effortlessly drop deep or push further up the pitch when the situation demands it. He is also an excellent passer, has an eye for goal, and has shown leadership traits in midfield. Unfortunately, his dream of winning the Bundesliga with Dortmund was shattered after the draw against Mainz in the last league match.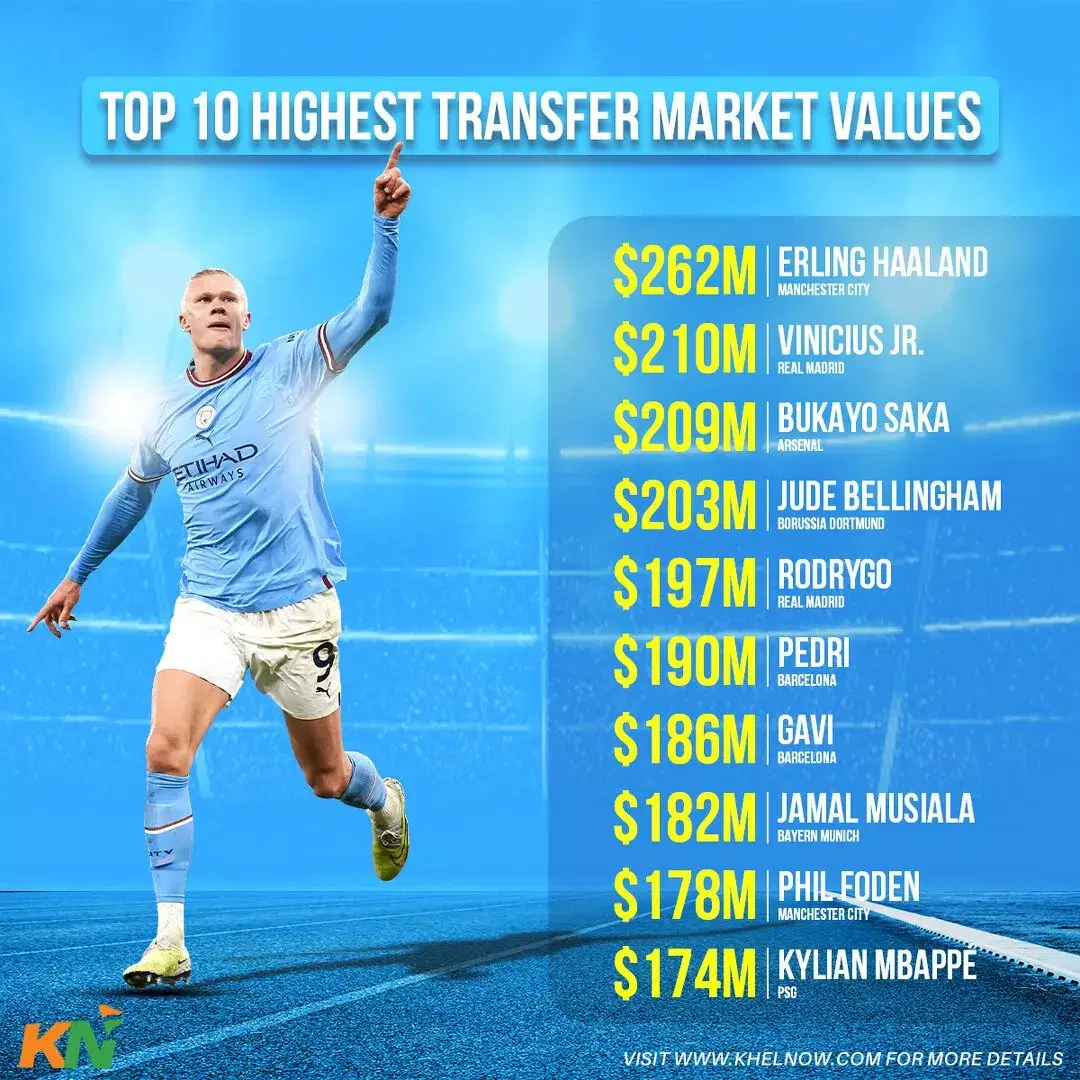 3. Bukayo Saka – $209M
Mikel Arteta's Arsenal have emerged as one of the best teams in the Premier League this season. But they were not able to win the Premier League. Saka, who rules on the right wing at Arsenal, has appeared in 38 Premier League games, scoring fourteen times and providing eleven assists. The 21-year-old's current contract expires in June 2024. However, considering his devastating form and the fanfare he enjoys in north London, a new contract should be right around the corner.
2. Vinicius Jr – $210M
The 22-year-old Brazilian will be out of contract in June 2024. Vinicius Junior, who helped the Whites to a La Liga–Champions League-Spanish Super Cup treble last season, has been a little wasteful in front of goal this season. In 33 appearances, the former Flamengo man has only scored ten times and provided nine assists, missing a total of 19 big chances already across competitions.
1. Erling Haaland – $262M
The 22-year-old, who joined City from Borussia Dortmund for a €60 million fee last summer, is contractually tied to City until June 2027. Erling Haaland has broken records left, right, and centre since coming to the Premier League. In his first season only in the Premier League, he won the golden boot as he scored 36 goals. He took only 14 games to reach 20 Premier League goals, making him the quickest player in history to reach that milestone.
For more updates, follow Khel Now on Facebook, Twitter, and Instagram and join our community on Telegram.