Premier League
Top 10 highest-scoring Premier League matches of all time
By

Saika Mazumdar
Across years in the Premier League, there are many games that have witnessed nine or more goals scored
Over the years club football has produced an ample amount of thrillers that consist of goalless encounters to a galore of goals in a single match. Premier League too has such games in their pages of history starting from the late 90s to the 2000s to even some recent matches this 2022-23 season.
Let us have a look at the top ten highest-scoring Premier League matches of all time:
10. Newcastle United 8-0 Sheffield United: 8 goals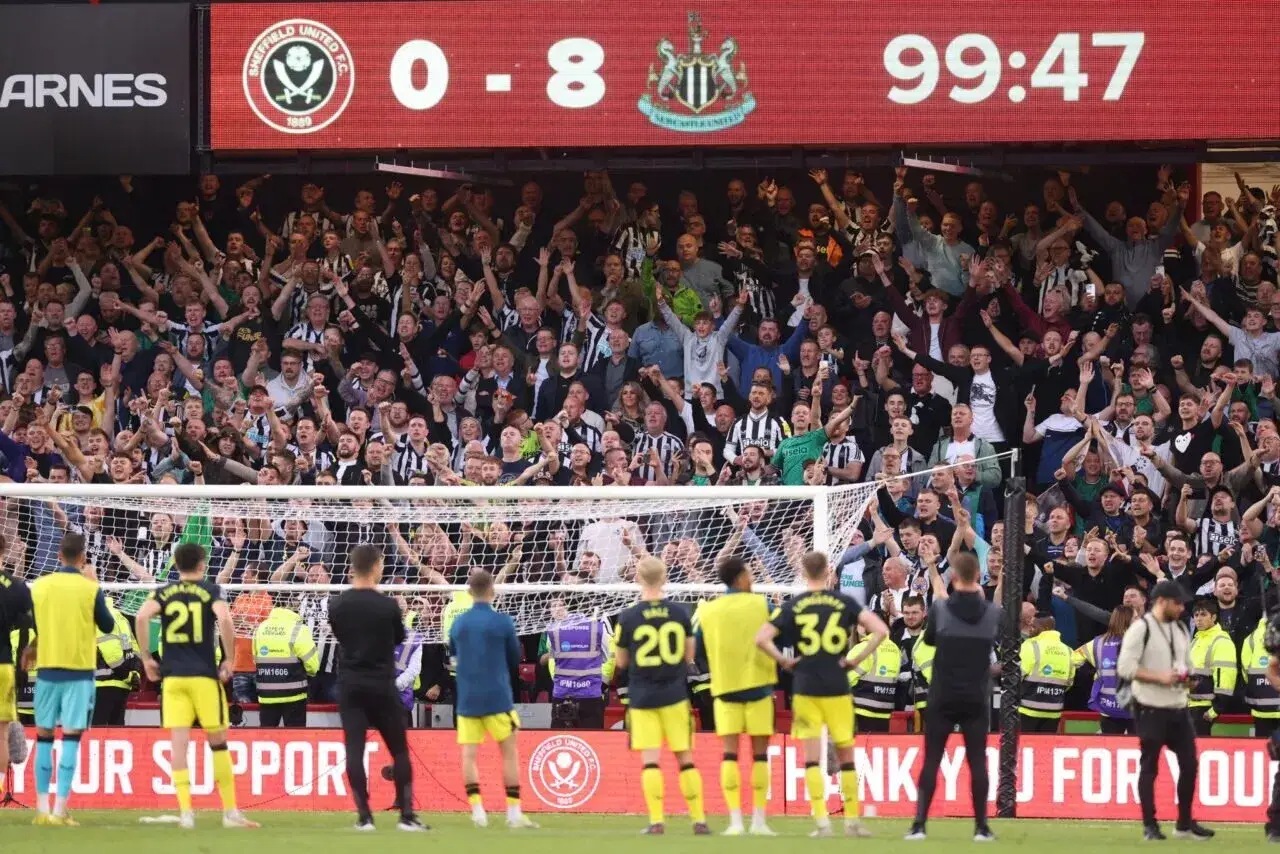 This match took place at Bramall Lane on 24 September 2023. It was total dominance from Newcastle in the game with eight different goal-scorers from the team. It became a historic win for Newcastle as it stands as their biggest away win.
9. Middlesbrough 8-1 Manchester City: 9 goals
This game took place on 11th May 2008. This was one of the most shocking results of the season. Afonso Alves scored a hattrick from Middlesbrough and the single scorer from Manchester City was Elano.
8. Tottenham 4-5 Arsenal: 9 goals
This match took place at White Hart Lane on 13th November 2004. Both the teams were shaky with defence but Arsenal had the last laugh though. Thierry Henry from Arsenal had a goal and an assist in the game.
7. Tottenham 7-2 Southampton: 9 goals
This match took place at White Hart Lane on 11th March 2000. Steffen Iversen scored a hat trick and Chris Amstrong scored a brace in this game.
Trending World Football Articles:
6. West Brom 5-5 Manchester United: 10 goals
This match took place at Old Trafford on 19th May 2013. This was a thriller of a game and what made it more special for United fans was that this was Sir Alex Ferguson's last match as a manager. This is the only game in Premier League history where a side scored five goals yet failed to win the match. Lukaku from West Bromwich came as a substitute and scored a hattrick. Manchester United won the Premier League that season with one of the biggest margins in the last few years.
5. Arsenal 7-3 Newcastle: 10 goals
This match took place at the Emirates Stadium on 29th December 2012. Arsenal under Arsene Wenger reached new heights. They have actually scored seven or more goals almost four times under Wenger. Theo Walcott came up as the MVP of the game scoring three hattricks and assisting two more goals for his side.
4. Manchester United 8-2 Arsenal: 10 goals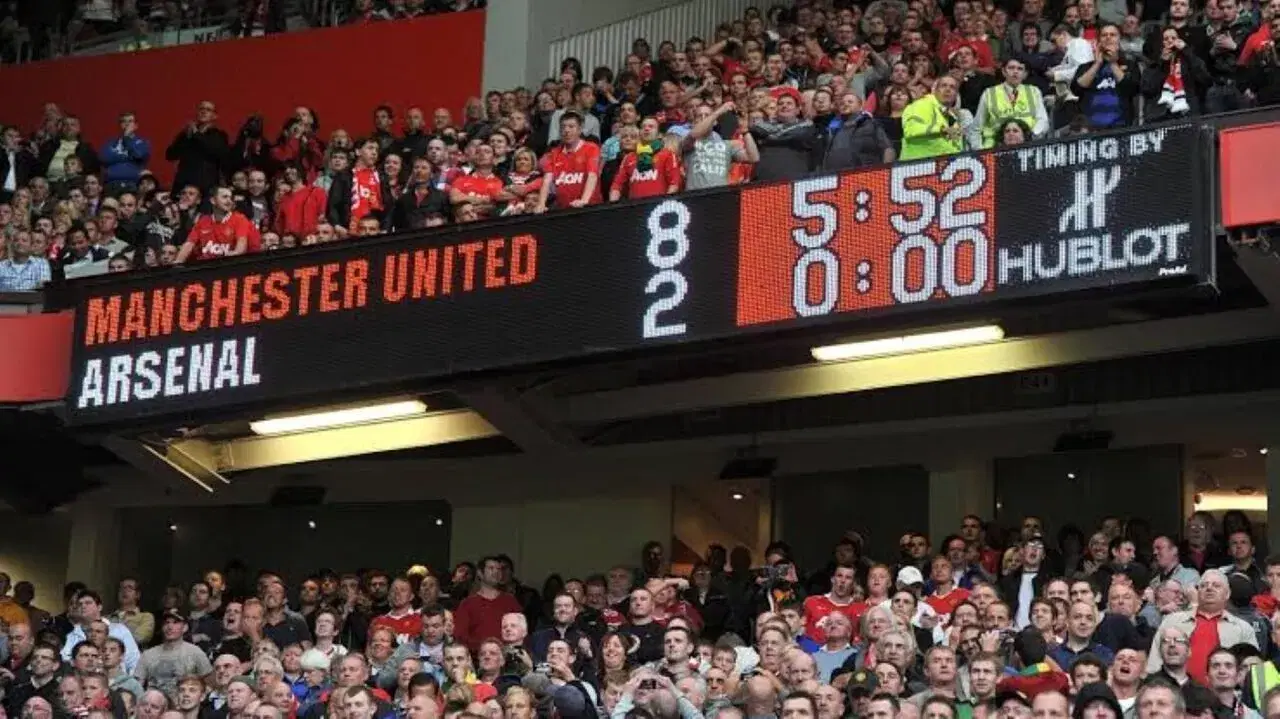 This match took place at Old Trafford on 28th August 2011 and I am sure every Red Devil fan does remember this iconic game. The man of the game was Wayne Rooney with his hat trick and Ashley Young with his brace. Arsene Wenger's side had their biggest loss in recent times but at the end of the 2011-12 season both the team remained trophyless.
3. Tottenham 9-1 Wigan Athletic: 10 goals
This match took place on 22nd November 2009 in London making Spurs the only second club in the history of the Premier League to score 9 goals in a single game after Manchester United. Till the second half Spurs led by 1-0 but the hell broke in the second half. Jerman Defoe didn't stop scoring five goals for the team in a time span of just 35 minutes and a few seconds. This is Tottenham's biggest victory in recent times.
2. Tottenham 6-4 Reading: 10 goals
This match took place at White Hart Lane on 29th December 2007. After getting that scoreline against Portsmouth a few months back Reading once again gets a defeat at the hands of Spurs listed among the second highest-scoring game in the history of the Premier League. Can you believe it? Reading led a definite part of the match but to last Spurs won the day with Dimitar Berbatov scoring four among six goals from their side. Interestingly, seven goals of the night were scored in the last hour of the game.
1. Portsmouth 7-4 Reading: 11 goals
This match took place at Fratton Park on 29th September 2007 and definitely is the highest-scoring game ever in the history of the Premier League. The game started off in a pretty normal momentum until halftime when Portsmouth, the home team was leading by 2-1. Whereas things went topsy-turvy with the onset of the second half. Benjani scored a hat trick from Portsmouth in this game and there were nine different goal scorers in the match along with two own goals from both teams.
For more updates, follow Khel Now on Facebook, Twitter, and Instagram; download the Khel Now Android App or IOS App and join our community on Telegram.
posted in :