ISL- Indian Super League
Kerala Blasters FC All-Time ISL XI: Jhighan, Hume among favorites
The club has featured in three ISL finals
Kerala Blasters Football Club (KBFC) has been a dominant force in the Indian Super League (ISL) since its inception in 2014. Throughout the years, several remarkable players have graced the club, leaving an indelible mark on its history. In this article, we present Kerala Blasters' all-time eleven, featuring the best players who have donned the yellow jersey and showcased their talents on the field.
Goalkeeper: Sandip Nandy
Goalkeeper Sandip Nandy joined Kerala Blasters in 2014 and quickly established himself as a reliable presence between the posts. Over the course of 18 matches, Nandy made 42 saves and kept an impressive eight clean sheets, becoming a crucial figure in KBFC's defense.
Center-Back: Sandesh Jhighan
A Kerala Blasters stalwart, Sandesh Jhighan, has been with the club since its inaugural season in 2014. He won the 'Emerging Player of the Season' award in the first season and later became the captain of the team. With a total of 76 appearances in the ISL, Jhighan showcased his defensive prowess with 93 interceptions and 502 clearances, making him an integral part of the team.
Center-Back: Aaron Hughes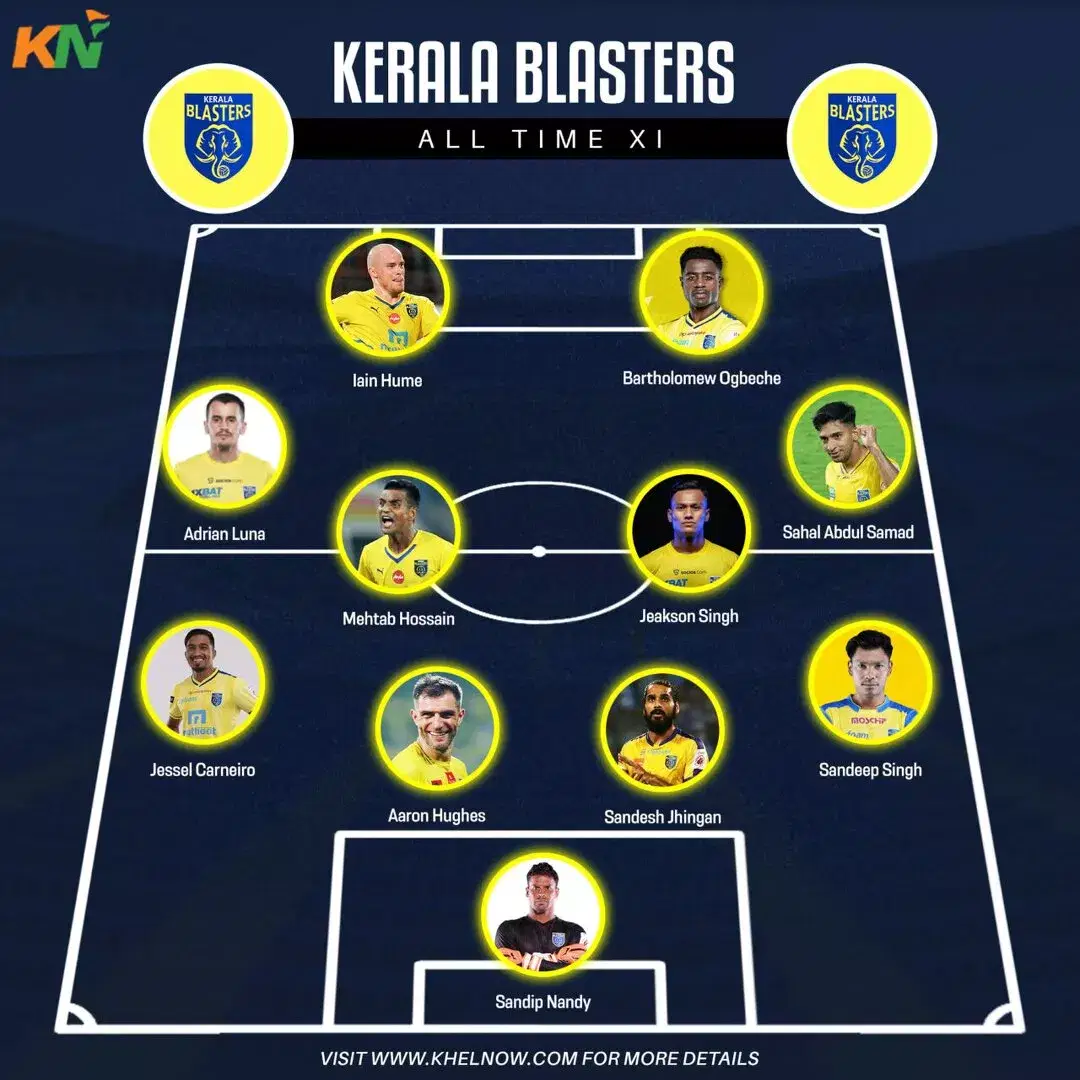 Hughes came in as a marquee player in 2016 at KBFC. He had a memorable contribution during his short stint at KBFC. His contribution is unforgettable in Kerala Blasters journey to the finals against ATK, which they eventually lost on penalties.
Left-Back: Jessel Carneiro
Jessel Carneiro, who joined KBFC in the 2019-20 season, quickly became a fan favorite with his impressive performances. After captaining the team in several recent matches, Carneiro played 63 matches in the league, contributing with 84 interceptions, 176 clearances, 44 chances created, and six assists before parting ways with the club.
Right-Back: Sandeep Singh
Versatile defender Sandeep Singh signed for Kerala Blasters in 2020 and immediately showcased his brilliance on the field. Despite some injuries, Singh's impressive performances has led to contract extensions until 2025. With 37 appearances in the league, he has contributed with 42 interceptions and 79 clearances. Attacking wise, he has created 12 chances and made two assists. He also has a solitary goal to his name.
Defensive Midfielder: Jeakson Singh
A product of the U17 World Cup team, Jeakson Singh, joined Kerala Blasters in 2019 and has since become a crucial player for both KBFC and the Indian national team. With over 68 appearances with the Blasters, Singh amassed 101 interceptions, 74 clearances, created 25 chances, and contributed with two assists and goals.
Defensive Midfielder: Mehtab Hossain
Picked up by KBFC in 2014, Mehtab Hossain brought in a wealth of experience to the team. Making 38 appearances for Kerala Blasters, Hossain showed his defensive prowess with 61 interceptions and 54 clearances.
Left-Winger: Adrián Luna
Uruguayan U20 international Adrián Luna joined the Blasters in the 2021-22 season and swiftly made his mark on the team. In his 43 appearances, Luna scored 10 goals, provided 13 assists, and created 105 chances. His performances led to him being handed the captain's armband in several matches.
Right-Winger: Sahal Abdul Samad
Talented and versatile midfielder Sahal Abdul Samad rose through the ranks from Kerala Blasters B team to the senior squad in the 2017-18 season. Sahal's impressive ball-playing and dribbling skills earned him numerous accolades, including the 'ISL Emerging Player of the Season and AIFF Emerging player of the year in 2018-19'. In 92 appearances, Sahal scored 10 goals, assisted eight times, and created 88 chances. However, in July 2023, KBFC announced his transfer to Mohun Bagan SG.
Striker: Bartholomew Ogbeche
Nigerian international Bartholomew Ogbeche joined Kerala Blasters in the 2019-20 season and made an immediate impact, becoming the the club's all-time leading scorer. In just 16 appearances, he found the back of the net 15 times, showcasing his lethal finishing ability.
Striker: Iain Hume
Canadian striker Iain Hume has had two stints with Kerala Blasters, the first being in the inaugural season in 2014 and then rejoining in July 2017. In 29 appearances, Hume scored 10 goals, making him a fan favorite and an integral part of the team.
For more updates, follow Khel Now on Facebook, Twitter, Instagram, Youtube; download the Khel Now Android App or IOS App and join our community on Whatsapp & Telegram.