AFC Champions League
ACL 2022: Mumbai City show why Indian clubs must dare to dream in Asia
By

Riddhiman Sarkar
The Islanders finished second in Group B of the AFC Champions League.
Mumbai City FC scripted history as they became the first Indian club to win two games in the AFC Champions League. Despite having been humbled more than once, Des Buckingham's side had quite a few positives from their Asian crusade.
An unconvincing defeat in their first game of the group stages seemed to bode worse things ahead. However, a victory against the Air Force Club made things brighter for Mumbai City. They went on to do the double over the Iraqi side as they finished second in the group.
Performance Fact-Sheet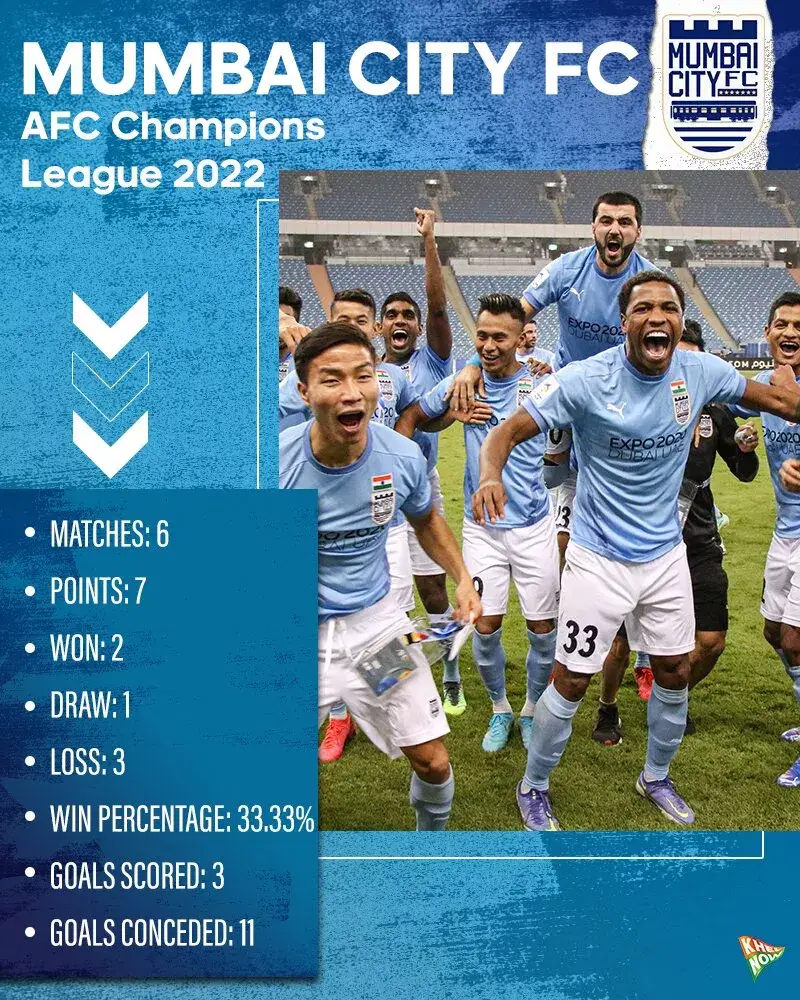 The Matches
In their opening game, Mumbai City faced a juggernaut in Saudi Arabia's Al-Shabab FC. Though the Islanders looked to have some control over the game, things got a little lopsided after Ever Banega's penalty in the 36th minute. Things went from bad to worse in the second half with Banega hitting a second and Al-Shabab winning 3-0. However, Des Buckingham's side performed commendably on the night despite the scoreline.
With the second match, Mumbai City entered the history books and recorded a milestone in Indian football. They started the game with a revitalised lineup as Diego Mauricio's inclusion saw them play a natural striker for the first time in the competition. Once again they fell behind, but this time found a way out.
First Mauricio won and converted a penalty to record the Islanders' first-ever goal in the competition, before Rahul Bheke sealed a historic night with a thumping header into the Iraqi club's net. It was three points and a win for Mumbai City, the first-ever for an Indian club in the competition.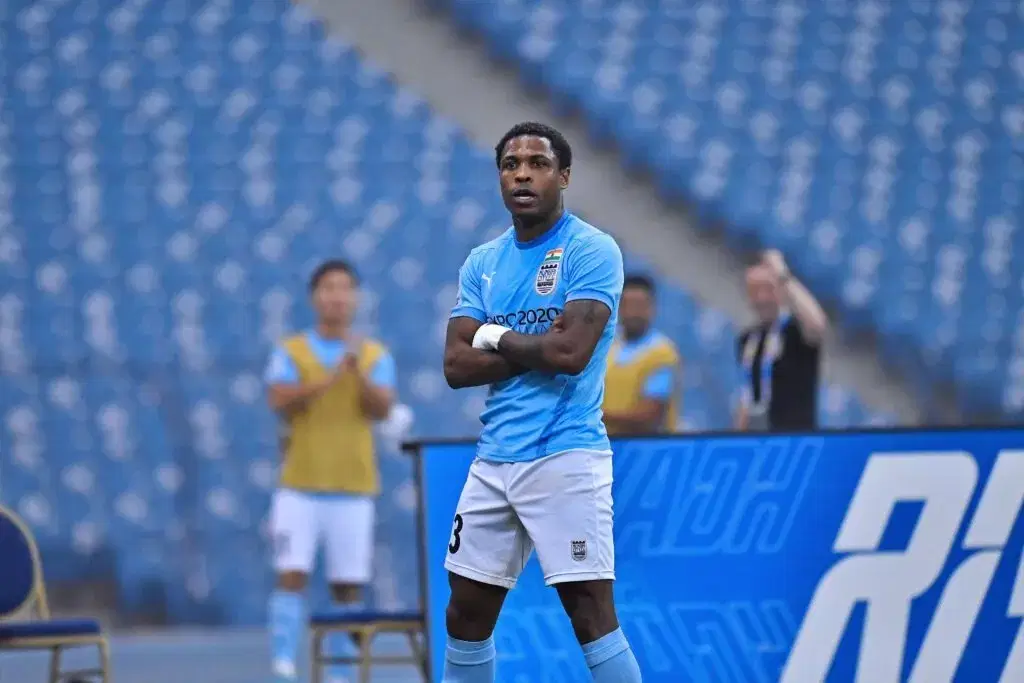 Al-Jazira were their next opponents and the Islanders faltered slightly this time as they lost by a slender margin. Ali Mabkhout's first-half penalty was the only goal of the game as it gave Al Ankabout all three points. In this game, however, Mumbai City had only 39% of possession.
The reverse fixture saw them play out a draw and script yet another record. Their points tally of four points was the highest-ever points tally by any Indian side in the ACL.
The draw opened up chances to make the knockouts. But all hopes were dashed to dust in the next game against Al-Shabab. The Saudi Arabian side, who had thrashed Mumbai City 3-0 in the first fixture, went steps ahead and doubled the humiliation with a 6-0 win. This was another history for Des Buckingham's men, but quite an unfortunate one. Their 0-6 defeat is now the heaviest defeat by an Indian club in the AFC Champions League.
With hopes for a knockout qualification dashed, Mumbai City were playing for pride in their final group stage game. They ensured they bowed out with another piece of history. A well-deserved clean-sheet and yet another win. Their victory over Iraq's Air Force Club took Mumbai City's points tally to seven, the most by any Indian club in the tournament. The two wins in the ACL group stages is also the most by an Indian side.
Best Player
Phurba Lachenpa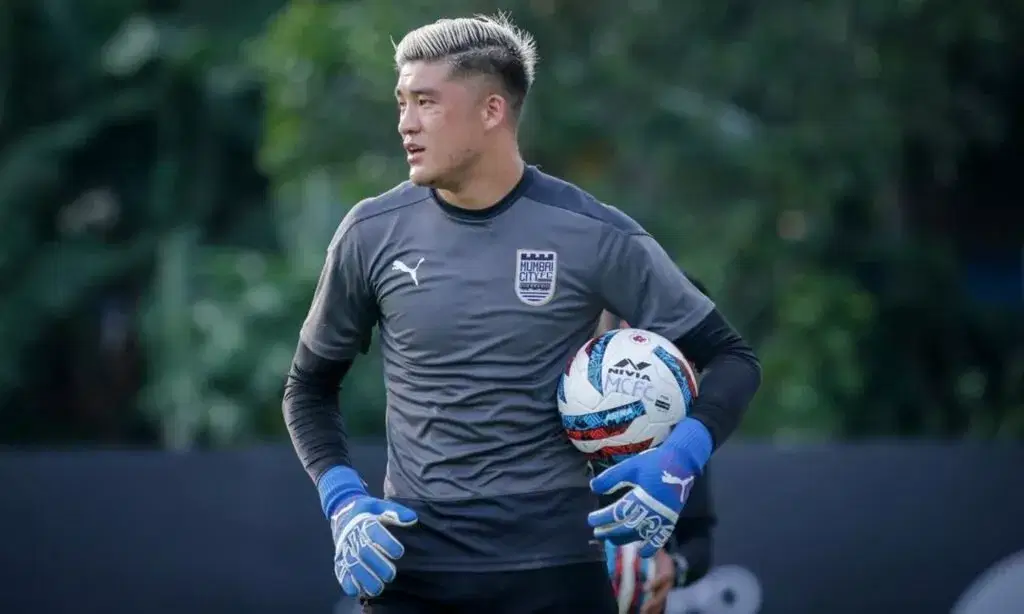 Mohammad Nawaz's arrival at the beginning of the recently-concluded ISL 2021/22 season did not bode well for Phurba Tempa Lachenpa. The 24-year-old started only three matches in the league, but was given a much-needed chance in the AFC Champions League. His brilliant shot-stopping skills came to the fore as a result.
With that, he's sure to give Des Buckingham a headache for upcoming matches! Even though Mumbai City conceded ten times, Lachenpa's fingertip saves and world-class dives saved the game and prevented them from conceding even more.
Phurba Lachenpa was undoubtedly at the top of his game in this competition and made amends for his scanty displays in the ISL. Though distribution is not exactly his forte, his positioning, handling, and game-reading give him an edge as the last line of defense for his team.
The Indian goalkeeper made a total of 28 saves, which is joint first in the competition. He was helped by defender Mehtab Singh, who had the competition's highest of two blocks per 90, as he himself averaged 5.6 saves per 90 minutes.
Diego Mauricio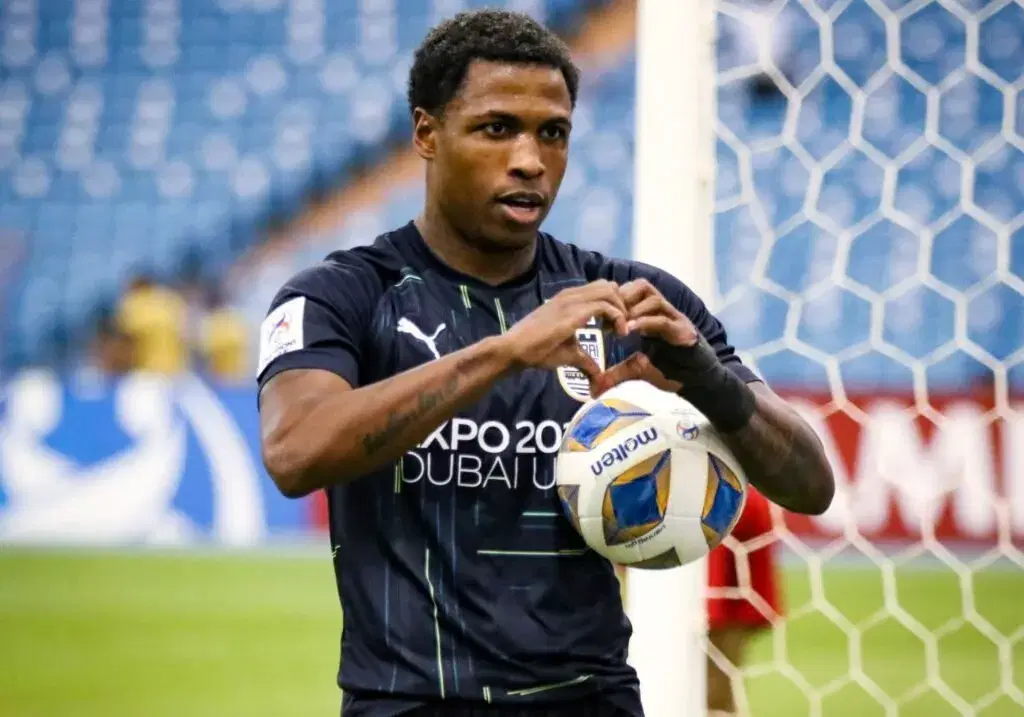 Mumbai City's Brazilian centre-forward arrived in the winter transfer window and had an instant impact on the squad. After helping them to quite a few results in the league, he brought his A-game to the AFC Champions League. His predatory skills along with his excellent hold-up play saw him torment opposition defenders. Alongside that, his prowess from the penalty spot grabbed the limelight once again, as he scored in Mumbai's 2-1 win against the Air Force Club.
Making the most of Igor Angulo's patchy form, he scored again in Mumbai's last game as they ran out 1-0 victors against the Air Force Club of Iraq. This time it was a poacher's finish as he tapped in a saved shot. Des Buckingham will surely be happy with the forward's contribution to this memorable campaign. His performances are sure to help him vie with his Spanish teammate for the starting spot.
Lalengmawia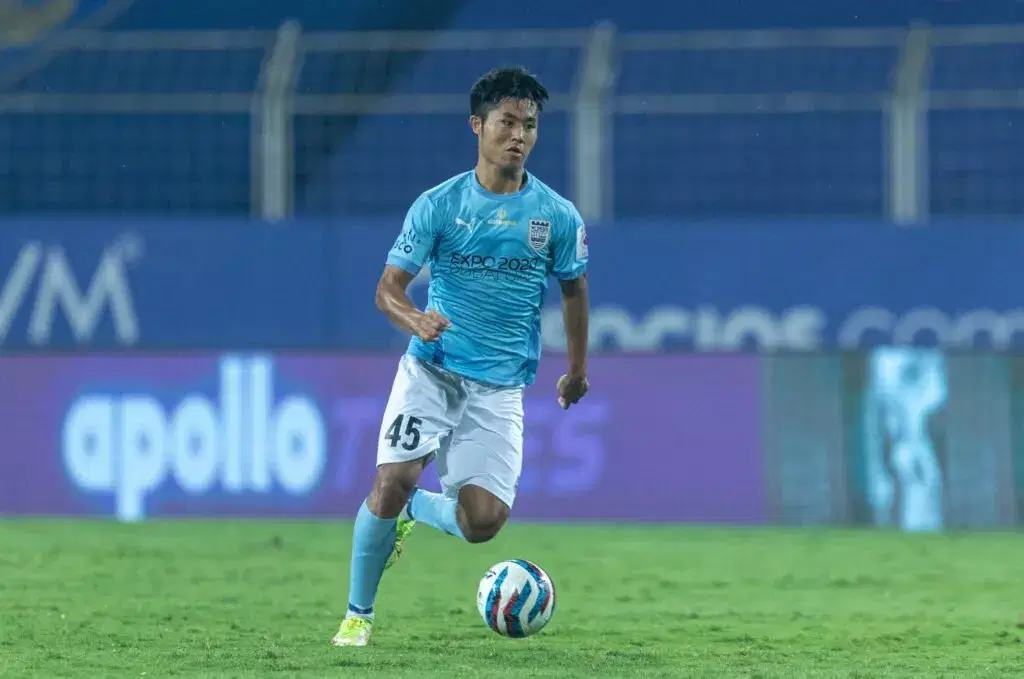 Any Mumbai City player list seems incomplete without Lalengmawia Ralte or Apuia; such is his consistent brilliance. The youngster was the most fouled player in the competition as he was tripped up a whopping 20 times. Apuia's steady growth in the heart of Mumbai's midfield alongside mentor Ahmed Jahouh has been a sensational journey. Not only has he been a reliable shield for the back four more than once, but he also seems to have found his mojo while motoring forward.
In the last game alone the midfielder completed 91% of his passes. His passing in his own half was at a mind-boggling 91% for the entirety of the competition. More interestingly, his progressive distribution also improved to a 79% completion rate.
The Indian midfielder also won 65% of his ground and aerial duels as he demonstrated his natural ball-winning abilities. The 21-year-old displayed maturity beyond his years and remains Des Buckingham's most ingenious revelation for the Islanders this season.
Underwhelming Performer
Igor Angulo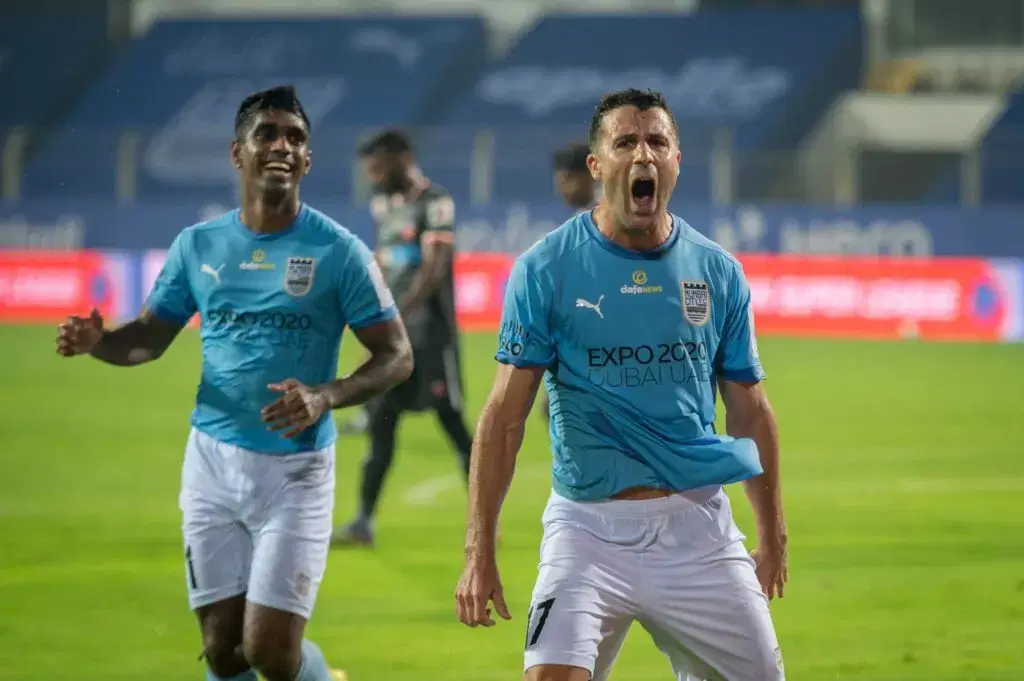 Coming off an impressive ISL campaign with Mumbai City as their top scorer, a lot of expectations were on the Spaniard for the AFC Champions League. Just like his misfortune last time out with FC Goa, Igor Angulo failed to show up for his side. For someone who finished second in the ISL golden boot charts after winning the same award in his debut last season, he barely featured for the Islanders.
He was ruled out of contention after straining his calf in training before the first game. Consequently, he only played 59 minutes in the whole competition, and that too in the 6-0 loss to Al-Shabab.
With only 12 touches and no shots on goal, Angulo looked a meek shadow of his more potent self. The Spaniard will hope to regain his form as he must prepare well ahead for the next season.
Coach's Report Card
Des Buckingham seemed to have worked quite a bit with his side during their three-week hiatus from football. Their training sessions and camps were helpful as the English manager looked to successfully craft a backup plan for his preferred tactics. For something that has been his Achilles heel for so long, it was only natural for the coach to come up with a solution.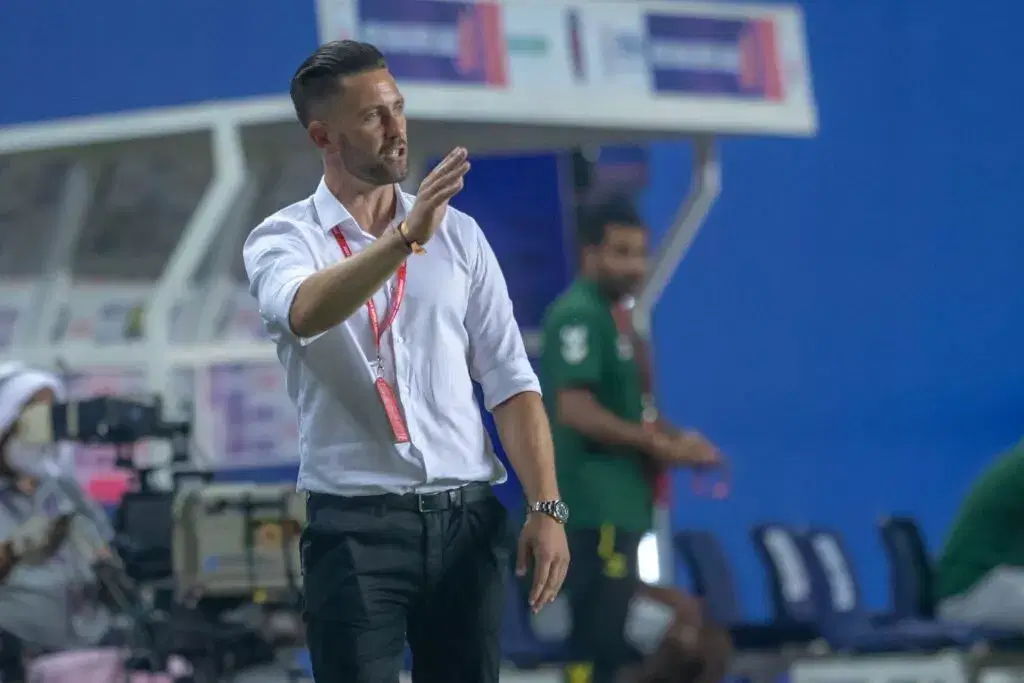 However, his tactical thinking was not immaculate and still has plenty of flaws. Marius Sumudica's Al-Shabab side demonstrated that perfectly as they demolished the Islanders 9-0 across two meetings. From speed of play to decisiveness in the final third of the pitch, Buckingham has his work cut out.
On another note, the Englishman's positive team talk and continuous appreciation of his players at such a stage were one of the highlights. It not only gave them the fuel to go one step further than their predecessors, FC Goa but helped them set a stage for Indian football on the Asian pedestal.
Lessons learned
While the two wins will be worth celebrating, Des Buckingham must look to reinforce his squad ahead of next season. Frequent injuries to Amey Ranawade left Rahul Bheke playing in a makeshift role rather than in the heart of defence. Both Mandar Rao Dessai and Vignesh Dakshinamurthy have had average showings at left-back and a reliable starter is yet to be found for the position.
Buckingham must rotate his tactics rather than his squad. He must also look to instill a number of ideologies so his team can grind out results, no matter what the situation is. Mumbai City should have realised by now that they have quite the foundation for greater things.
Accordingly, they must let their younger players participate more. Though their coach has ensured that a lot of the younger contingent contribute more actively, they must secure this participation in the long run.
Their AFC Champions League run has left a lot of Indian clubs dreaming of getting a chance to prove themselves. However, it has also identified their own strengths and they must look to build upon those and prepare themselves in time for the next season.
For more football updates, follow Khel Now on Twitter, Instagram and join our community on Telegram.
posted in :