The Indian football great has been proposed and seconded by the Rajasthan and Andhra Pradesh FA.
Legendary Indian footballer Bhaichung Bhutia will take on former teammate Kalyan Chaubey in a straight two-way fight for the AIFF President's post. For the first time in the history of the federation, the All India Football Federation (AIFF) will have a former footballer as its president.
Bhutia believes that he is the right man for the position. The 45-year-old feels that it is time to cleanse and change the system. However, he has upset the plans of the 28-state association representatives, who met in New Delhi to finalize the executive committee and chose Chaubey as the presidential nominee. Before the former India goalkeeper could file his nomination, Bhutia submitted his application papers. Bhutia is backed by representatives from Rajasthan and Andhra Pradesh FAs.
He has assured a separate budget for state associations and support financially and technically if elected as the president. While Chaubey is seen as the BJP candidate, Bhutia believes, "Today what I have become is only because of football. I'm a Padma Shri because of it. I played for India for 16 years – this is my moment to give back to my sport. It needs reforms with the ban happening."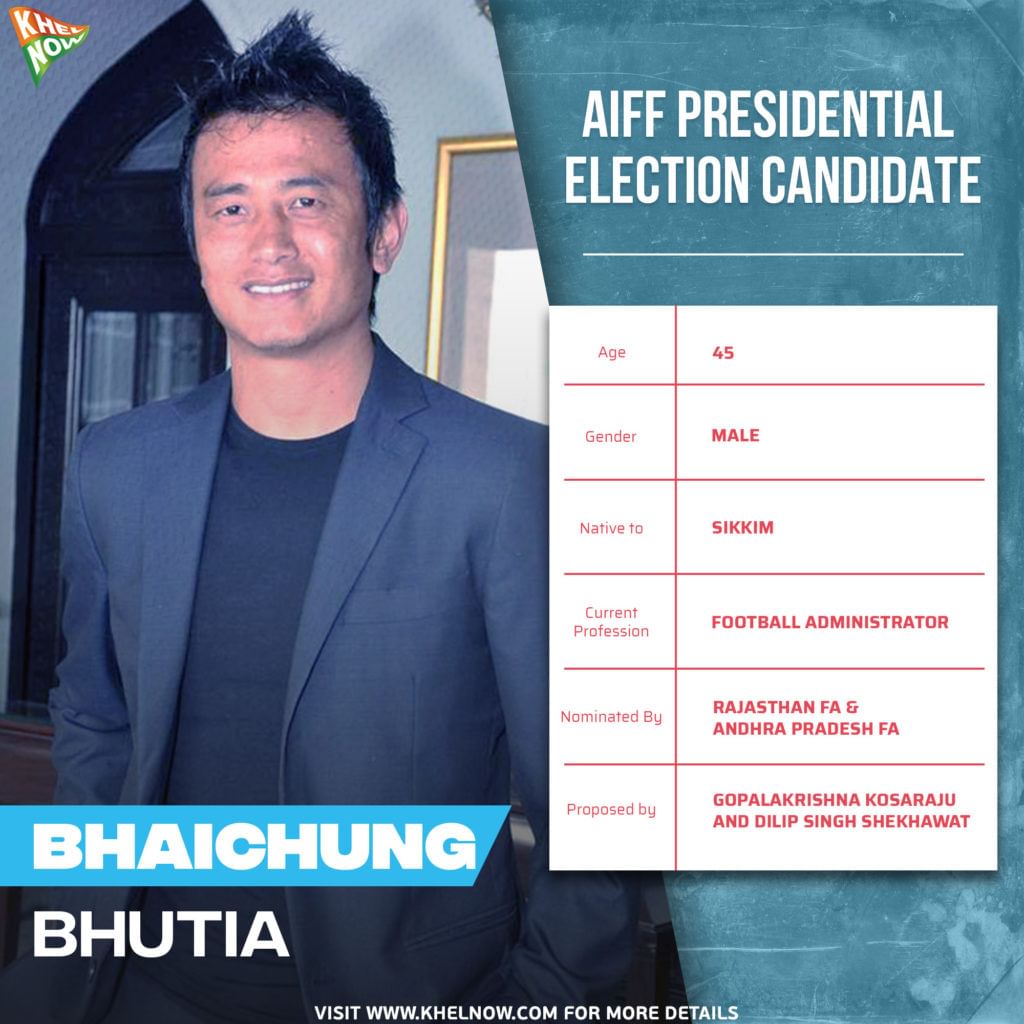 Early life
Born in a family of farmers in Sikkim, Bhutia had to endure the passing away of his father at an early age. After being encouraged by his uncle Karma Bhutia, he started his education at St. Xaviers School, Sikkim. Bhutia won a football scholarship from SAI to attend Gangtok's Tashi Namgyal Academy. Apart from football, he also excelled in badminton, athletics, and basketball.
He made headlines by winning the best player award in the 1992 Subroto Cup. His displays were spotted by former Indian keeper Bhaskar Ganguly, who took Bhutia under his wing and brought him to Kolkata.
Post-retirement
Bhutia replaced Belgian Philippe De Ridder as the interim manager of I-League side United Sikkim in 2012. He also managed Sikkim in 2018.
The player also dabbled in politics, joining the All India Trinamool Congress, He unsuccessfully contested the 2014 general elections from Darjeeling. Bhutia established a new party after leaving Trinamool Congress in 2018. He named it 'Hamro Sikkim Party', He supported the Left Front Communist Party of India (Marxist) leader Ashok Bhattacharya in the 2021 West Bengal Legislative Assembly elections.
In 2009, Bhutia started the Indian Sports Federation to help footballers recover and rehabilitate from long-term injuries. Bhutia is also the president of the Football Players Association of India (FPAI).
Bhutia started the 'Bhaichung Bhutia Football Schools' with Carlos Queiroz and Nike. Football club Garhwal FC, which won the 2018-19 Delhi Senior Cup, has a strategic tie-up with BBFS. He also owns United Sikkim FC, the only club from Sikkim to play in the I-League. Following an emotional closure due to 'unavoidable circumstances' in 2019, the club was revived in January 2021.
In 2015, Bhutia was drafted in to act as an AIFF advisor and helped in the 2017 FIFA U-17 World Cup preparations and squad development.
Indian football connection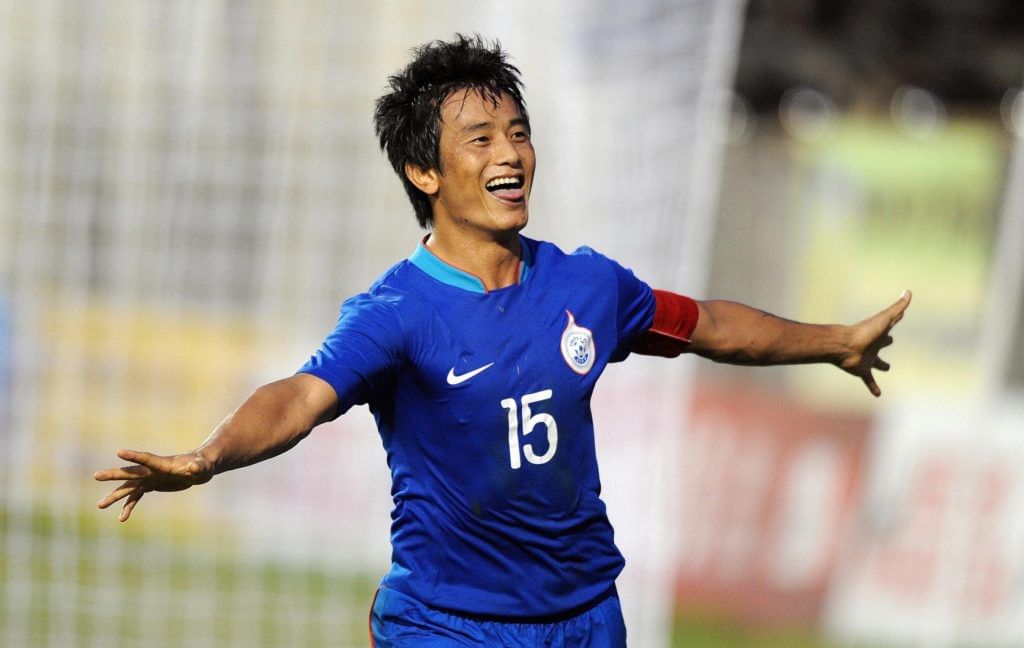 Aged just 16 in 1993, Bhutia left school to join SC East Bengal. He then moved on to JCT Mills, winning the 1996-97 National Football League, finishing as the top scorer. He made his international debut in the Nehru Cup, aged 19. Bhutia was named the Indian Player of the Year in 1996. Bhaichung Bhutia returned to East Bengal in 1997 and captained the team in the following season to a second-place finish in the NFL.
Then came a stint in Bury, England. He became only the second Indian footballer to play professionally in Europe after Mohammed Salim. On 3rd October 1999, he came on as a substitute and immediately made an impact. Bhutia scored his first goal in the English league against Chesterfield, but a recurring knee injury saw him make only three appearances.
Bhutia returned to India and suffered more injury troubles after returning to Mohun Bagan. He re-joined East Bengal and helped them lift the ASEAN Club Championship; his nine goals were the highest.
Following another stint in Malaysia with Selangor MK Land, Bhutia again signed for Mohun Bagan. His time there ended with a major controversy and a six-month suspension.
Bhutia took charge of United Sikkim as head coach in 2011 after retiring from the national team following the Asian Cup. He hung his boots after a final stint with East Bengal, where his knee denied his wish of retiring after a final appearance. He played his farewell match against Bayern Munich in 2012, before taking to field one last time with United Sikkim three years later.
Achievements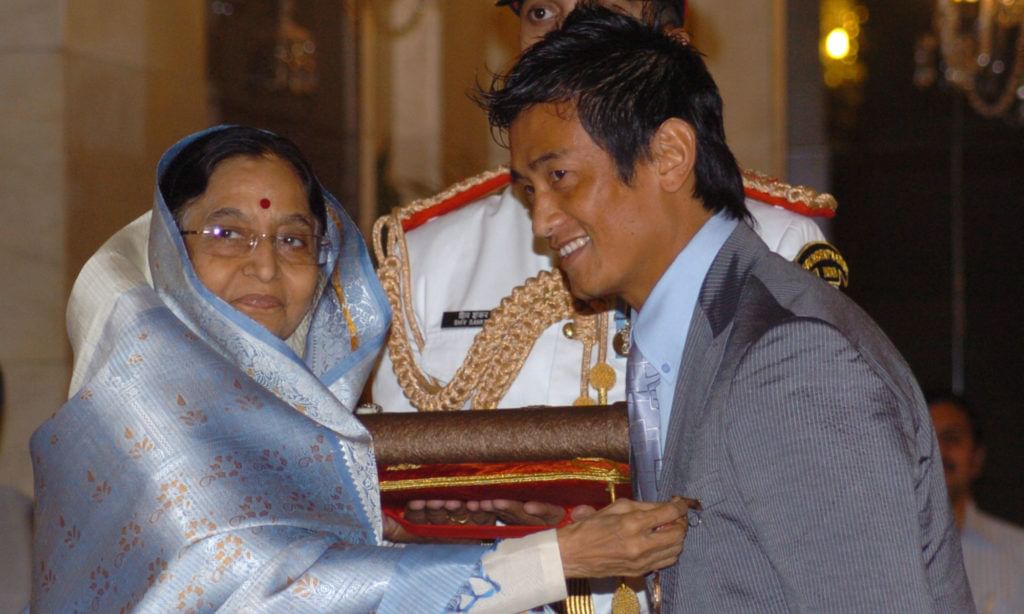 All in all, Bhutia made 226 appearances across clubs and scored over a century of goals. The Sikkimese Sniper earned 107 caps for India and scored 43 goals. He made at least one appearance in every single calendar year for 16 straight years.
Bhutia won one NFL, two IFA shields, and four Federation Cups. For India, he won gold in the 1995 South Asian Games, two Nehru Cups, three SAFF Championships, and two AIFF Player of the Year awards in 1995 and 2008. He was inducted into the Asian Football Hall of Fame in 2014 and was awarded the Padma Shri in 2008.
Controversies
Bhutia participated in and won the third season of 'Jhalak Dikhla Jaa' in 2009, earning Rs 4 million. He donated half his prize money to charity and shared the other with his choreographer. Allegedly, an 'SMS Voting frenzy' across many organizations in Sikkim helped him win.
He also missed practice sessions and a friendly match for his then club Mohun Bagan, damaging the relationship. The club failed to reach a compromise after meeting AIFF General Secretary Alberto Colaco. Bhutia filed defamation charges against Mohun Bagan for 'trying to tarnish his reputation.' Mohun Bagan approached FIFA to intervene in the dispute.
For more updates, follow Khel Now on Facebook ,Twitter, Instagram, Youtube and join our community on Telegram.