La Albiceleste are eyeing their first piece of silverware after 1993.
After a month of intense action at Copa America 2021, we've come to the best possible climax. After topping their respective groups, arch-rivals Argentina and Brazil will tussle for title glory on Saturday.
The tournament this year has largely been about these two sides. Argentina noticeably improved in terms of performance, but required penalty shootout heroics in the semi-finals. Defending champions Brazil, on the other hand, cruised past the group stage and convincingly made their way past Chile and Peru in the knockout rounds. As we ready ourselves for international football's El Clasico, Khel Now previews the mouth-watering clash between Argentina and Brazil.
About The Teams
Argentina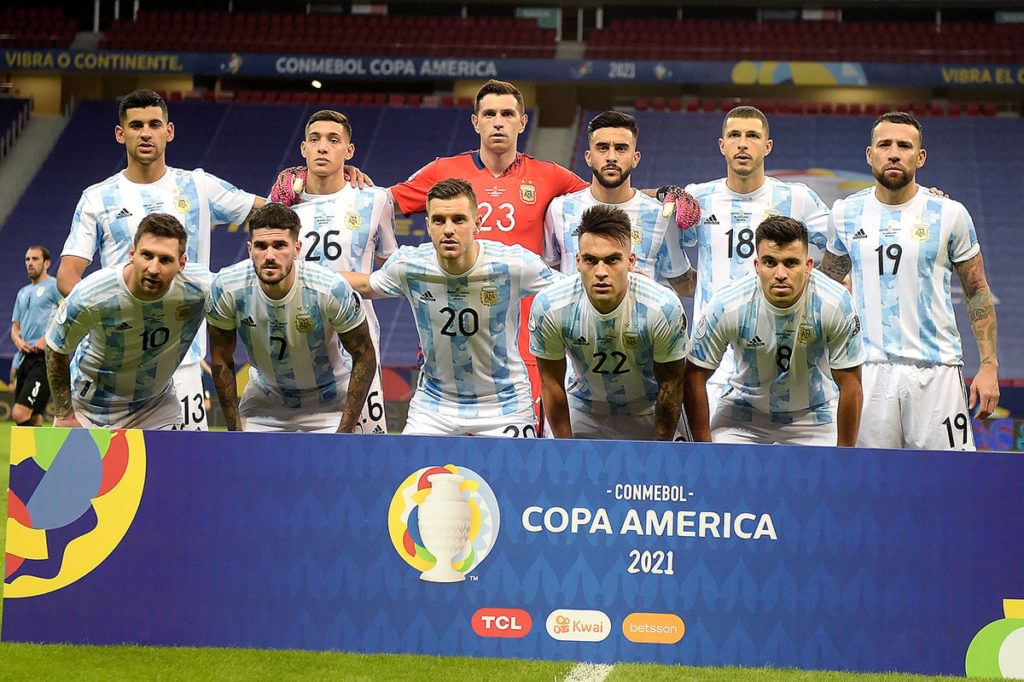 Lionel Scaloni's arrival after a disastrous campaign under Jorge Sampaoli at the 2018 FIFA World Cup has improved Argentina. They now look more settled than they were three years ago. Although the side crashed out against Brazil in the semi-finals of the last edition, they have not lost a single game since. Put in a group with Chile and Uruguay, La Albiceleste qualified as group winners.
Argentina's struggles, from goalkeeping to midfield, look to have been more or less diminished this time around. It is obvious that Lionel Messi is running the show yet again. He has been involved in nine of Argentina's 11 goals at Copa America 2021. However, the side have finally looked more balanced with other players taking charge of things. Alejandro Gomez, Rodrigo De Paul, Emiliano Martinez, Marcus Acuna and Angel Di Maria have all risen to ease the weight off Messi's shoulders.
One of the main reasons behind Scaloni's relatively balanced approach is how everyone's role is defined in the team. Di Maria, despite being in the last stretch of his career, has looked lively for PSG. However, the winger is used to intensify things and take the play to opponents in the second half against tired legs.
Guido Rodriguez is used to boost physicality and interceptions in midfield, whereas Leandro Paredes is used in the same position to bolster creativity. On the other hand, Giovanni Lo Celso is primarily tasked to break lines via through balls. Lautaro Martinez has now scored in three consecutive matches.
In addition, this Argentine side have shown the ability to grind out narrow wins. In this tournament alone, the Albiceleste have found the net early on and looked comfortable in defending a lead without the ball.
Brazil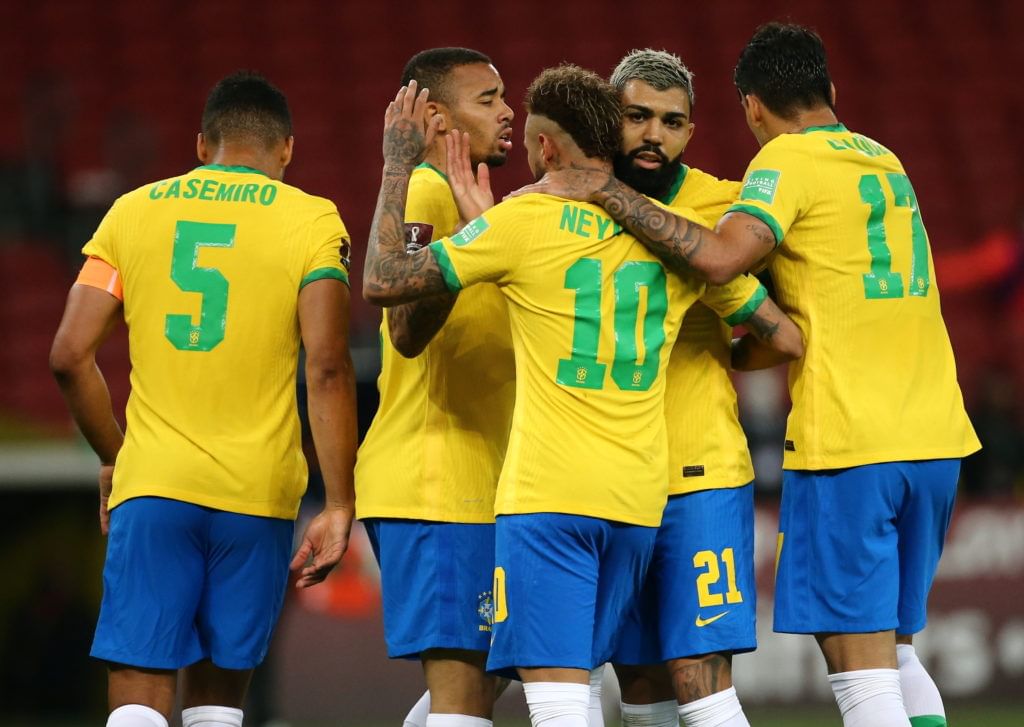 The Selecao have looked like an impeccable force ever since Tite took over the team. They have lost only one competitive fixture, which came against Belgium in the 2018 World Cup quarterfinals. The Selecao came into this tournament as the defending champions and are the favourites to retain on home soil.
With a talent pool that boasts the likes of Neymar, Gabriel Jesus, Casemiro, Marquinhos, Alisson Becker and Ederson, Brazil has risen up to the occasion in recent times. The Selecao are currently the table-toppers in the CONMEBOL World Cup Qualifiers, with six wins in six matches. They drew against Ecuador in the tournament, but won the other games with relative comfort. Their last defeat, however, came against Argentina in an International Friendly.
It is worth noting that this Brazilian side consists of experienced campaigners playing in Europe. The defence has looked good with Thiago Silva leading the charge and Casemiro screening the last line. Manchester United midfielder Fred accompanies the Real Madrid man in midfield, along with Lyon's Lucas Paqueta, who has been a standout lately.
Scoring two goals in the last two knockout matches, Paqueta has formed some chemistry with Neymar. In the absence of Gabriel Jesus following his red card against Chile, Everton Ribiero and Richarlison have starred, while Roberto Firmino has been impactful from the bench.
Despite having attackers with a wide range of skills at their depository, most of Brazil's attacks come through Neymar. They looked rusty against Ecuador in the absence of the PSG star.
Head-to-Head
Argentina and Brazil have been fierce rivals historically. In 108 clashes, the Selecao have won 43, while the Albicelestes have come out victorious on 39 occasions.
Argentina, however, have more head-to-head victories in competitive clashes. In cumulative terms, the Albiceleste have 19 wins from 49 competitive matches. 15 of Argentina's competitive wins against Brazil have come in Copa America fixtures. Like the overall record, the Canaries have an edge in recent competitive clashes.
Brazil have won each of the last five knockout clashes against Argentina. The recent one came at Copa America 2019, where they progressed to the final with a 2-0 scoreline.
Tactics
Argentina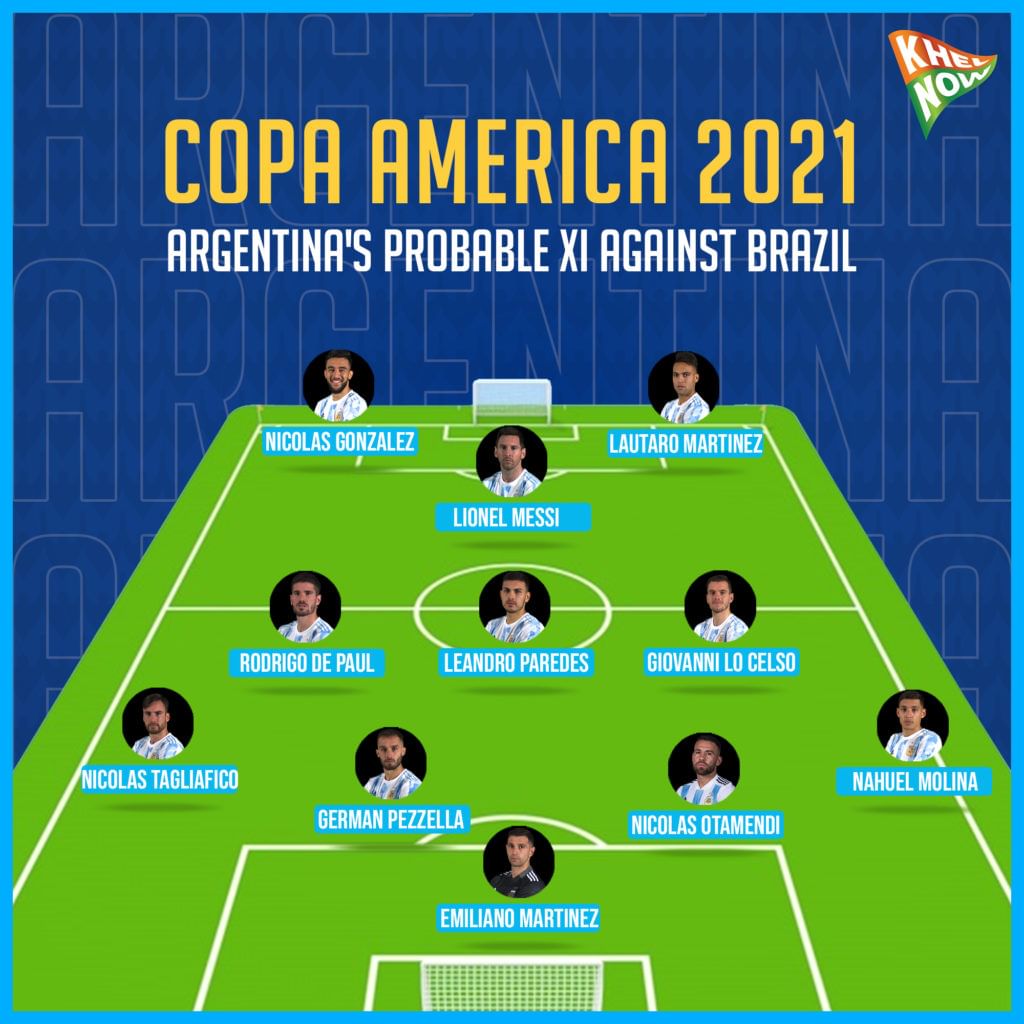 Scaloni has preferred a back-four primarily for this tournament. After his triple penalty save in the shootout win over Colombia, Emiliano Martinez has sealed his position as Argentina's undisputed no 1 choice. Scaloni has played in a 4-3-3 or 4-3-1-2 formation with Lionel Messi playing behind the pair of Lautaro Martinez and Nicolas Gonzalez.
Leandro Paredes will slot in as the defensive midfielder with Giovanni Lo Celso and Rodrigo De Paul playing on either side of him. Angel Di Maria and Sergio Aguero are likely to start on the bench.
Brazil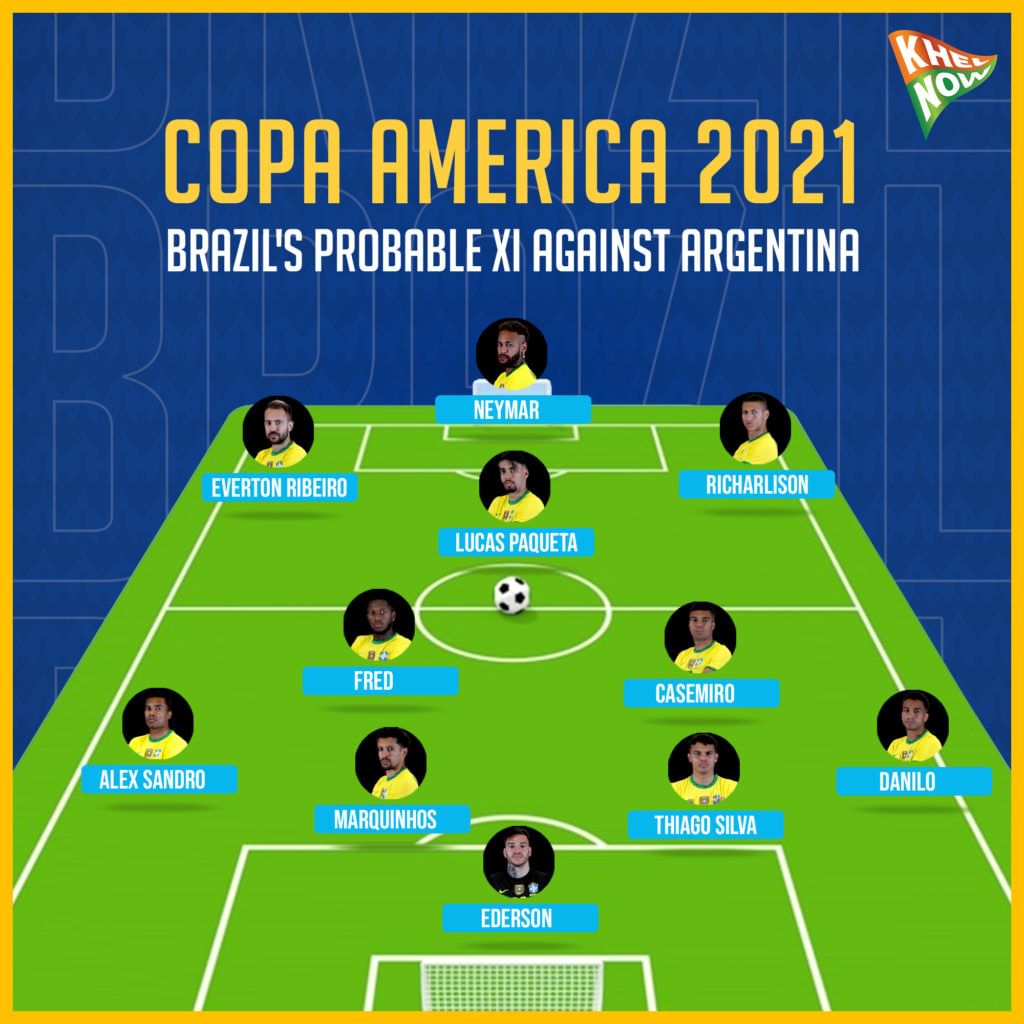 In stark contrast, Tite prefers to start with a double pivot in midfield with Casemiro and Fred shielding the back four. Neymar started as a central forward against Peru and could once again start in that role with Richarlison and Everton slotting in the wings while Lucas Pqueta could play as the attacking midfielder.
Tite could also start the experienced duo of Thiago Silva and Marquinhos as the two centre-backs with Alex Sandro and Danilo as the two full-backs.
Possible Line-ups:
Argentina: E Martinez; Molina, Pezzella, Otamendi, Tagliafico; De Paul, Paredes, Lo Celso; Messi, L Martinez, Gomez.
Brazil: Ederson; Danilo, Marquinhos, Silva, Sandro; Fred, Casemiro; Richarlison, Paqueta, Everton; Neymar.
Players to Watch
Lionel Messi (Argentina)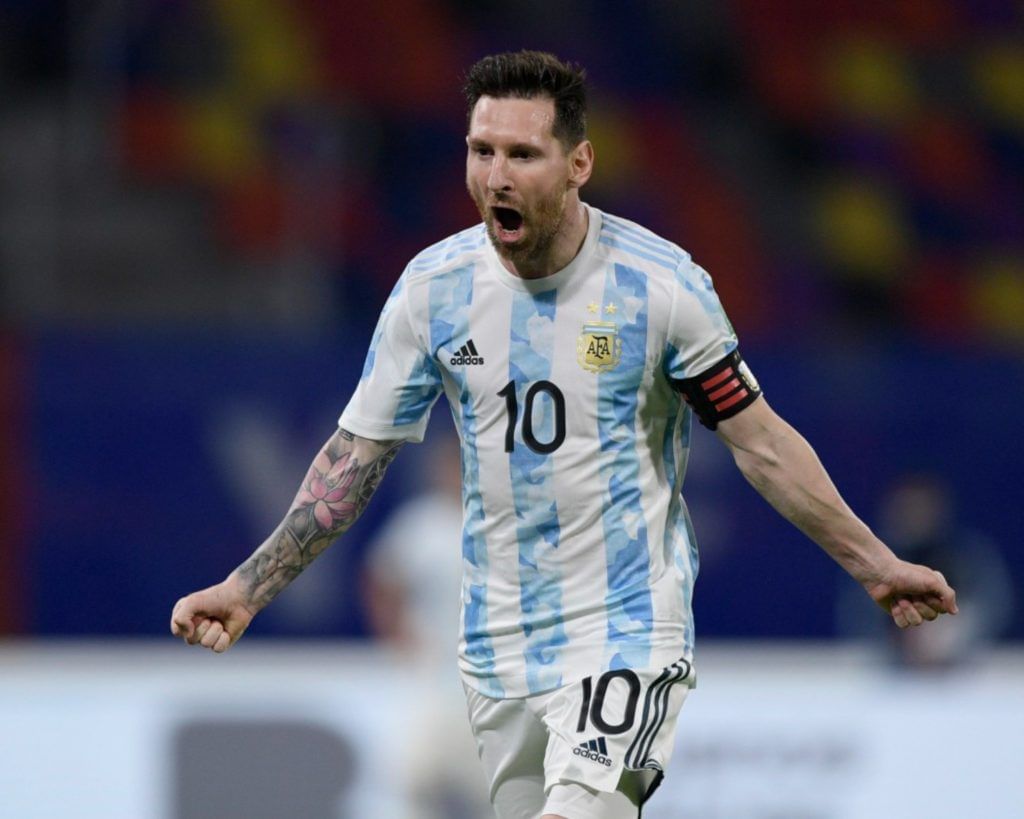 It wouldn't be an understatement to say this has been Messi's tournament so far. The Barcelona talisman has scored four, including two stupendous free-kicks and assisted five goals for his teammates so far. Messi, playing alongside Martinez and Nicolas Gonzalez/Alejandro Gomez in the forward line, has done well to create chances and move around the box.
Similarly, Messi's presence and efficacy around the box, be it with chance creation or goalscoring, have seen a massive increase. Since the midfield is now more creative and Messi seldom has to drop deep to receive the ball, he has acted as a constant in the attacking third. Against Brazil, he will definitely look to cause havoc. After four major tournament final losses, Messi's shot at redemption has seen him more involved going into this clash.
Neymar (Brazil)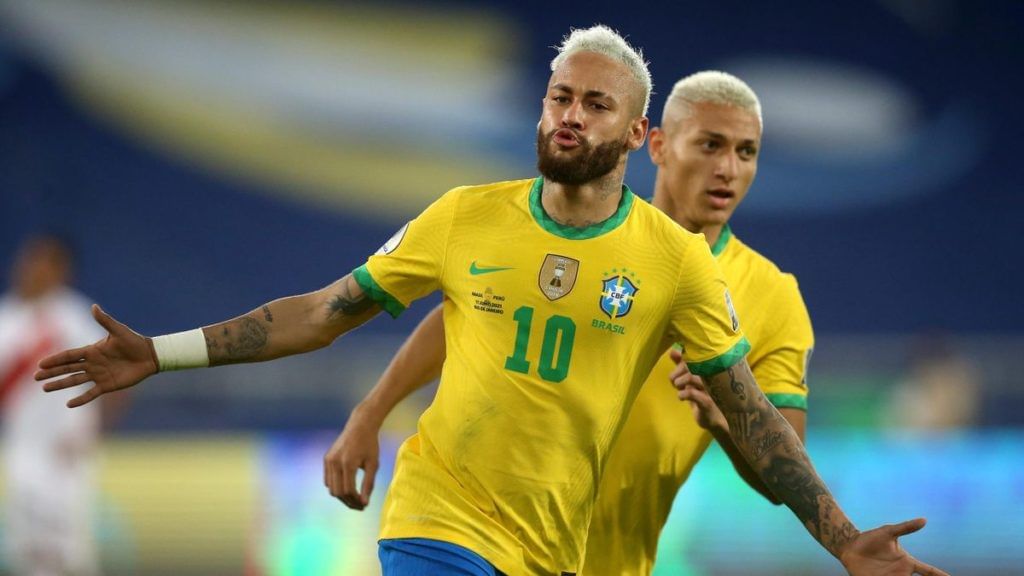 Living up to expectations, Neymar has been exceptional for Tite's side. The talisman has already scored two and assisted three in this tournament. However, he serves more than just that on Tite's side, as Neymar has been the only consistent flair. With the likes of Richarlison, Firmino, and Everton not able to pull off wins on their own, the PSG forward has done that.
Neymar's tendency to adopt a free role and get in the space between the opposition midfield and defence has been valuable for creating chances. With his sleek footwork and movement, the 29-year-old forms the spine of Brazil's attack. While Brazil's tactics under Tite have been dismantling their opponents in the second half, the forward has been lively throughout. His combination with Paqueta, in particular, has reaped benefits for Brazil.
What To Expect?
Considering the tournament's performances so far, Brazil look to be the more toned side. However, the clashes against Ecuador and Peru (in the semis) have certainly exposed their weaker areas. The Brazilians have been largely dominant and their opponents have struggled to create many chances, bar these two games.
Argentina, on the other hand, have looked the most balanced this tournament than they have been in years. That was put to test by Colombia in the semis and can repeat against Brazil too. Looking at the potential that the team carries and how they've found the right heroes at the right time, the Albicelestes will be optimistic too. Overall, this might be another tight, low-scoring contest with one of the talismanic forwards being decisive.
For more updates, follow Khel Now on Twitter, Instagram and Facebook.