The Aston Villa custodian was the hero in the Copa America 2021 semi-final versus Colombia.
Emiliano Martinez propelled Argentina to the final of Copa America 2021, following his penalty heroics on Wednesday. The 28-year-old was able to get on the nerves of Colombian penalty-takers, saving three out of five.
After making his debut for Argentina in June, 10 years after being called up for the first time, Martinez has conceded just three goals in seven matches. The former Arsenal man has started all the matches, bar the Bolivia game, ever since Franco Armani, the first-choice in 2019, was ruled out due to COVID-19 prior to the tournament.
Crafting the Albiceleste's shootout win, Emiliano Martinez will be key against Brazil's fiery attack in the finale. Now that Argentina are through, it is worth looking at factors that make the shot-stopper standout amongst the Albiceleste's recent goalkeepers.
Numbers speak for Aston Villa Supporters' Player of the Season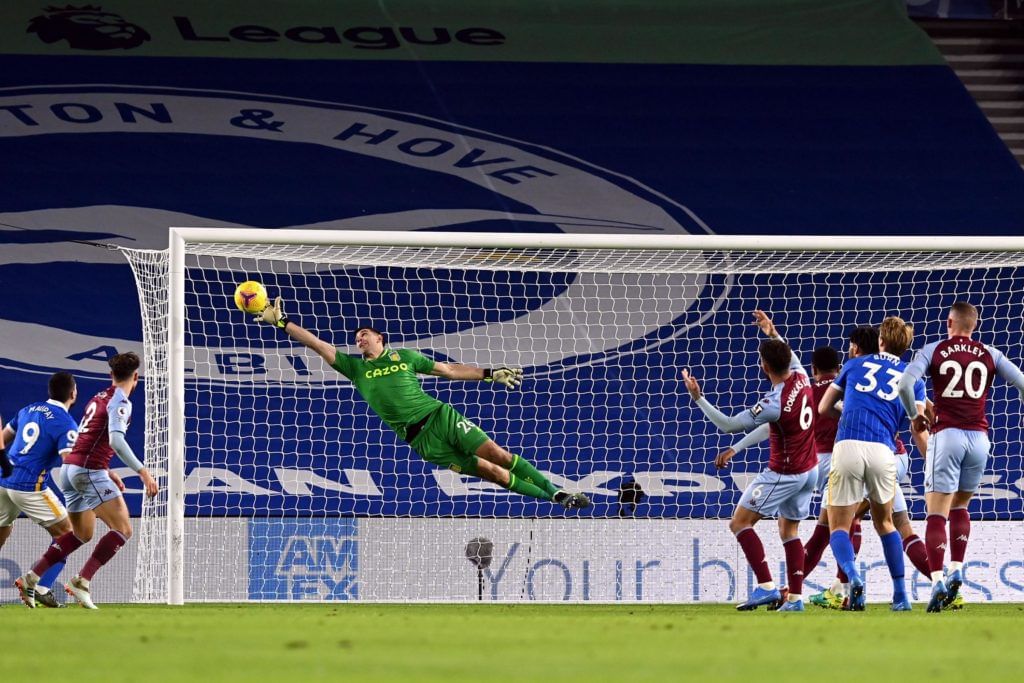 After his transfer from Arsenal, Emiliano Martinez has been a fan-favorite at Villa Park. That hype and eventually the Suppoters' Player of the Season, comes on the back of his solid performances throughout the campaign.
The 6'3″ goalkeeper faced 4.81 shots on target per 90, accounting for 52.4 post-shot expected goals (PsxG) in total (throughout the season). He conceded 46 goals, 6.2 less than the psxG value. This quantification suggests Martinez's impressive shot-stopping capability. He stands above 99% of the keepers in the top five leagues last season, suggesting his impeccable run and consistency. So far, he's continued that run in the Copa America and World Cup Qualifiers for Argentina, keeping the goals conceded number lower than the PsxG conceded.
An efficient, most importantly, dependable shot-stopper
Emiliano Martinez possesses toned attributes that any top-class keeper has. He has displayed exceptional shot-stopping capabilities, averaging a 77.2% save success rate per 90, placing him above 97% of goalkeepers in Europe's top five leagues. Since Aston Villa concede more shots compared to sides like Manchester City and Manchester United, his numbers speak volumes. Managing a high save to shot on target faced ratio, he has proved to be a dependable and consistent campaigner.
In addition to the shot-stopping prowess, Martinez is less error-prone and possesses excellent collection and positioning skills. Argentina have struggled to keep it simple and error-free. Willy Caballero's howler against Croatia in 2018 was reminiscence of the grapple. In addition, Martinez's reflexes make him comfortable against shots that come from inside the box.
Relatively calm and composed, he is seldom caught hurrying for a clearance, or during set-pieces. Martinez's cross interceptions have particularly stoodout – he only jumps on to balls that are manageable. The 28-year-old has had a near-perfect success rate in dealing with direct long balls and crosses in five matches.
Finally a keeper with enough playing time and experience?
Argentina and South America in general, have rarely produced great goalkeepers, despite churning out prolific talents in midfield and attack. In La Albiceleste's case, the side's struggles looked to have been solved in 2014 with Sergio Romero in goal. However, the problem has only grown ever since.
The main issue has always been finding a balance between skilled and experienced goalkeepers. While Romero possessed excellent attributes in goal, he went to the 2014 World Cup with just 270 minutes of club football to his name. In 2018, Jorge Sampaoli picked Willy Caballero over Franco Armani – who started almost every game for River Plate in 2017/18. However, the rationale behind the decision was to have someone with top flight experience in the lineup. Caballero, a second-choice keeper for Chelsea back then, had only three games to his name in the entire campaign. While it did not pay off, Armani's inclusion two games into the 2018 World Cup did not better things either.
Emiliano Martinez, this time around, ticks both boxes. He comes with 38 domestic appearances – plenty of top flight minutes – and played a significant role in the side's improved performances. In this regard, he stands out among the recent pool offering a balance between quality and minutes played.
Sound skills combined with elite mentality
For many, Martinez's heroics resembled two iconic Argentinian penalty shootouts from 1990 and 2014. Sergio Goycochea's semi-final saves bolstered Argentina past Yugoslavia into the World Cup final in 1990, and Sergio Romero repeated a similar feat after 24 years. While the former keepers saved two each, the Aston Villa man saved three. However, it was the goalkeeper's successful attempt at mind games that caught fans' eye on Wednesday.
His three saves against Colombia came against Davinson Sanchez, Yerry Mina, and Edwin Cardona. "I am sorry, but I will stop you, bro," Emiliano Martinez sledged Sanchez before saving his penalty. Continuing to put pressure on the takers, he told Yerry Mina that he'd "eat him alive" before saving the penalty. Despite Rodrigo De Paul's failure to get Argentina into the lead, Martinez's sound skills combined with his mentality to put takers under pressure saw Argentina come out on top.
Struggling to break into the Arsenal side after joining as a 17-year-old, he has always stoodout as a resilient and resolute character. After 10 years of various loan spells, he impressed in Arsenal's 2020 FA Cup triumph upon his return. Head coach Lionel Scaloni also credited Martinez for "transmitting security within the side" after the shootout against Colombia. All of these have only served as a testament to his improving performances for the national side.
For more updates, follow Khel Now on Twitter, Instagram and Facebook.