The Rossoneri are having a great season under Stefano Pioli.
It goes without saying that AC Milan are one of the most prestigious clubs in world football, having won 18 Serie A titles and seven UEFA Champions Leagues. However, it has been over nine years since they last won the Italian league and 13 years since their last UCL triumph. Infact, they have not even qualified to play in the UCL since 2014, indicating how badly their standards have dipped in recent times.
It would not be crazy to assume that the modern-day fans of the game were close to forgetting the legacy of the Rossoneri – until they started performing exceptionally well once again, earlier this year. Since June 2020, following their defeat against Genoa in last season's Serie A, AC Milan went undefeated in 28 successive matches across all competitions – until they lost to Lille in the Europa League last week. To top it off, they are also the leaders right now in this season's Serie A, with 17 points from seven matches.
Milan are one among only three teams yet to lose a game in the league. It sure looks like they could go all the way and lift the title after a hiatus of ten seasons. Khel Now takes a look at five reasons why this could happen:
5. Zlatan Ibrahimovic
A few things that Zlatan Ibrahimovic has done in the past few months:
Return to Serie A at 38 years of age.
Overcome COVID-19.
Score eight goals and record one assist from just five matches in one of Europe's best defensive leagues.
The Swedish ace turned 39 in October, but he is yet to show even the slightest signs of slowing down. He keeps coming up with match-winning contributions such as his brace in the Milan Derby and the overhead kick to beat Udinese. He is also a motivator capable of raising the level of his team-mates.
4. Performance so far
AC Milan are the only team to have scored at least two goals in every Serie A game so far this season. They are also the only team that has won five matches (out of seven) in the league.
They have scored a total of 16 goals in the Serie A and conceded just nine. It would not be very bold to assume that AC Milan will be able to continue the good form in the weeks to follow.
3. A psychological advantage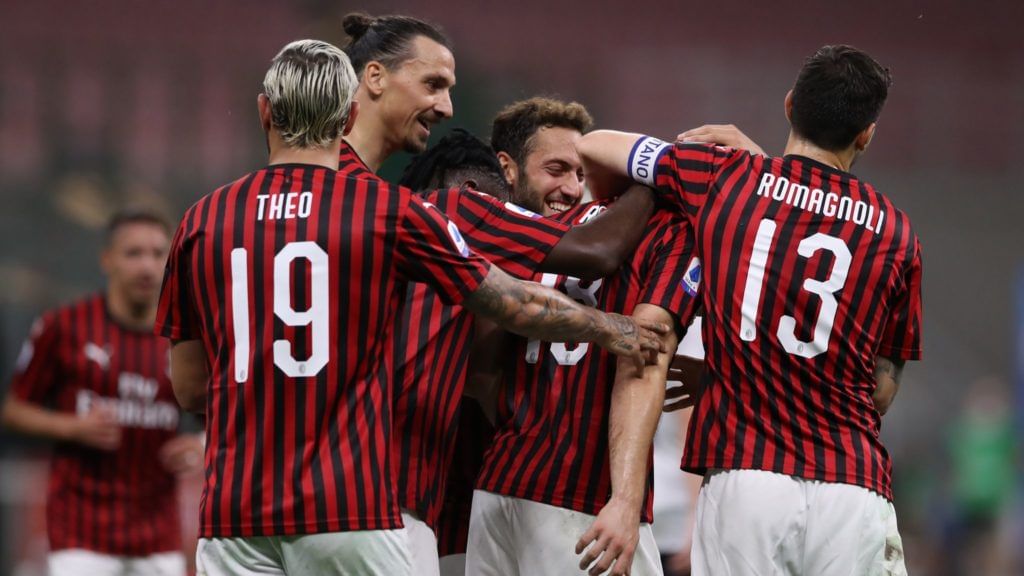 It is worth noting that AC Milan may not have actually set out to win the Scudetto like Juventus and Inter Milan. Having finished outside of the top four in the past few seasons, a more realistic objective for them may have been to do that and return to the Champions League next term. Therefore, right now, they are exceeding their own expectations.
Furthermore, a possible slowdown in form in the coming weeks would not affect them much, as they do not have as much at stake as the other teams. That said, an overall absence of pressure would give them a psychological advantage, enabling them to play without fear and take more risks, which could work in their favour in the long run.
2. Rivals' dip in form
The fourth reason is linked to the difficulties that AC Milan's competitors are having so far this season. Inter Milan are five points behind already and they have had bad results (such as the draw at home to Parma). Juventus and Atalanta are just above Inter on the table, thanks to their difficult opening as well.
Both Napoli and Roma are at 14 points apiece from seven matches and are currently well-poised to move further up the table from their third and fourth positions respectively. But, their upcoming fixtures are slightly harder on paper compared to those of the Rossoneri and this could lead to the latter gaining a clear lead at the top of the table in the coming weeks.
ALSO READ: Serie A- Ranking all 20 teams according to their squad values
1. The 'new normal' advantage
While Zlatan (and maybe Donnarumma) remain the only world-class names in their squad right now, they also have a whole list of players who would slot into the starting XIs of many teams in Europe. This means that manager Stephano Pioli can take advantage of the COVID-19-enforced 'five substitutions rule' to utilize their squad depth effectively.
The club are known for their high-intensity playing style and hence the use of five substitutes will help them maintain this intensity over a longer period on the pitch. This could further translate to better results.
For more updates, follow Khel Now on Twitter and join our community on Telegram.