The league concluded on April 30 with the Flaming Oranje lifting their sixth title.
One of India's top state leagues, the 2020-21 edition of the Goa Pro League (GPL) recently came to an end with Sporting Clube de Goa bagging the title for the sixth time. Dempo Sports Club finished runners-up with 21 points, which is two points less than the champions. Meanwhile, Calangute Association finished third with 20 points, above Salgaocar FC who also had the same points but ended up in fourth place due to an inferior head-to-head record.
In the first place, it was a brave decision from the Goa Football Association to start GPL in late January 2021 amidst the COVID-19 crisis. The league was held behind closed doors and following a strict Standard Operating Procedure (SOP) setup by the Government of Goa.
Despite this, the league which started smoothly saw lots of postponements towards the end of the season. The state association slowly managed to finish the league, but is yet to officially announce relegation this season.
This season, the GPL witnessed strong competition between the top five teams. Initially, Salgaocar were the favourites to win the league, as they were at the top of the league for most parts of the season. Vasco Sports Club also managed to reach the top at one point of time – after defeating Velsao SCC on Matchday 5. Credit to Sporting Goa, whose matches were postponed in the early stages due to COVID-19, as they kept their composure, remained unbeaten and won the title.
GPL 2020-21 also witnessed many brilliant performances from individual talents. Vasco's Denil Rebello, Salgaocar's sharp-shooter Stephen Satarkar, Calangute's Siddhant Shirodkar and so on stole the limelight with their excellent displays.
On that note, let's take a look at the Goa Pro League 2020-21 Team of the Season:
Goalkeeper: Ozen Silva (Sporting Clube de Goa)
The young custodian played an influential role in Sporting's triumph with seven clean sheets in the season. Ozen was undoubtedly the best goalkeeper of the season as he has conceded just six goals.
However, statistics alone do not do justice to how excellent the 24-year-old keeper was. With his reflexes and anticipation in every match, he easily makes his way into this XI.
Right-back: Nickson Castanha (Calangute Association)
The experienced defender surprised everyone when he signed on the dotted line for the Beachside team after spending a season with I-League outfit Churchill Brothers. However, it proved to be a good season for the set-piece specialist, as he managed to impress his coach Valentine Ezeugo,
who started him in every match. Nickson's impressive defending must have caught the eye of ISL and I-League scouts. His brilliant covering of the right flank, ability to cut past opponents and supply plenty of crosses helped his side outplay many opponents.
Centre-Back: Daniel Gomes (Salgaocar FC)
The centre-back has been with the team for the last few years and has developed well under their coach Levino Pereira. The strong defender has been consistent with his performances ever since he was promoted from the junior side – but this season, it was completely different for the 25-year-old.
Gomes was a mainstay in the Greens' defence in all the 10 matches in which he appeared. His ability to make the right challenges at the right time, along with his leadership qualities made him a standout performer of the season.
Centre-Back: Myron Fernandes (Sporting Clube de Goa)
The Sporting skipper was one of the key players whose performances led the Panjim-based club to lift the title for the sixth time. It was a remarkable season for the 24-year-old, as he was impressive with his leadership and organization skills.
The centre-back's abilities to read the play and deal with aerial threats were brilliant, as evident from his side conceding only eight goals in the entire season.
Left-back: Anil Gaonkar (Vasco SC)
Anil was one of the consistent performers for the Port Towners this season. At times, their coach Micky Fernandes also used him as a forward in the absence of their regular strikers Surj Mondal and Joaquim Abranches. As a result, he scored three goals for his side.
The 25-year-old was impressive with his stamina, speedy raids and combination play with his teammates in addition to his goal involvements. For a player who is not a natural forward, his ability to get into that position box to assist and score was unbelievable.
Central Defensive Midfielder: Sanwil D'Costa (Vasco SC)
The 25-year-old is a versatile player who has featured in different positions like centre-back, full-back, attacking midfielder and so on for Vasco this season. However, he plays on a different level when he gets to play in his favourite position. The lad has been with the Port Towners for three consecutive seasons under coach Micky and has improved each year.
In the 2020-21 GPL, he was able to control the play with flawless ease, covered plenty of ground and tried lots of shots from distance to keep the rival goalkeepers busy.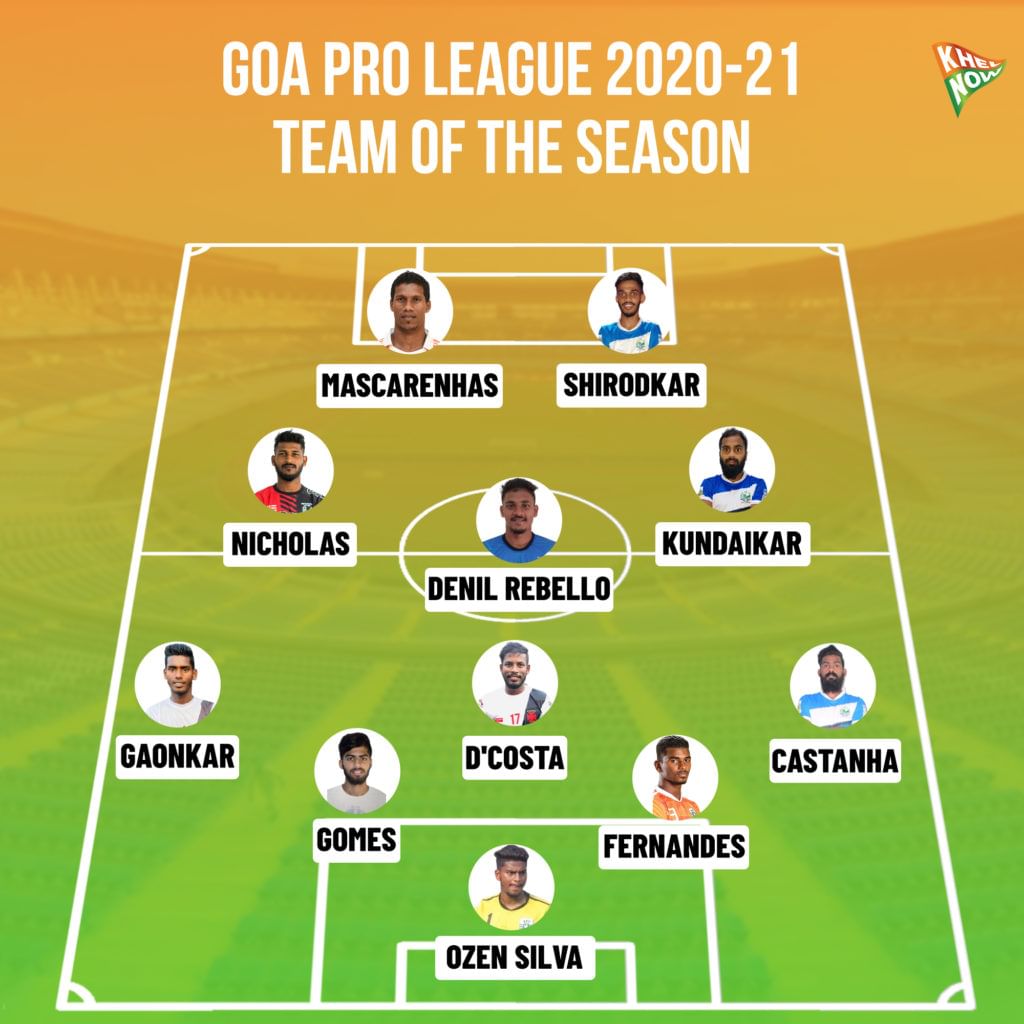 Right Midfielder: Sidharth Kundaikar (Calangute Association)
Another gem was unearthed this season, as Kundaikar staged a solid comeback. The midfielder/winger was one of the key players for Calangute, as they managed a podium finish for the first time in the history of the league.
His ability to make speedy raids, dribble past opponents on his way and deliver fine crosses from the flanks made him one of the finest wingers from Goa. Kundaikar also found the back of the net thrice and also provided assists to his teammates on a number of occasions.
Central Midfielder: Denil Rebello (Vasco SC)
Though the Port Towners managed to sign experienced Joaquim Abranches and Francisco Fernandes, it was Denil Rebello's signing which helped them dictate play in midfield. The former Salgaocar midfielder played an influential role in Vasco's midfield with plenty of assists, while he also managed to create his own chances and capitalize on them.
Rebello was more influential in constructing attacks. His brilliant footwork and grace on the ball was proof of his ability. He also showed his vision by supplying potent through passes to his teammates from midfield, while his pinpoint low crosses helped them score goals with simple tap-ins.
Left Midfielder: Nicholas Fernandes (YC Manora)
Many must have forgotten him as he was not seen in Goan football circles for the last two seasons, but the former Churchill Brothers' star made a stellar comeback this GPL with Youth Club of Manora, the new entrants. With them, he was also given the responsibility of skipper. With three goals and four assists, he impressed everyone with his performances this season.
Striker: Siddhant Shirodkar (Calangute Association)
The U-20 striker was one of the finest finds of the GPL season. Though the young striker was doubted for missing easy opportunities in the first few matches, he managed to score a brace against Guardian Angel SC and there was no looking back for the forward. The remainder of the season saw him netting three more goals and more than five assists.
Due to his excellent form, coach Valentine was able to use Shirodkar for the full 90 minutes, despite being an U-20 player. He also managed to strike up a fine partnership with Ivorian forward Kouame junior, helping him score on multiple occasions. Though Siddhant scored only five goals, he should be given credit for showing maturity in the final third.
Striker: Marcus Mascarenhas (Sporting Clube de Goa)
The veteran forward was an example of a player that ages like fine wine. Marcus' crucial goals against important teams is one of the reasons for the Panjim side's GPL triumph this season.
The forward demonstrated that he can still be a prolific scorer at the age of 35, with eight goals. The lean striker was pacy when it came to one-on-one raids as well as skillful when taking on rivals' last line of defence. He was also the top scorer of the league this season.
Substitutes
Stephen Satarkar and Ribhav Sardesai (Salgaocar), Pedro Gonsalves and Kirtikesh Gadekar (Dempo), Dylan Da Silva and Christy Davis (FC Goa), Janio Fernandes and Lloyd Cardozo (Panjim Footballers), Desmon Gama (Vasco SC)
For more updates, follow Khel Now on Twitter, Instagram and join our community on Telegram.