The latest set of fixtures saw several new faces excelling for their respective sides.
The I-League really hit its stride in producing some memorable encounters to keep up the unpredictable aura intact. While the hotly contested Southern Derby had its frantic moments, Aizawl and Churchill Brothers produced a blockbuster effort in their own right.
TRAU FC got their first wins on the board, while Mohun Bagan reaffirmed their place at the top of the league. At the same time, these games saw brilliant individual performances from certain stars. While the Indian players deeply impacted certain results, the foreigners continued proving their class when it mattered.
So let's look at the Khel Now I-League team of the week 5.
Goalkeeper: Mithun Samanta (TRAU FC)
TRAU FC definitely needed some luck to win the NorthEast derby against NEROCA FC and goalkeeper Mithun Samanta provided it with a solid outing. Between the sticks, Samanta made sure NEROCA couldn't run away with a win against TRAU despite them trailing by a goal, making a few instinctive reaction saves to keep them in the game.
That proved fortuitous as TRAU went onto win the derby and the following game against Indian Arrows as well. While Samanta didn't have a very busy afternoon against the Arrows, he did keep a clean sheet and resound a great week for himself and his team.
Right-Back: Ashutosh Mehta (Mohun Bagan)
After a slow start, Ashutosh Mehta's developing into a quintessential link for Mohun Bagan. The former Aizawl FC man was on fire against Indian Arrows, walloping down the right flank with intent to make things difficult for the young side. His defensive work was excellent, making some clutch tackles and clearances to keep things comfortable. While Mehta couldn't play through the entirety of the game, his solid performance ushered the Mariners to another clean sheet.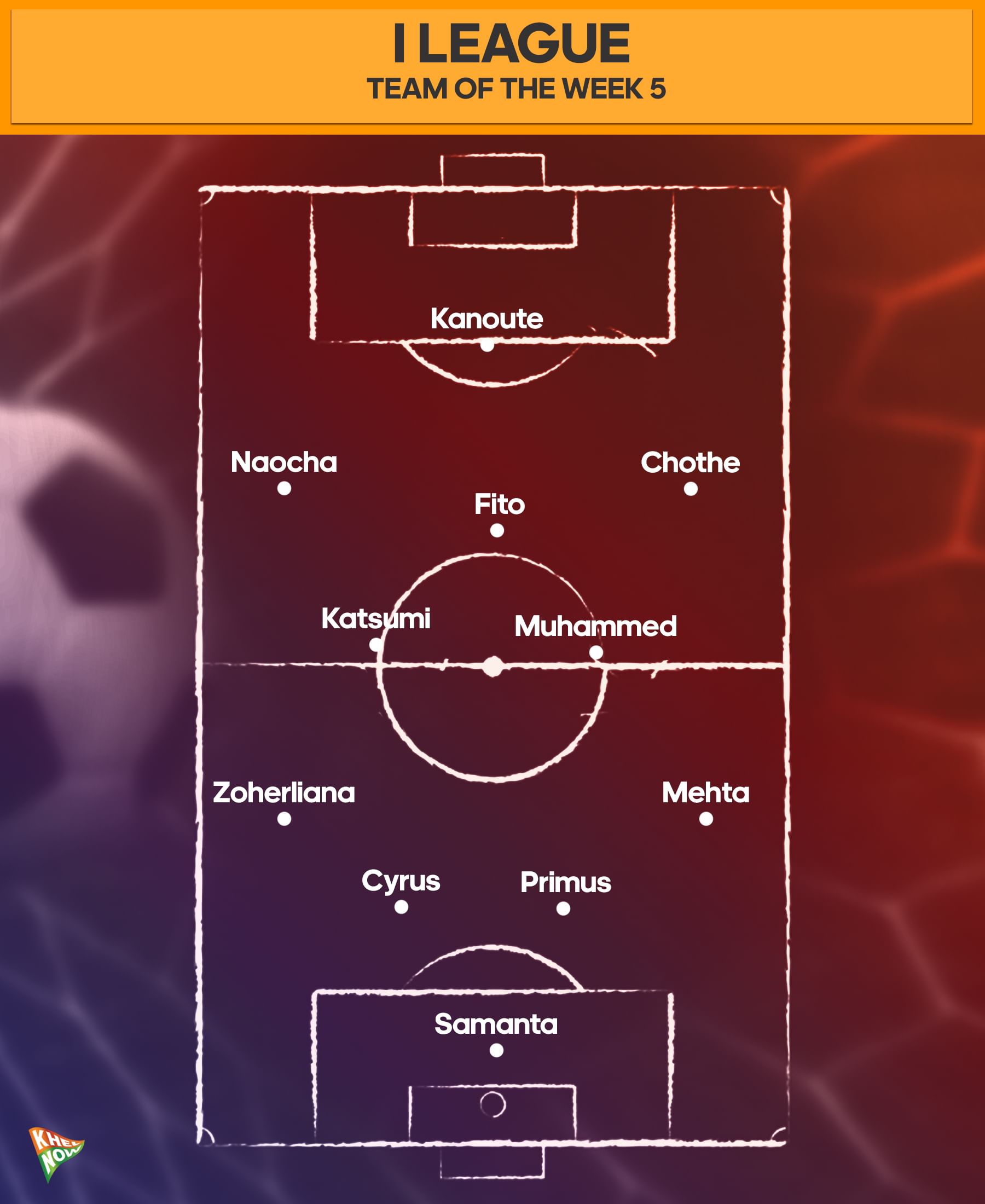 I-League 2019-20: Team of the Week 5
Centre-Back: Robert Primus (Churchill Brothers)
While his partner-in-crime Radanfah Abu Bakr has stolen the spotlight for weeks, Roberto Primus came to Churchill Brothers' rescue when they needed him the most against Aizawl FC. Not only was he a commanding figure in defence, making some important timely challenges to thwart the hosts' danger, but he also got on to the score-sheet. Granted, his goal was a fortunate tap-in from a defensive error, but Primus definitely played his part in reinvigorating Churchill's mini-comeback before Aizawl stole a point towards the end.
Centre-Back: Daneil Cyrus (Mohun Bagan)
Daneil Cyrus took a lot of flak for his errors in Mohun Bagan's home loss to Churchill Brothers earlier this season, but has since used that as a motivational aspect to vastly improve his performance level. The Trinidad & Tobago centre-back was a solid pillar in the Mariners' victory over Indian Arrows, where he scored a stunning winner. Cyrus' excellent volley from long range earned all three points for the Mariners, while he never looked nervous defending against the Arrows' pace. A tribute to deceased former team-mate Shadon Winchester proved him as the kind of humble leader the Mariners should be proud of.
Left-Back: Deepak Devrani (TRAU FC)
The former I-League winner showcased his experience to help TRAU FC record back-to-back wins for the first time this season. Devrani put in a diligent performance in the Northeast derby, coming up with some clutch clearances to thwart danger. His impressive goal-line clearance spotlighted his bright performance, but Devrani continued his improvement against Indian Arrows. By nullifying the dangerous Vikram Pratap Singh's threat, he guaranteed a comfortable win for TRAU and a clean sheet as a cherry on top.
Centre-Midfield: Shibil Muhammed (Gokulam Kerala)
Gokulam Kerala tasted a bitter derby loss to Chennai City FC, but young Shibil Muhammed definitely had a bright outing. Having come on as a substitute in the second half, he sparked a mini fight-back for his side. Muhammed found himself in the right position at the right time for both his goals, scoring his first with a left-footed powerful drive while the other being a close-range right-footed  finish. The Malabarians couldn't complete the comeback, but Muhammed's performance should guarantee him a regular spot in the next game.
Centre-Midfield: Katsumi Yusa (Chennai City FC)
With Pedro Manzi leaving, Katsumi Yusa is now solely responsible for leading Chennai City's attack with tough games ahead. The former Mohun Bagan captain gave an encouraging showing against Gokulam Kerala, turning back the years in being the driving force he's known to be. Yusa created quite a few glaring opportunities, coming up with smart through-balls and instinctive forward runs to cause the hosts all kinds of problems. He worked extremely hard to grind out the win, as his impressive showing before the AFC Champions League qualifier must've pleased his coach.
Right-Wing: Makan Winkle Chothe (Punjab FC)
Makan Winkle Chothe continued his impressive work for Punjab FC against Real Kashmir, putting in an encouraging performance which further validates him among the most exciting young players in the I-League. In a difficult environment, the teenager was buzzing around like a bee trying to get things done. He tricked past Kashmir's formidable defenders easily and after watching multiple attempts sway wide, Chothe perfectly capitalized on Barboza's pass to slot in the opener from range. While the Warriors couldn't hold on to their lead, Chothe's electric showing helped amp his reputation even more.
Centre Attacking-Midfield: Adolfo Miranda Araujo (Chennai City FC)
Better known as Fito, the Spaniard managed to fill in Manzi's void perfectly in the Southern Derby to hand his side the bragging rights. Fito was a real terror for Gokulam's defenders with his incisive movement and positioning, as his clever run and slick finish gave his side the lead. He also managed to influence his side's second, but his powerful shot was parried away only for Pravitto Raju to tap in. While Fito might not be the natural replacement to Manzi, he definitely used his killer instinct into handing the defending champions a big win before a flurry of difficult games ahead.
Left-Wing: Ngangbam Naocha Singh (TRAU FC)
Naocha Singh introduced himself to Indian football in style with a couple of clutch performances to inspire TRAU FC to consecutive wins. He sparked the comeback against NEROCA FC, scoring cleverly from close range to liven up his side's spirits. Singh also made sure their good run continued, scoring another instinctive goal against Indian Arrows. He tormented both his oppositions with his intelligent movement and work with the ball, helping to create memorable scenes for TRAU in an eventful week.
Centre-Forward: Abdoulaye Kanoute(Aizawl FC)
Abdoulaye Kanoute's quickly immersing himself as a favourite among Aizawl FC fans and came up with the goods once again in the game against Churchill Brothers. The Malian used his physical attributes really well to trouble their intimidating centre-backs, while also linking well with his teammates. He came up with a real poacher's finish to score Aizawl's opening goal, further proving how bright his striking instincts are. Kanoute's presence caused chaos in & around the penalty area, as the #9 came up with another clutch performance against a difficult opposition.