Nepal

1-2

India






Tej Tamang 87′
Farukh Chowdhary 62′
Sunil Chhetri 80′
Post Match coverage:-
7:15 pm: Now stay tuned for Khel Now's post-match show, which you can watch right here.
That's it from me dear friends. Thanks for your time here and hope you enjoyed following this space as much as I loved updating it. Until next time, this is Hari Thoyakkat signing off. Cheers!
7:10 pm: The Blue Tigers showed considerable improvement in the second half, and scored the goals to show for it. They created the best chances and the icing on the cake was Sunil Chhetri's moment of magic in the 80th minute. Although they showed signing of fizzling out late into the game as evident from Tamang's goal – but by then it was too late for the hosts to complete their comeback.
Not the exact kind of improvement that Indian football fans would've wanted to see, from Thursday's draw vs Nepal. However, a win is still a win – and we know how rarely that has happened for the team under Igor Stimac. This is just his fourth win since taking over as their coach.
To conclude on a positive note, all's well that ends well. This game has indeed ended well, and India will return home with a good morale ahead of the forthcoming SAFF Championship.
7:07 pm: FULL-TIME! India beat Nepal 2-1 thanks to goals from Farukh Chowdhary and Sunil Chhetri. Tej Tamang scored a late consolation goal for the hosts.
90 + 2′ Yet another substitution for India. Pronay Halder in, Anirudh Thapa out.
90′ The fourth official signals five minutes of added time.
Yasir Mohammed replaces Lalengmawia for the Blue Tigers.
87′ GOAL FOR NEPAL! Are the hosts coming back into the match?
Tej Tamang's fierce shot from nearly 30 yards out, beat Amrinder despite a good dive. No clean sheet for the ATK Mohun Bagan shot-stopper! The score is now Nepal 1-2 India.
86′ Triple substitution for the hosts. Bishal Shrestha, Rajan Gurung, Santosh Tamang in. Kiran Limbu, Manish Dangi, Pujan Uperkoti out.
84′ India playing in a relaxed fashion now. But the match is far from over! Six minutes and added time remaining!
80′ GOAL FOR INDIA! The Blue Tigers double their lead, 2-0!
That should have been a chance for Nepal, actually. They got a free-kick from a good position but Amrinder punches the ball away. It falls for Anirudh Thapa, plays it to Chhetri near the half-way line.
It ultimately becomes a one-on-one for the Bengaluru FC forward against Nepal goalkeeper Kiran Limbu, and it ends with him sending the former RoundGlass Punjab shot-stopper the wrong way before placing his shot into the far corner.
78′ Yet another player comes off the bench for the Blue Tigers, as Glan Martins replaces Rahim Ali.
75′ SOLID CHANCE for India as Chhetri, Farukh and Rahim Ali combine to bring the ball till Nepal's box. However, danger is averted in the nick of time by a defender. Wonderfully-timed sliding tackle.
72′ The hosts are trying very hard score. This time it is Manish Dangi who beats Seriton Fernandes to a cross and shoots – but again it goes wide.
68′ Nepal trying to convert half-chances to goals. Bishal Rai doesn't think twice before attempting his shot but it goes wide.
65' Solid chance for Nepal. They could have gotten their equaliser had they been a bit more patient. Another tame save for Amrinder Singh as a Nepal player heads straight to him.
Substitution for India – Suresh Wangjam in, Manvir Singh out.
62′ GOAL FOR INDIA! The Blue Tigers take the lead, 1-0!
A cross from the left side of the pitch finds Sunil Chhetri in the Nepal box. He brilliantly plays it to an unmarked Farukh, who tucks the ball home very easy.
Substitution for Nepal, as Ghalan makes way for Nawayug Shrestha.
58′ Free-kick for Nepal, but it amounts to nothing as Amrinder is called up to action. He makes an easy save off a very tame shot.
52′ A big delay as a Nepal player goes down in his own box. The referee restores order and Anirudh Thapa takes the corner. Kiran Limbu ultimately collects the ball after a frantic attempt by Nepali defenders to prevent a goal.
50′ Two good chances for the Blue Tigers and they come back-to-back. Sunil Chhetri's and Subhasish Bose's shots, however, get blocked. The ball rolls away for an India corner.
46′ And we are back. Farukh Choudhary replaces Bipin Singh in India's playing XI.
6:17 pm: Second half begins shortly.
6:06 pm: Nepal was very impressive throughout the first half, creating the best of chances although they couldn't convert them properly. However, Abdullah Almutairi's side can derive confidence from the fact that they manage to rattle the Indian defence on multiple occasions. If they're able to do the same in the second half, it might prove worrisome to the Blue Tigers.
Igor Stimac and co, meanwhile, created their own fair share of chances. However, that's the only positive that can be taken away from their first-half performance. Several mistakes were made in passing, and the defensive department looked caught out on more than one occasion. Not a good sign.
Sunil Chhetri's late chance would give India a glimmer of hope. If they can continue creating such chances for their skipper, he may produce one moment of magic that turns the game in their favour. But we're not sure if that should be the Blue Tigers' approach going forward.
6:03 pm: HALF-TIME! The score remains 0-0 as both teams return to the dressing rooms after a well-fought first half that saw plenty of chances from both teams.
45′ Good chance for India, as Seriton floats in a fine ball for Sunil Chhetri, whose header flies just over the bar. The Bengaluru FC skipper connected with the ball despite being challenged by a defender. Keep them coming, Blue Tigers!
The fourth official signals two minutes of added time.
43′ Substitutions just before the end of the first half! Anjan Bista and Bishal Rai come in, replacing Suman Lama and Aashish Lama respectively. Bista scored Nepal's only goal on Thursday
40′ A rather tame phase of play going on right now, with India looking to make the most of their ball possession. Meanwhile, the Nepali defence is as resolute as ever.
34′ Free-kick for the hosts. Suman Lama is brought down by a rather unpleasant challenge by Seriton Fernandes. It should have been a yellow card for the FC Goa right-back, but it's not.
33′ We think that for Nepal to win or draw this game, they need to score a goal in the first half itself. Can they do that?
32′ For the first time in this game, India are playing it safe. They are now trying to keep position and take control of the midfield. Nepal working hard to prevent that – they're pressing hard.
30′ Chance for Stimac's boys. Thapa drives the ball into the box and puts in a low cross which Chhetri looks to attack. However, it is cleared by the Nepal defence.
29′ We are starting to think that a goal is coming and it is coming soon. Both Nepal and India have created some good chances and it will be a matter of time before either team succeeds in finding the back of the net.
27′ GREAT OPPORTUNITY MISSED by Nepal again. Lovely ball into the Indian penalty box by youngster Ayush Ghalan and Aasish Lama does everything right to meet it with his head, but he still fails to connect and it's a goal-kick for the Blue Tigers. A great team effort nevertheless, as Ananta Tamang, along with Ghalan, Aashish and Suman Lama worked well to create that chance.
24′ First good chance for India in this game, but Anirudh Thapa couldn't control the ball as well as he would've wanted. It's a heavy first touch from him and an easy clearance for Nepal goalkeeper Kiran Limbu.
23′ Another chance for Nepal on a counter-attack, but Tej Tamang chooses to shoot from nearly the half-way line instead of progressing further forward. Not a great choice, as his effort goes wide off the post.
21′ Chance for Nepal as Aasish Lama and Suman Lama combine to bring the ball into India's box. However, their effort lacks a proper end product and the referee calls a goal-kick in India's favour.
20′ Free-kick for Nepal, as Manvir Singh fouls Manish Dangi. Dinesh Rajbanshi takes it from their own half but it doesn't amount to much for the hosts.
17′ India giving possession away very easily – not something that fans would like to see from them. Subhasish Bose is the culprit this time, as he fails to latch on to a pass from Chinglensana. The ball rolls out for a Nepal throw-in.
13′ CAN YOU BELIEVE THAT, huge opportunity missed by Nepal. Manish Dangi was put through on goal and with only India goalkeeper Amrinder Singh in front of him, he could have scored. Instead, he slips and loses balance, with the Blue Tigers managing to kick the ball out for a Nepal corner.
10′ A beautiful through-ball for Bipin Singh to chase in-behind. However, Gautam Shrestha comes across in time and clears the ball away for a throw-in.
9′ India looking more composed than in the previous game against the Gorkhalis on Thursday. Can they manage to win and return home with a positive mindset ahead of the forthcoming SAFF Championship?
5′ India have started creating chances more quickly than on Thursday. This time, it's Chinglensana Singh who tries something unique with a long through. However, the hosts sense the danger and clear the ball away.
1′ KICK-OFF! The Blue Tigers start the proceedings, and goes on an attack straightaway.
5:15 pm: And we're live. Both teams paid respects to their national anthem. Kick-off shortly!
5:00 pm: India's pre-match training pictures:
4:45 pm: Exactly 30 minutes remaining for Kick-off! How's the josh, fans!
4:40 pm: … and a couple of updates from the Dasharath Stadium.
4:38 pm: We have a quick update from the Blue Tigers' dressing room…
4:31 pm: Take a look at the hosts' options on the bench here (via ANFA):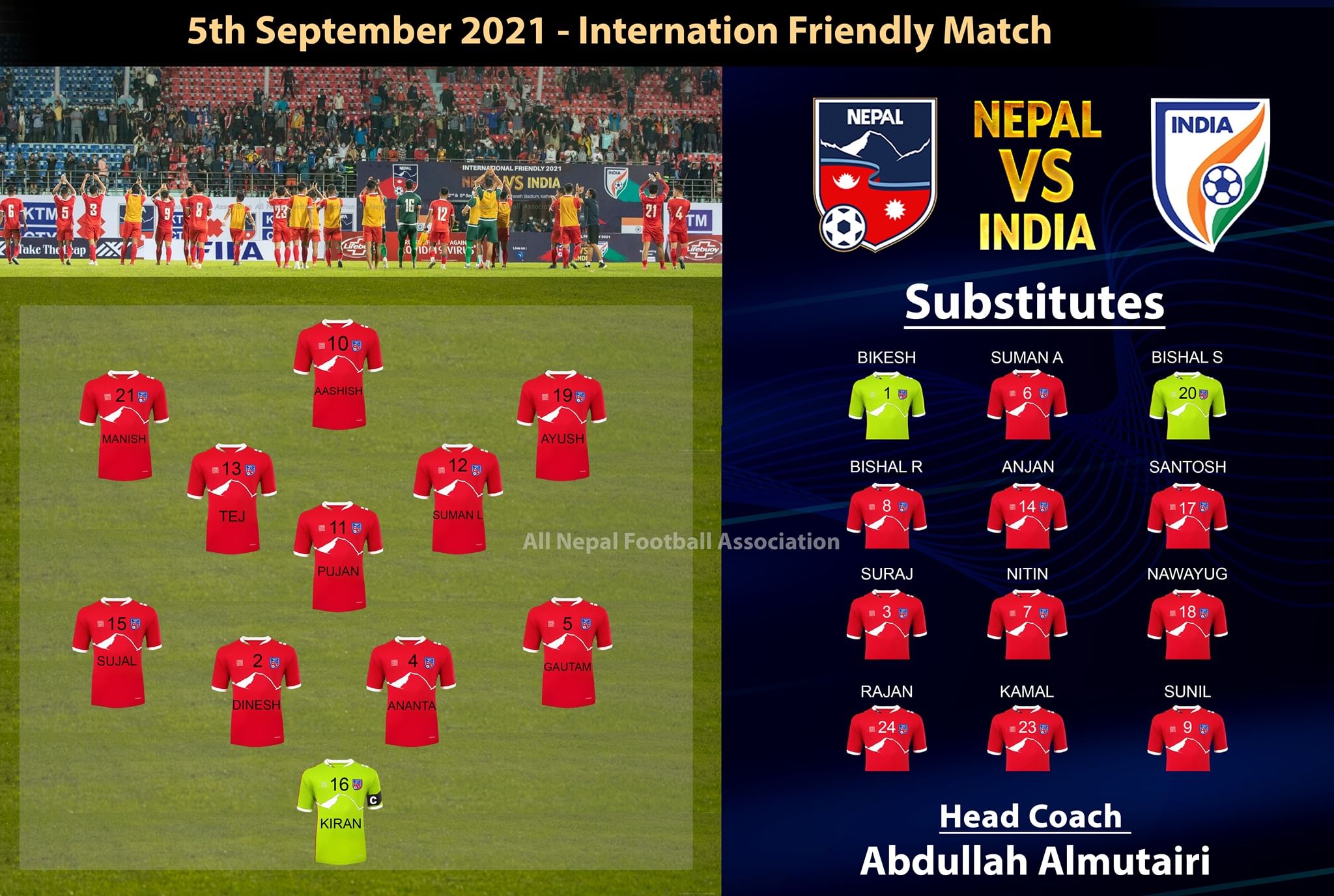 4:30 pm: Take a look at the Blue Tigers' substitutes here:
4:22 pm: India has fielded an almost-entirely new starting XI today. The only starters from the previous match who have maintained their place are Chhetri, Manvir, Chinglensana and Subhasish.
4:21 pm: Three changes in Nepal's XI from the previous game. Manish Dangi, Aashish Lama and Sujal Shrestha replaces Anjan Bista, Nawayug Shrestha and Suman Aryal respectively.
In case you're wondering, one of Nepal's center-forwards, Sujal is playing as a left-back today. Surprising?
4:20 pm: TEAM NEWS IS IN! Nepal vs India Line-ups:
Nepal (4-5-1): Kiran Limbu (GK); Gautam Shrestha, Ananta Tamang, Dinesh Rajbanshi, Sujal Shrestha; Ayush Ghalan, Suman Lama, Pujan Uperkoti, Tej Tamang, Manish Dangi; Aashish Lama.
India (4-2-3-1): Amrinder Singh (GK); Seriton Fernandes, Pritam Kotal, Chinglensana Singh, Subhasish Bose; Lalengmawia, Anirudh Thapa; Manvir Singh, Sunil Chhetri, Bipin Singh; Rahim Ali.
4:15 pm: Hello everyone, and welcome to Khel Now's Live Commentary of today's International Friendly. Today we have the second Nepal vs India clash, and kick-off is exactly an hour away, at the Dasharath Multi-purpose Stadium in Tripureshwar, Kathmandu. This is your host Hari Thoyakkat, and I'll be giving you all the updates from the match in real-time!
Building up
So, as I've said, we have some time to spare – hence let's build the game up a bit. Led by head coach Igor Stimac, the Indian football team are returning to action today evening, after a disappointing 1-1 draw against the same opponents on Thursday. Nepal shockingly took the lead via Anjan Bista in the 36th minute, thanks to a defensive mistake from India. The Blue Tigers' fans then had to wait till the hour-mark to have some relief, as Anirudh Thapa netted the equaliser.
Prior to that, India last played an international fixture on June 15, when they took on Afghanistan in the FIFA World Cup 2022 Qualifiers. The match ended 1-1. Sunil Chhetri and co also registered a 2-0 win over Bangladesh and a 0-1 defeat against Qatar in the same competition.
A few weeks afterwards, Stimac was handed a contract extension. Frankly, India's performance on Thursday has done very little to justify AIFF's decision to extend the Croatian's contract. Today, all eyes will be on him once again as he gets another chance to redeem himself.
Meanwhile, Nepal will also be looking for a win vs India following their previous 1-1 draw. They would want to prove that they're no pushovers. Another point to remember – they also have the home advantage! All of this means that there is indeed a lot riding on the match, although it is a Friendly by nature.
Click here to read Khel Now's preview of the Nepal vs India clash. You can read team news, predicted XIs and more on our preview.
For more football updates, follow Khel Now on Twitter, Instagram and join our community on Telegram.