The 19-year-old spoke about his journey so far as well as his ambitions for club and country.
The coronavirus pandemic has brought sporting events and the fraternity to a standstill across the country. Nevertheless, Khel Now caught up with one of the rising stars of Indian football, Jamshedpur FC defender Narender Gahlot for an exclusive interview. The youngster spoke on a host of topics, including his ambitions with the national team.
"First I used to play football at my village and then I even used to go and play in Delhi. But, I decided to take up football as a career when I joined Chandigarh Football Academy (CFA)," the youngster recollected his early days, as he talked about his initiation in football.
Narender Gahlot missed the FIFA U-17 World Cup in 2017 due to an injury, but it didn't stop his development as a player. He then went on to play with Indian Arrows and shared his experience. "We had never played against experienced and senior players before. Our main aim was to give other teams a fight. We also wanted to win the ball and keep clean-sheets."
Thereafter, Gahlot made a switch to Jamshedpur FC last season, following his successful stint with the development side. He talked about the move and mentioned, "FC Goa and other clubs were interested in me but Sukhan Sir (his academy coach) advised me to join Jamshedpur FC because of the facilities and the project. They promised me game-time and so I joined them."
Speaking about Jamshedpur FC, the youngster had a difficult start at the JRD Tata Sports Complex, as they only managed 18 points in as many games last campaign. "I didn't have a pre-season because I was involved with the U-19 national team in AFC Championship Qualifiers. When I came back, four games had already been over. I came back and had a good training session just before the FC Goa game. The coach told me I'll play, but after that our team faced injuries and everything went downhill," he said.
He then went on to speak about the 3+1 foreigners rule which is set to be implemented from the 2021-22 in the ISL and said, "The move is good in some aspects and bad in some. Obviously, when one foreigner is not playing then the quality of the league will go down, but at the same time, it will give Indian players more game-time which will improve the national team."
Now, the focus of the conversation changed to the national team. Narender Gahlot made his debut for India against Tajikistan in Ahmedabad in the Intercontinental Cup last year, "I didn't know I would play the first game. We had a practice session just before matchday and after that, in the team meeting, the coach told me I will start and he said 'I'm confident you'll do well' because I had a good practice game in Mumbai."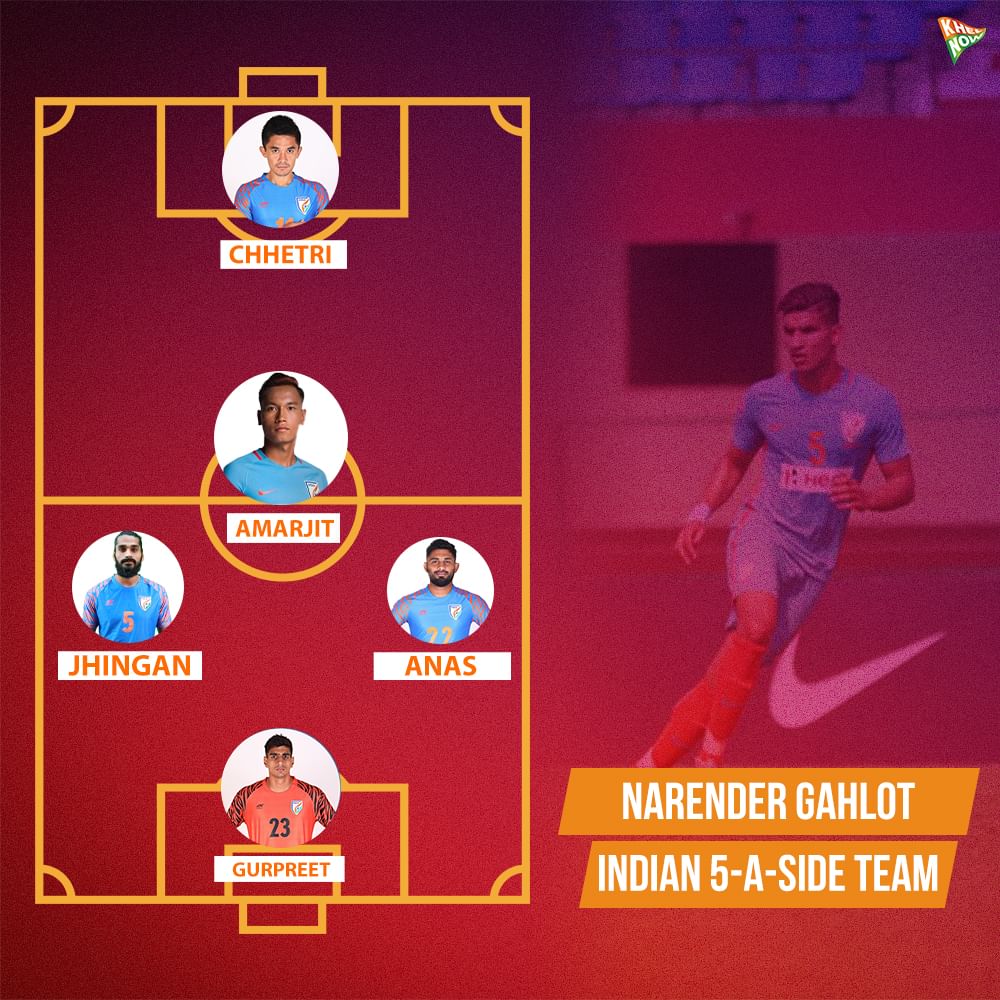 "The coach told us not to sit back in the game and in the first half, we went 2-0 ahead. He told us to play higher up the pitch, but we conceded goals in the second half," he disclosed.
The 19-year-old showed gratitude towards national team coach Igor Stimac and spoke about his experience playing under him. "The experience for me has been great. At Indian Arrows, we played a passing game and learnt to keep more possession and in the U-23 team, we played with the same philosophy. It has helped me personally in my game and he is a kind of coach who gives confidence to players. Even if we make a mistake he doesn't shout at us, but he tells us to improve."
ALSO READ: Narender Gahlot: AIFF academy helped me lay foundation of my game
Football in the country has been paused due to the coronavirus pandemic, but that hasn't stopped the youngster from keeping himself fit, which can be noticed on his social media accounts. "Looking at the competition for spots in the senior national team we are keeping ourselves fit by doing exercises and workouts as well as doing some training with the ball," he revealed.
The FIFA World Cup Qualifiers have not gone well for Igor Stimac's men so far and there have been questions raised that the team is not moving in the right direction under the Croatian. But, Narender Gahlot feels otherwise and elaborated on his opinion saying, "I feel the team is moving in the right direction. The previous coach had a different philosophy and the new coach has brought a new philosophy, which the players are adapting to.
"The players are learning to keep possession how to defend well which will only happen after some time. I have no doubts that the team will do well in the future," he reiterated.
Furthermore, Narender Gahlot revealed his career goals with the national team. "My dream is to see the national team qualifying for the FIFA World Cup. I didn't dream of playing for a big club (overseas), but I want to reach the quarter-finals, semi finals and the final of the AFC Champions League with an Indian club," he concluded.
For more updates, follow Khel Now on Twitter, Instagram and join our community on Telegram.