The 23-year-old spoke about his journey so far, ambitions for Odisha FC, the national team and more.
With only a few weeks remaining for football to resume in India, clubs are working hard on new signings and contract extensions, in a bid to pose strong competition to their opponents in the upcoming 2020-21 season. Indian Super League (ISL) outfit Odisha FC are by no means an exception, as already proved by their newly-acquired players and also the appointment of head coach Stuart Baxter. Meanwhile, Khel Now caught up with the Juggernauts' very own Jerry Mawihmingthanga.
The winger spoke to us about several topics, such as his training regime amidst the ongoing COVID-19-enforced restrictions, his experiences at former club Jamshedpur FC, how Odisha FC have helped him develop into a better player and so on.
"I was interested in football since I was a child," Jerry Mawihmingthanga began by speaking about his initiation to the game. "However, my family – my mother and father – wanted me to concentrate on academics in the first place. So, I did that for a while and later, I joined the DSK Shivajians Academy after persuading my parents. That turned out to be the first-ever turning point in my career."
DSK Shivajians handed him his first big break in 2016, as he, along with teammate Lallianzuala Chhangte, were selected to train at the Liverpool Academy in England. "One of the players I remember training with at Liverpool is Trent Alexander-Arnold," he recollected. Only 19-years-old at that time, Jerry returned to India the same year and played 19 matches for his parent club, scoring twice in the 2016-17 I-League.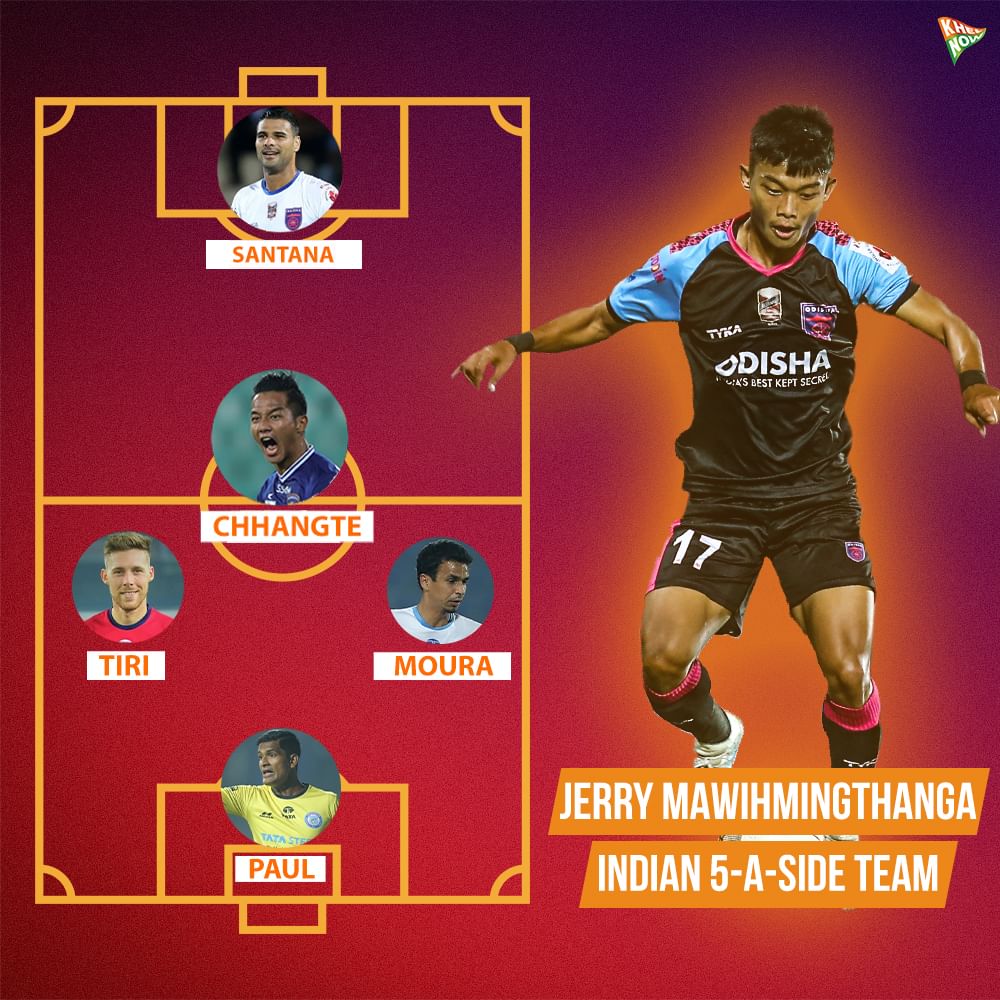 Although, he left them for Jamshedpur FC shortly afterwards, DSK Shivajians still hold a special place in his heart. "For me, DSK is like a family. They helped me develop as a player and become who I am now, by giving me a lot of opportunities. I was very young when I played with them and still got to play as many as 15 league matches in my first-ever season with them," he said, before lavishing praise on their former head coach Dave Rogers. "He is a good coach. He kept us highly-motivated, instilled confidence in us and helped us believe in ourselves. His methods, including his policy of pushing me beyond my comfort zone, have helped me a lot."
The youngster then joined Jamshedpur ahead of the 2017-18 season and teamed up with the likes of Tim Cahill. "Tim (Cahill) is a top man, he was very humble and a good friend to us — both on and off the pitch. He was always ready to help us," Jerry replied, upon asked about his relationship with the Australian legend. He also spoke quite highly of Steve Coppell and Cesar Ferrando, the two coaches who oversaw his time at the club. "Both Coppell and Cesar are very good coaches, but if I have to go with one name, I would choose Coppell as the one coach who influenced me the most. He was the one who gave me more opportunities to showcase my talent in the ISL," he explained.
ALSO READ: Stuart Baxter: There will be an emphasis on youth at Odisha FC
Having played for two seasons at the Jharkhand-based side, it was quite evident that Jerry Mawihmingthanga was getting ample playing time with them, yet, he chose to move to the newly-formed Odisha FC last year. "Odisha FC is a good club. The owner, the staff and my coach (Josep) Gombau were all very good to me and believed in me. So far, I've had only good experiences with them," the 23-year-old said. With the club doing fairly well in their first season itself, the move became all the more sweet for him, while his former club struggled to find form and finished at a lowly eighth spot on the league table.
"I was one of the younger players in Odisha last season and I learned a lot from senior players like Marcos Tebar and Xisco Hernandez. This time, the club has managed to sign many players even younger to me and I think ours is going to be a very interesting campaign," he went on. "I'm very excited to see my new teammates and start working with them. I also feel it is good that we have so many young players in our team."
Another thing that the player is looking forward to, is to work with the Juggernauts' new managerial staff comprising of Stuart Baxter, Gerald Peyton and Steven Dias. "I am really excited to be working under him (Baxter). It would be a whole new learning process and I hope that it would help me develop more as a player," he said. One aspect that has hindered his training progress — and everyone else's too, for that matter, is COVID-19 and the resultant nationwide shutdown. "Training has been very difficult because of the lockdown," the winger revealed, with a tinge of disappointment in his voice. "These days, I have been training at home a lot more than usual."
"Ahead of the next season, I would like to improve my goalscoring," he went on. "I am certainly aware that I am not a complete footballer already. I'm still learning new things daily and the end objective is to be a better player tomorrow than what I am today."
ALSO READ: Exclusive: Odisha FC's assistant coach Gerald Peyton reveals what fans should expect next season
Further, Jerry Mawihmingthanga also spoke of his aspirations to represent India, just like his favourite players. "Everyone dreams of representing the country. I already have the experience of playing with India's U-19 and U-23 sides and that has given me a lot of exposure, especially to foreign players and conditions. It has helped me become more mature as a player, so let us hope that I will soon become one among the best footballers in our country and that I will soon get a chance to wear our national colours" he concluded.
For more football updates, follow Khel Now on Twitter, Instagram and join our community on Telegram.