The tactician has pointed out that his co-ordination with Stuart Baxter will help the club grow.
Gerald Peyton has joined Odisha FC as their new assistant coach ahead of the upcoming campaign of the Indian Super League. The former Ireland custodian has a wealth of experience under his belt at the highest level, including a 15-year stint as a member on the coaching staff at Arsenal under the stewardship of Arsene Wenger.
He has also plied his trade in a coaching capacity at the likes of Vissel Kobe, AIK, and Fulham among his other assignments. In his latest endeavour, the Irishman has decided to team up with Stuart Baxter to help bring about a change in fortunes for the Juggernauts.
Explaining the reason behind his move to India, the coach began, "I think the first thing was Stuart had phoned me previously to say that he'd resigned from South Africa and about getting back together as a coaching pair. We have been successful in the past, so we focused on looking at everywhere that was interesting. Both our philosophies are the same. We want to go and build, develop and obviously where we work is important. We were both focused on carrying our success, so our motivation was to be successful."
The Bhubaneswar-based club have been rampant in the transfer market in their bid to get into the playoff spots next season. They have also shown the desire to build a side for the long-term by adopting a transfer strategy focused on snapping up some of the most promising young talents in the country.
Throughout his coaching career, Peyton has worked keenly with young players and helped them reach their full potential. During his time at Arsenal, he travelled with the reserves, trained them and played a key role in their development and smooth transition into the first-team. As such, his current club's philosophy of promoting young talent and giving them an opportunity to excel at the highest level fits perfectly with the coach's own footballing principles.
"I think when I first joined Stuart in Japan, our philosophy was to develop the youth and bring players through. We then went on to Sweden and developed the young players to come into the first-team and we were successful there by winning the league and qualification to the Champions League. I think that this philosophy is just on course with both how Stuart and I feel about development and building the club and the players all the way through the club."
Gerald Peyton spent 15 years at Arsenal from 2003 to 2018. Reflecting upon his time at the Gunners, he stated, "My first season there, we won the Premier League and we were the Invincibles. The second season, we won the FA Cup. I've won four FA Cups, we got to the Champions League final against FC Barcelona. We've won four Community Shields. We have the record in the Champions League for not conceding a goal all the way though until the final."
"We have qualified 19 times for the Champions League. There is only one other team in Europe who has qualified 19 straight times for the Champions League and that is Real Madrid. My time at Arsenal? I am very proud to have worked at Arsenal. I gave everything, my very best to the club in the development of players and I enjoyed my time there."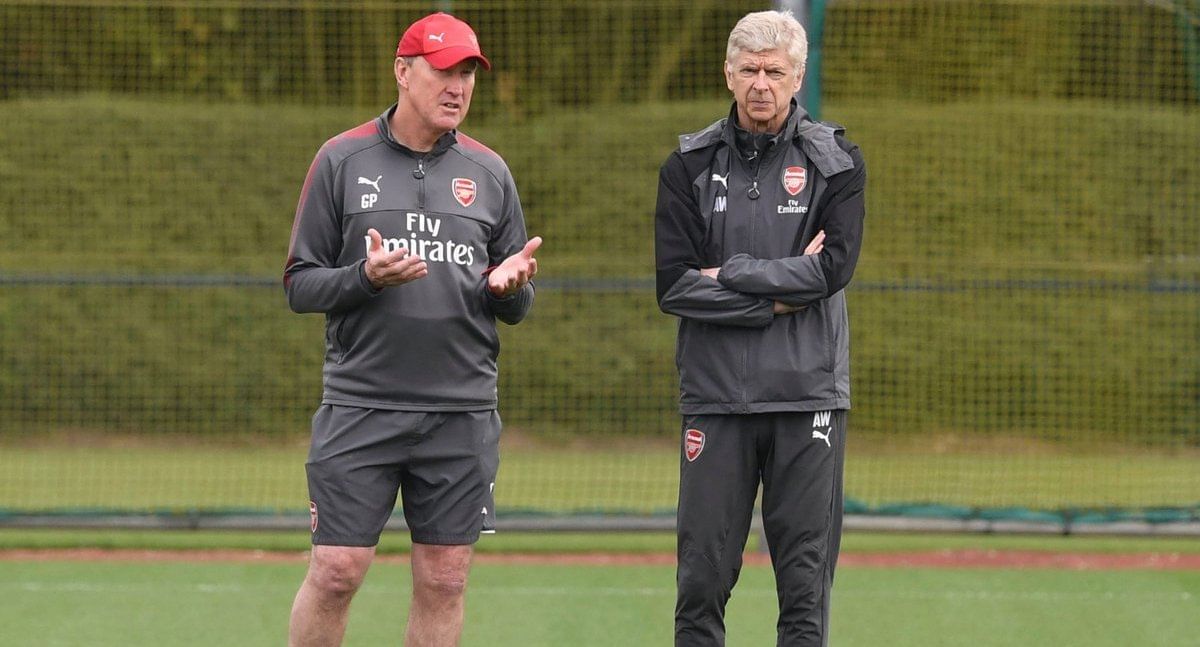 Having spent time in Japan coaching sides like Vissel Kobe and Shimizu S-Pulse in the J-League, Peyton is well-placed to speak about the development of the Japanese top-tier football competition and if there are any lessons the ISL could learn from it to accelerate it's own growth.
"Over the years, the J-League has had different coaches coming in from all over the world with different philosophies and different tactics. The Japanese players have developed. I think if you look at Japan, some of their players now play in Europe. Liverpool have a Japanese player, a lot of the German teams have Japanese players and they have reached a level where they can play at a very high level. The Japanese teams are well respected now in world football," he began
The Irishman further added, "When you look back that is the biggest lesson for me. The league is very organized, the stadiums are fantastic and the travelling is easy in Japan. They have developed their players and that is the biggest lesson that India can learn from their league football, is how can we develop Indian footballers to play in Europe and develop India as one of the best football teams in the world."
Gerald Peyton believes that the ISL is a developing league and the influx of different coaches and their varied philosophies will certainly help the Indian players to improve their technical prowess and tactical understanding of the game. He asserted that learning under the coaches and playing in a number of systems will prove to be beneficial for the local players, before adding that 'it is important to keep developing.'
Furthermore, he has previously worked with Stuart Baxter for six seasons, with three coming in Japan at Vissel Kobe and the rest at AIK in Sweden. In their time at the Swedish club, the pair won the double in the first season- league title and cup, in addition to taking the club into the group stages of the Champions League.
Shedding light on his relationship with coach Baxter, he remarked, "I know Stuart probably better than he knows himself. When you are looking for a coach who works together, we know each other and he knows me very well too. We are on a level that we know each other inside out, we have worked together and been very successful. So, when he asked me, 'Do you want to come back together?' I didn't hesitate after leaving Arsenal. I looked forward to working with him because he is a great coach."
Due to the ongoing COVID-19 pandemic, it looks inevitable that games will be played behind closed doors next term. Peyton provided his thoughts on the potential impact of playing without supporters in the stadiums.
"Safety is going to be the main issue. When the league actually starts, obviously there won't be any crowds. I think it will affect the players. When you are playing in front of the crowd, the adrenaline, it lifts you. There will be some sort of affect on the team. Also, wearing face masks, washing your hands, doing all the things that you have to do to stay safe. There will be an effect and Stew (Stuart Baxter) and I will have to deal with those things when we come to them and get the best out of this squad, as we possibly can and hopefully be successful."
He went on to add, "I think the motivation, it is going to be down to me and Stuart to make sure that everybody is 100% mentally right and that everybody is fit, everybody is tactically aware and the players are ready to give 100% every match. That is how we look at it – very positively, give your best, and let's win games."
Lastly, Peyton provided an insight into the coaching dynamics and partnership shared by Baxter and himself. He emphasized the importance of maintaining a harmonious relationship and believes that the duo share a great understanding as a result of their past ventures together.
"When I worked with Stuart in Japan at Kobe, I will work exactly the same with Stuart as I did then. When I worked with Stuart in Sweden for three years, I worked with him as an assistant coach and helped him in every other area. Stuart got sent off in the first Barcelona game, so when we went to Wembley to play Arsenal, I took over as the head coach on the bench that night and took the team and handled everything."
"I think the most important thing is we have a great relationship as coaches. Knowing what Stuart is like under pressure, knowing how we are when we are winning, keeping our feet on the floor, helping in with signings and taking responsibility for everything is the most important thing in a coaching partnership. Obviously the fact I have 49 years of experience and Stuart's is the same as me and working at the levels we have worked at. I think we both look very positively everywhere we go and I am expecting success with our experience," Gerald Peyton concluded.
For more updates, follow Khel Now on Twitter and join our community on Telegram.