The Lithuanian striker will be looking to get back to goalscoring form at his old stomping ground.
The January transfer window has already opened up a lot of activity in the Indian Super League. Clubs are busy in signing their required players as teams strengthen themselves for the second half of the season. Despite it being early days, a significant move was that of Nerijus Valskis to Chennaiyin FC. The Lithuanian completed a return to the club where he won the Golden Boot in the 2019-20 season.
The arrival of Valskis is sure to be a shot in the arm for the Marina Machans. A second coming for the striker has now set sky-high expectations for him. His signing is also a real state of intent from the Marina Machans as they look to consolidate their position in the playoff spots.
Not only in intent, but Valskis also fits hand-in-glove for Chennaiyin FC's requirement in the attack. However, could he be the answer to Chennaiyin FC's goalscoring woes for a second time? Let's find out.
Chennaiyin FC's struggles without Nerijus Valskis
The Lithuanian has a prolific tally in the ISL, scoring 25 goals in 44 ISL games. Valskis had his best season with Chennaiyin FC in 2019-20, scoring 15 and assisting six in 20 games.
The same cannot be said about his new employers, Chennaiyin FC. Since his departure to Jamshedpur FC in 2020, Chennaiyin FC have managed to score only 26 goals in the next season and a half. Last season, the club's top scorer was Lallianzuala Chhangte with four goals. Valskis meanwhile scored eight in his first season for Jamshedpur. Chennaiyin FC have signed five forwards since Valskis' departure. But none has come close to recreating the magic of the 34-year-old in his first spell.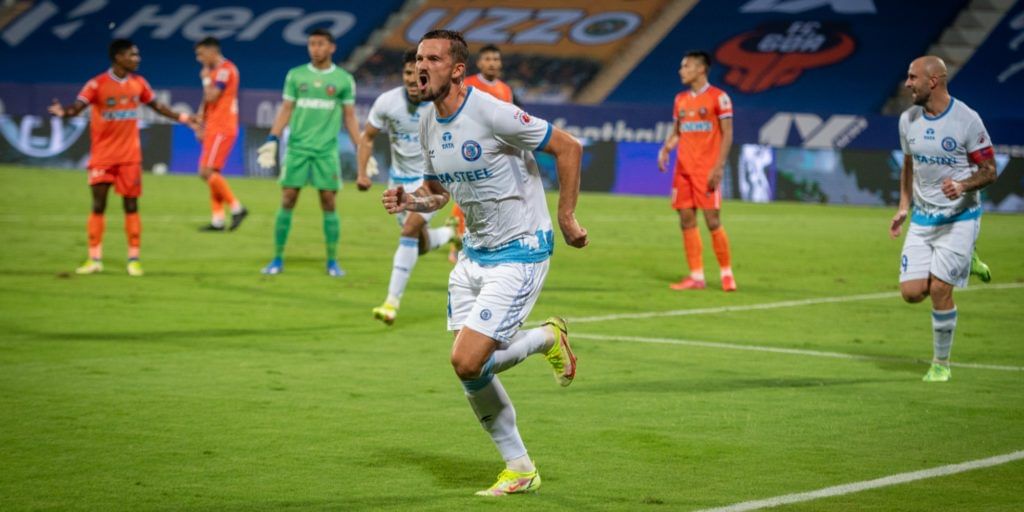 Chennaiyin FC's prolonged goalscoring problems
In the ongoing 2021-22 season, the Marina Machans are once again the team with the lowest goals in the league (nine in as many games). Despite their best attempts, the profligacy of the forwards has put added pressure and responsibility on the midfield to drive things all around the park. Most of their creative and goalscoring load has fallen on Mirlan Murzaev, Anirudh Thapa, and Vladimir Koman.
Chennaiyin FC's struggle is not to create chances but to convert them. The team's xG tally this season stands at 12, but they have scored only nine. In fact, their xG tally is higher than that of Hyderabad FC (11.3) and Kerala Blasters (10.6), who are above them in the table. Even Odisha FC, who have scored twice (18) of that of the Marina Machans, have an xG tally of 11.5.
Despite their attacking shortcomings, Bozidar Bandovic has kept the team organized in defence and has made them play good football. But, only two out of their nine goals have been scored by the club's forwards (Rahim Ali and Lukasz Gikiewicz).
Therefore, there is a clear lack of confidence in front of the goal. This has led to consternation and their attacking quality has been questioned time and again. This is where the arrival of Valskis is set to bolster the Marina Machans' ranks.
The answer to Chennaiyin FC's goalscoring woes
Nerijus Valskis provides a massive upgrade on every Chennaiyin FC forward. In his previous spell with the club in 2019-20, the Lithuanian scored a goal every 108 minutes and contributed one every 77 minutes. Therefore, he brings end product to the Marina Machans' chance-creation quality.
The southerners have created 13 big chances, the third-highest in the league this season. But they have missed 10 of those chances, the joint-highest (along with Odisha FC). They also take close to 11 shots per game but hit only three on target on average every game (27%), the second-worst among all ISL teams. Only East Bengal have a worse shot accuracy rate this season.
Valskis averages a shot accuracy of 49.6% and a goal conversion rate of 23.76%. These stats place him well among the creme-de-la-creme of forwards in the league. Standing at 6'1″ (183 cm), he provides an aerial threat as well for Bozidar Bandovic's men. What's more? 13 out of his 15 goals came from inside the box. The 34-year old is a fox-in-the-box and his predatorial instincts are sure to help.
How does Nerijus Valskis fit in Bandovic's tactical plan?
Valskis' return does not only make sense through historical evidence, but it also does tactically. He will fit well into Bandovic's tactical formations. The Montenegrin coach prefers to have a front two. So far this season, he has preferred to go with a 3-5-2 or a flat 4-4-2 in defence.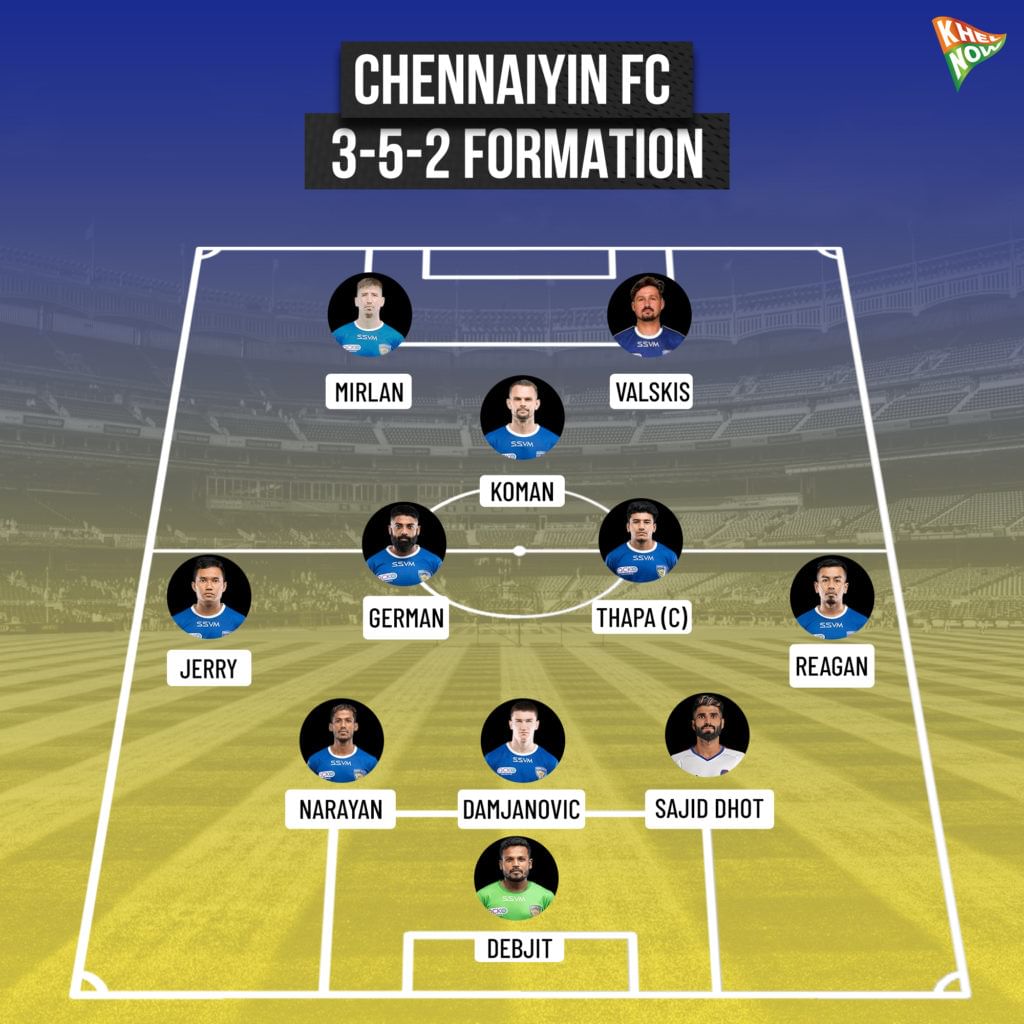 That works well to Valskis's strengths as he has thrived in a two-man combination. It was Andre Schembri in his previous stint at the club, with whom he combined prolifically in 2019-20. This season, with Mirlan's ability to trouble defenders with his on-ball skills, Valskis would find an able partner.
His combination upfront would further decrease the load on the midfield. It will help to bring out the full creative potential of the duo of Anirudh Thapa and Vladimir Koman and for the team to feed off of Valskis' prolific nature.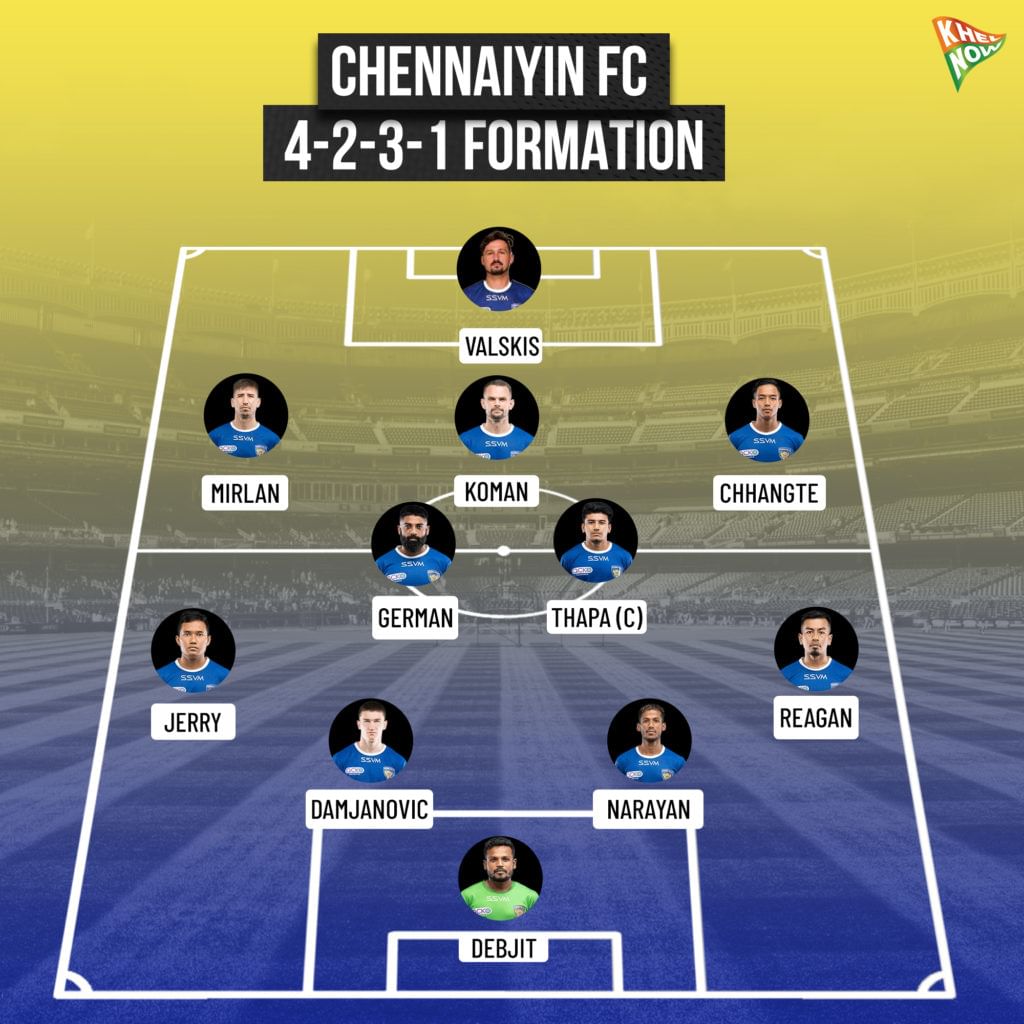 Ideally, Valskis likes to play as a left striker or a center-forward. But with Mirlan or Chhangte playing on the left, Valskis might have to play on the right or in a center-forward role. This would be possible should Bandovic play three up front.
Hence, his positional flexibility upfront will give Bandovic more options to shape his team creatively. Ultimately, the Lithuanian will be better played as a target man in any formation.
What do Chennaiyin FC need to do to get the best out of Nerijus Valskis?
Despite all this, Valskis' arrival though isn't the only solution for Chennaiyin FC. The Marina Machans have a lot more areas to improve other than their goalscoring. These areas are in direct relation to the club getting the best out of their star striker.
An important area of improvement is crossing. Chennaiyin FC complete a woeful 17% of their crosses. Therefore, they need to improve their crossing accuracy to take full advantage of Valskis' physical abilities. Chennaiyin FC also win only 14% possession in the final third. This implies that they could continue playing the counter-attacking style preferred so far under Bozidar Bandovic. But they need to be more proactive in getting possession higher up the pitch.
Valskis could solve the thirst for goals for Chennaiyin FC. Therefore, it would help Chennaiyin FC to keep their wingers wide enough to supplement their full-backs in crossing better. It increases the width and gives more control of the ball. It also helps Chennaiyin FC involve more players in the attack. They will help build up the play which cannot be expected a lot with Valskis. Although he has shown he can assist as well, Valskis only completes 56% of his passes on average.
Therefore, while Valskis needs to pick up his goalscoring boots, Chennaiyin FC as a team should focus on playing around him, be it on counter-attacks, or in possession, or even in corners, or set-pieces. Chennaiyin FC also need to leverage Valskis' quality from within the box and engage him closer to the goal.
Can Nerijus Valskis rewrite history?
As history would have it, the Marina Machans did not score a single goal in their first four games in the 2019-20 season. It was Valskis who broke the duck then. Chennaiyin FC would love for history to repeat once again. The two-time champions have once again turned to their old marksman for goalscoring inspiration.
In a league dominated by veteran goalscorers like Bartholomew Ogbeche and Igor Angulo, age will certainly not be a hindrance for the club or the 34-year old. He has shown his class with the Marina Machans once. If he hits his form from 2019-20 again, then Chennaiyin FC could see a lot more balls bulging the back of the net for the rest of the season.
For more football updates, follow Khel Now on Twitter, Instagram and join our community on Telegram.