The 53-year-old revealed that bio-bubble experience was a key factor in shortlisting the club's foreign signings.
Hyderabad FC are quickly gearing up for the eighth edition of the Indian Super League (ISL). The Nizams, under head coach Manolo Marquez, finished fifth and narrowly missed the playoffs last season, which is why they would be eager to make amends this time around.
The club have made several impressive signings like that of Bartholomew Ogbeche, Edu Garcia, Aniket Jadhav and so on. They have also managed to retain the majority of their key names from ISL 2020-21, including Akash Mishra, Chinglensana Singh and Asish Rai, despite interest in them from multiple sides. One key loss would be that of Liston Colaco – however, Marquez believes that the side have enough replacements to fill up that void.
The Spaniard, who signed a two-year extension to his contract in April 2021, spoke to Khel Now recently. During the course of the interview, he touched upon several topics including lessons learned from ISL 2020-21, the club's new signings and the hopes ahead of the new season:
Why Manolo Marquez signed for Hyderabad FC last season
Marquez's appointment at HFC happened out of the blue last year. Originally, it was Albert Roca who was set to continue as the club's chief tactician. However, a sudden turn of events saw Roca accept the role of fitness coach at La Liga giants FC Barcelona, with his namesake appointed as his replacement.
"Yes, things moved pretty quickly," Manolo Marquez said, remembering those days. "I knew Albert Roca before and we have the same surname but no, we're not family. Albert and I studied together for the UEFA Pro Licence. Afterwards, we were together in a training camp in Helsinki, Finland.
"After the training camp, we returned to our city, Barcelona. Less than two weeks later, he approached me once again. That day, he told me how he had an offer from Ronald Koeman, the then-FC Barcelona manager to join his staff at the club.
"Ultimately, he accepted Koeman's offer and referred my name to the management at HFC. Two Zoom calls later, my appointment was confirmed. More than a year later, I now think that this was one of the best decisions that I ever took in my life. I am very happy here, at Hyderabad FC in particular and in India in general. That is also why I did not have to think much when the club approached me with an offer to extend my contract," he said.
A review of HFC's 2020-21 season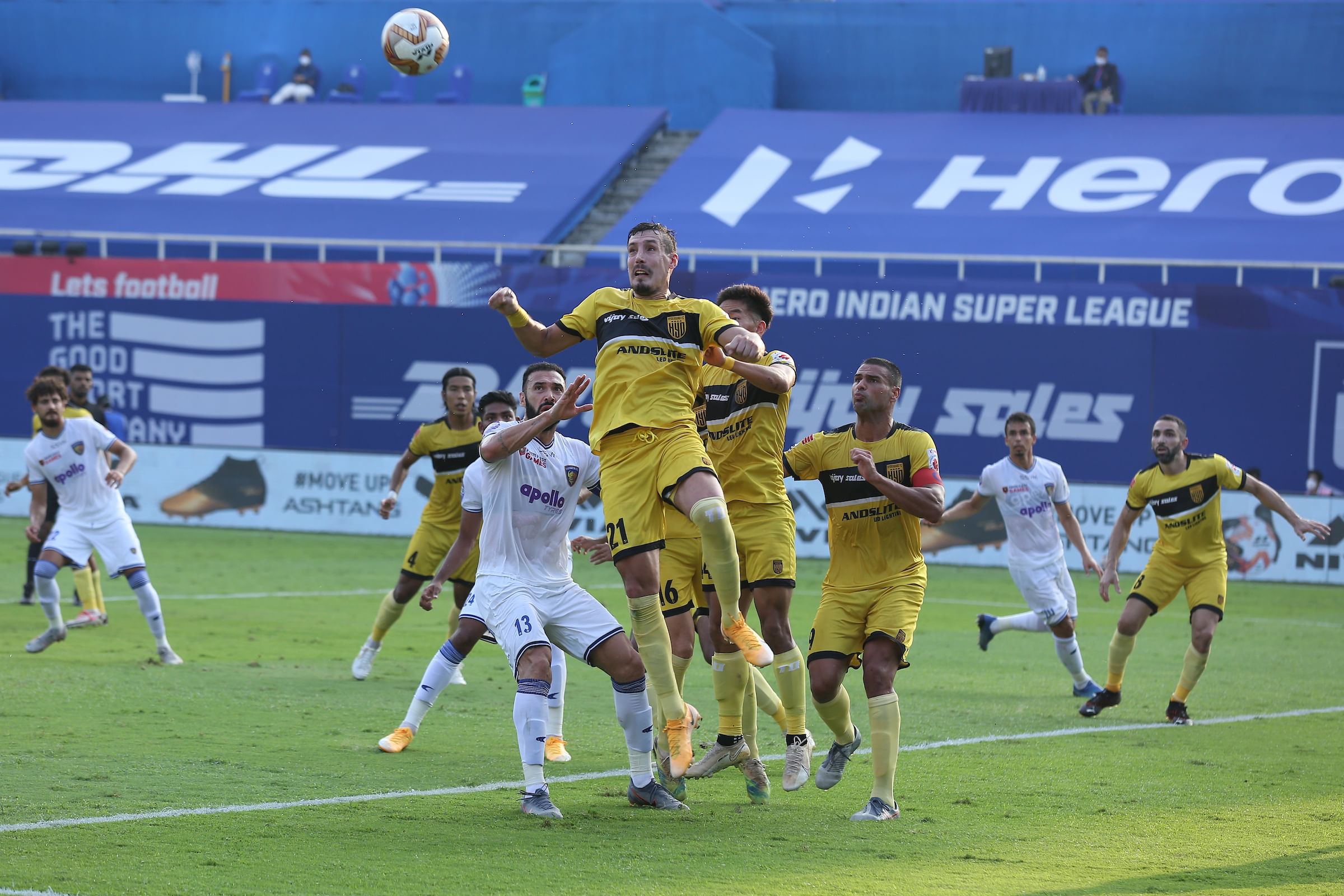 Hyderabad FC narrowly missed out on a play-off spot, after failing to register a win against FC Goa in the final game of the league stage.
"We were a part of the playoffs race till the last minute of our last league stage game of the season. In the 94th minute, FC Goa's Ivan Gonzalez made a goal-line clearance. Had that shot gone in, we would've finished in the top four. But, of course, it's not just about this one chance. To reach the playoffs, you have to do well in all the 20 league games and ultimately, the teams that got there last season did just that. They all deserved their final positions on the points table," Manolo Marquez said, when asked about what he felt after the game.
He further added, "On the other hand, we were happy and satisfied with our performances. We had many problems during the course of the season – for example the injuries suffered by the experienced foreigners. On those occasions, the young Indians of our squad rose to the occasion and proved what they're capable of. I can't name any one of them because all of them – Akash, Asish, Sana (Chinglensana Singh), Hitesh (Sharma), (Mohammad) Yasir, Liston (Colaco) and Rohit (Danu) – each of them did well. They have great potential, as evident from the many training sessions where I watched over them. They also play with a lot of confidence.
"Apart from that, things like the way a team plays is also important sometimes. But, I would still prefer results and a top four spot than a visually-pleasing football style, any day. We would definitely try to get there in ISL 2021-22," the 53-year-old quipped.
Pre-season preparations ahead of ISL 2021-22
Khel Now asked Manolo Marquez if he is happy with Hyderabad FC's preparations ahead of the upcoming season. To this, he replied, "Our last official outing was against FC Goa in ISL 2020-21, on February 28. We then started our pre-season preparations in September, which means that there was a gap of over six months.
"It was difficult to decide when we'll start the pre-season camp and how we can organize it. 'Should we start in Hyderabad itself or begin in Goa in the bio-bubble' was one of the questions in front of us. One thing that is very important is, we want to grow as a club. This is why we have a reserve team who we sent to the Durand Cup. They will participate in the upcoming IFA Shield. As of this moment, I think Hyderabad FC is trying to grow as a club. Hence all of their teams' development should be considered – the U-15s, U-18s, Reserves, main t meam and more," Marquez explained.
"Regarding the main team who will take part in the ISL, yes we've done our best. We played pre-season friendlies at Hyderabad and also in Goa before and after entering the bio-bubble. Some of our reserve team players who got minutes at the Durand Cup have also been promoted to the main team."
Bio-bubble and related woes
The Indian Super League presented a unique opportunity to clubs last season, by conducting the league in a bio-bubble in Goa. This was a first-of-its-kind experience for most players and club staff, and their stories have been told over and over again. Most of those tales are not so positive, giving the bio-bubble a rather bleak impression. Over the past few months, players have decided not to return to the league due to the bio-bubble and many have understandably spoken well about the real problem that is 'bubble-fatigue'.
"I think everyone share similar opinions on this case. Even the coaches of various ISL clubs – including myself – speak with each other about the bio-bubble situation. Of course, ISL 2020-21 was my first experience too in a bio-bubble. And I think the mental state of teams inside a bio-bubble and their position on the points' table is mutually dependent," Manolo Marquez said, voicing his opinion on the same.
"If you're high up in the table and challenging for the top four spots and maybe the ISL trophy, life tends to be easier in a bio-bubble. That helps you perform well going forward too. On the other hand, if you're in the 9th, 10th or 11th place on the table, life is going to be very tough. That's going to affect your performances in the future as well.
"In our case, we had a good team with many good people that made life easier for each other. A bio-bubble doesn't involve just the footballers. Them, along with the coaching staff and other personnel together made it 47 or 48 people in HFC's bubble last season. And each of us had a very good relationship with one another. Some players did face an issue with the bio-bubble, like Aridane Santana who chose not to continue for the same reason."
HFC's summer signings and ISL 2021-22 squad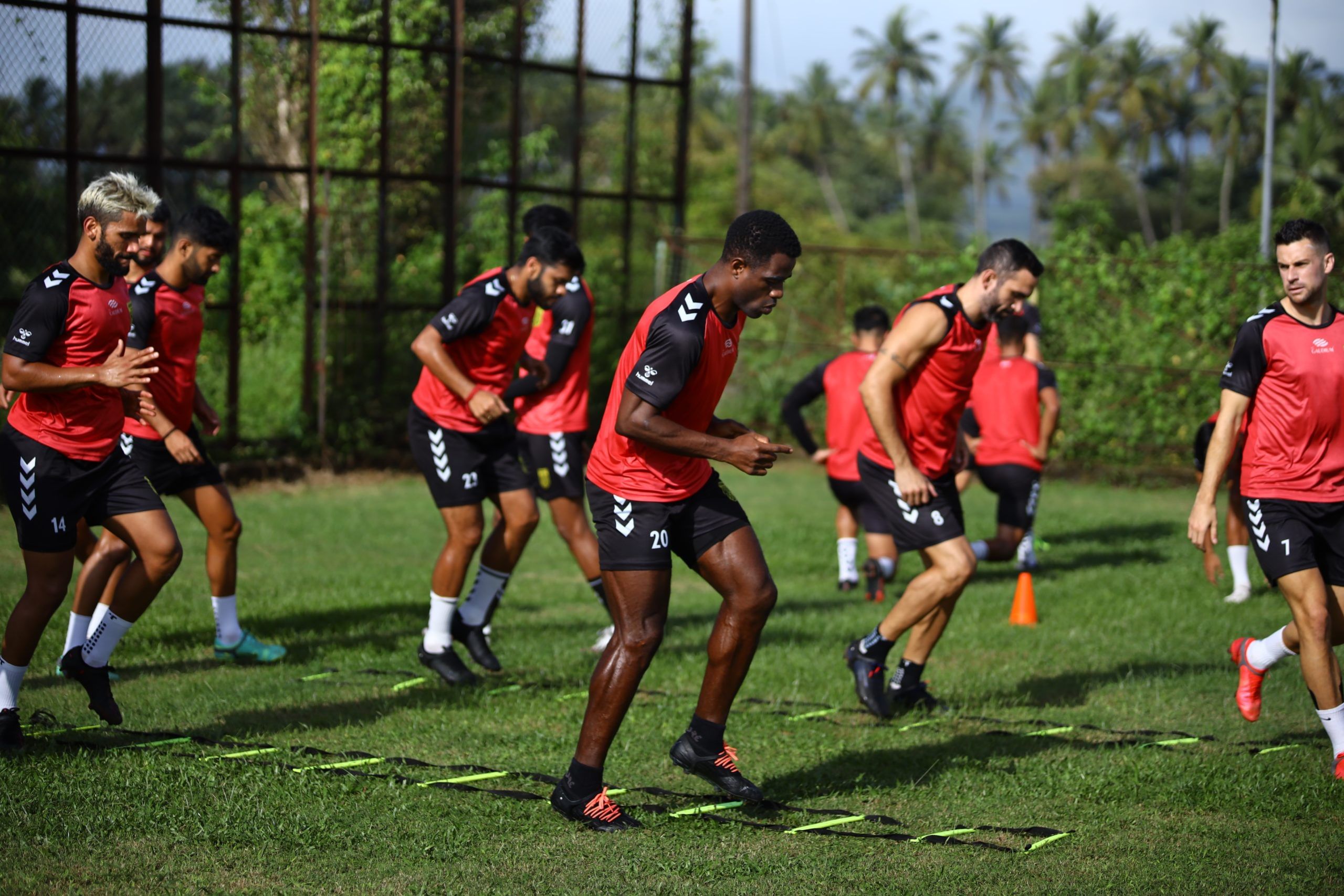 Hyderabad FC have an interesting set of foreigners this season. All but one of them have been tried and tested in the ISL previously. They also have a good track record of performing in the league. The only other foreigner, Javi Siverio, is a 24-year-old striker – a profile that clubs in the league don't usually prefer.
During the course of his interaction with Khel Now, Manolo Marquez also shed light on these signings. "The bio-bubble and the experience of living in such a set-up ended up playing a crucial role in our signings. That, along with our style of play emerged as the main reasons why we signed each of our foreign players. Of course, Joel (Chianese) and Joao (Victor) were retained as they had a good season last time. We wanted to retain Aridane (Santana) and Odei (Onaindia) too mainly, but both of them got good offers and chose to accept them," he said.
"This is how Edu (Garcia), Bart (Bartholomew Ogbeche) and Juanan (Gonzalez) were signed. The final signing, Javi Siverio, was my player at UD Las Palmas and I know him perfectly. He is a guy who played in the Spanish Second Division League and wants to show his level in India. It is not normal to sign a young striker in the ISL – so both ourselves and he himself wants to prove what he is capable of.
"About the Indian players – we are happy to retain most of our core players from last season. One key departure was that of Liston's – but that is football. Club, in general, try to grow and develop players and occasionally, a bigger club will price out some of their best players. We don't have any complaints about it and we believe that we have enough replacements in the squad," Marquez explained.
Ambitions ahead of ISL 2021-22
Finally, the Hyderabad FC tactician also spoke on the million-dollar question – where would HFC finish at the end of the league?
"Regardless of which coach you ask this question, the answer will more or less be the same, to explore the possibility of finishing at a playoff spot. We would be doing the same too and I can even be brave and say that we do have a chance of winning the ISL too. But, a more practical approach, as of now, would be ready for the first game and then take up one challenge after the other," he said.
"To the Hyderabad FC fans, we'll definitely try our best. We'll work hard to obtain the best results. This applies for every match from the first game to the 20th game," Manolo Marquez concluded.
For more football updates, follow Khel Now on Twitter, Instagram and join our community on Telegram.