The youngster is enjoying a lot of precious game-time in the ongoing season.
The Indian Super League has a lot of youngsters who will potentially lead Indian football in the future. Among those stars is Rohit Danu, who plays for Hyderabad FC. The 19-year-old is enjoying his time at the club and is now in the second season since joining from the I-League, where he became the competition's youngest goalscorer.
Players like Akash Mishra, Aniket Jadhav, and more have gained a lot of exposure because of Hyderabad FC's tendency to give young Indian players a lot of game-time. Rohit Danu falls in the same category as well. He is developing as a forward and also plays as an attacking winger whenever the manager requires him to.
In an exclusive conversation with Khel Now, the forward talked about his development, playing alongside experienced foreigners and more. Keeping the focus on the exceptional forward, here is what he had to say on various different topics: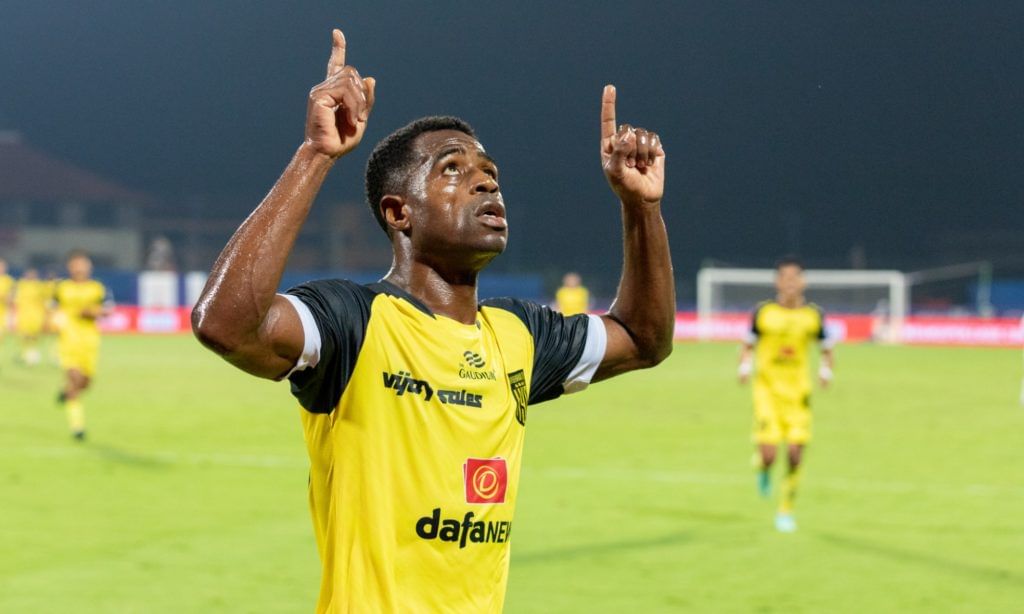 Beneficial to play with Bartholomew Ogbeche
Bartholomew Ogbeche leads the goalscoring charts this season and also broke Ferran Corominas' long-time record of 48 ISL goals. Speaking on his experience of playing alongside such a celebrated striker, Danu said, "Ogbeche is a very experienced player.
"It has been very beneficial for me to play with a player like him, as I am learning new things in my practice sessions. They help me to improve my game and as a player."
No pressure being on top
Hyderabad FC have taken the league by storm this year and have been on the top of the points table for multiple days. A young player like Rohit Danu believes that being on top of the table is not pressurizing as such.
"There is no real pressure being on top of the league table. All we have to do is to stay focused, confident and ready for the upcoming challenges," the former Indian Arrows player explained.
Staying fit inside bubble is challenging
One of the biggest challenges for each team and player this year is the life inside the bio-bubble. There are times when teams are put into isolation when the bio-bubble sees breaches. Staying mentally and physically ready in such situations is tricky.
In this regard, Rohit said, "Yes, it is a little challenging to stay physically and mentally ready for matches inside the bubble. But, all the players maintain themselves well inside the bubble too and now we have adapted to these situations. We know we are all safe and we only have to focus on football, which makes it easier."
Learning new things every day
As mentioned before, Rohit Danu is one of the most promising players in the ISL. He will certainly grow as a striker with every minute of game-time. Speaking in this context and this being his second season with HFC, Rohit added, "This is my second season with Hyderabad FC.
"This club has been very crucial in developing me as a player. I am learning new things every day, I want to work hard and contribute to the success of my club."
For more football updates, follow Khel Now on Twitter, Instagram and join our community on Telegram.