The club put up a dismal showing and failed to reach the playoffs yet again.
It was another season of sour grapes for Chennaiyin FC. For the second campaign running, the Marina Machans missed out on the playoffs. They barely put up a consistent run and were outplayed tactically, often playing catch up. It was a case of never getting into second gear for the club.
It seemed that things would be on the up with a new coach and some savvy buys. Chennaiyin FC invested well in youth and experience alike. But, in the end, the players couldn't connect where it mattered, on the pitch.
They started very well, going undefeated in their first four games. But, that was as good as it got. As a result, the two-time champions fell off the playoffs race rather meekly. After winning three of their first five games, Chennaiyin FC won only two of their remaining 15 games. Goals remained the "Achilles' Heel" of the club once again, as they ended up as the lowest scorers in the league for the second season running.
Fact Sheet For Chennaiyin FC in Indian Super League Season 2021-22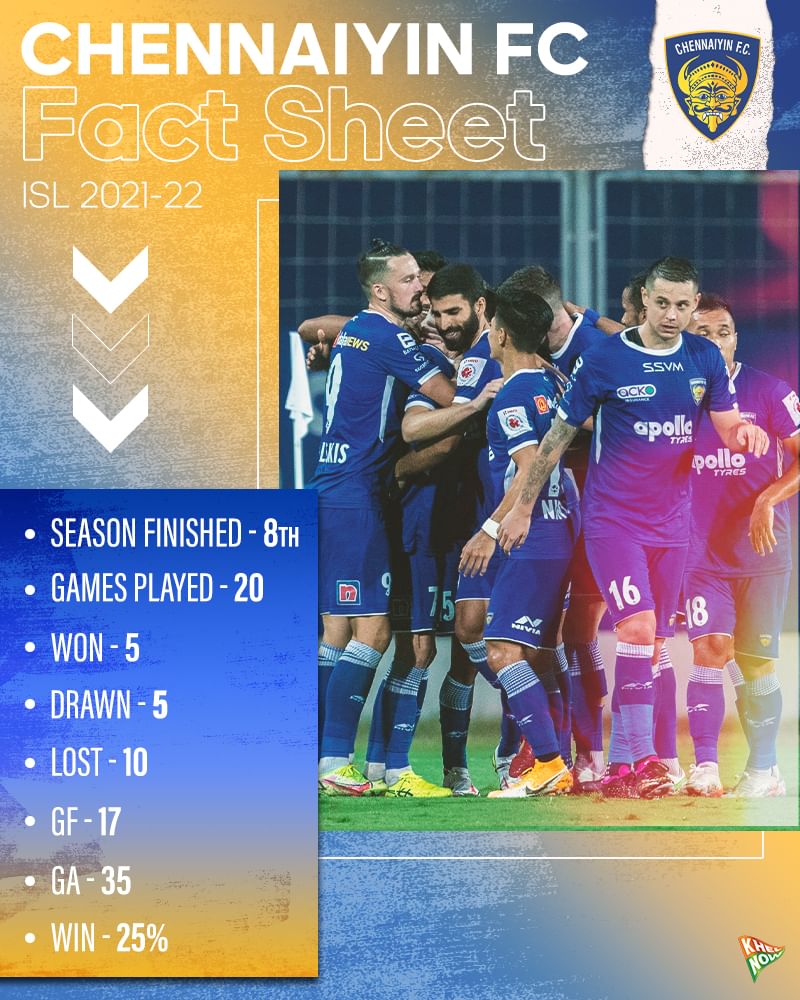 Top Performers
Vladimir Koman
The 36-capped Hungarian was brought in to make up for Rafael Crivellaro's absence. While he couldn't match the Brazilian's output, Koman was by far the most consistent performer for Chennaiyin.
The midfielder led his side in touches, passes and chances created. He scored thrice in the league and assisted once in 17 games. Koman seemed a cut above the rest in the squad and his combination with Anirudh Thapa was one of the few bright spots for Chennaiyin FC this season. Koman averaged 76% pass accuracy, while completing 54 passes a game.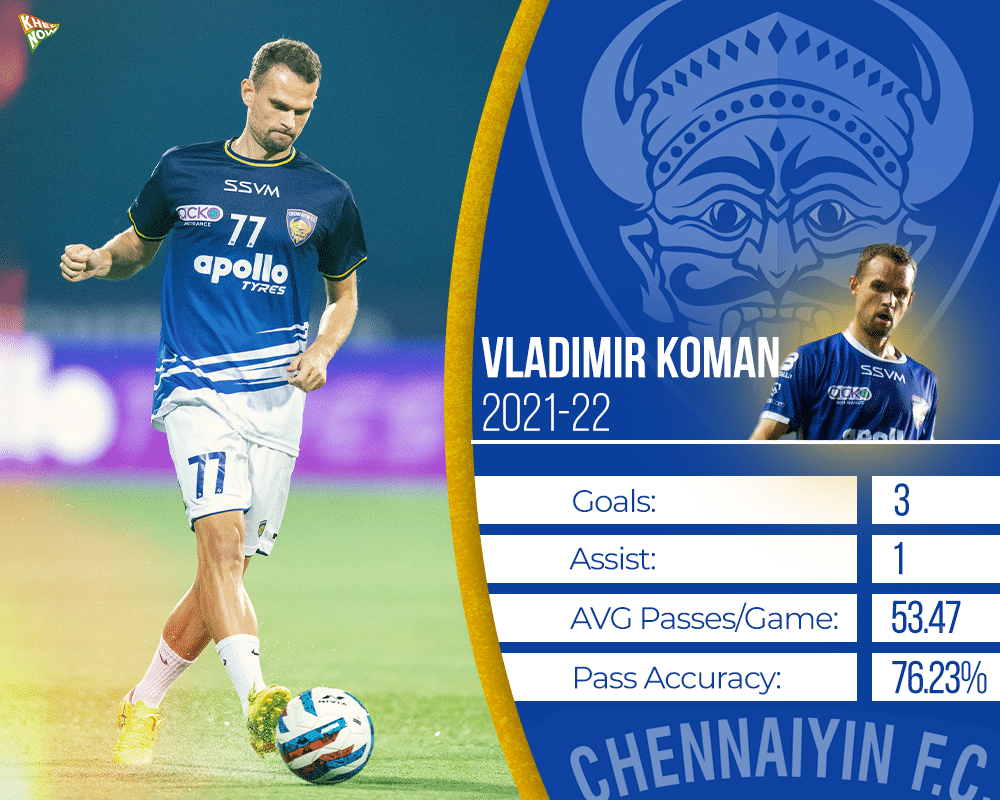 His most important contributions came in tight wins against Hyderabad FC and NorthEast United, where he scored the winner and against Jamshedpur FC, where he assisted the winner. Koman showed quality, commitment and work-rate, but unfortunately couldn't inspire his side a lot.
Slavko Damjanovic
The Serbian centre-back missed only 134 minutes of action for his side this season. The 6′ 6″ centre-back led his defence very well throughout the season although the stats may say otherwise. He formed a reliable centre-back partnership with Narayan Das and Sajid Dhot.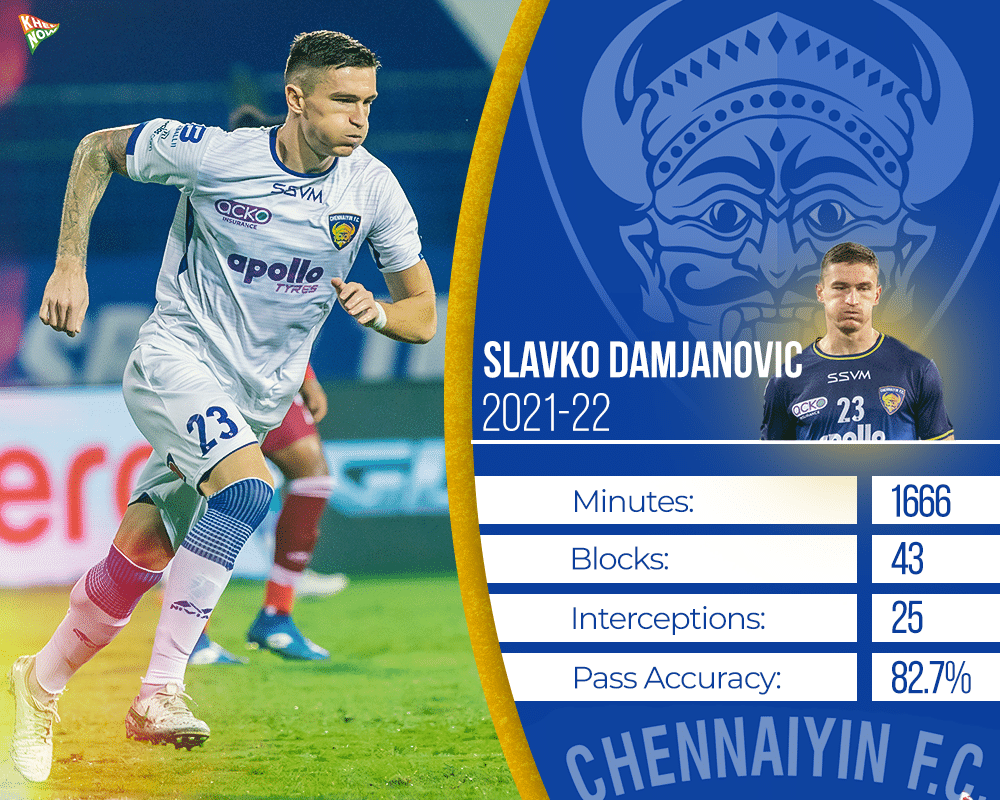 Damjanovic averaged 3.4 tackles and interceptions per game. He also made close to five clearances every game. Despite playing at centre-back, Damjanovic completed 32 passes a game at an 82.7% passing accuracy.
He was an impenetrable presence in the first half of the season making the Chennaiyin FC defence a tough nut to crack. But unfortunately, opposition teams read him well and were able to get the better of him on more than one occasion as the season progressed. Nevertheless, Damjanovic was one of Chennaiyin FC's top performers.
Narayan Das
The second-most capped player in ISL history brought his experience and quality to the side. The last few games notwithstanding, Narayan impressed in defence throughout the season. He showed versatility, filling in at left-back and left centre-back.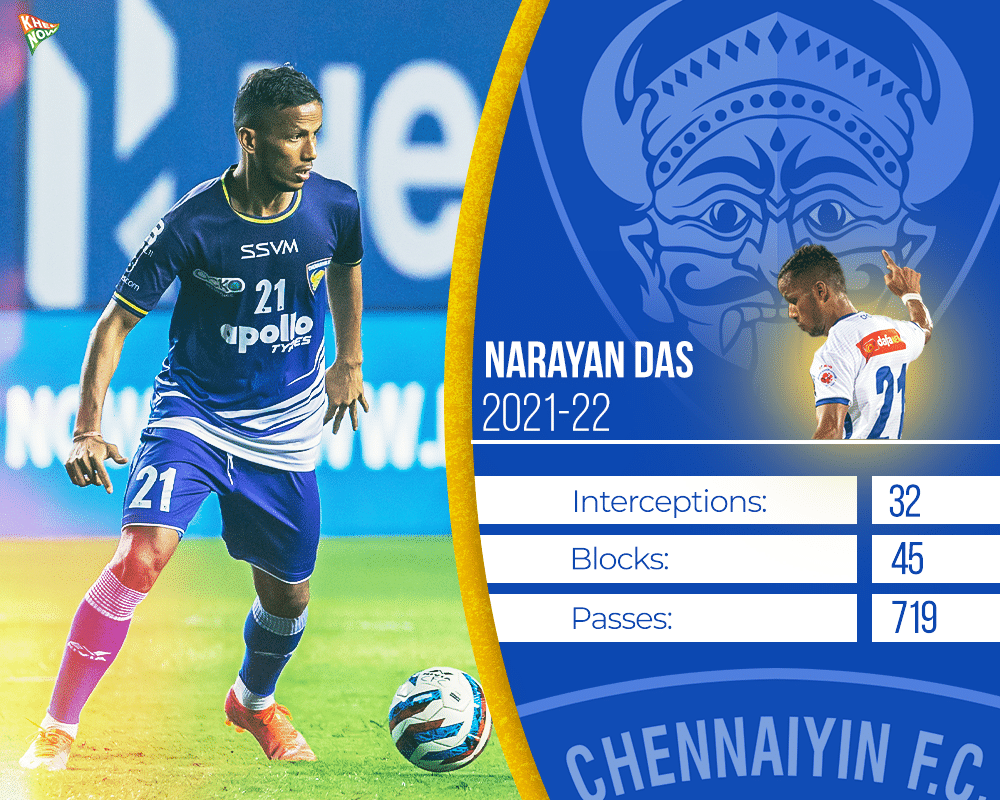 Das averaged 4.2 tackles and interceptions per game and was the aggressor in the three-man defence under Bozidar Bandovic. He ranks highest in the Chennaiyin FC squad with 32 interceptions. He also completed the second-most number of passes (719) by any CFC player this season — behind Vladimir Koman (909).
Although his form dipped in the latter part of the season, Das proved that he has the calibre to continue doing well in defence for the Marina Machans.
Under-Performer of the Season
Lukasz Gikiewicz
Lukasz Gikiewicz was brought in to shore up Chennaiyin FC's attack and did everything but that. The Polish international never looked like settling and was seen tugging opposition defenders' shirts more than playing on their shoulders.
Gikiewicz committed 23 fouls this season, the most by any CFC player. He seemed to be more intent on playing in defence rather than attack. He averaged 15 passes per game at a 63% accuracy rate. For a player who was more visible in the defensive half, he made only one interception all season and averaged one tackle per game.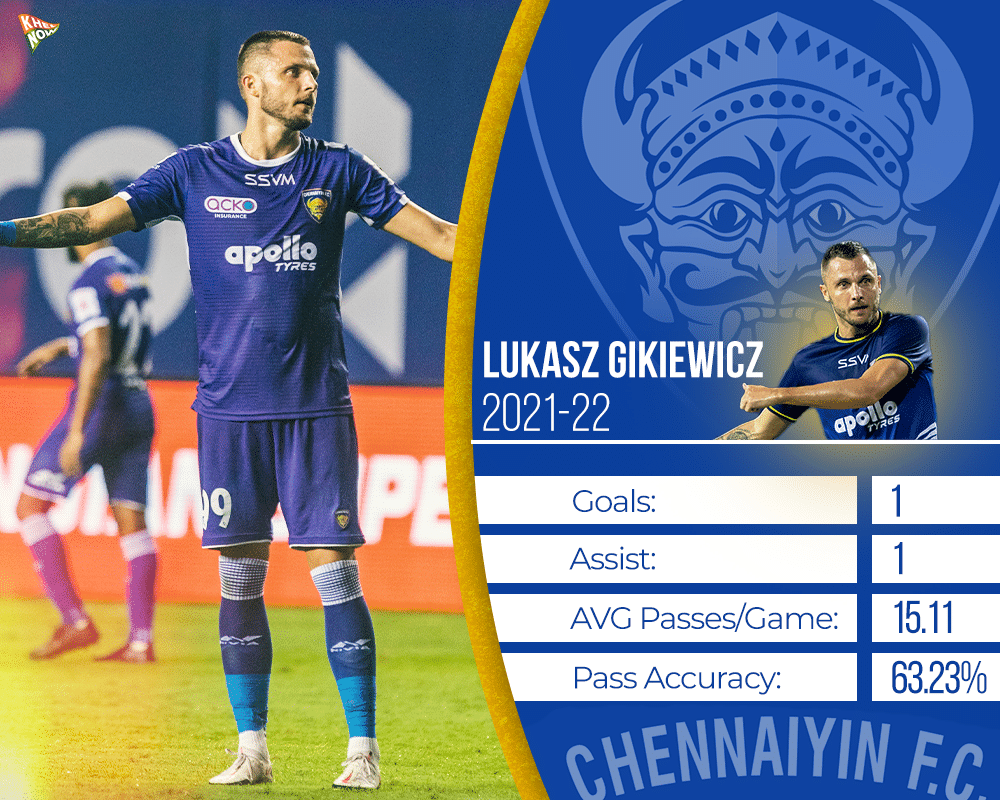 Chennaiyin FC's goalscoring woes this season can be perfectly encapsulated by citing the attacking ineptitude of the Polish forward. He never showed any inkling to commit himself forward and getting on the end of chances in the box. Gikiewicz ended the season with a solitary goal and an assist respectively. He also missed a penalty in a 2-1 win against Odisha FC.
Top Performances
1. Hyderabad FC 0-1 Chennaiyin FC
2. Jamshedpur FC 0-1 Chennaiyin FC
3. Northeast United 1-2 Chennaiyin FC
Manager's Report Card
Chennaiyin FC roped in Bozidar Bandovic who came on the back of winning titles in the Thai Premier League. As mentioned before, Bandovic got the side off to an undefeated start. But, his emphasis on compactness and a safety-first approach curtailed Chennaiyin's attacking capability.
It could also be said that Bandovic didn't have the best set of players to implement his tactics. After all, he led Buriram United to two Thai Premier League titles in 2017 and 2018. His side aggregated a record number of points in both campaigns as well. Bandovic also came with the experience of coaching Olympiakos and Buriram in the UEFA Champions League and AFC Champions League knockout stages respectively.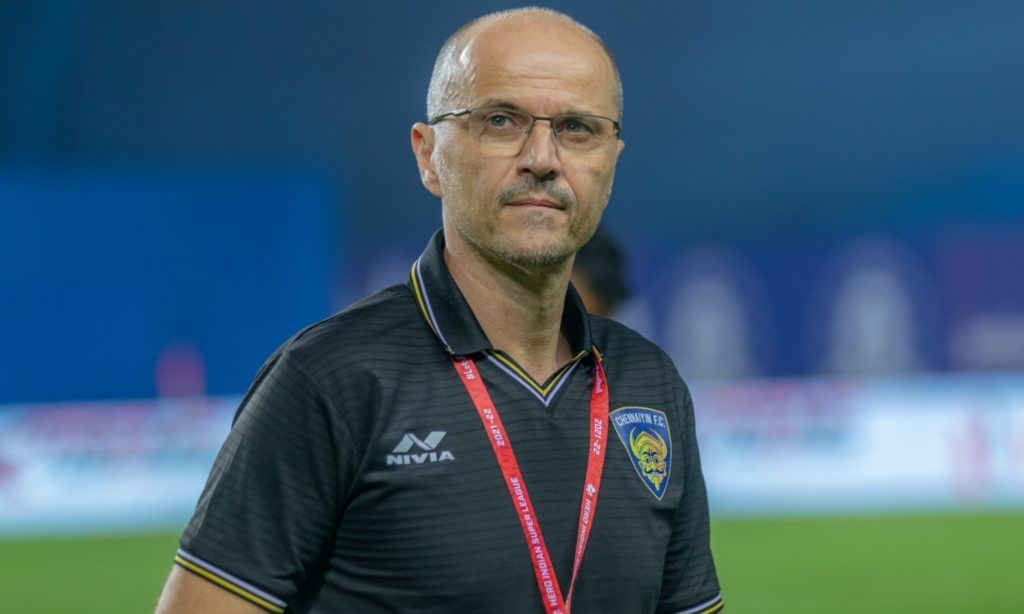 The side's frailties and lack of quality under the Montenegrin unravelled sooner rather than later. Oppositions outplayed them in possession and pace. While Bandovic did back his players to come good, it became evident that Chennaiyin FC didn't have the quality (barring a few players) to compete with the top teams. Neither did they have the planning to do it.
The tactician was relieved of his duties on 10 February after a humiliating 0-5 defeat to FC Goa. The club's assistant coach Sabir Pasha took over and fared none better, as the side didn't win a single game out of the four that he oversaw. They let in 10 goals and scored only three in the last four games.
Lessons to be Learned
Chennaiyin FC aren't two-time champions for reason. But, over the last few years, their recruitment has been lacklustre, to say the least. From players to the backroom staff, the club have regressed in their recruitment policy. Chennaiyin FC were also one of the last teams to finalize their squad and even their coach this season. Teams like Kerala Blasters and Bengaluru FC hired their coaches way early. This gave those teams the chance to bring players who the coach would prefer.
The team need to improve in midfield and in attack. Defensively, Chennaiyin FC averaged 9.7 tackles and more than 20 clearances a game. These stats ranked them second-best in the league. In attack though, they managed only 2.7 shots on target per match, the worst in the league. Therefore, attacking output needs to be improved.
The club need to be clear on who they want to retain and keep a good core of hungry players. A continuing trend has been that they shed too much skin and keep building new teams every season. Therefore, they need to be proactive and street smart in their recruitment for next season. They already seemed to have started well with the signings of Romario Jesuraj from FC Goa and Sourav Das from East Bengal.
Chennaiyin FC also need to be clear and early in their pursuit and appointment of a coach. Bandovic often lamented the lack of time he had to work with players due to joining late. Therefore, they need clarity in their vision for the long-term and have a coach for the long rope if they harbour hopes of challenging the big clubs. Their run to the 2019-20 final already seems like an eternity ago.
Fan View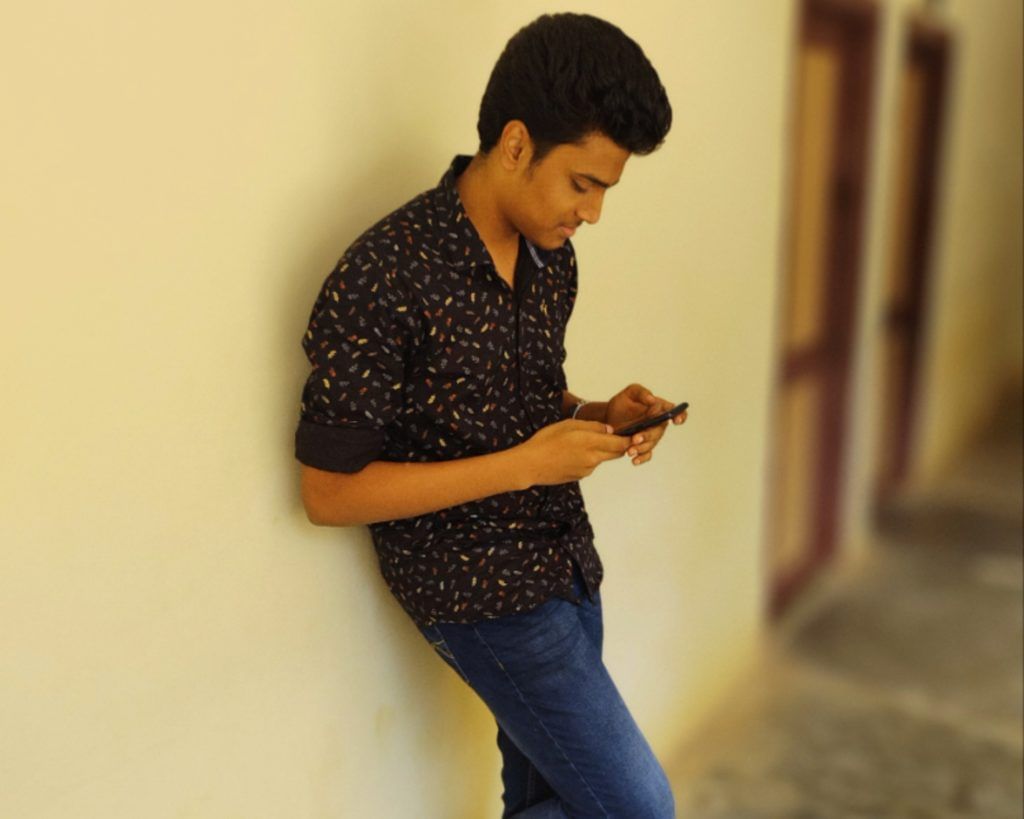 Shyam Sundar: The season started with a lot of excitement around the coach and the players. We had a very good start to the season until Bosko decided to go to three-at-the-back formation.
From there everything went wrong. From derby Defeats to humiliation by Goa and Jamshedpur, we were very poor. Slavko (Damjanovic) was our Player of the season without any competition. I hope the management brings an attacking coach who gets the best out of our players for the next season.
For more football updates, follow Khel Now on Twitter, Instagram and join our community on Telegram.