Both teams enter this clash on the back of two-match winless run.
After successive defeats in their last two matches, Chennaiyin FC will eye a win when they face the fourth-placed Jamshedpur FC in Bamolim on Sunday. Bozidar Bandovic's side lost just once in their first six games, which produced three wins. They also conceded only four times in those matches. However, glaring individual mistakes in their last two matches have seen them concede seven goals in both defeats. Owen Coyle's Jamshedpur also enter this clash winless in their last two matches.
Unlike the Marina Machans, they have lost only once but drawn four times, the joint-highest in ISL 2021-22. The Men of Steel were held to consecutive draws in their last two matches of 2021. Both teams begin the new year with eyes on returning to winning ways. Nerijus Valskis' transfer from JFC to Chennaiyin also spices things up in this fixture. Valskis, who started his ISL career with CFC and won the league Golden Boot with them, joined Jamshedpur FC last season. But has now returned to Chennaiyin after struggling for goals with Coyle's team.
Before the match, JFC coach Owen Coyle and Chennaiyin FC coach Bozidar Bandovic spoke to the media and shared their thoughts on the upcoming clash. Here are the excerpts.
Jamshedpur FC
Four draws in eight games for Jamshedpur FC. How do you look at it?
The Men of steel started their season with a 1-1 draw to SC East Bengal. They have also shared points Hyderabad, Bengaluru FC and Kerala Blasters. Their four draws are the joint-highest in the league. Coyle though feels the higher number of draws are not just for his side, but a fair reflection of the league which has seen a big number of draws being played out every season.
"I think everybody would accept that we probably should have a few more points, given the performances we had. We have lost one game. Even in that game, we found ourselves seeing nothing down after 15 or 20 minutes and rallied back and could have taken something from that. So I think in the league it's showing that there are lots of draws in the league," said the Scotsman.
Wins or draws, the Jamshedpur FC boss is satisfied that his side hold a top-four spot, important for a team "that's never been in a semi-final position. At the moment, we find ourselves in those positions, because we have earned the right to be there and possibly could have been higher," Owen Coyle reflected.
He called for his side to stay focused and play to keep themselves in the top four positions.
"We have to make sure that we keep ourselves in those top spots, and the only way you do that is to continue to work hard to continue to improve, continue to stick together, which is really important," asserted Coyle. "We need to keep striving towards improving as there are some very good teams in the league."
Rate Greg Stewart's goal against Kerala Blasters
Owen Coyle, himself a former striker during his playing days, rates Stewart's goal as one of the best he's ever seen. "I scored nearly 300 goals in my career, but certainly none anywhere near as wonderful as that strike was," observed the JFC boss. "I think the goal is an outstanding moment in football and Greg has the ability. That's why I brought him to the football club. And he continues to show that brilliant spot," he continued.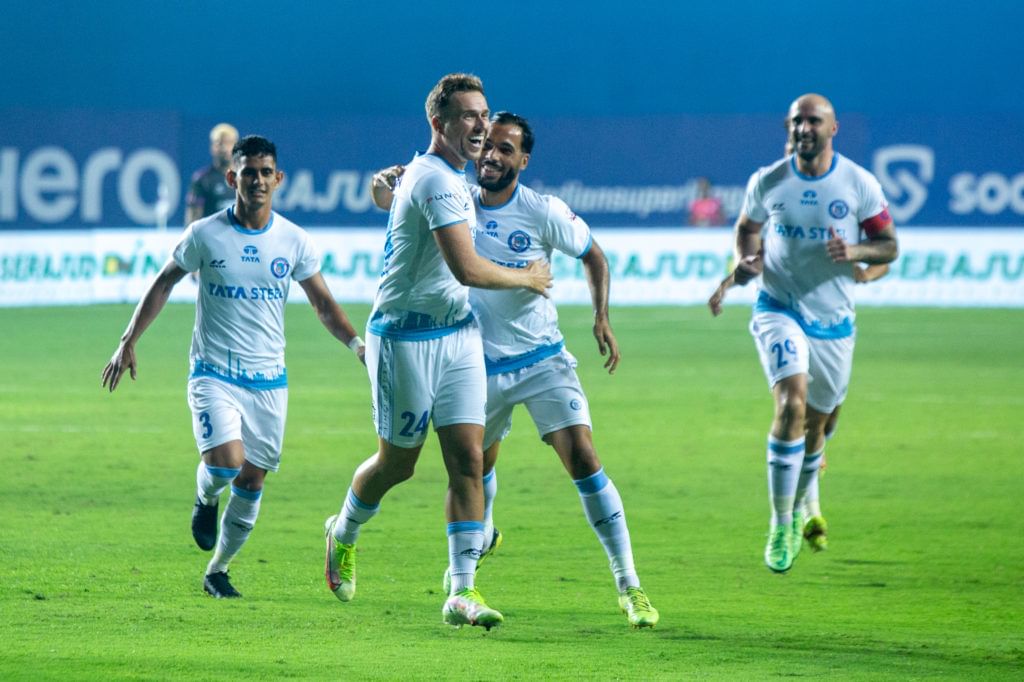 "He does it within the team and what I love about Greg Stewart is that even if he is talented, he is everything about the team, how hard he works against the ball and what he brings with the ball. That's why he's a shining example of what we're trying to build, what we're trying to implement at Jamshedpur FC."
Thoughts on Chennaiyin FC
While Jamshedpur FC will be playing their first game after a week's break, Chennaiyin FC are set to play their second in four days. Asked, if that will give his side any added advantage, Coyle pointed out every team have a similar schedule.
"We've had that when we've had to play ATK Mohun Bagan after three days and then Mumbai City FC after another two days. That's what happens in the league, the fixtures come about quickly and ultimately everybody plays a similar number of games in the same period of time over the course of the season," said Coyle.
He also put aside Chennaiyin's consecutive defeats in their last two matches and pointed out how they were unlucky to come without a point in those two matches.
"In the game against Bengaluru FC", Owen Coyle pointed out, "they were very unfortunate. Chennaiyin FC could have easily have been 3-0 up after 15-20 minutes, they were totally dominant for the first 20 minutes and, and they had some wonderful chances. So we certainly know how dangerous the opponent is."
Jamshedpur are aware of the threat they pose and will be ready to tackle it. "We also have to make sure that we are bringing our best game, if we are at our very best we've shown we can stand toe to toe with anybody in this league and win games. And that's what we have to do."
Chennaiyin FC
Reason behind signing Nerijus Valskis from Jamshedpur FC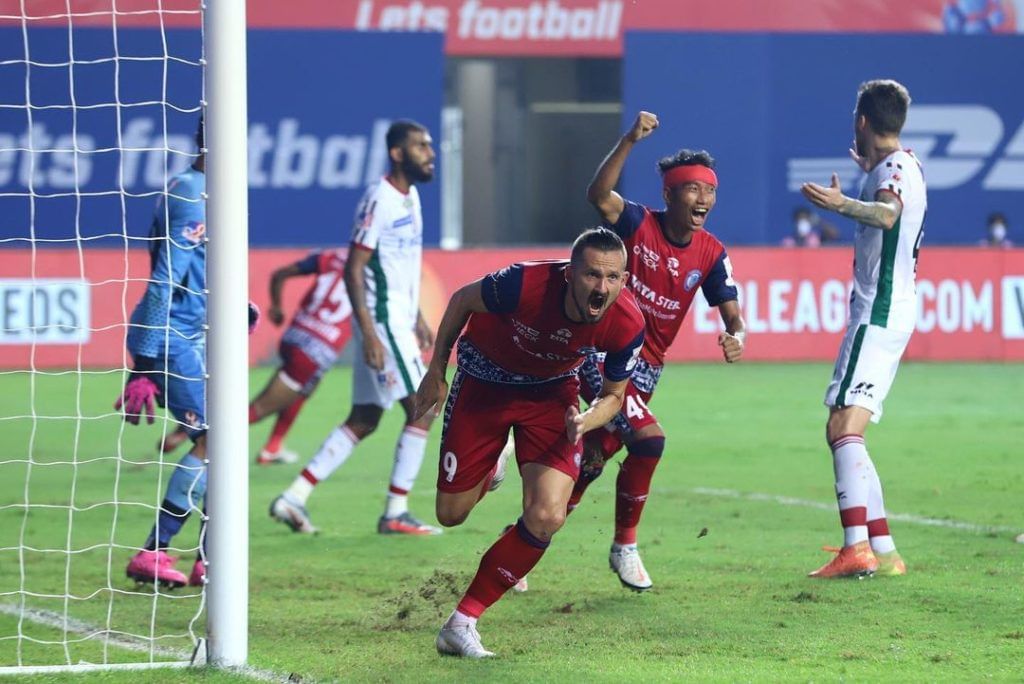 Valskis, who had left Chennaiyin FC for Jamshedpur post the 2019-20 season, returned to the club with the Marina Machans announcing his arrival on the New Year. coach Bozidar Bandovic said, Valskis completely fitted the kind of profile they were looking for in their sixth foreigner.
"I have known Valskis for many years and of course at this moment, we were looking for a foreigner because in the first half of the season we played with five foreigners," said the Chennaiyin boss. "So we were looking for someone who gets us goals. He is a good player, a good character and he knows the team. He was the best option that we could have gone with and he comes with a one-day quarantine so from January 8 he will be ready and will train with us from tomorrow."
Message to the dressing room after consecutive defeats
After quite a start to the season, Chennaiyin FC looked to have lost the plot. They conceded seven goals in their last two matches, while scoring only twice and find themselves outside the top four. Bandovic though is confident his team will bounce back.
"I spoke with the players and I told them I support them in everything. You can't give up as you lost 1-2 games. You need to keep going, giving everything all the time is the only way and all other ways are wrong," said the CFC boss. "We have good communication and I'm sure they will bounce back 100%."
Approach against Jamshedpur FC
Despite the consecutive defeats and having only four fit foreigners, Bozidar Bandovic asserted his side is ready for Owen Coyle's Jamshedpur challenge. "We will be ready for tomorrow even though we have some problems. We will have to play with four foreigners but we will be ready," he said. "The players have to recover and they will."
"We don't lose a game, we learn and we lose as a team. This is very important as there will be difficulties in whatever you try to achieve and you need to keep going, keep believing and keep giving everything every game. The way we played in the last few matches is something I like. We are creating chances, we are creating beautiful combinations to score the goals. We are not scoring them and we need to concentrate individually and as a team," remarked Bandovic.
"From what I'm seeing with other teams, I can see that all players need some time to recover from a mistake. But we need to be mentally strong and develop a winning mentality."
For more football updates, follow Khel Now on Twitter, Instagram and join our community on Telegram.