ISL- Indian Super League
Imran Khan on his love for Eromba, Khalid Jamil & playing for NEUFC
The midfielder spoke about last season, role of Indian players in the upcoming campaign and preparations for ISL 2021-22.
NorthEast United exceeded expectations under Khalid Jamil and made it to the Indian Super League (ISL) playoffs last season. But, the journey was very tough and it tested everyone's character and patience in the Highlanders' squad. One such player who worked his socks off every time Jamil counted on him is Imran Khan.
Imran hails from a region which is known as the "Footballers' Factory" in India, the Northeast. After being a journeyman for the majority of his career, Imran seems to have finally found a home at his native club, NorthEast United. He signed for the Highlanders last season and played a crucial role in their run to the semis.
This campaign, Imran Khan is expected to have a bigger role in the team due to a few key departures and a change in the foreign players' policy. Ahead of the 2021-22 season, Imran spoke to Khel Now from the bio-bubble in Goa in an exclusive interview:
Why NorthEast United?
The 27-year-old midfielder became a free agent post the 2019-20 campaign and many teams chased his signature. Despite so many options, Imran chose to put pen to paper with NorthEast United. When asked about the reason, he described it as a dream come true to play for the Highlanders.
"I got a lot of offers, but when my agent told me that I've an offer from NorthEast United, I said yes without thinking for too long. They're one of the best clubs in India and I belong to the Northeast. So, it's not about money. It's all about the heart and passion I've towards the club. It is every Northeast player's dream to play for NorthEast United," he explained.
Reason behind last season's turnaround
As mentioned earlier, the Highlanders surprised everyone and inked down an unrealistic tale. From a mid-table war to a third-place finish, Khalid Jamil and his boys turned the tables in just nine league matches. When quizzed about the reason behind their remarkable turnaround, Imran applauded Khalid Jamil and the entire management for backing the players during such tough times.
"It was a very tough moment for us as (Federico) Gallego was also injured. And if we lost a game, we won't qualify for the playoffs. It was a do-or-die situation for us. But, Khalid sir is one of best coaches in India and he really pushed me as well as others very well. Everyone backed each other and it was a great feeling to reach the playoffs," Imran Khan asserted.
First goal feeling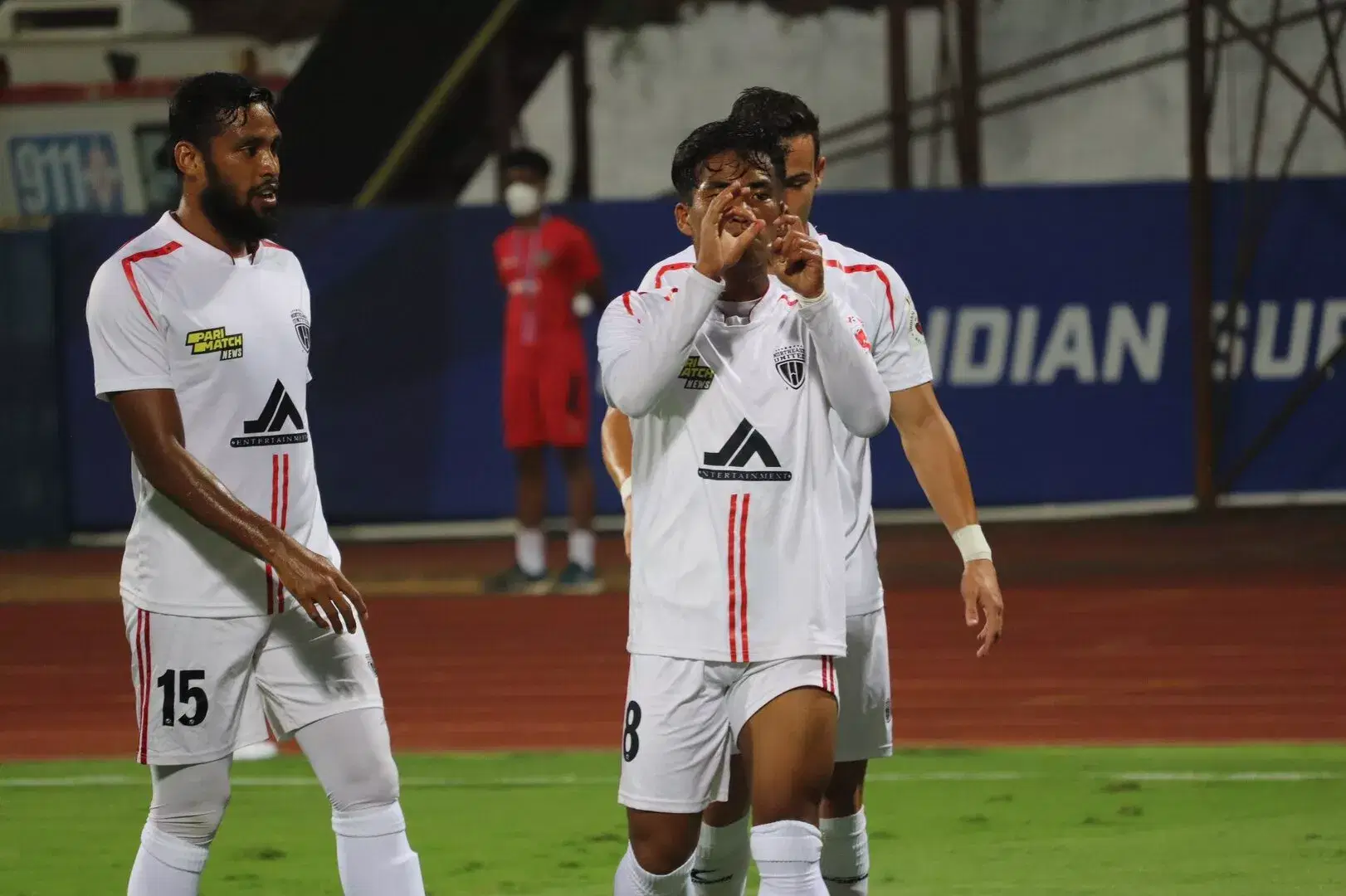 Imran had played less than five minutes on the pitch before Jamil called him into the XI for the clash against Chennaiyin FC. He replaced talisman Federico Gallego who was out injured and what an outing he had. After Lalianzuala Chhangte put the Marina Machans ahead in the opening minutes, Imran headed past the keeper in level things for the Highlanders within a few minutes.
He told us how his mom cried out of joy when he scored his first goal and described it as a great feeling. "Before the match, Gallego pushed me very well because he is my big brother. He told me that if you score a goal, dedicate it to me. So, when I scored a goal, it was a great feeling.
"I dedicated the goal to Federico Gallego because he was struggling. We're a team and it was a really good feeling for us. After the match, my mom cried because she knows how much we have struggled," he said.
Thoughts on upcoming season
According to the league's latest guidelines, only four foreign players can feature in the starting XI. This change has been made keeping in mind the development of Indian players in key positions. On being asked about how much he is looking forward to the new season, as his role in the team has got bigger with a few departures and the new policy.
The left-footed midfielder said that he will be looking to get better and learn more from everyone in the team. "I've to take responsibility of the team as well as for all the players. I want to increase my level and learn a lot from what the coach says to improve. I'm still learning and working hard to be better," he affirmed.
Preparations ahead of new season
The Guwahati-based outfit achieved their best finish on the league table last season. After a season to remember, the fans will expect more from their club. Khan said that the boys are preparing hard and they want to win every game.
"We can't predict the future, but we're working hard everyday and improving a lot. I request the fans to keep supporting us and we will do our best to perform and win again. We want to be the best and want to win the game all the time," he added.
Role of Indian players this season
As mentioned earlier, the league's latest guidelines will allow only four foreign players to be on the pitch at a time. Imran spoke about the role of Indian players this season and how they need to take more responsibility and not depend on the foreign players.
"Indian players have to take the responsibility as well because we can't depend on foreign players only. We have to bring the level up because it's all about the team. It's not about the foreign players or the Indian players because we're like brothers and a team that will do something better," Imran Khan opined.
Khalid Jamil's best advice
The multi-faceted midfielder improved his gameplay and confidence after Jamil showed his trust in him. When asked about the best advice his head coach has given him, he shared how the former Indian International is instructing him to get better. Imran also believes that Khalid is not only one of the best coaches in India, but is also a great human being.
"Khalid sir is one of the best human beings. He's a hardworking coach and I'm a hardworking player. I always listen to him and never put my head up to him because when he speaks, I always put my head down and listen to him. He advises me, pushes me and motivates me a lot. He always tells me to play and enjoy my game.
"So, it's really easy for me because he gives me confidence. I'm telling you again, he is one of the best coaches in India," said the 27-year-old.
Favourite Northeast delicacy
The Northeast is famous for many things apart from football. The rich culture, variety of cuisine and much more. We asked Imran about his favourite delicacy from the region and he said, "My favourite food is Eromba. It's a Manipuri vegetable."
"I was thinking that my mom will send it to me after a few months, maybe," he replied.
Message to fans
Imran shared his messages to the fans of NorthEast United ahead of what is going to be a historic season for the Highlanders. He stressed upon the support from the fans and how hard the team is working to give some joy to their supporters.
"We're really working hard and we want to win every game. Last season was really hard as we didn't reach the final. This year we're working hard to bring some joy to you. Keep supporting us," he concluded.
For more football updates, follow Khel Now on Twitter, Instagram and join our community on Telegram.