This young prodigy is only the fifth player ever to score a treble in the historic fixture.
Rising from the ranks of Mohun Bagan Athletic Club, Kiyan Nassiri Giri, the son of former footballer Jamshed Nassiri has already announced his entrance into Indian football, after a stunning display on Saturday. His prosperity is expected to elevate, as he is now being nurtured by ATK Mohun Bagan mastermind Juan Ferrando, who has a knack for polishing youngsters.
However, this wasn't the first time he secured some playing minutes. In fact, earlier this season, the lad made his appearance in ATK Mohun Bagan's very first match, when he came on as a substitute against Kerala Blasters. Expectations were high on him, courtesy his father's astounding reputation in Kolkata Maidan and Indian football.
Scouting Report
Age: 21
Date of Birth: 17 November 2000
Position: Forward
Height: 1.80 m
Debut
His senior debut came on March 1, 2020, against TRAU FC in an I-League encounter for Mohun Bagan. A member of the U-19 side, the 19-year-old impressed the then Mohun Bagan head coach Kibu Vicuna during the trials held in Goa and got his chance in the senior team that season. The match against TRAU saw Mohun Bagan achieving a comfortable 3-1 victory over their opponents. That was his solitary appearance in that campaign.
Kiyan's Indian Super League debut, however, came against Kerala Blasters on November 19, 2021, a match where ATK Mohun Bagan outplayed the Blasters en route to a 4-2 victory. By then he had also clocked some minutes in ATKMB's defeat to FC Nasaf in the AFC Cup.
In 2014, he was called up for the Bengal U-13 camp at Kalyani, where he caught the eye of the Mohun Bagan scouts. The club, without further adieu, went on to sign him for the Nursery League. Nassiri played for the club for two consecutive seasons (2013/14 to 2014/15). He next joined Calcutta Football Club and played under the tutelage of his father, Jamshed Nassiri.
In 2016/17, Kiyan caught the eye of Bibiano Fernandes when India's U-16 camp played two friendly matches against Calcutta Football Club. As a 16-year-old, he played the Elite League for Mohammedan SC. He also gained experience in the Calcutta Football League (senior-level) with the Black Panthers. The year 2019 saw Kiyan embracing the maroon and green colours again. He played some good football in the Zee Bangla League (a U-19 league) in 2019, a competition that witnessed the participation of a few Kolkata powerhouses, apart from various teams across the state.
Positives
The boy with a famous surname, Kiyan Nassiri stunned the Indian football vertical on Saturday after he came on as a substitute for Deepak Tangri in the second half. In just 29 minutes of action, Nassiri completed a hat-trick, brought Bagan back from misery to triumph and scripted history.
Brought on moments after SC East Bengal had taken the lead, Nassiri struck home the equaliser with his first touch in the 64th minute. Some 20-ish minutes later, he connected a sweet half-volley to send the Bagan bench into exhilaration before completing a historic hat-trick to forever imprint his name on the Derby folklore.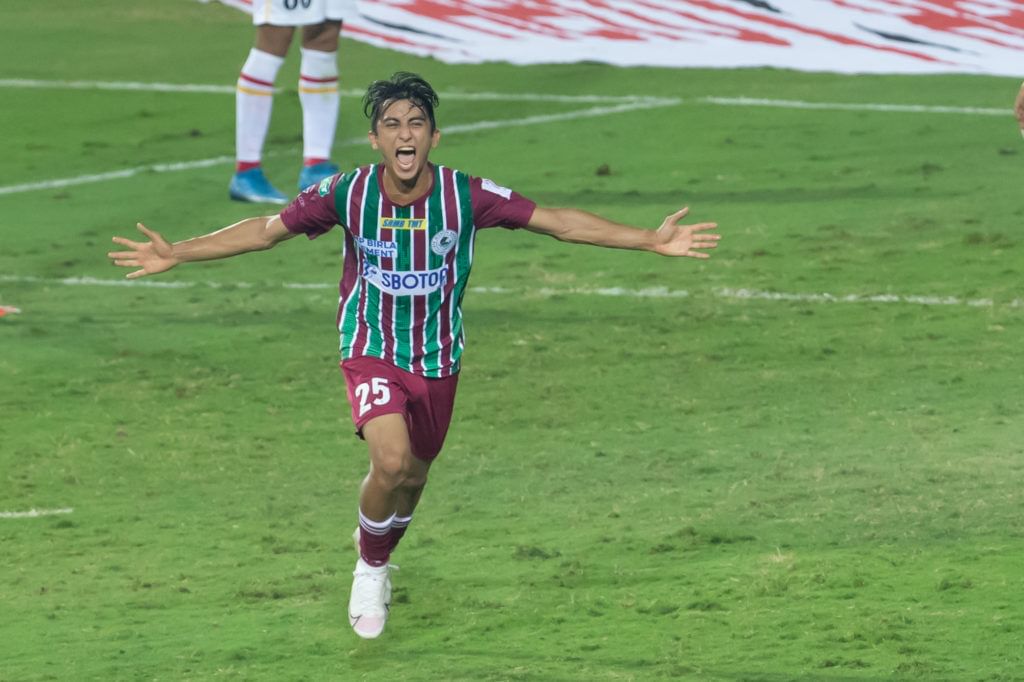 Kiyan Nassiri is now the fifth player to achieve the feat of scoring a hat-trick in the Kolkata Derby. He joins the likes of Amiya Deb, Asit Ganguly, Bhaichung Bhutia and Chidi Edeh as the only five to net a treble in the biggest match in Indian football. Nassiri is also the first player since Edeh Chidi in 2009 to score a hat-trick in the Derby. Chidi had also netted for Mohun Bagan in I-League.
Three shots and three goals tell you this lad of 21 knows how to score goals and knows where the goal is. He scored with his both feet in the Derby and has excellent technique and poaching skills, as the first goal showed. The second goal was an example of this ability and calmness to convert in a sea of white, as was the third.
All three goals were also proof of his positioning sense, to be at the right place at the right time.
Aspects to Improve
Kiyan was seen just three times in the derby, when he scored from the opportunities. His scoring prowess certainly demands more game-time. If he plays an entire match in the upcoming fixtures, a few aspects can be looked forward to. Firstly, his heading ability, as all of his goals were scored with his feet. As a forward, heading skills are important.
Moreover, his pressing and dribbling abilities are still to be noticed. How he adapts to various situations during a match, such as dropping deep deep to circulate the ball, helping in the defensive third, moving to the wings when marked by the centre-backs and so on are things we are yet to see of this young boy.
But as a forward, he has passed with letter marks in the primary criterion, that is to score goals.
Future
A few more matches in this edition of the ISL – a few spells of the full 90 minutes – some scintillating moves and outstanding goals. An amalgamation of these three criteria shall be enough to make him the "talk of the town" in the summer. Some high-performing seasons in the coming years may also enable us to see another Indian footballer to drool on.
But as of now, it is tough to say if he'll leave ATK Mohun Bagan. The Kolkata clubs have this reputation of tagging players as their "Ghorer Chele" (The player who has remained devoted to the club and played for the major part of his career or the entire one for them). Also, being the son of Jamshed Nassiri, it may be expected that Kiyan will consult with his father regarding the transfer activities of his career.
But some consistency and prosperity may ensure the lad a place in the Indian camp. And who can say, he may be the one to replace Sunil Chhetri in national colours?
For more football updates, follow Khel Now on Twitter, Instagram and join our community on Telegram.